Cecily Brayton lay on her bed, staring at the edge of the window and thinking about James Haddaway. She had seen him once in the week since their furtive encounter at the Granville Hotel — they had driven one of his father's motorcars down a solitary country road, with time only to exchange a series of desperate kisses and impassioned sighs before returning to town. She wondered when she would see him again, if it would be today or tomorrow, if he would finally propose, or perhaps seize her in the middle of the night and persuade her to elope in some far-flung locale.
A knock at the door roused her from this familiar avenue of thought. It was Carol, summoning her to breakfast.
"I'm not hungry, thank you," Cecily called lazily from the bed. The door burst open and Carol stared at her in amazement.
"Not hungry? Go down there and tell Arianna yourself! She made her famous pancakes especially for this occasion! Don't you want to see Mayhew?"
Cecily sprang up suddenly, her eyes large. "Oh dear! I forgot! Mayhew's back!" Within a moment she was following Carol down the staircase. "How is he?" she whispered excitedly. "Has he proposed to you yet?"
Carol hushed her with a violent wave of her hand and hurried off to the kitchen, leaving Cecily to wander into the dining room alone. She found her father and Mayhew already seated there, chatting amiably. Cecily greeted Mayhew with apprehension, feeling a twinge of guilt for having borrowed his hotel room without his consent while he had been away, but he seemed glad to see her and gave no indication that he suspected her of anything wicked.
Arianna served her famous pancakes while Carol sat down next to Mayhew, and everyone attacked the meal with vigor, forgetting conversation for a time. Finally Arianna spoke, addressing Mayhew.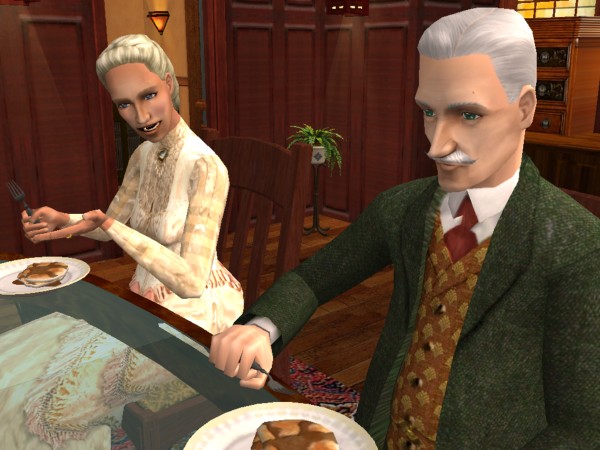 "I haven't heard anything about your trip yet," she said in her mild way. "Did you find great inspiration for the new hotel?"
The young architect, who had nearly finished all of his pancakes, set down his fork. "Why, yes, actually," he replied with a grin. "I was so inspired that I drew a set of preliminary plans while I was in Castello and shared them with Mr. De Groff as soon as I got in last night. He seemed quite pleased with them. So pleased, in fact, that he gave me a handsome bonus, which will allow me to buy a house of my own here in May Green."