"Good evening, Miss Brayton."
The light from the chandelier glinted off the partially bald head of the butler as he welcomed Cecily into the resplendence of Haddaway Hall. The young lady entered with an apprehensive smile and paused, momentarily overwhelmed, as her beaded satin dress swished to a halt. Instinctively she scanned the room for James, whom she had just seen through the drawing room window walking towards the foyer. Unfortunately she saw only a maid in a crisp black dress carrying a tray laden with hors d'oeuvres.
The butler brushed past Cecily and made for the back of the house, then turned when he realized Cecily wasn't following him. He came back to her, arching a curious brow.
"Everyone is gathered in the ballroom," he said politely, with the mildest tinge of impatience.
"Everyone?" Cecily asked, stalling for time. Through her immaculate white gloves, her fingers clutched at her skirt. She was suddenly more nervous than ever, imagining the whole Haddaway clan waiting in the ballroom, glancing up as she entered, leaning over to each other and whispering…except for James, who blithely pretended she didn't exist…
"Miss Brayton? Are you quite well?" asked the butler.
Cecily's breath wavered, but she recovered it.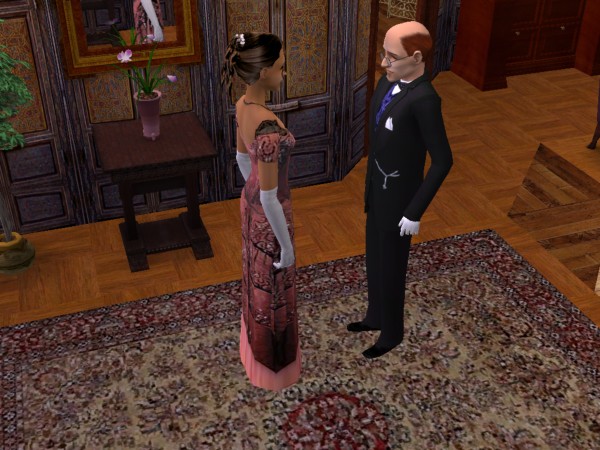 "Yes, I'm fine. Thank you." She presented him with her most placid smile.
The butler, one brow still arched in doubt, turned on his heel and led Cecily through the foyer.
As they moved past the grand double-staircase and through two sets of doors, Cecily was conscious of a troublesome weakness in her legs, but she kept her posture as well as she possibly could. From the room ahead, she could hear music – the soaring strain of a violin – and a murmur of voices. Suddenly she was standing in the midst of it, gazing upon the Haddaways and their rather small number of guests. Having dispatched her thusly, the butler disappeared, and Cecily stood alone.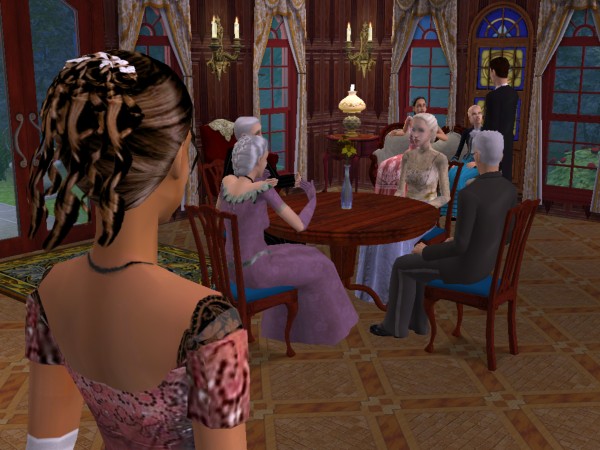 She saw Sophie and Henry Haddaway, now middle-aged and silver-haired, sitting at a table with Percy and Regina Lloyd. Beyond them she thought she glimpsed her cousin Josephine Lloyd talking to a well-dressed young man. As he turned slightly, revealing a familiar profile, Cecily realized it was Samuel, to whom she had not spoken since their sour exchange outside her house so long ago.
For a moment Cecily pondered walking across the room to greet him, but a sudden knot in her stomach kept her from moving in that direction. She wasn't sure she was ready to talk to Samuel yet. His haughty attitude at their last meeting had bothered her tremendously, and though she wasn't sure she didn't deserve harsh words from him, she was still angry about it.
Cecily turned away from her view of Samuel just in time to see Dorothy Haddaway striding towards her. Her face was radiant, as befitted the recipient of such a lavish party, and she immediately embraced Cecily as though she were a long lost relative. Cecily returned the affection, though she was somewhat taken aback by Dorothy's generosity.
"My goodness, Cecily!" Dorothy said. "You do look lovely! And so grown up, too! Has it been so long since I've seen you? When was the last time? I do believe I saw you in town at least once over the spring. But then I'm always in such a daze whenever I'm out and about, I hardly remember what I see and don't see. But isn't this a dazzling party? Mama has really outdone herself, though I wish she would have invited more people…this ballroom can hold so many more!"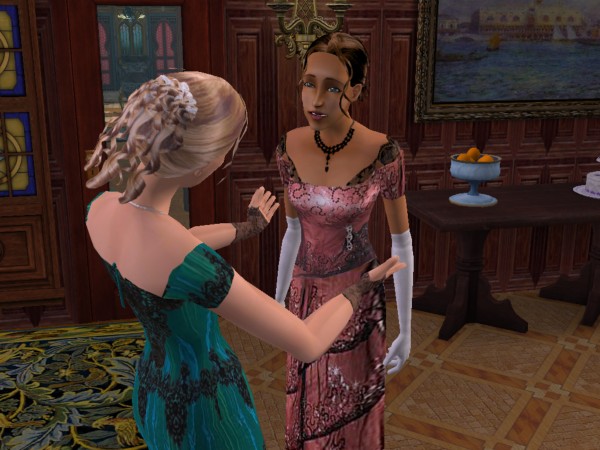 "And I'm sure all of them would enjoy the Haddaway hospitality," Cecily said with a sort of detached courtesy. Dorothy had never been this kind to her, and it put her on her guard somewhat.
Dorothy kept talking, her eyes large with excitement. "And have you seen Mama and Papa yet? They said they rarely see you anymore. It's a pity you stopped visiting us. Grandmother always missed your playing the piano for her."
Cecily tried not to look surprised at this view of things. I didn't stop visiting, Cecily wanted to shout, you stopped inviting me! Was this what the whole family thought? She felt her color rise.
"And how is your grandmother?" Cecily asked, hoping to shift the conversation.
"Oh, she has been well since she went to Baden-Baden. I got a letter from her just last week. She said she has found some wonderful lace for my bridal gown, and I wrote back to her, saying, 'But grandmother, I don't even have a beau yet!'" At this, Dorothy released a ladylike laugh. "Though I do have my eye on someone, I must confess — have you met Archie Kempe? His family is from Sakima Falls, and he's rather handsome, if I may say so, and Mama invited them tonight, though I'm not sure they'll show – oh, but there are the Nystroms! I must greet them; do make yourself comfortable, Cecily."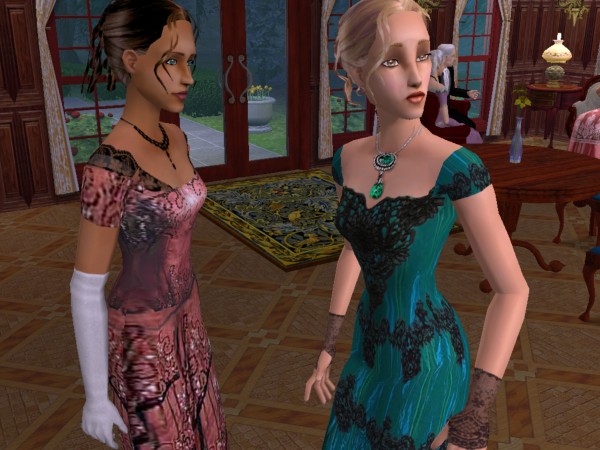 Dorothy sped off to greet the Nystroms, leaving Cecily alone again. Dorothy's stream of chatter had done little to calm her nerves, and she glanced about the room looking for a friendly face, or at least a corner in which she could seclude herself. A couch at the back of the room looked rather promising, but as she made her way towards it, she was cut off by the sight of James crossing the room.
Cecily's stomach knotted up again, but this time it was different. Instead of dread and anger, she felt a fluttering excitement and a return of her old girlish hopefulness. He was certainly as handsome as he had ever been, and just as dashing, but now added to the mix was an air of gentlemanly maturity – she had noticed it in the way he was leaning against the mantle when she saw him through the window, and she noticed it now as he intercepted Josephine and struck up a conversation with her.
Cecily stood rooted to the spot, watching them from afar. She was entranced by James's cool air and charming smile, and wondered if her cousin was entranced, too. But though Josephine spoke to James with an easy familiarity, she did not seem overly taken with him, and she kept glancing past him towards Samuel, who seemed to be waiting for an opportunity to step in.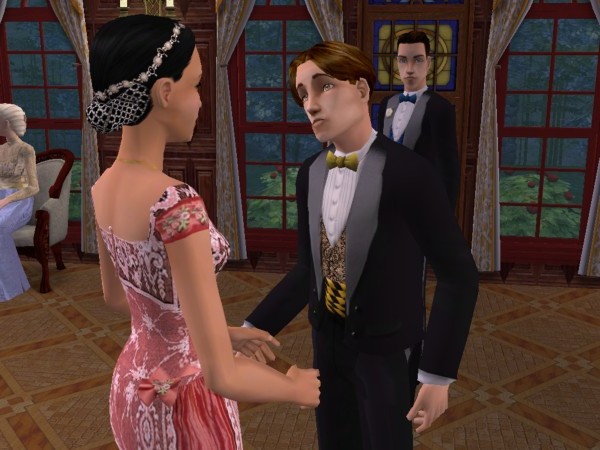 Taking that opportunity, Samuel clapped a hand on James's shoulder, spoke a few words to Josephine, who nodded, and then the two brothers were off, heading in the general vicinity of the food. Josephine turned to watch them appreciatively, and Cecily saw this as her chance to join the happy company.
"Cousin Josephine!" she said, crossing the room. "How wonderful you look!" As her elegant cousin turned to greet her, Cecily was conscious of sounding a bit too much like Dorothy Haddaway, and tried to calm her enthusiasm. "I haven't seen you in ages. How have you been?"
Josephine, who was the epitome of calm, shook Cecily's hand. "Cecily," she said serenely. "I've been well, thank you. Mother and Father have been dragging me all over the place, but I've begged them to stay in May Green for a good year, and they've reluctantly agreed. So you may see more of me now."
She said this last as if bestowing a gift. Cecily smiled. Josephine was proud, but how could she help it, having Regina for a mother? At least she had her father Percy, a surprisingly humble man, to balance things out.
"I'm glad to hear that," Cecily said, not sure if she really meant it or not. She remembered Regina bragging about Josephine's many suitors, including "one of the Haddaway boys." Cecily was sure it had to be Samuel, but she couldn't count James out of the running now that he was back from college.
(continued on Page 2)