There were only two respectable hotels in May Green, and the Granville was the finer of the two. It was best known for its grand lobby – three stories tall – full of warm, polished wood and sparkling lamps. But Cecily Brayton never saw the lobby of the Granville; she entered through the back door, by the kitchen, and made her way up a secluded stair. As she glanced cautiously to and fro, she thought of Carol and how many times she must have done the same thing, risking the rampant gossip of the town busybodies in order to spend a few quiet moments with her beloved.
The door creaked open below, and Cecily paused on the landing. Looking down past the balustrade, she saw the top of James's head as he made his way up the stair. Her stomach whirled with anticipation as she continued onward, reaching the second floor and the room labeled "201". Fitting the brass key into the lock, she took a deep breath and turned the knob.
It wasn't at all what she had expected. Though Carol hadn't gone so far as to describe the exact layout of the suite, Cecily had imagined a separate drawing room at least, where Mayhew and Carol sat and sighed at each other, but it was all one big room, and the most prominent piece of furniture in it was a massive four-poster bed. Cecily flushed at the sight of it, as though she had walked in on Mayhew lounging in his pajamas.
In her surprise, she had left the door wide open, and through it strolled James, his footsteps light and hesitant.
"I don't think anyone saw," he said quietly, shutting the door behind him.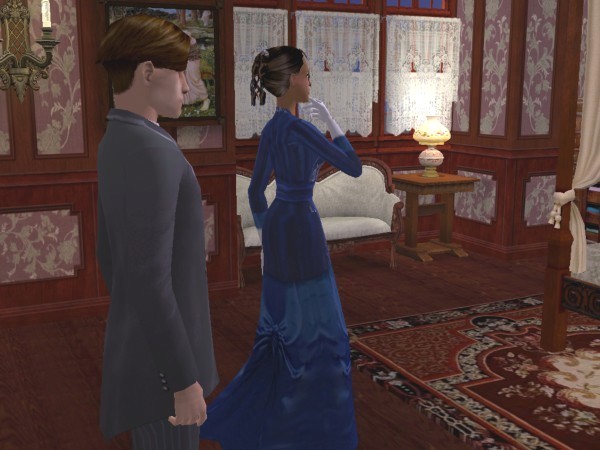 "Lovely, isn't it?" Cecily said, trying to hide her sudden discomfort. "I've always heard the Granville was elegant. Though I expected Mayhew to have more…rooms."
James surveyed the space. "It looks barely inhabited," he said absently. "Though I suppose it would, if he's away." He wandered over to the desk and ran his fingertips idly along the back of the chair.
Cecily felt her heart tighten. James seemed far away suddenly – almost cold in his detachment – but perhaps it was mere nervousness. She herself had felt all of her bravado melt away when she realized just how completely – and secretly – they were alone. She had to do something to make them both comfortable again.
"Shall we sit on the sofa?" she suggested. Without waiting for him to answer, she settled on the luxurious couch. He joined her, not speaking, and sat rather stiffly, tapping his fingers against his knee.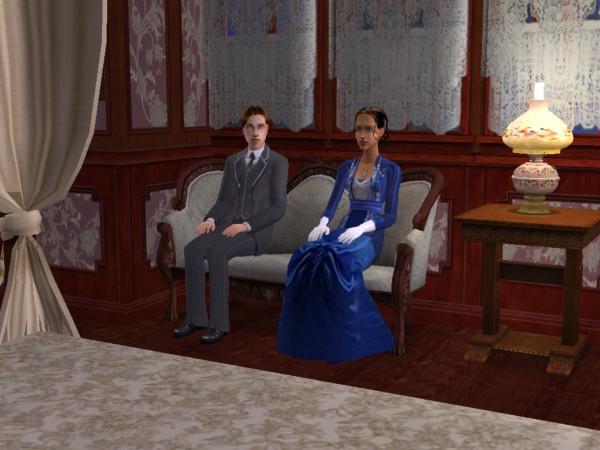 Cecily wondered if she had made a mistake in thinking a hotel room a reasonable place for a man to propose marriage. She had hoped their being secluded from distracting family members and other interruptions might entice him to sweep her into his arms again and profess his undying love and devotion, but somehow it had provoked the opposite effect.
If I could just get him to kiss me again, she thought, conscious of the growing darkness outside and the ticking of the clock on the desk. She couldn't bear the thought of wasting this opportunity.
"You must think I'm horrible," she said finally. "I feel horrible." She fixed her eyes upon her gloved hands, resting neatly in her lap.
Beside her, James stirred sympathetically. "No, Cecily, you mustn't."
He sat still for a few more seconds, then moved closer and slid his arm around her, as he had in the Brayton foyer a few days before. Cecily felt a powerful surge of joy – this was exactly what she wanted.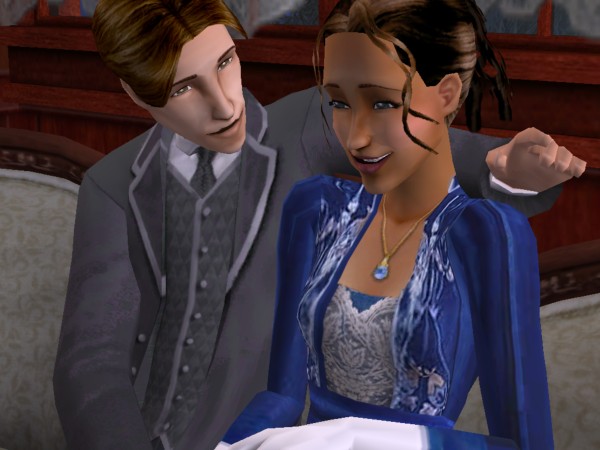 Impulsively, she grabbed his hand and gave it a squeeze, and he hugged her close to him, seeming to breathe her in. So this is what it's like, Cecily mused, once again imagining Carol and Mayhew sitting like this for hours, each one savoring the other's warmth and nearness. It seemed a heavenly way to spend the evening.
But after a few minutes she grew impatient. How long can this last? she wondered. Is he ever going to say anything? He had been so talkative in their previous encounters, so eager to tease her and make her blush, to reassure her of his affection – but tonight he seemed content to merely hold her close and stare at the walls.
She suddenly remembered what he had said out by the café: he would not tarnish her honor. That was it! He was being careful – so careful he had shut everything down, locked everything up, like a shop closing for the night. She must do something to shake him loose from such fierce concentration! Not because she wanted her honor tarnished – she wasn't even sure if she knew what that meant, and no one was here to see them anyway – but because she needed to hear him say he loved her, and he wasn't going to do any such thing if he was so wrapped up in being cautious.
"Well," James sighed, as if to bring an end to their little tryst, but before he could do anything else, Cecily jumped lightly into his lap. "Well!" he said again, smiling in mild shock. "You are bold tonight! What's gotten into you?"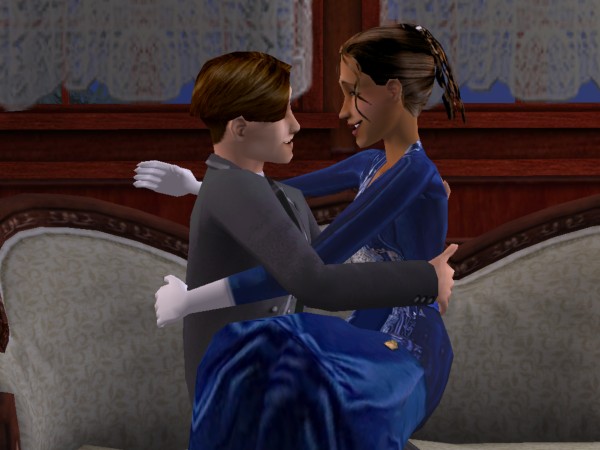 Cecily gave a carefree shrug. "I know what I want now."
James's smile seemed to move from his lips to his eyes, becoming more intense in the process. "And what's that?"
"You," she said innocently. She was unaware that such an answer had multiple meanings.
(continued on Page 2)