It was a pleasant day in late June – not that the weather was ever unpleasant in the mild summery town of May Green – and the bees were exceptionally busy humming over the flower-strewn lawn of Brayton Hill. A fluttering breeze, just strong enough to rustle the trees and cool the skin, made its way through the lush green corner of the yard where Cecily Brayton sat surveying her assembled guests.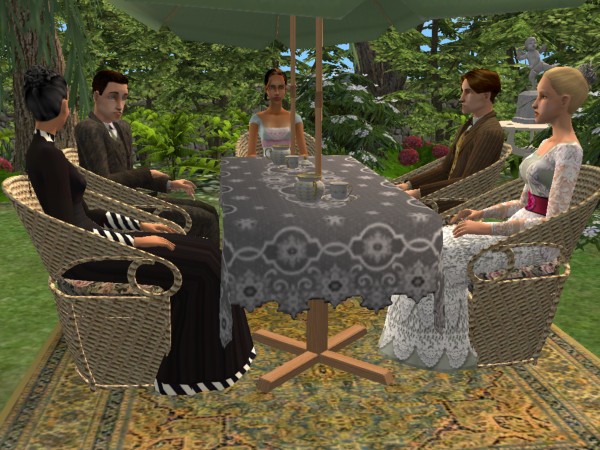 A perfect day for a tea party, she thought, rather pleased with herself for conjuring up the idea, though it hadn't come easily. For days she had pondered how best to contrive a meeting with James; after all, he had declared his love for her, and she need only be alone with him for a few moments so that she could return the sentiment. But it was a tricky business – she hadn't told James that she loved Samuel, but he might have inferred it from her actions, and she didn't want him to feel like some kind of consolation prize.
For that reason, she had dismissed the idea of writing him a note — a declaration of love following so closely on the heels of Samuel's engagement to Josephine might have been too obvious. Nor could she have waited for him to call on her – she had a feeling that after the last encounter he would keep his distance, and thus the ball was firmly in her court. But how to show to him she wasn't afraid of him anymore? She couldn't suddenly fling her arms about him after resisting him for so long – it had to happen naturally.
So Cecily had bided her time until she happened upon the ideal plan – she would throw a little tea party to congratulate Samuel and Josephine on their engagement. James and Dorothy would be invited, naturally, and before all of them Cecily could show how placidly happy she was about Samuel getting married. She hoped, in this indirect way, to encourage James to continue his pursuit of her, and so far, it seemed to be working.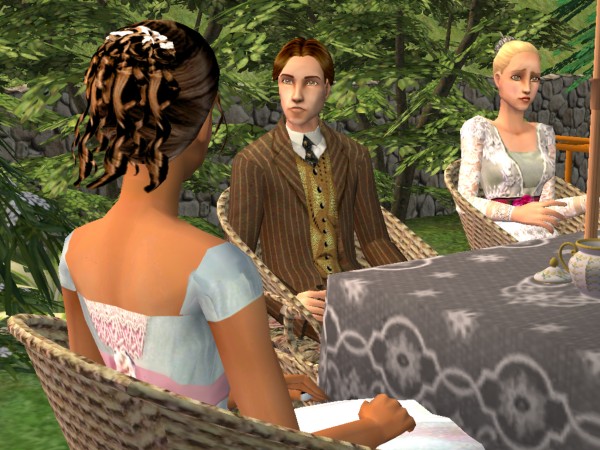 Though Cecily tried to give equal attention to all of her guests, she couldn't help but spare extra glances for James. Whenever she did look his way, she would catch him gazing at her, sometimes serious, sometimes with the hint of a smile. She didn't let her eyes linger on him, however, but urged them quickly to their next object.
In this case, it happened to be Samuel. "So tell me," she said to him, easing into her most natural smile. "What do you plan to do once you're married? Will you go into business with your father?"
"Eventually," Samuel replied, looking rather distinguished and suddenly much older in his dark houndstooth suit. "But I mean to go to college first. James got to go, and now it's my turn." He smiled across the table at his brother.
"Though you won't enjoy it half as much as I did," James laughed. "You'll be an old married man!"
Everyone chuckled lightly except for Dorothy, who pouted. "Oh, Samuel," she piped up. "I wish you wouldn't go. Father's already taught you everything you need to know about the business. What else do you need to learn?"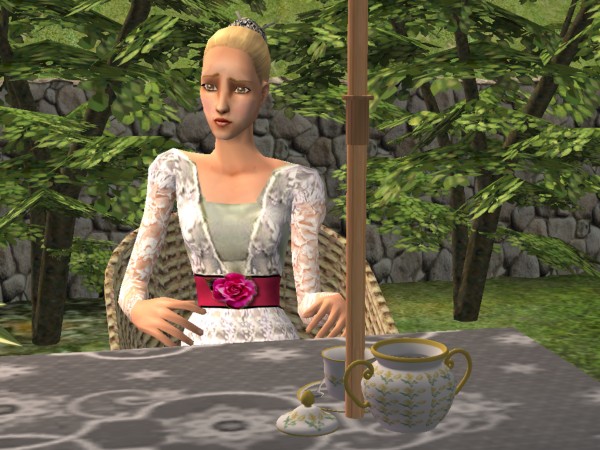 Samuel shrugged his shoulders in a half-laugh. "I don't know. That's why I want to go. To fill my head with knowledge."
"Useless knowledge!" said Dorothy petulantly. "I don't see that James has benefited much from his stint at Princeton. Except that he seems to receive more attention from ladies now. Not that he ever had much trouble in that arena." She giggled in her girlish fashion. James turned red, but she seemed not to notice or care. "Do you know, last week alone he received three perfumed envelopes at the post office!"
A general gasp went around the table. Cecily looked at James, who avoided her gaze, his cheeks still flushed with embarrassment. He waved a hand and regained his usual nonchalant manner. "Silly schoolgirls," he said lightly. "They throw themselves at every well-dressed boy that walks by. It's nice to be back in the company of more…sophisticated types." At that, he gave Cecily a wink, and she felt reassured that the perfumed envelopes meant nothing.
"He says that, " Samuel said to Dorothy, "but wasn't it just last week you saw him pull out one of those frilly letters and sigh over it longingly?"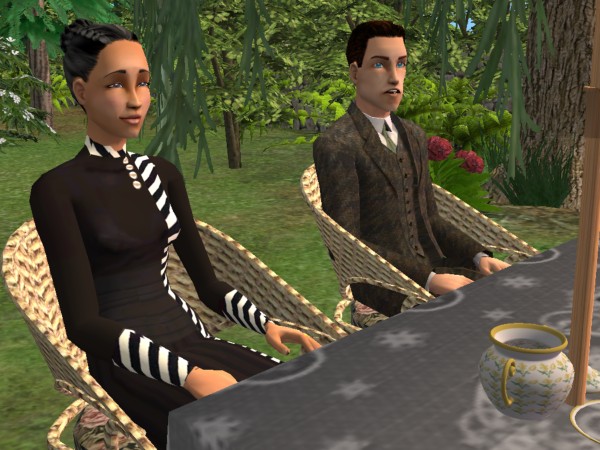 Dorothy giggled again, and even the normally restrained Josephine couldn't hide her amusement.
Unable to bear the conversation, Cecily busied herself with pouring more tea. As she did so, she felt her face grow hot. Don't they know about James and me? she wondered. They must not, if they're teasing him about some other girl. She suddenly felt that it had been a mistake to invite them all to Brayton Hill; it was as if they were part of some secret club into which she would never gain admittance, and they were all sharing a joke at her expense.
(continued on Page 2)