"Home already, Cecily?"
Cecily shut the door and stood in the foyer a moment, pushing a few curls, which had shaken loose when she hurried home, back into place. Her father strolled in from the study, medical journal in hand, and smiled.
"I was just about to ready the carriage," he said. "I hope you had a good time?"
Cecily nodded absently and leaned over to kiss her father on the cheek. "Wonderful time," she said, a little breathless. "I'm exhausted, though. I didn't know parties could be so rigorous."
Harry Brayton laughed indulgently at his daughter. "Dance with one too many fellows, eh? Well, you'd better get off to bed then. I'd scold you for walking home alone if I weren't a bit tired myself. Good night, Cecily."
Cecily smiled brightly and said good night before making her way upstairs. She was met at the top stair by Carol, who had fidgeted her apron into wrinkles. The normally sedate maid could hardly contain her excitement as she followed Cecily to her room.
"Well, how was it?" she whispered, closing the door.
The cheerful expression that Cecily had worn for her father washed away in an instant.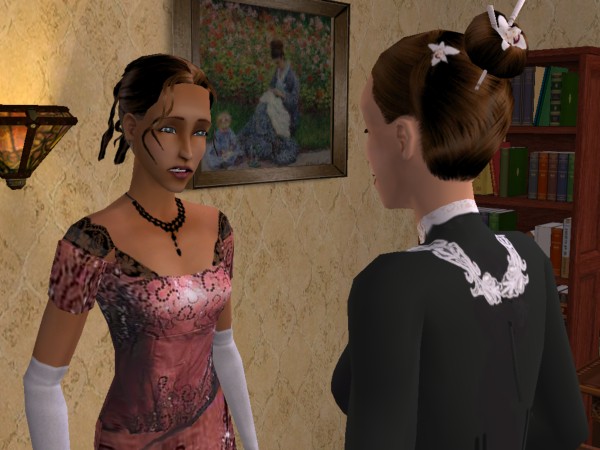 "It was a disaster," she said quietly. Her face was warm from her brisk walk home, but she felt it grow even warmer as she recalled the scene by the fountain.
"Were they rude to you?" Carol asked, her eyes wide in alarm. "Did they snub you?"
"No," Cecily sighed, wringing her gloved hands. "No, it was nothing like that. Dorothy was ever so kind to me, and no one paid much attention to me, really…but…"
"But what?"
Cecily felt like her face was on fire. "James was there," she said finally. "He's back from college. And he knows, Carol! He knows I've been in love with him all this time, and he asked me to walk with him in the garden, and he kissed my hand, and…and…" Cecily's heart started hammering in her chest again, and she threw up her hands in embarrassment. "…oh dear, I don't even know what happened!"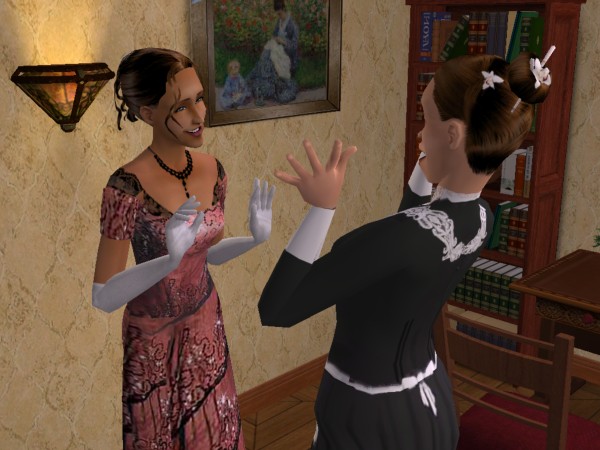 "Oh!" Carol exclaimed so loudly that Cecily had to shush her. "I knew in my heart you would astound those boys with your beauty and charm." She grabbed Cecily's hands and squeezed them so enthusiastically that Cecily could not help but smile. "You sly girl, leading me to think it had been a disaster, when James Haddaway kissed your hand in the garden!"
"But it was a disaster!" Cecily said, her shoulders sinking. "He asked me how I felt about Samuel, and I couldn't say I didn't care for him. James was standing there, and the air was full of roses, and the stars were twinkling overhead, and yet I resisted him! I came bounding home as quickly as I could. What does that mean, Carol? Does that mean I love Samuel?"
A slight crinkle appeared between Carol's brows, though she retained her elated smile. "It means you have some thinking to do, that's all," she said reassuringly. "Rest on it and give yourself some time." She released Cecily's hands and gave her a pat on the cheek. "And you can give me all of the details tomorrow," she added with a wink.
Cecily nodded. "Yes, I'll do that." She felt better already; Carol always had a calming effect on her. "Shall I get up early and help you with the wash, so you can see Mayhew before he goes?"
"Oh!" Carol gasped, her eagerness doubling. "I nearly forgot my news. The De Groffs are having a dinner for Mayhew tomorrow night, and they've invited me. Arianna has approved – I was surprised, but she seems to understand how much I care for Mayhew – and she said I could put off the wash until Monday."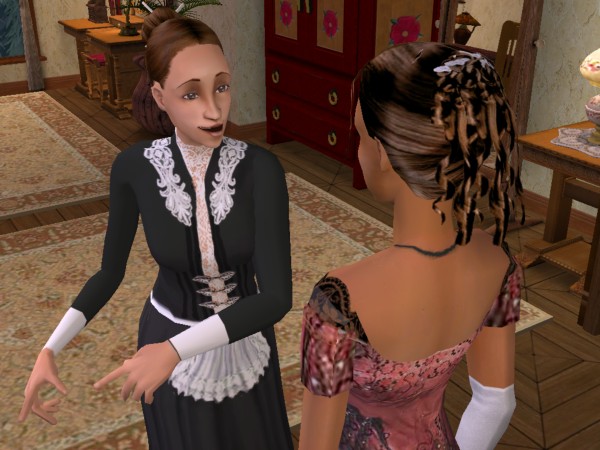 "That's wonderful!" Cecily said, her gladness sincere. "The De Groffs! I bet they'll have such a feast."
"Would you like to come along? Oh, please do!" Carol implored. "The De Groffs said that anyone in the family was welcome, only I didn't ask Arianna because she's a little funny about them. I think it's because of their background, you know – some say their grandfather was a count, but their grandmother was a gypsy! And their father drank himself to death. But Max and Elsie seem nice — you would like them."
Cecily didn't relish the idea of dinner with strangers, but she had always been curious about the De Groffs, despite their "questionable" background, and though she could not predict how she would feel about her Haddaway quandary tomorrow, she figured a change of scenery might be a welcome distraction.
"I'll go," she said to Carol, who flung her arms around Cecily in a motherly embrace. As soon as Carol left the room, Cecily changed as quickly as she could into her nightgown and climbed into bed.
(continued on Page 2)