Cecily Brayton was nervous. In less than two hours she would be making her way to Haddaway Hall, a place she had not visited in quite some time, even though it was just down the street from Brayton Hill. She could remember with almost painful clarity when she had been a regular visitor there, playing piano for old Mrs. Haddaway and eating dinner with the family in their splendid dining room, but those golden times had come to an abrupt end some years ago, and all because Cecily had chosen one brother over another.
The course of that day ran vividly in Cecily's mind, too — the song, the kiss, a rush of exhiliration, words of tender affection…and then her horrible mistake. Even now, thinking back to that dire moment, Cecily felt like crying; with one foolish utterance, she had marred her relationship with the entire Haddaway family, and — until now — the blemish seemed irreparable.
It could still be irreparable, Cecily mused as she dipped a paintbrush delicately into a smear of honey-colored paint. In order to calm her nerves, she was working on portrait of her stepmother Arianna, but inevitably her thoughts kept returning to the Haddaways, even more so than usual.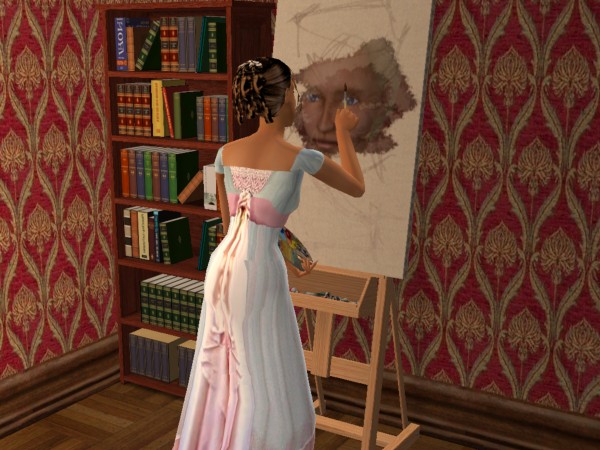 These heightened feelings of agitation were the fault of Dorothy Haddaway, who had invited Cecily to her 18th birthday celebration at Haddaway Hall. When the dainty gilt-edged envelope had arrived and Cecily had read the contents therein, she had nearly died of surprise. Dorothy was the only Haddaway who had been civil to her the past few years, but Cecily never expected such a kindess as this.
Cecily smiled at the thought of this kindness now as she dabbed a bit of golden paint upon Arianna's brow. How strange that Dorothy should have been so unfriendly to her as a child, and so gracious now as a grown woman! Perhaps Dorothy wanted to mend the rift between the two families, or perhaps she wanted Cecily to make amends with Samuel. Either way, she would not refuse the gesture, no matter how nervous she was.
Cecily leaned closer to the canvas and marked the fine lines of Arianna's eyelashes. As she did so, the flow of her thoughts was interrupted by the sound of someone weeping. Cecily paused and glanced around the room. Frederick and Arthur were engrossed in a game of chess while her father Harry read a medical journal. None of them seemed to hear the sobbing.
Cecily set down her palette and brush and made her way into the hallway. The muffled noises of anguish seemed to be coming from upstairs. It was either Arianna or Carol, and Arianna was supposedly taking tea at Mrs. Meldrum's. Cecily hurried up the stairs.
She found Carol in the guest room – Mayhew's old room. The curtains were drawn; the room was dark, though the last remnants of afternoon glowed outside.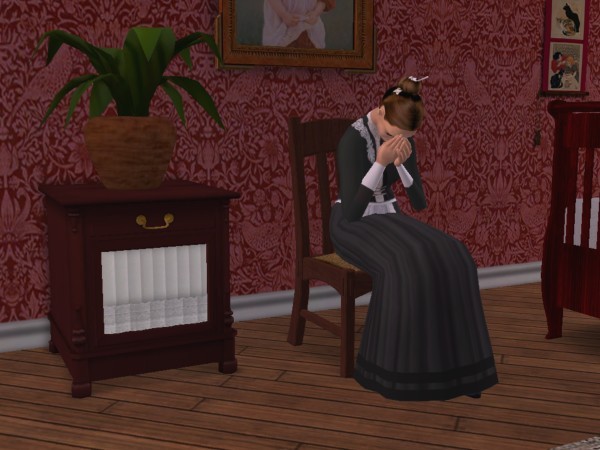 "What's the matter?" Cecily asked, rushing to Carol's side.
Carol wiped her eyes with the back of her hand. "Mayhew's going out of town for three weeks – possibly more. De Groff is sending him to Castello to study the buildings there. For the new hotel."
"Castello?" Cecily gasped. "But that's so far away."
Carol nodded somberly. "He's leaving tomorrow night, and I won't be able to see him because tomorrow is wash day."
A sympathetic frown spread across Cecily's face. "I can help you with the wash," she said, resting a hand on Carol's shoulder. "If we finish it early, perhaps you'll have time to go downtown."
"Yes, perhaps." Carol sniffled and took a deep breath, gathering herself. "I wish we could just get married!" she lamented. "I hate having to sneak, and people are starting to talk. But he won't propose until he returns, I'm sure. He's waiting for a check from Mr. De Groff, so he can build us a house."
Carol smiled through a fresh spring of tears.
"But that's wonderful news!" Cecily cried, trying to make the best of things. "Just imagine, a house of your own. And you won't have to tidy up after us anymore."
Carol made a little murmur of amusement, wiping her eyes once more. "Yes, but I will miss it. I've always liked having a good mess to clean up. Oh dear! That reminds me – we have to get you ready for the party tonight! How could you let me ramble on like this when there's work to be done?"
"Are you saying that I'm a mess?" Cecily said, putting her hands on her hips.
"Yes, but a good one!"
The hallway echoed with quiet laughter as the two women made their way to Cecily's room, which until the week before had been nearly empty. Now it was full of new furnishings and pretty things that Cecily had always wanted. Although she adored the new room, she wasn't quite used to it yet and always felt like she was intruding upon someone else's private space.
As Cecily sat down at her vanity table, her nervous feelings returned, jolting her like a kick in the shin. "Oh, Carol…I don't think I can do this. What if they're all horrible to me?"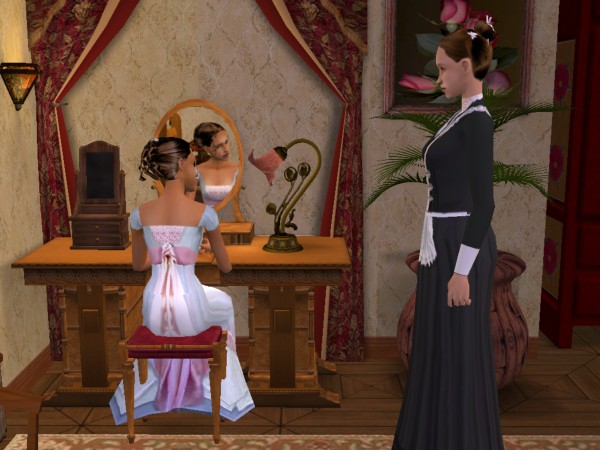 "If they are horrible to you," Carol said, unpinning Cecily's hair so she could freshen it up, "then they are horrible people, and you needn't waste a thought on them."
Cecily smiled, momentarily reassured. "But what will I say to them?" She was mostly thinking of Samuel, which Carol seemed to guess at.
"Say whatever you wish, as long as it's polite," Carol replied, a hint of mischief in her eyes. "Don't give them any reason to reproach you. And above all, be confident. They can't shake you if you're unshakable."
Cecily laughed. "Oh, my. I'll take that to heart. But remember whom you're lecturing."
"I know, I'm lecturing the most beautiful girl in May Green, and any fool who doesn't see that isn't worth a bother." Carol nodded authoritatively as if to end all further discussion on the matter.
(continued on Page 2)