A couple of people on The Sims Daily asked if I was thinking of sharing my version of the Kahale House in Sunlit Tides, and I thought, why not? It's CC free, after all.
However, I DID use stuff from pretty much all of the EPs and SPs, with the exception of Katy Perry's Sweet Treats, because I don't have that one. So if you don't have all the EPs/SPs, you'll probably be missing some items. You will also of course need the Gold Edition of Sunlit Tides, as I made liberal use of all the plants and furniture.
Another important thing: I am fully patched to 1.38 (the Supernatural patch), so if you're not patched, you may have problems installing this lot.
If you meet all of the requirements and would like to download the house, then read on! :)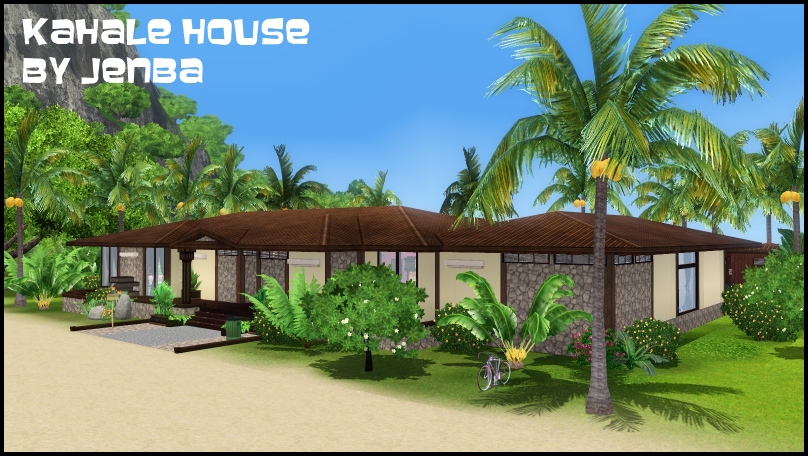 The back of the house: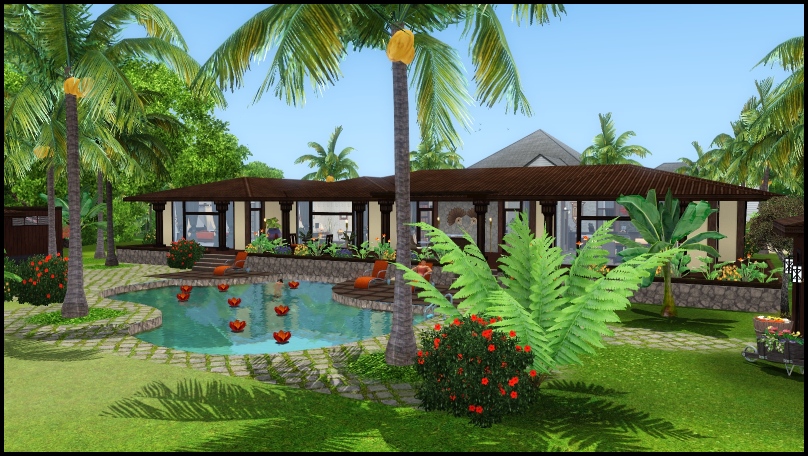 First floor overview: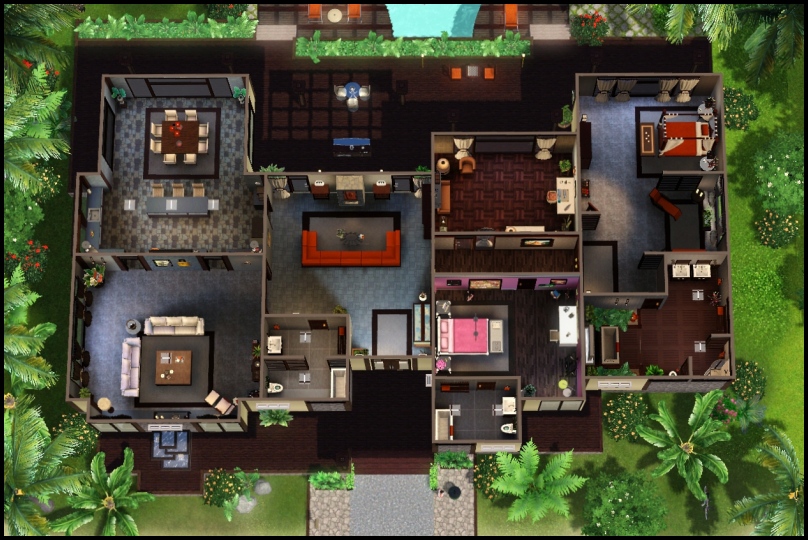 Awkwardly-angled picture of the underground lair with shark tank: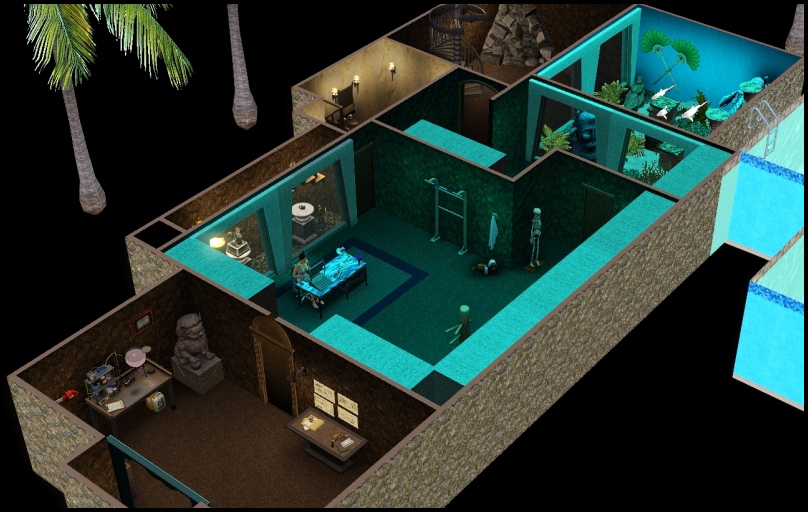 A few more notes:
I loaded it in a clean save to make sure everything looked all right and realized I had used the Blue Hibiscus from the store quite a bit. They left empty spaces, which I filled with the orange hibiscus that came with Sunlit Tides. That said, I might have missed some spots, so if you see a big empty spot just crying out for a shrubbery, you know what to do.
You will get some little "goodies" with this lot — some purple fireflies and a science field trip souvenir in Lealani's room, some space rocks and a stink juice potion "hidden" in Alana's supervillain lair, and a couple of almost dying banana trees in the backyard. :D They were fine when I was playing, but once I loaded the lot in a clean game, they started to look sickly. You might want to water and weed them right away. There are a couple of high-end butterfly spawners in the backyard, so watch for fireflies at night!
Also, when I played this lot I had weird ceiling tiles popping up where they shouldn't be. You usually don't see them unless you're low to the ground (and trying to take a picture, grrr), but if they bug you, just use the sledgehammer to delete them. They won't interfere with anything except perhaps your sanity. :D
Oh, and there's no garage. :-P I totally forgot about it when building, so your Sims will have to keep their Bwan Speedsters in their pockets, or you'll have to make a little space for a carport or something. My apologies! ;-P There IS one bike rack (Lealani is a teen in my game, and I wanted to give her a bike), but otherwise that's it.
If you would like to see pictures of the inside, here's the tour. A few things might look different because I had to take the Lucky Palms items out — I only used a couple, and I figure there's already enough requirements, what with needing all the EPs/SPs!
Lot size: 40 x 40
Furnished cost: §207,210
Unfurnished cost: §120,981
EPs used: World Adventures, Ambitions, Late Night, Generations, Pets, Showtime
SPs used: High End Loft, Fast Lane, Outdoor Living, Town Life, Master Suite, Diesel
As always, let me know if anything is weird! Enjoy! :)