I have a plan when it comes to developing Ely Corners and the rest of Wilshaw County (what I'm calling the whole map), but I'm not approaching that plan very methodically. I have lists of Sims I want to create, lots I want to build, and gameplay things I want to try, but I work on them in a very haphazard fashion, according to whatever mood I'm in when I boot up the game. So these blog posts will probably seem kind of random for awhile.
Last weekend, before my Fran interlude in Riverblossom, I added another family to Ely Corners. Moira Trivett used to work as a corporate drone in Pigeondale, but is now a freelance photographer and collector of rocks.
She's also a new mom.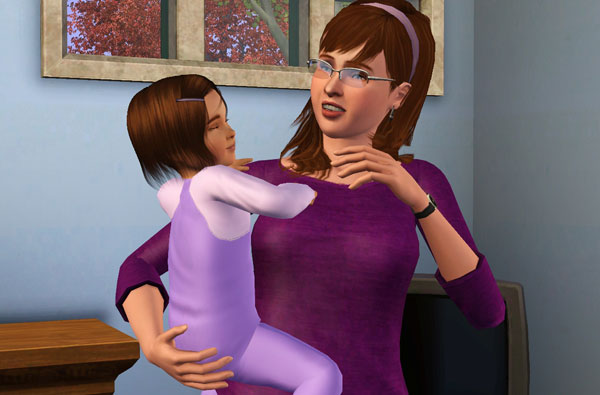 Moira always wanted a kid but never met the right guy, so just after her Adult birthday, she decided to adopt. She ended up with a sweet little toddler named Daisy.
They moved to Ely Corners because Moira was weary of city life and wanted a little house with a yard. She had always loved old houses, so she was thrilled to find a little two-bedroom stucco bungalow just off of Ely Road.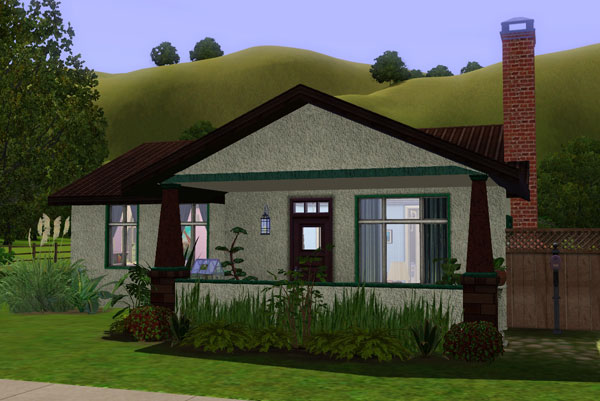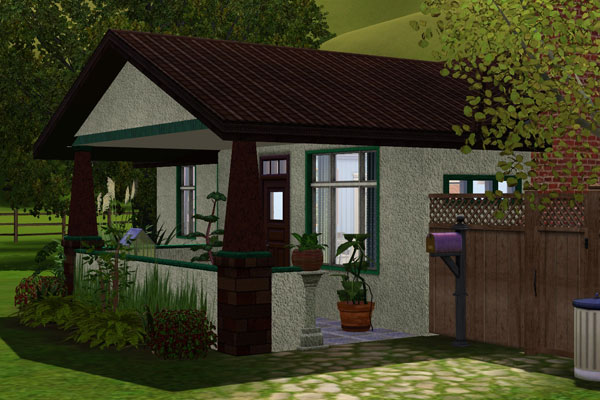 This one isn't a Sears home — it was inspired by a bungalow I saw in an Old House Interiors magazine. I had to come up with the floorplan myself, but I like how it turned out. Well, aside from the laundry nook. I keep forgetting to plan laundry rooms into my homes, so once again, I had to carve out a little space in the hallway for the washing machine. Darned noisy things!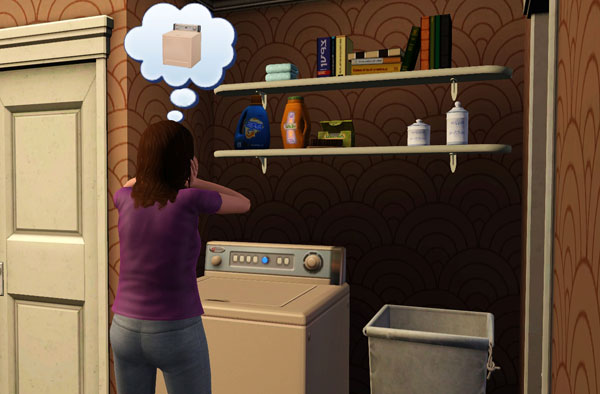 Moira burned her first meal, of course (the accursed oven-waffles), so it was some quick organic cereal for her (she's Eco-friendly; I seem to be using that trait a lot lately), and regular ol' baby food for Daisy.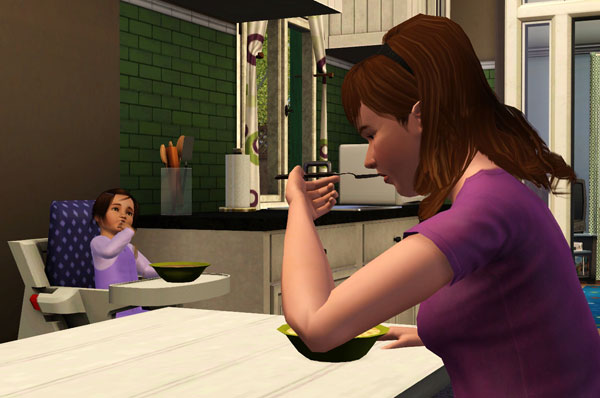 Daisy learned to walk, hooray. I figured she might as well learn, so she doesn't have to spend the next 64 days of toddlerdom crawling around on the floor.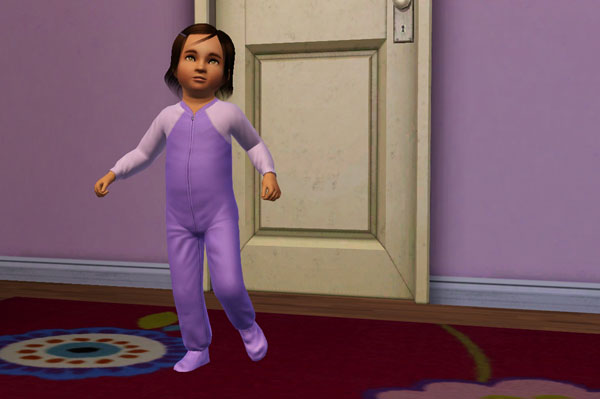 Moira loves being a mom…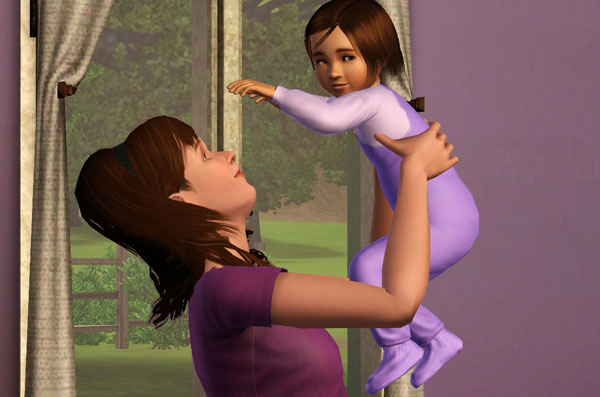 …but new mothers need a break once in awhile, so she asked her neighbor Joann Deshannon over to babysit. Mostly I wanted to try Master Controller's "Add Sim" function to see if it would work for this purpose. That way I don't have to use NPC babysitters, and my teens can make a little pocket change.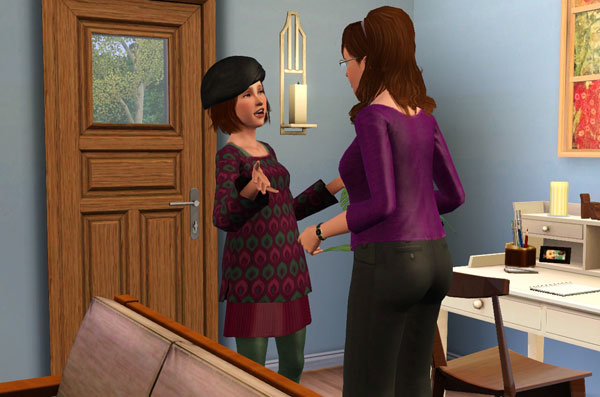 Moira didn't know Joann yet, so I had to use Master Controller to invite her, too. Once she was there, I used "Add Sim" to add her to the household. I figured once Moira returned home, I would switch back to the Deshannons and have them add Joann back in. Again, not a very elegant solution, but I like the realism and connectedness it adds to the town. (Unfortunately my game crashed later on, unrelated to this, so I couldn't test the adding Joann back to her house part.)
She was a little apprehensive about leaving her kid with a stranger, but Joann reassured her that she had plenty of babysitting experience.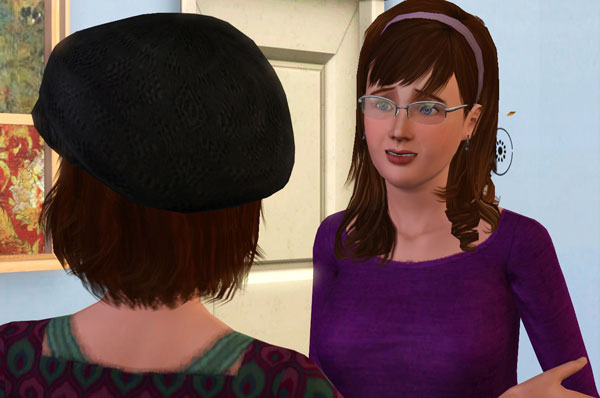 Since Moira wanted to buy a dartboard, but I didn't think it would be practical in her house, I sent her off to the pub to play darts. For some reason people keep using the side door; I guess in Moira's case, it was because she was walking in from that direction, and it was closer. It kind of bugs me, though.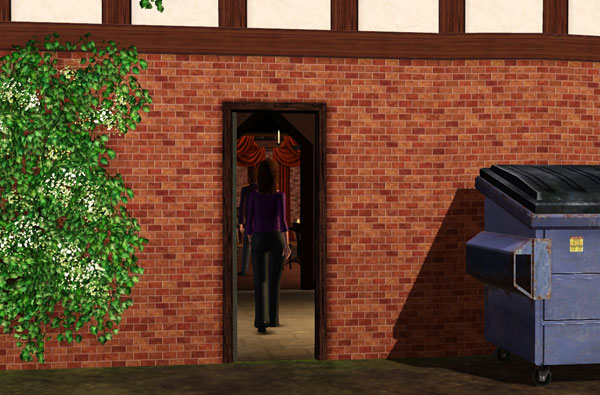 Yes, this is what passes for night life in Ely Corners. Moira is Shy anyway, so she isn't the mingling type.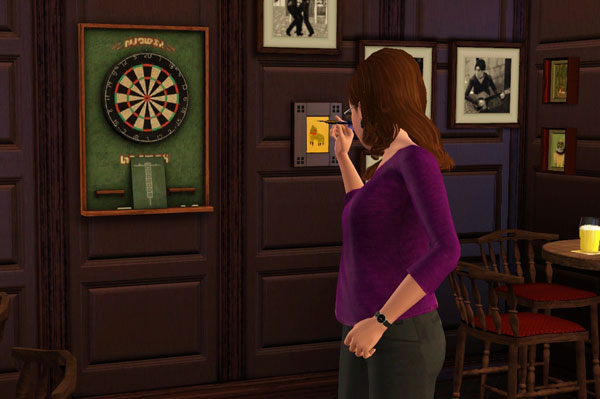 I still haven't built a house for the Chapeltons, so they hang out at the pub a lot, even though Leo Chapelton acts like he's too good for the place.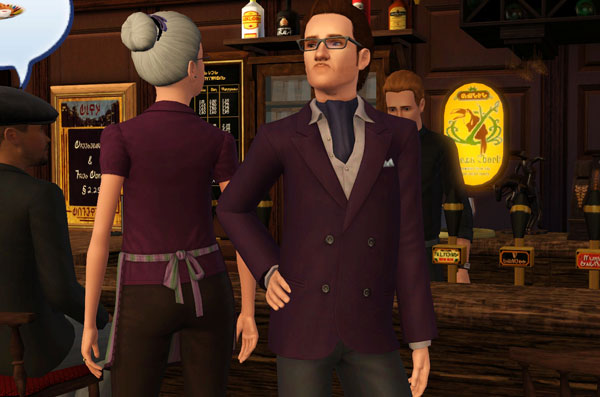 Lillian Chapelton just sits at the bar and talks crap to Will the bartender. I think she might be a bit of a lush.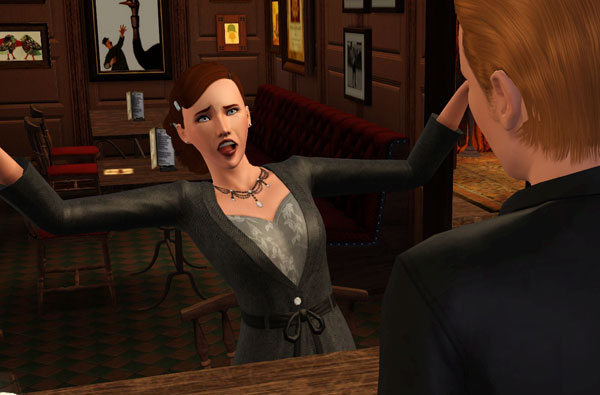 Moira avoids the strange snooty people and eats her nachos alone. (I think I might have to delete that chair — everyone sits there to eat, and they just look funny, with their backs to everyone.)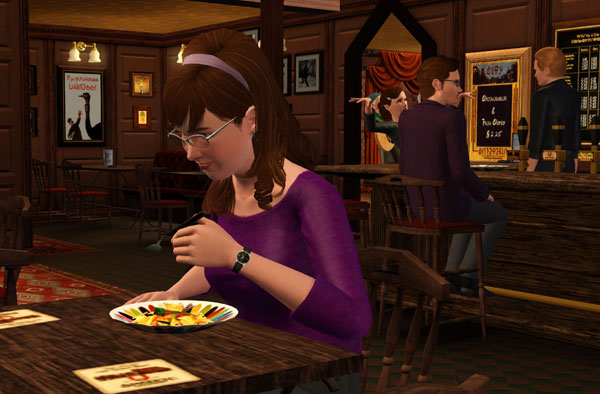 (continued on Page 2)