It was serendipity. As soon as I saw that Kiwi_tea had released his version of Riverblossom Hills, and that at the same time, Tamo had put up a wonderful pair of cat-eye glasses for download, I knew it was finally time to make a TS3 version of one of my favorite TS2 Sims, Franchesca Mortinez.


Those of you who remember Fran might recall that she never wore cat-eye glasses (just nerdy ones), but when I transitioned her to Young Adult for my Gnomesby 'hood (which never came to fruition), she was wearing them. In fact, I even have a picture:
So in my mind, grown-up Fran has always worn those. As for the rest of the family, I didn't create them, because I knew it would take all day, and I was itching to play. So it's just Fran, all by herself, in this very rich re-imagining of her old town.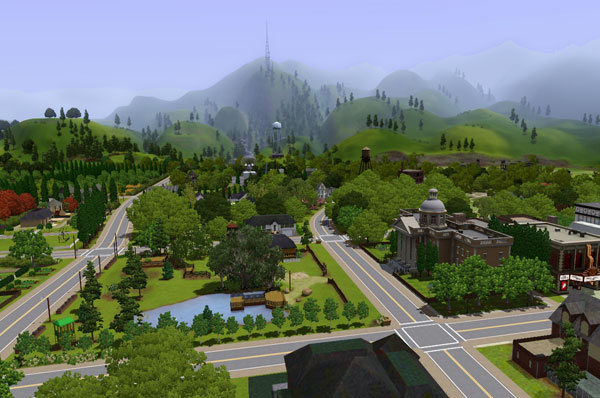 I figure she left town to go to college (and then dropped out after a few years, because she didn't know what she wanted to do), and came back to Riverblossom, but by then the whole town had changed completely, and her family had moved elsewhere.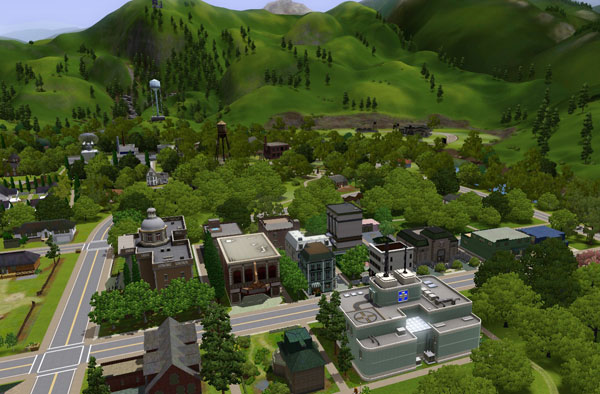 She couldn't even find her old house — that whole neighborhood had been bulldozed and all of the roads re-routed. Now there was a whole mess of cherry trees and a park, next to the home of a Simbot. You know that saying, "You can never go home again"? Well, it was true for Fran in the most literal sense.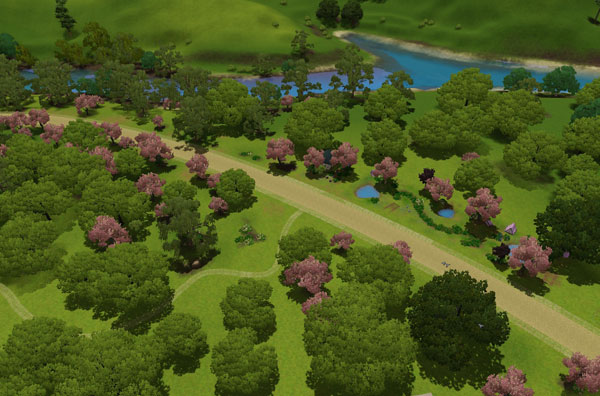 But Fran didn't want to leave town just yet. She felt a particular tie to Riverblossom and wanted to reacquaint herself with it, if only for a little while. Unfortunately, the only two houses she could afford were both dingy and dilapidated and overgrown with weeds. She purchased the less dingy of the two.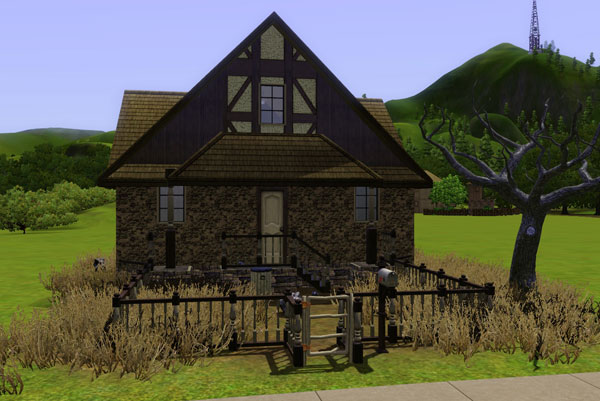 Aside from being a pit, the house had been pelted with meteorites, so the lawn was littered with huge chunks of rock, which Fran sold for a decent sum.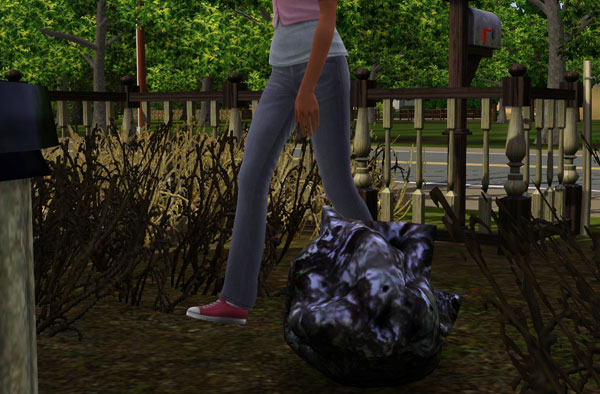 The interior was full of ash and debris, and it took Fran the better part of a day to clean it up. She didn't seem to mind it, though.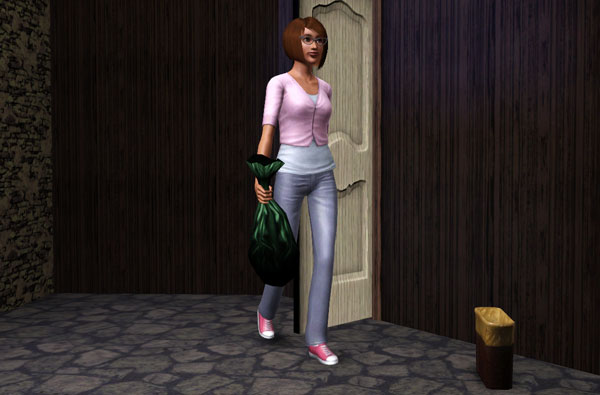 The paperboy tried to hide the paper in the thicket, the little hooligan.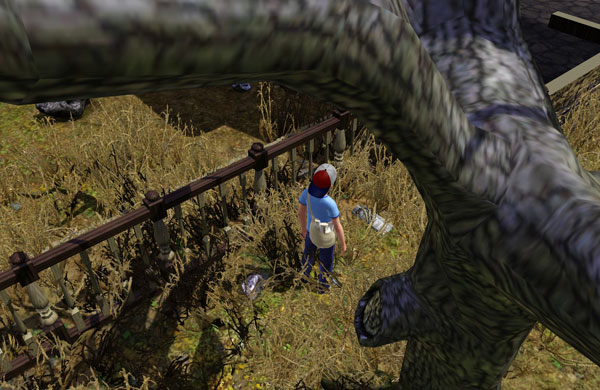 I love how excited Sims get when they find someone who shares one of their traits.
She just looks so happy!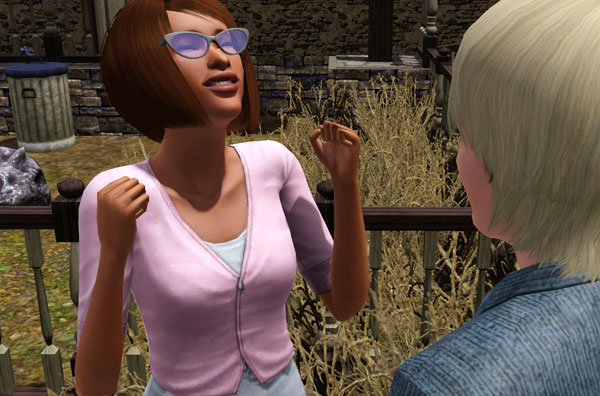 The guy's name was Phillip something-or-other (I should have taken notes. Wait! I found him…Kiwi's Pasimfic Wiki is awesome!). The two seemed to hit it off, and Fran was on her way to making her first new friend in Riverblossom, when Phillip suddenly ran off the lot and disappeared. Mere minutes later, he called Fran on the phone. I think he likes her!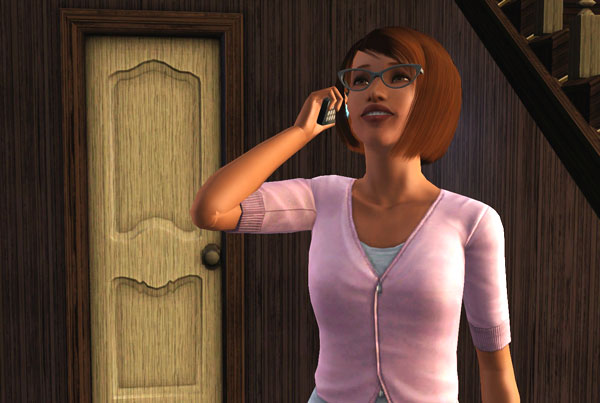 Fran was hungry but was too scared to cook anything in her falling-apart kitchen, so she called a cab and asked to be taken to the nearest eatery. It happened to be a place called the Red Shed.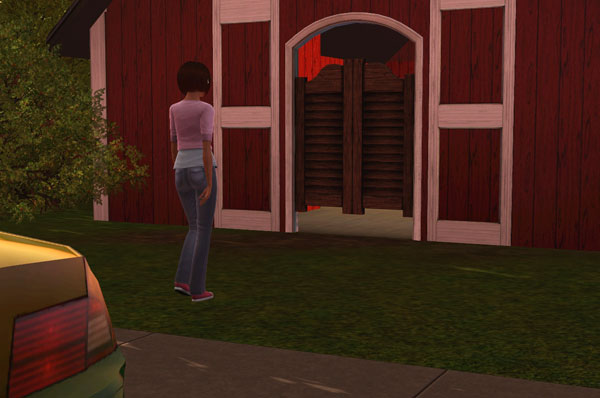 Fran was checking the place out when this charbroiled lady walked in. She's Professor Von Threadneedle, and I suspect she had a little accident with the inventing station.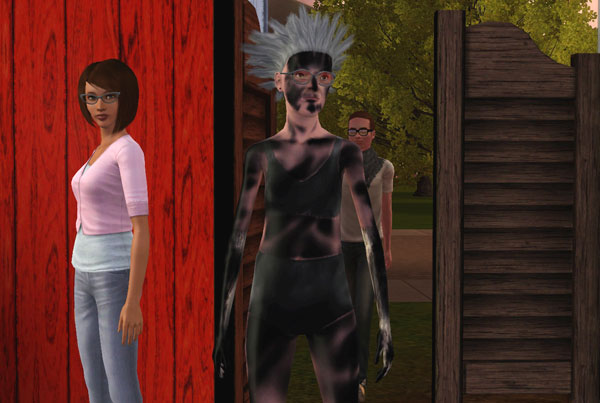 There are all kinds of colorful characters in Riverblossom. Apart from the usual suspects like the Greenmans and O'Mackeys, there is a host of custom NPCS (I saw a firefighter named Bernadette Burns, heh) and interesting playable characters that are very Maxis-like. Fran didn't seem to care much for the Simbot that lives in her old neighborhood, though.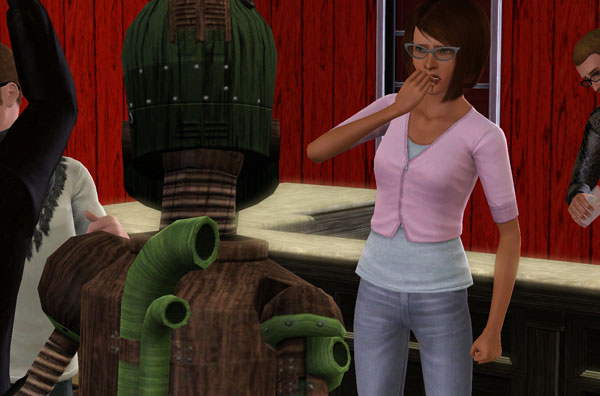 She didn't care much for the grilled cheese she ordered, either. What's with that neon orange cheddar? It looks unnatural.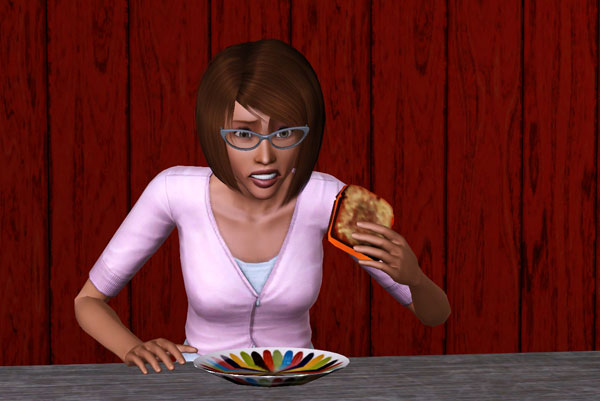 (continued on Page 2)