I'm still plodding along on turtle speed (whoa, Sim City flashback) in Ely Corners, and finally finished the Deshannons' house. It is based on another 1920s Sears Home, the Vallonia, which I also did in TS2.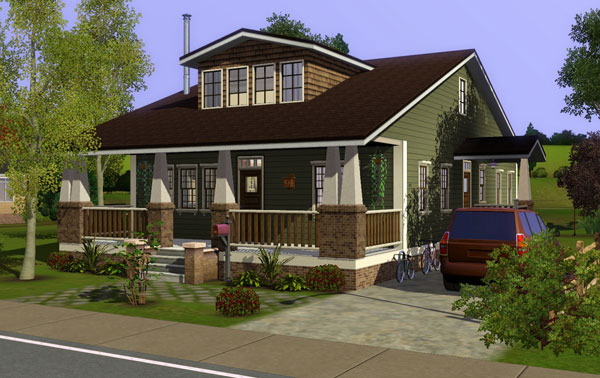 By the way, I am really lovin' the new landscaping set from Simply Styling – it's nice to have some more "filler" plants that aren't flowers for my yards.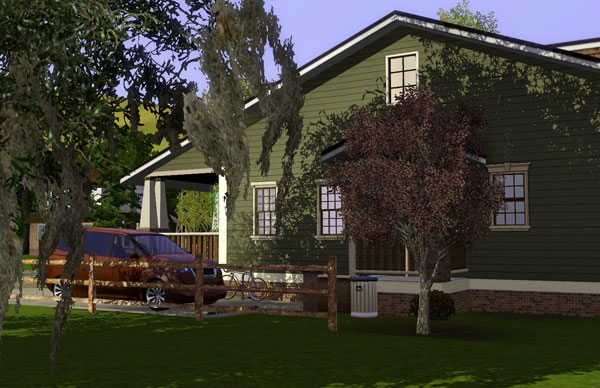 Doug Deshannon is eco-friendly (quick showers, yay), so I put a clothesline in the backyard. You can also see the garden signs where Doug hopes to plant some tomatoes and lettuce (his daughter Joann is something of a tomato enthusiast).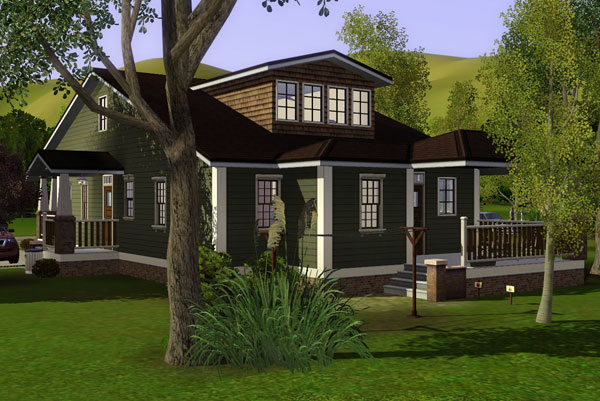 Inside, we find the kids – Gail, Kirby, and Joann — hanging out in the living room, watching TV and chatting. They're supremely bored because there's nothing to do in town yet. I plan on building the local pub next, but that still won't do much for teens and kids, so they'll just have to be patient.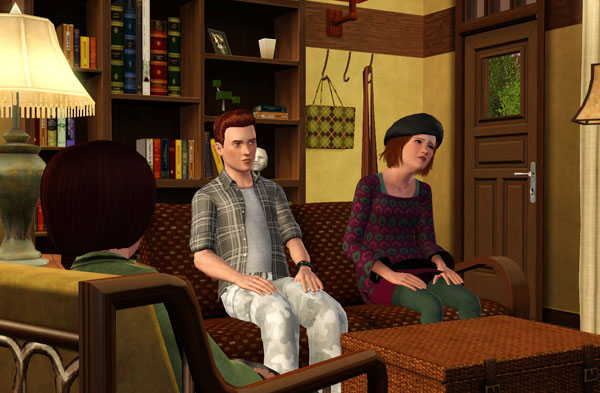 (I changed Kirby's hairstyle to look a little more "jock"-ish, but I don't know if I like it…this is why it takes me so long to do things — I can't make up my danged mind!)
Here's another view of the living room with nobody occupying it. The wicker trunk that looks like a coffee table in the middle of the room is one of Around the Sims 3's new chest-likes – they're based on the treasure chests from World Adventures, but you don't need WA to use them. There are no animations for them, but Sims can store inventory in them, which makes it easier to share things among the whole household. I haven't tried them in-game yet, but I love the idea! There are several different styles of chests, and most of them have slots on top, making them doubly useful. Sandy comes up with the BEST stuff.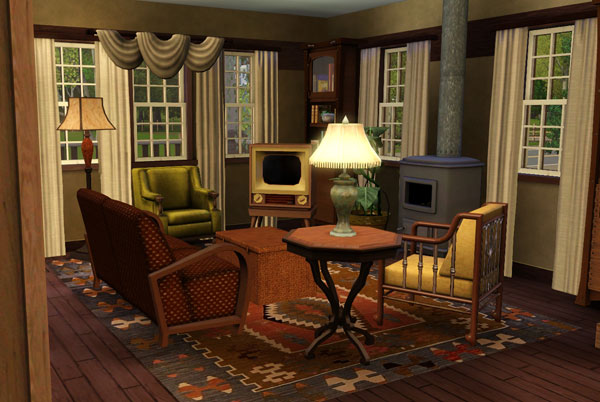 Here's the hallway leading to the bedrooms, bathroom, laundry nook, and the side porch, for easy access to the driveway. I forgot to make a spot for the washing machine originally, so I had to carve a little space out of the girls' bedroom and then add an archway so it wouldn't be right IN the hallway. Now my side door looks like a front door with a vestibule. D'oh.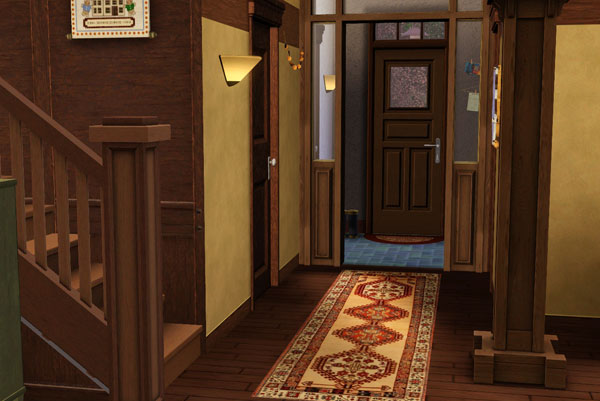 The dining room, still stuck in the 1920s, but Doug likes it that way: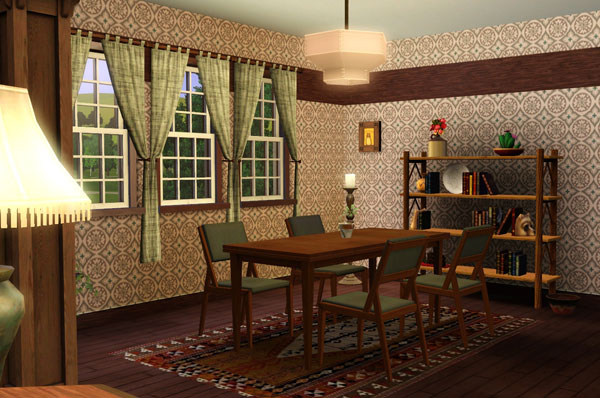 And here's the kitchen, which is rather shabby looking and in need of renovation (why yes, I did that on purpose – I have become rather obsessed with shabbifying things!):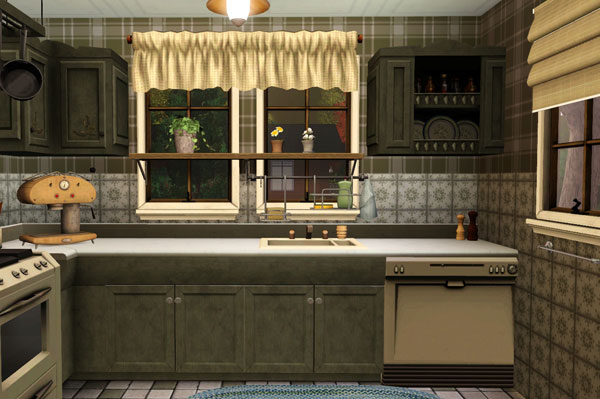 Down the hallway, we come to the master bedroom, which is also where Doug does his writing. His specialty is historical paranormal noir, which is a genre I made up about five seconds ago but suits him perfectly. I gave him a comfy desk chair, a computer, and a view of the river, so he should be pretty contented in there. I mean, what more do you need?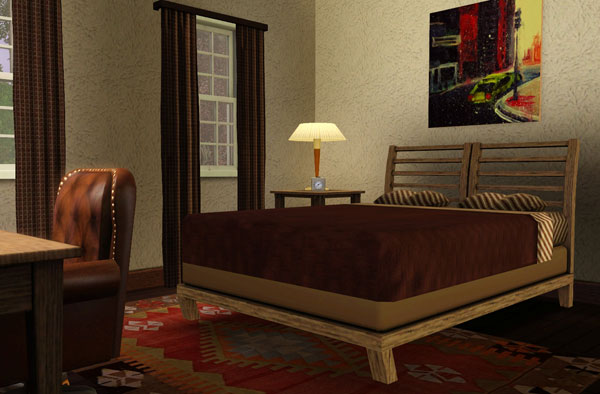 Across the hall, his two daughters share a room. Instead of forcing his usual palette of browns and greens on them, he let them go shopping (online of course – there isn't much in the way of local retail yet) and pick out their own bedding and furniture. (They didn't bother to make their beds this morning, tsk tsk.)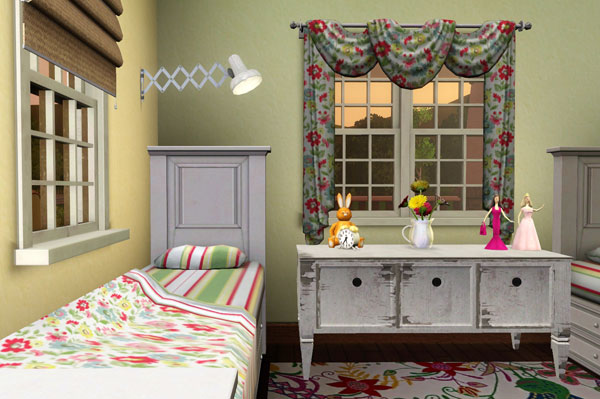 Kirby, by virtue of being the only boy, gets his own spacious room up in the attic. Lucky kid. Oh, and he didn't make his bed, either.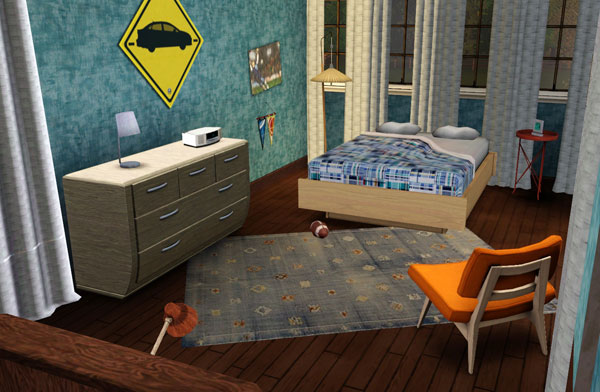 I didn't bother with pics of the bathrooms, because they're teensy and hard to take pictures of, but I did them in a 1920s style also. Basically, very simple with a lot of tile.
Here's a pic of Doug on the back porch, enjoying the fine late summer/early autumn weather (I've decided it's always September-October-ish in my world, at least until we get real weather):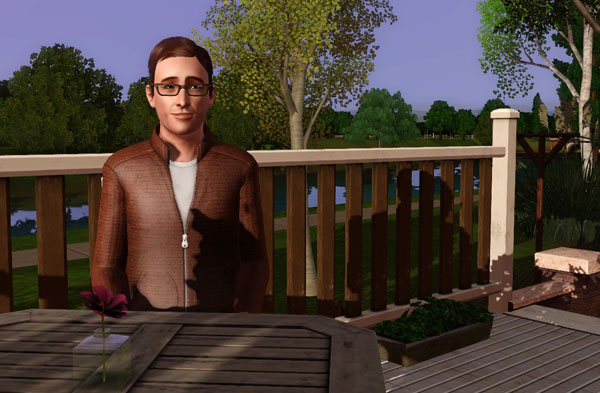 Finally, here are some progress pics. The first is an overall view of what I want to finish up before I start playing.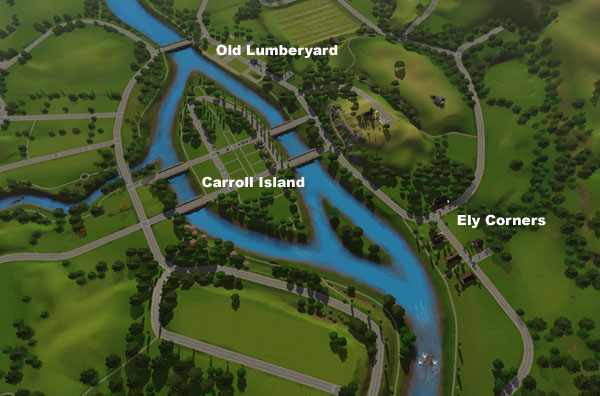 There's Ely Corners, of course, which still needs abour four more houses and a few community lots. Then Carroll Island, which is going to have an old spa hotel, four or five old cabins, and a lot of trees. Last but not least, the Old Lumberyard area, which has the old lumberyard, the old train depot (now the recording studio/coffeehouse), and a few old lumberyard worker houses.
The lot up on the hill (at the top of the winding path) is a church/cemetery that I built back in October (before Late Night came out — my, how time flies), but I need to put some graves in there and possibly change the roof. Hey, I just remembered I have a pic of it — here you go, a work in progress: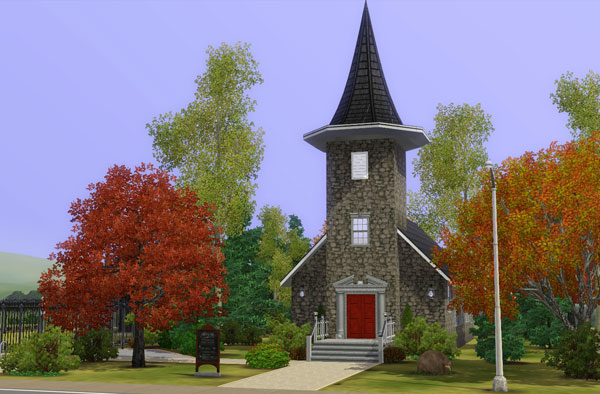 Oy, I have a ways to go. Notice how this project has tripled in size over the past week…I blame my non-Simming friend Michelle, who gave me a ton of cool ideas for my town. Darn you, Michelle! I'm having a blast with it, though. I just have to learn how to build and decorate more quickly so I can keep a good pace here and not get overwhelmed. It takes me a long time to create Sims, too, but fortunately I have six more families done already – they just need homes.
Some shots of Ely Corners: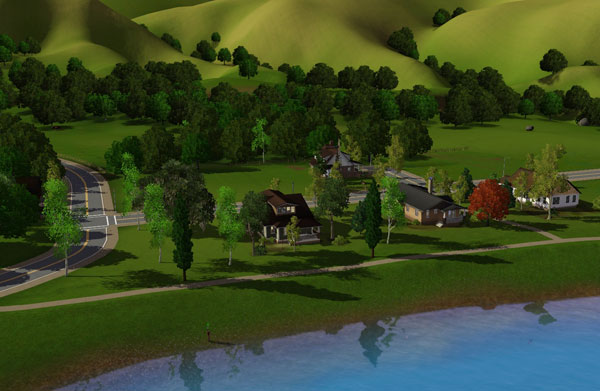 You can see Doug fishing in the river in the above pic – I need to figure out how to make the water a less turquoise-y blue – it doesn't look very river-like! I've also been trying to give those houses along the river back porches so they can enjoy the view, but I forgot to do that on the Avalon, the last house on the right. I'll have to make a note to do that.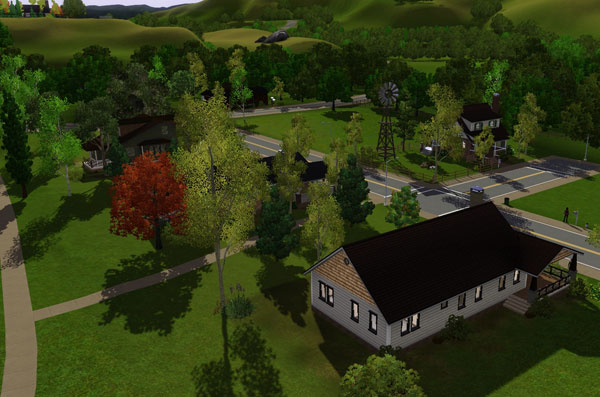 All righty, that's it for now. I hope to speed up my progress, but I might linger over building the pub – I've been looking forward to it, and I want to get it just right. Until next time, Happy Simming!