As I mentioned in my last post, I'm having a love affair with houses from the 1920s, particularly the Sears pre-fab homes that were popular back then. Since I have to fill up Shady Bluff with houses anyway, I figured I might as well have fun and attempt to build some of these old-fashioned beauties. For my first go, I bring you The Vallonia, inspired by the house of the same name in the Sears, Roebuck Catalog of Houses, 1926.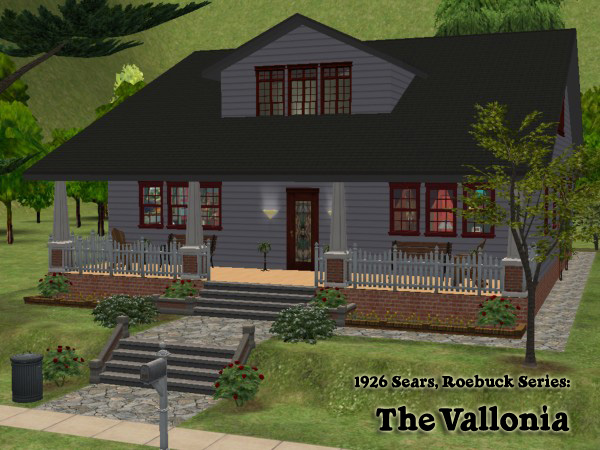 The Vallonia is an updated craftsman-style bungalow with a living room, dining room, kitchen, four bedrooms, and two and a half baths. The lot is small — 2 x 3 — but the house takes up most of the space, so it's quite roomy. There wasn't any room for a garage, but hey, that's what taxicabs are for, right?
The house is fully furnished using only Maxis items. I have all of the expansions and stuff packs installed, but you shouldn't need all of them in order to play this house — at least, I hope not. If you have trouble installing it, try using the Sims 2 Pack Clean Installer.
I haven't playtested it much yet as I'm on a building rampage at the moment, so if you happen to play it and run into any issues, do let me know!
Download The Vallonia (ZIP file)
To see more views of The Vallonia as well as some examples of alternative exteriors (using awesome and completely free custom content!), read on!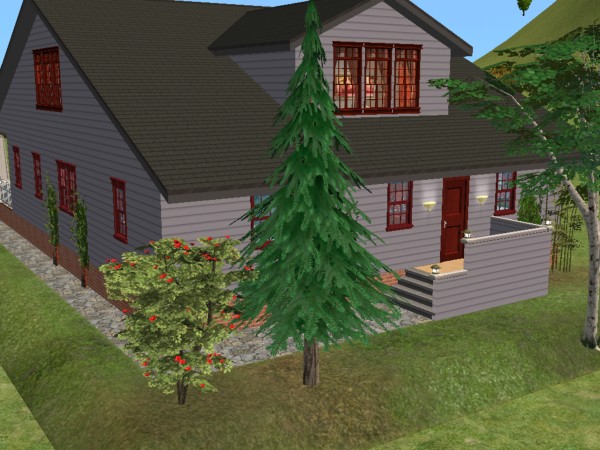 The back of the house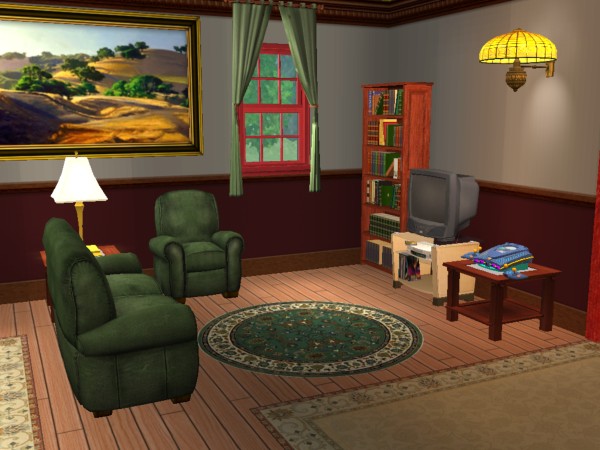 The living room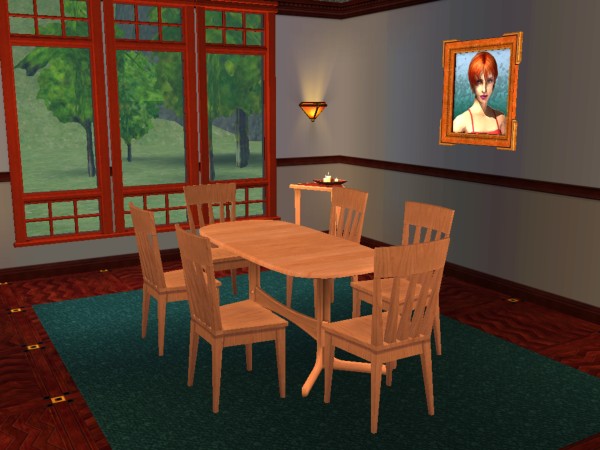 The dining room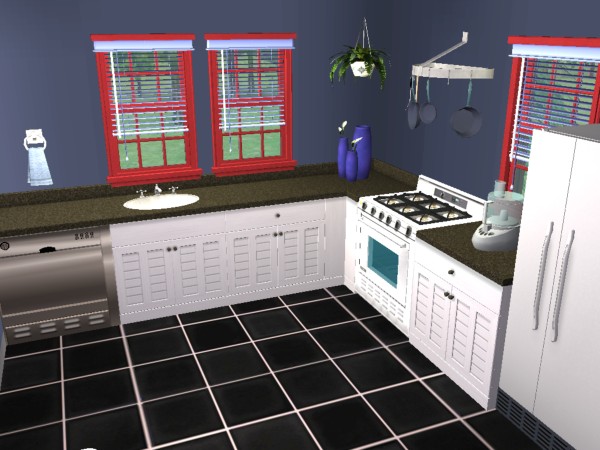 The kitchen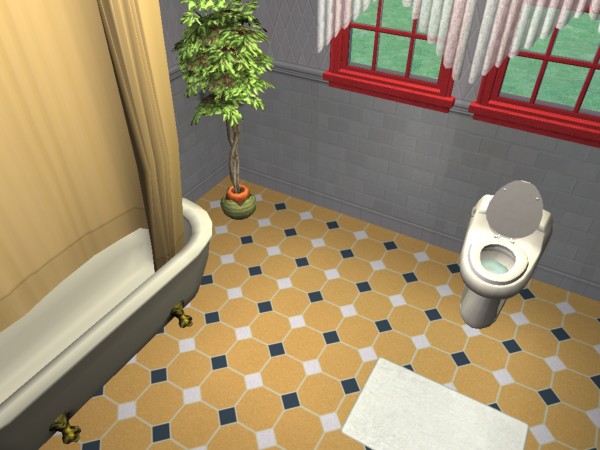 One of the bathrooms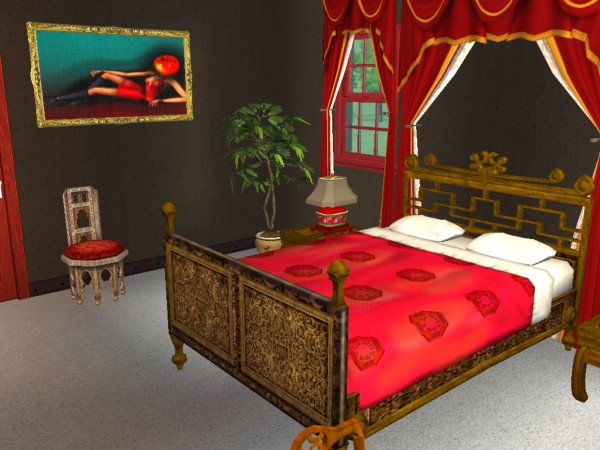 One of the first floor bedrooms
Aaaaand…I forgot to take snapshots of the floorplan, so I apologize. It looks pretty much like the original, except the stairs are arranged differently, and there's a little reading nook on the second floor landing. Also, one of the upstairs bedrooms was converted to a bathroom.
Now for a little diversion…since I'm going to be recycling this home myself, I thought I'd display some examples of how it could be altered, using free custom content to do so. These are just suggestions and are not available for download. However, I have listed credits below each picture if you want to go and snag some of the great stuff on display.
The first one is sort of beachhouse-style: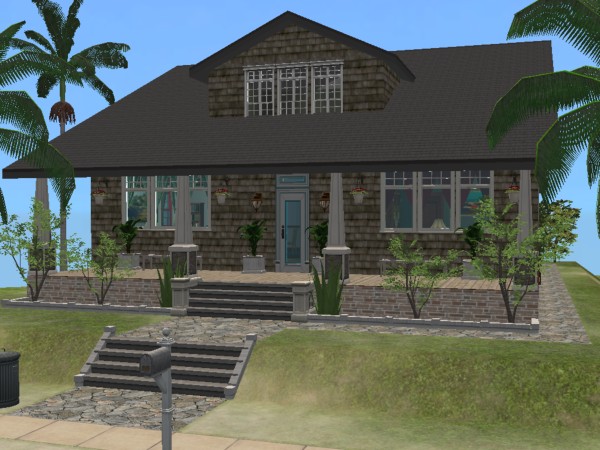 Beachy Vallonia
Credits:
Palm trees by alex_stanton1983
Yard plants by SimplyStyling (Objects –> Outdoor/Garten –> page 4)
Shorter Independent Expressions windows by Sunni Sims
Planters by Marina
Exterior light by AvenidaSims
Exterior and foundation walls by AvenidaSims
Backless bench by Jendea @ The Sims Zone
The second one is a variation in brick: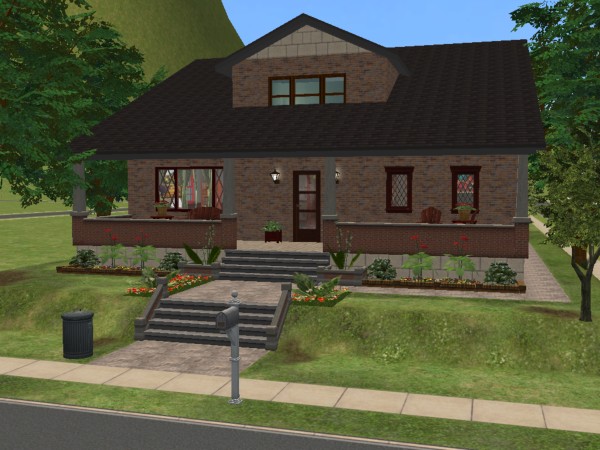 Brick Vallonia
Outdoor lantern by Numenor
Magnolia tree by Maxis/Numenor
3-tile Lattice Window by zookini
Triple Wide Double Hung window by tigmomx4
Brick fence with supports by yedda_2000
Tall tree by someone at MTS2 — I can't find it! Phooey. I'll update this link if I can figure it out…
Foundation wallpaper by margierytka
Medieval Stone Tiles by CokeBuilder
Ginseng, Lily, & Mandrake plants by Kate @ Parsimonious
Primroses by macarossi
Potted plant by Nengi @ Nengi's Builds and Things
Front door recolor by nazariopilar
Happy Simming!