The Pomeroy is a house I built for the "Challenge me to build 2.0" thread at the Living Sims forum. I enjoyed the challenge immensely and decided to put the house up for download. One caveat: it requires several CC items for the exterior, since I was trying to make it look like the original drawing that sebausten gave me. However, the interior consists only of base game items and patterns (hopefully nothing from Ambitions or WA slipped in!). At the end of this post I've listed the CC you will want to download if you want the exterior of the house to look like it does in the pics.
This Florida-style house was built on 4 Bayside Drive in Awesim's Redcliffs, so it looks best there, but it should be fine on any lot that is 35×45 or larger. The lot is much bigger than it needs to be for the size of the house, but I guess that just gives you some extra room for expanding, building a garage, or adding a pool. The cost is around §60,000 furnished.
The roof is a bit wonky and has some odd gaps — it's the only way I could think of to make it look like the picture. However, you can only see the gaps when the roof is up and you're looking from the right angle. It doesn't affect the view from inside.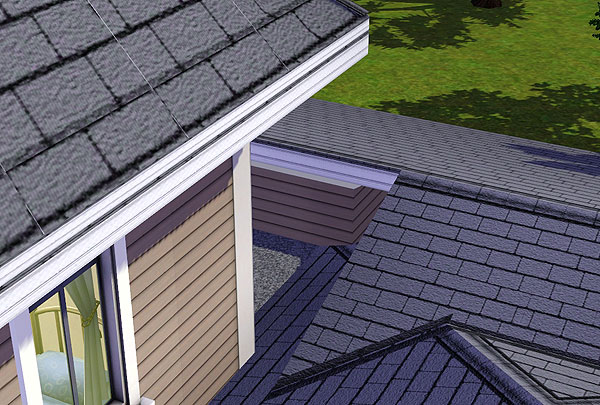 More pics, CC list, and download link below!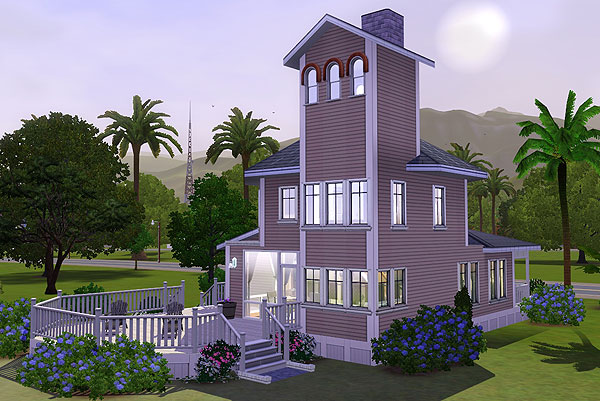 Rear view of house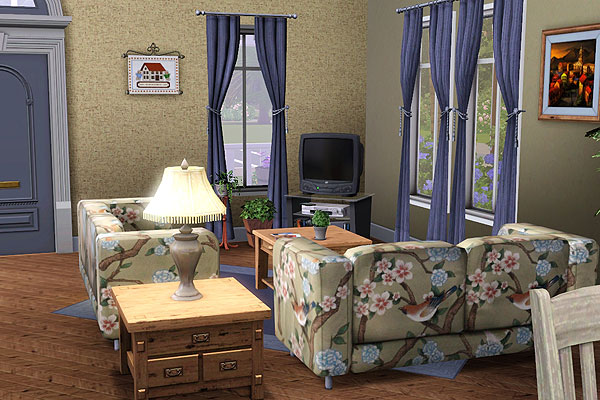 Living Room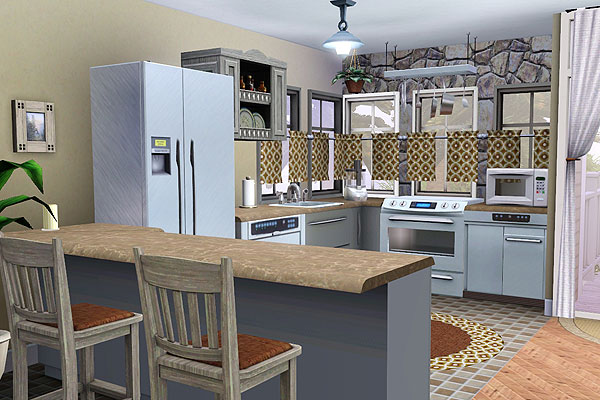 Kitchen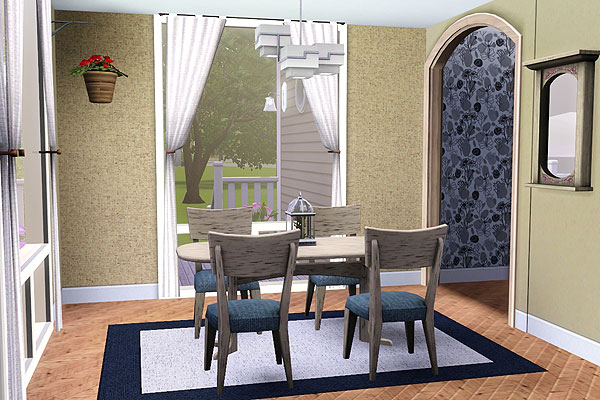 Dining Room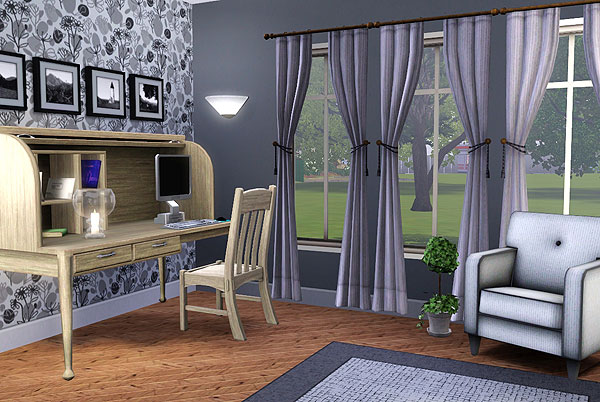 Den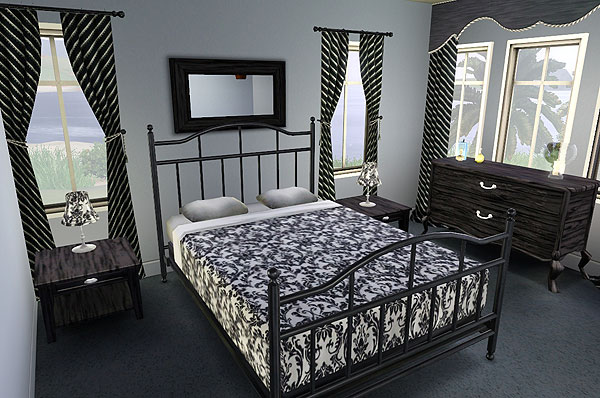 Master bedroom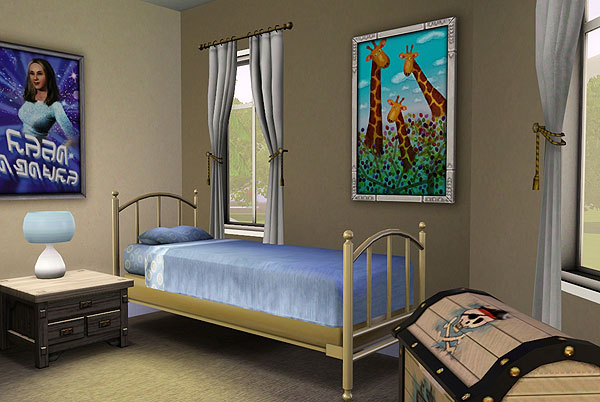 Second bedroom (fits two twin beds)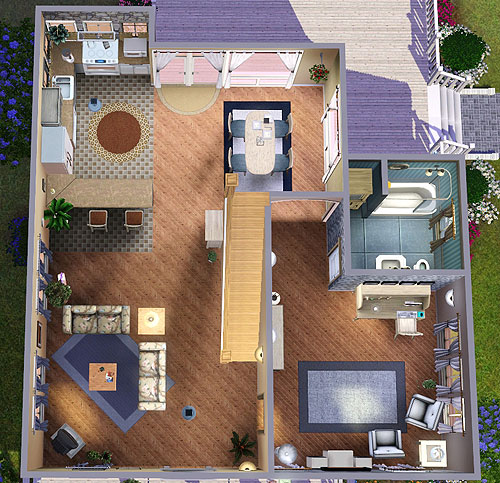 First floor overview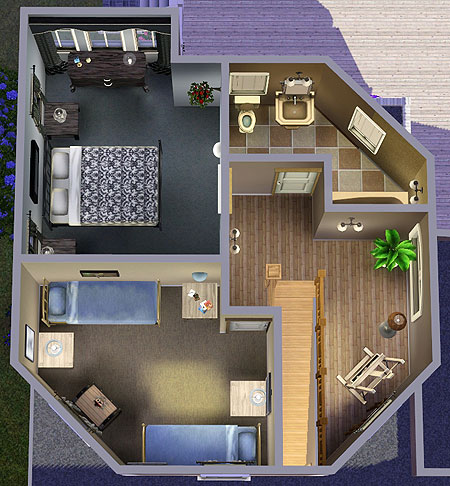 Second floor overview
Note: I spruced up the interior a bit after I posted the pics at Living Sims, so the overviews will look different here than in my post at the forum.
Details
Rooms: 2 bedrooms, 2 bathrooms, living room, kitchen, dining room, den, upstairs nook
Lot size: 45 x 35
Cost: §59,357 Furnished; §42,071 Unfurnished
CC Required
Madaya's Classical Windows Set – Part I and Part II (TSR – free)
Flabaliki's Porch Fence (Sim Supply)
Old in September РSet de anta̱o (only need the archway)(LunaSimsLulamai)
Tammy_trauma's white-trimmed roofs (MTS)
Siding pattern by Babolat (I'm pretty sure this is what I used – let me know if it's not!)
Cyclonesue's Useful Walls (TSR – pay)- I used this for the fake chimney, which is completely unnecessary, so if you don't/can't download this item, I don't think you'll miss it much!
As always, let me know if the house doesn't work for you or has any issues! Enjoy!