Hey all, some Simming friends of mine were curious about the items included in the Fast Lane Stuff Pack, so I took some pics. (Yes, I bought Fast Lane Stuff, because I am a drooling EA zombie robot and must purchase any SP or EP they release.)
To help show off these objects, we have Lexi and her boyfriend Steve, both Handy Vehicle Enthusiasts with a need for speed. They like cars so much that the whole first level of their home is a 5-stall garage.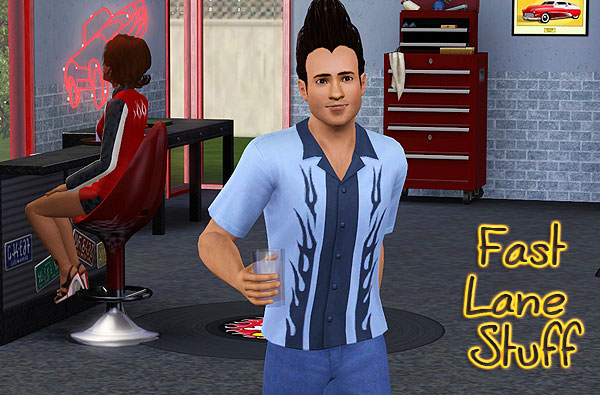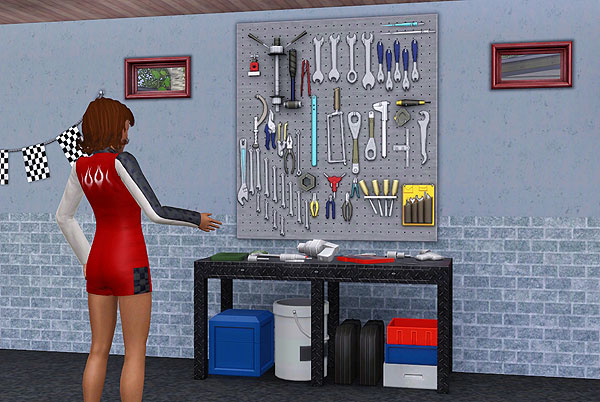 Lexi checks out the Auto Analysts Tools and Tricks (a fancy name for a board with tools on it) and the Vehicle Depot Bench, which comes precluttered (and looks very much like the non-cluttered Transformation of Transportation Workstation, which we'll see a few pics down the road).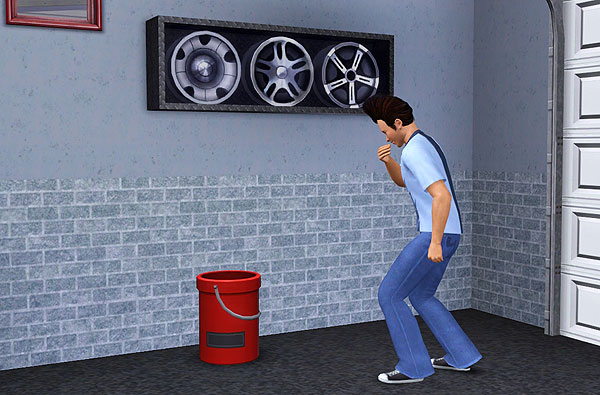 Steve ponders what to do with the Bucket of Fun and wonders if it's really all that fun. Above him hangs a set of Custom Rims.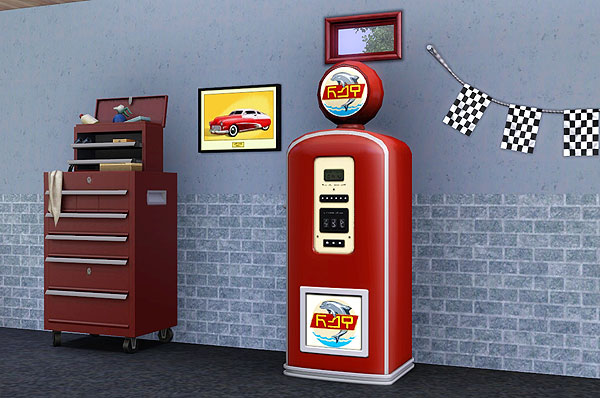 From left to right: Totally Tools by Simplicity, Oldie But A Goodie, Pump It Up Gas Pump, and Final Flag Banner. All are deco items.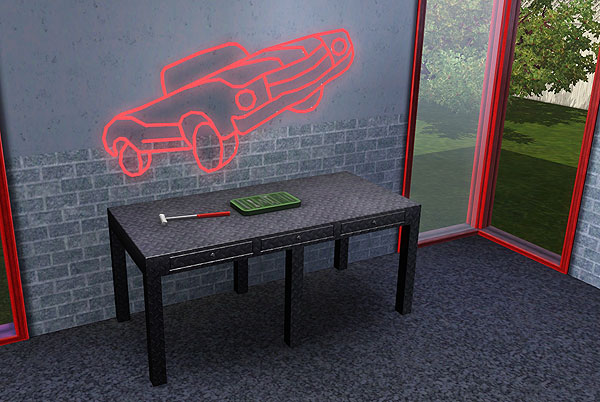 Here's a workbench you can clutter up yourself: the Transformation of Transportation Workstation. Resting upon it are the Recoil Hammer and Tuff Gruff Tools (both deco). On the wall is the Va-Va-Vroom! neon mural.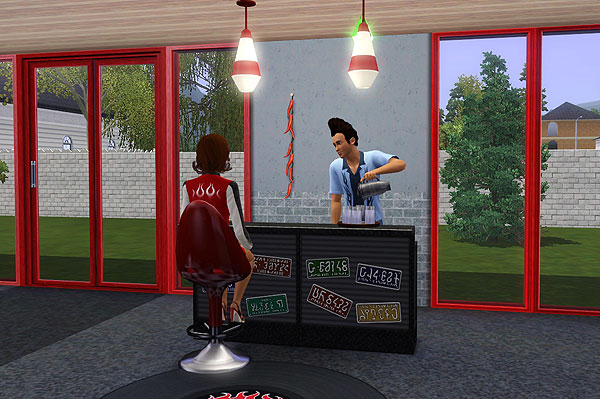 Lexi sits in the Right at the Turnpike Stool while Steve pours a drink from the Left at the Turnpike Bar. Guess they're going in separate directions this evening. Shining overhead are the Boogie Lights, and behind Steve hangs a set of Speedy Spicy Chilies. On the floor (sorry I didn't get a better shot of this) is the Record of Love Rug.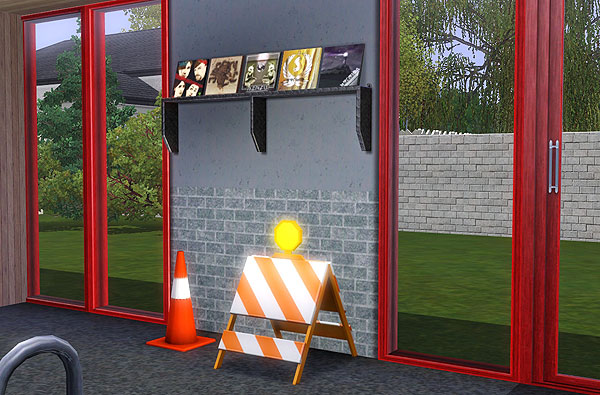 On the wall: Rockabilly Record Shelf. Below: the Gridlock Cone and the Stop-o-Meter sign.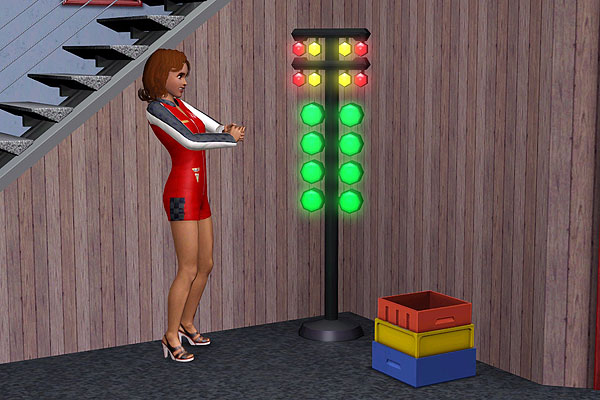 Lexi coos over the Stack o' Storage while the Go Go Go Lights beam in her general direction.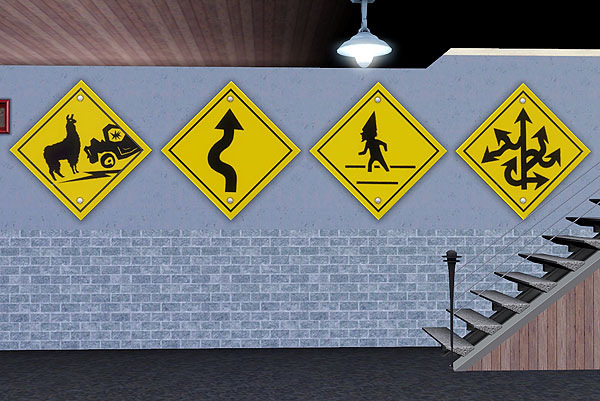 Sign of the Times traffic sign and all of its recolors. I am in love with the gnome crossing sign.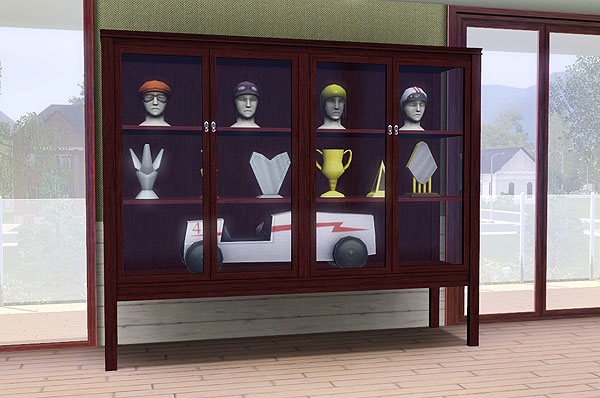 The Win-Win Trophy Case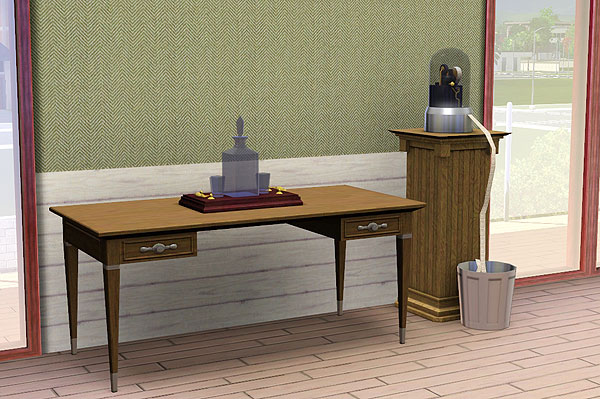 Mrs. Wynndale's Writing Desk, Debonair Decanter (perfect for a Mad Men set!), and Tick Tock Stock ticker tape machine.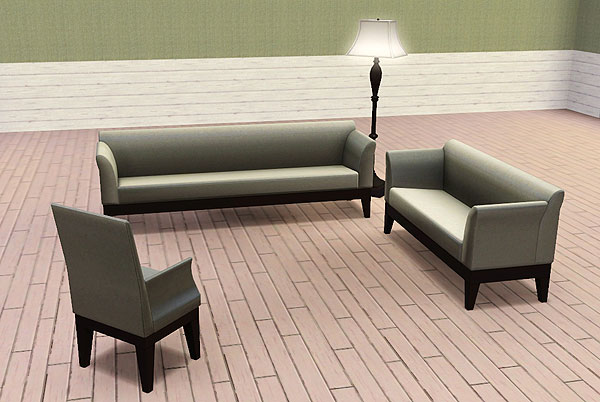 The Wynndale Estate Chair and Sofa, Lulu's Loveseat, and Grandfather Wynndale's Electric Candle.
This furniture set looks kind of bland, but the texture has a nice sheen to it, which makes it look good in leather or fabric patterns.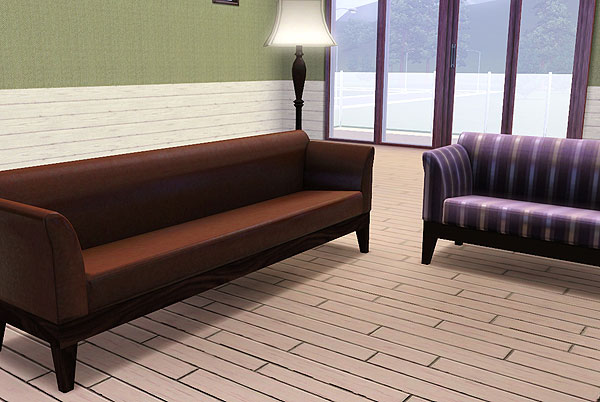 (continued on Page 2)