Hey all, just thought I'd do a quick post about what I've been up to lately. As you may have noticed, I ran out of steam with my Wishful Living Challenge family, sadly. Generation 6 (Jules's heir) reached adulthood, moved into Goodwin Goode's old house, and married a lovely woman. Last I left them, they had engaged in some post-wedding woohoo which resulted in lullaby chimes. For some reason, I never went back after that.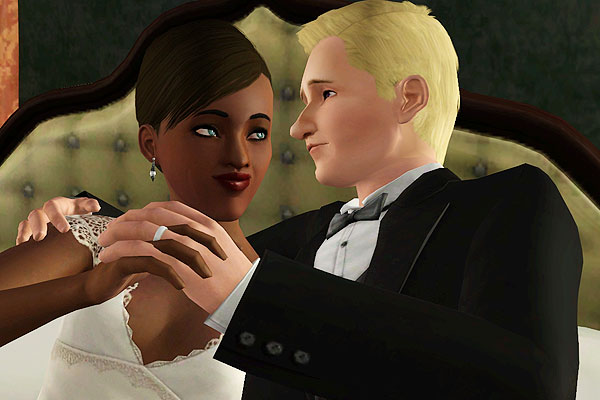 The last pic I took of the Shanleys

Actually, I think I know some of the reasons, and none of them had to do with the actual challenge, which I enjoyed. Mostly I wearied of all of the kids having predictable genetics — they always looked like one parent or the other, never a nice blend of the two. And then the townspeople started to become a hodgepodge of horribly generic — the game kept generating Face #1 for all of the new residents — and terrifyingly ugly. I had a tough time finding a wife for Marlowe, and in the end, he fell in love with a GenericFace, and I edited her in CAS to make her look more unique.
Anyway, I don't mean for this to be a big grumpfest, but there you go. I suppose it didn't help that Marlowe had a fancy house right off the bat (though I didn't decorate the 2nd floor) and had chosen the Medical career, which didn't excite me much, even with the Ambitions changes. Whatever the reasons, I fizzled out, so I guess we can toss that one onto my ever-growing heap of unfinished challenges. ;-)
And sheesh, I never even posted anything about generation 5. Jules ended up moving into one of the Poker Flats houses and married a Bayless! But she looked like her father and not her mother, good ol' Chase Bayless. Thank goodness for that.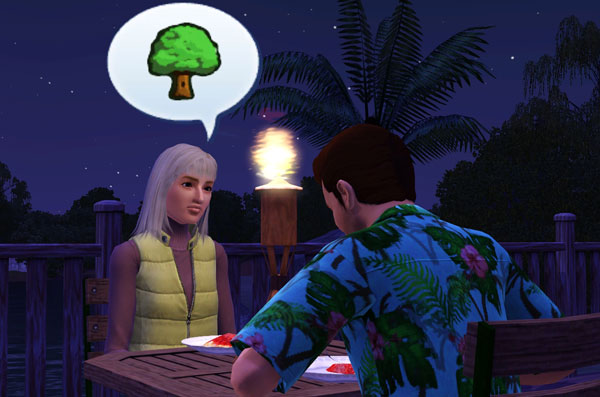 Jules woos his wife-to-be, whose name I have forgotten
I had Jules pursue the Private Investigator profession, which is another way of saying he ogled women all the time.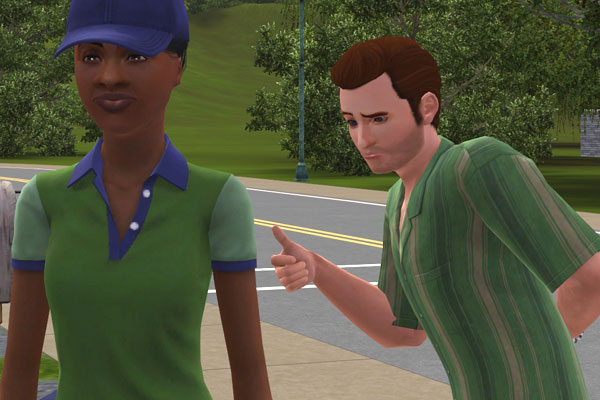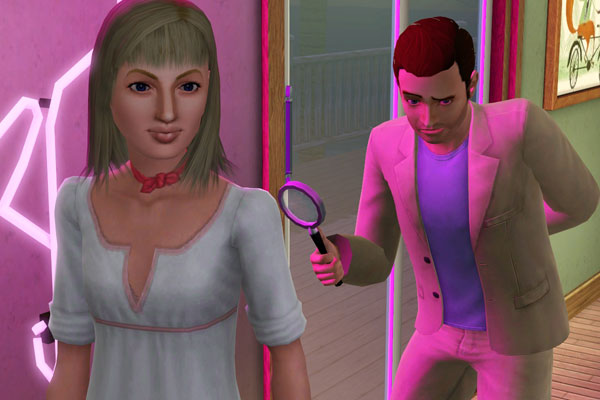 OK, so it only looks like he's checking them out — he was actually just doing the usual private eye animations.
I thought Jules's wife looked much better (or at least, less birdlike and sour-lemon-lipped) after her makeover — it's amazing what some make-up and new eyebrows can do.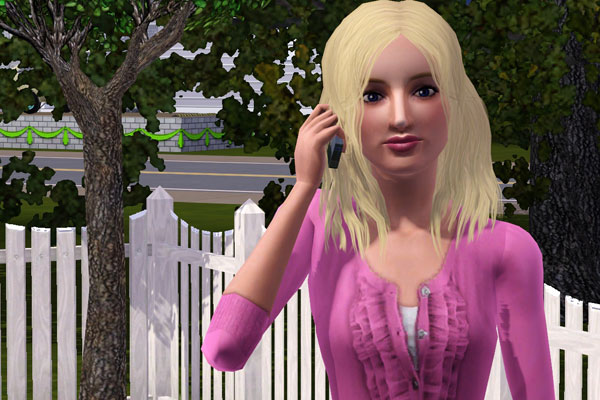 She became a writer, fulfilling the Professional Author LTW. Their daughter Christie completed the Perfect Aquarium LTW, and then their son Marlowe became the heir and moved out. Generation 5 in a nutshell.
Who knows, I may go back to them someday, but I decided I'd rather play a town where I have created all of the Sims and therefore don't have to worry about generic folks moving in or people running around in hospital gowns or old ladies riding around on choppers, even if those things amused me enough that I had to take pictures of them. Thing is, I can't decide on what kind of town I want to create, and it changes daily, so that project is creeping along at a snail's pace.
In the meantime, I've joined the Living Sims forum and am trying out some of their building and decorating challenges. I'm downloading CC like a madwoman and using the lovely Redcliffs world from Awesims as my backdrop. The Living Sims magazines are great fun to read and always have inspiring photos — check it out if you haven't already. I'll leave you with a picture from the first challenge I entered at the LS forum — the Three Tones Challenge. I chose color palette #3, which is a pale blue, off white, and goldish. I had to use those three colors as the base of my living room, and I added rust and teal as accents. Anyway, it was a blast, and I look forward to trying out more challenges there.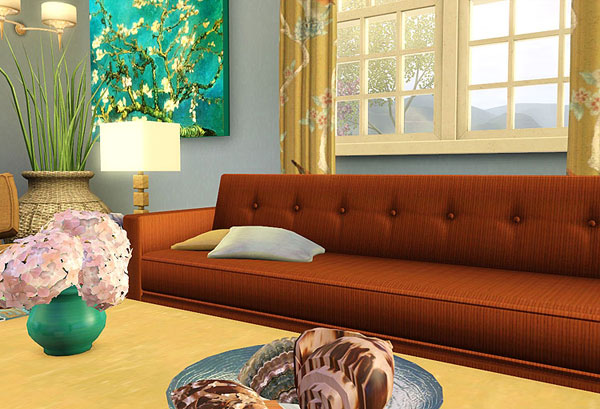 How about you guys? What are you up to?