(Quick note: As you can see, I've switched over to a different WordPress theme. I haven't figured out how to get my "Recent Comments" working again, but otherwise I think everything is here. I liked my old template quite a bit but wanted to update to something more recent and also make my archives/categories easier to navigate — they now show the posts as excerpts instead of full posts, and there are five per page instead of one. Anyway, let me know if anything looks weird or wonky or if you're just having a bad day and need a cookie.)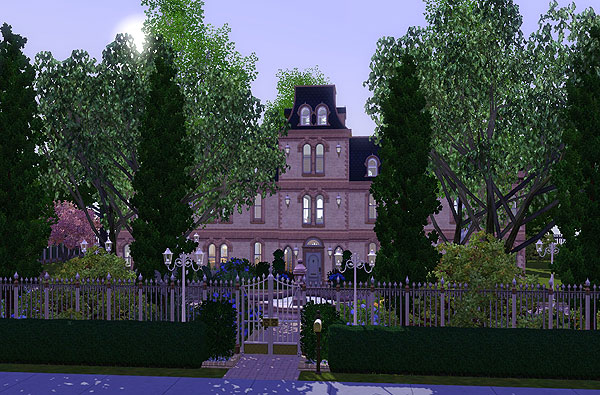 Work continues on Plumbridge Island in little bits and pieces. Building lots and creating Sims in between tinkering with Create-a-World breaks up the tedium somewhat. Plus it helps me to develop the atmosphere of my world a bit more. So over the past week I've been working on the Royal Palace, home of the Mittendorf family. I'm still not done with all of the decorating, but I've finished the exterior and most of the landscaping. Much like the Plum Point Lighthouse, the Palace is one of the major landmarks of my world, so it was extremely satisfying to see it take shape.
As you can see in the first pic, I overdid the foliage a bit, but I wanted to convey a sense of mystery and privacy. The trees get in the way when I'm playing though, so some of them might have to go. It's too bad, because I love me some trees!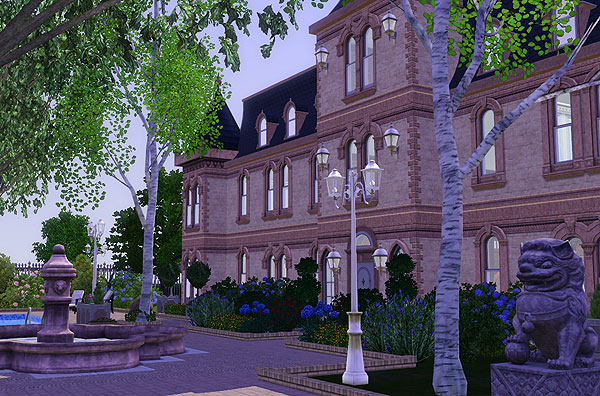 I didn't plan very well for a big backyard, so I put the swimming pool in the front of the house (hence the need for so much privacy in the front yard). You can see a little glimpse of it beyond the fountain.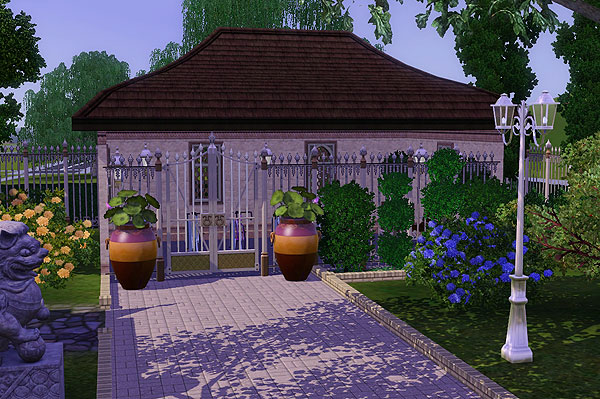 Here's the palace "garage". Since cars are banned on Plumbridge Island (except for service vehicles), it holds only bicycles, one for each member of the household. The royal family should really have their own horse and carriage combo, but since those don't exist yet, they'll have to provide their own locomotion.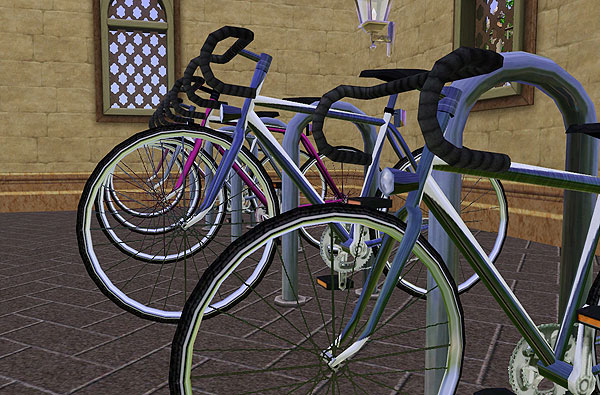 Since there isn't a mod that I know of which will force Sims to ride bike all of the time (like in Shang Simla), I figure I'll just have to make sure every resident of the island is assigned to a bicycle as their preferred mode of transportation. I'm sure I'll still see taxis and cars motoring around town, but hopefully not too much.
Here's the back of the house, which needs a bit more furniture, but allows you to see more of the cool roof pieces by Goggalor as well as the handy-dandy clocktower roof by Cyclonesue, part of a nice FREE set which I will also be using on my town hall.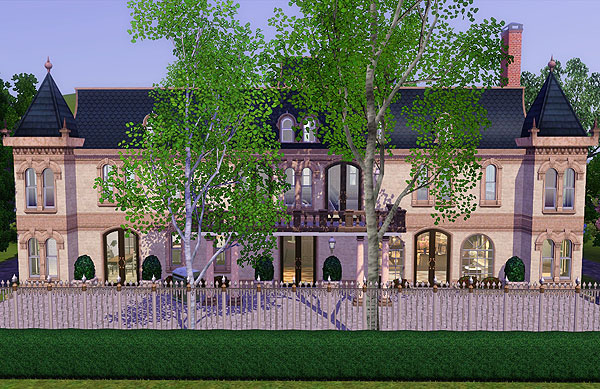 And now for the royal family! I had a blast creating these guys and can't wait to play them.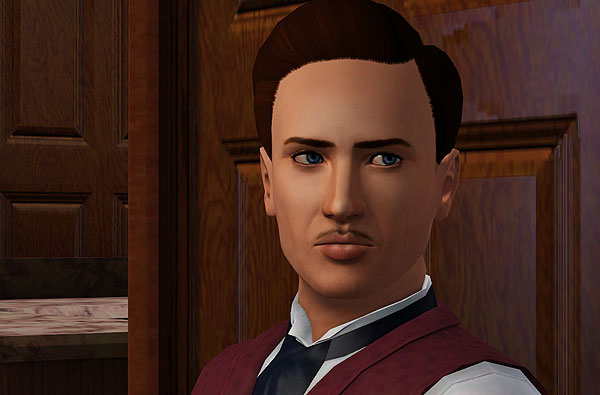 Here's His Serene Highness Roth, Sovereign Prince of Plumbridge. He has No Sense of Humor, as evidenced in the above pic, but he gives me fun facial expressions sometimes. I really enjoy his "we are not amused by how amusing you are" look: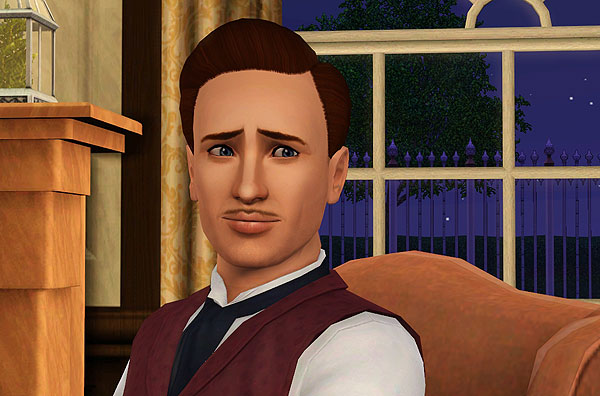 His wife, Princess Yvonne: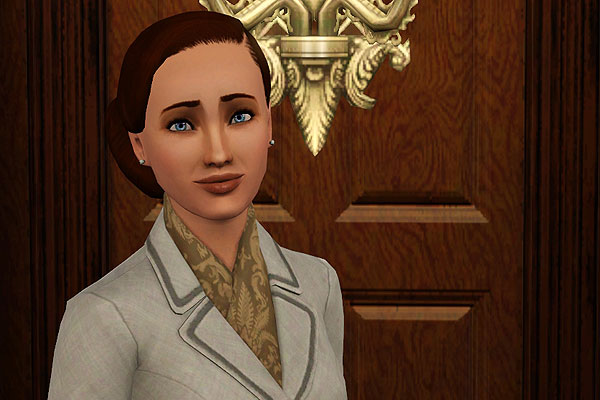 Their teenaged son and daughter, Prince George and Princess Daphne. I liked Daphne's little prim way of sitting; it's too bad her hands are melding with her dress.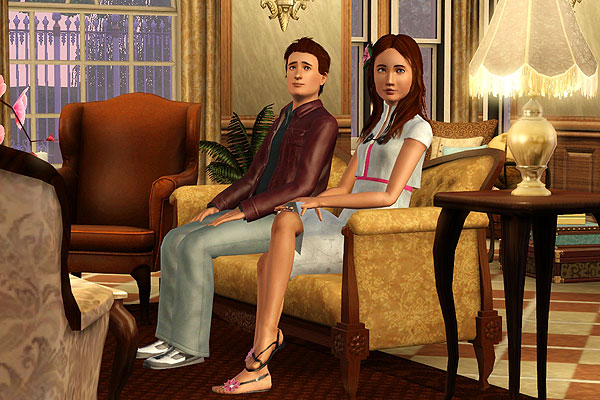 Here's a close-up of Princess Daphne, the elder of the two: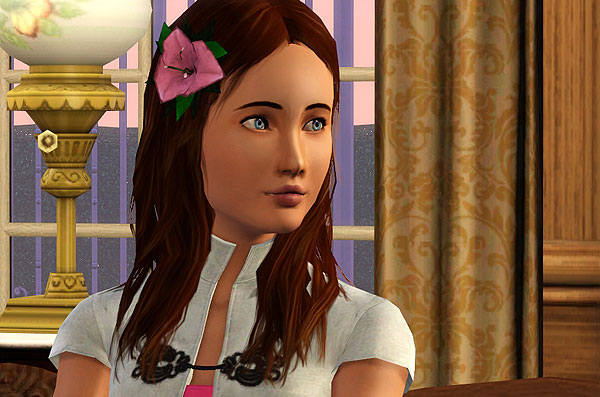 And a close-up of Prince George: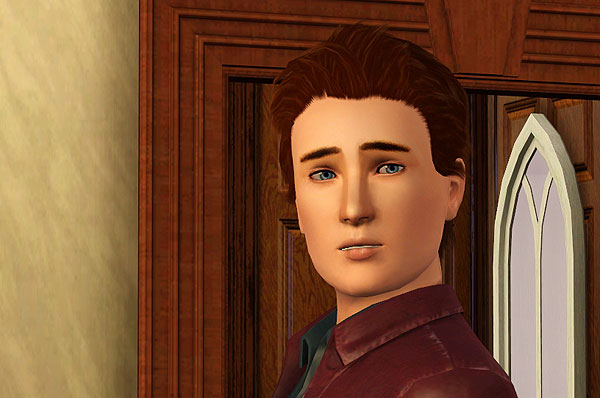 They have a little sister, Princess Claire, who, unlike her stoic father, has a Good Sense of Humor.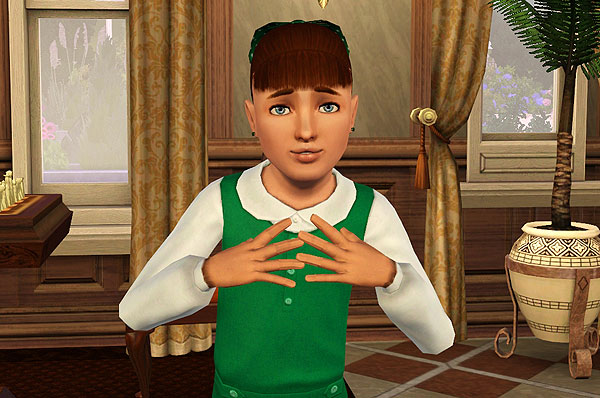 And where would any royal family be without their servants? Here's Quincy Renaud, their bodyguard, sometimes butler, and sometimes handyman: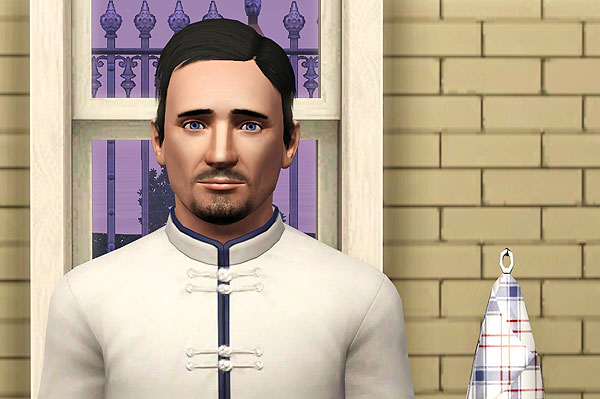 And this is his mother, Alberta, the housekeeper and cook: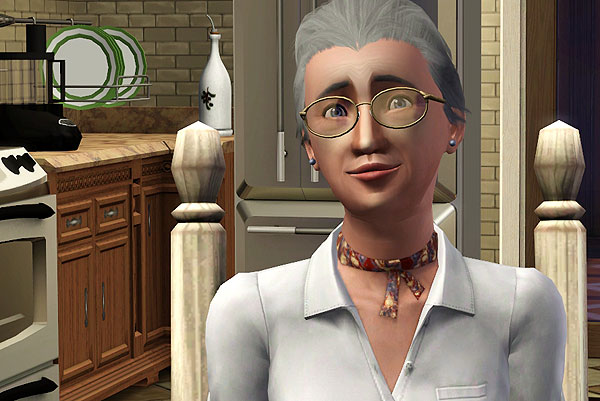 Well, that's it for now. This weekend I plan on placing more lots and trees, and maybe doing some more building. Or maybe I'll just run Felix around France. Or play Simsville, which you should really check out if you are into Sims 1 nostalgia!
Happy Simming! :-)