It's official: I am in love with CTNutmegger's Simsville. Part of it is the nostalgia factor – it's a hoot to visit these 3-D renditions of the Sims 1 homes and think back fondly on the fun I had playing that game. But all nostalgia aside, Simsville is just a beautifully-crafted world, with many of the features I wanted to put into my own world before I settled on making an island. It has distinct residential neighborhoods, a very urban-feeling downtown, rivers, bridges, coastline, woods (even a cabin in the woods!), farmland, and about a bazillion lots, which is nice for builders.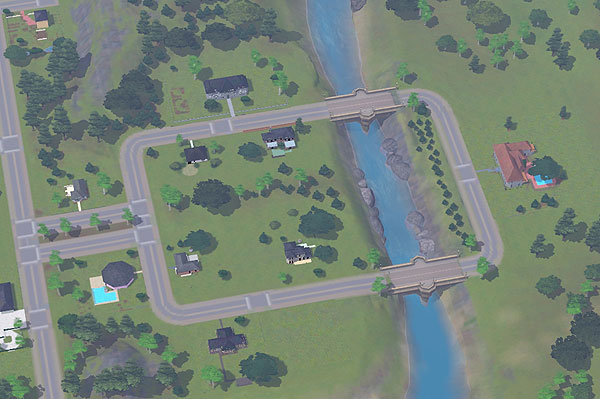 I don't usually play with the pre-made Maxis Sims — at least I didn't in TS2 and TS3 — but I wanted to explore this town properly and figured I might as well populate it with 3D versions of the old TS1 families. I downloaded some of the households created by Simbil and put them in their respective homes: the Goths in their beshingled home with the graveyard, and the Newbies in their little brick number. Remember that one?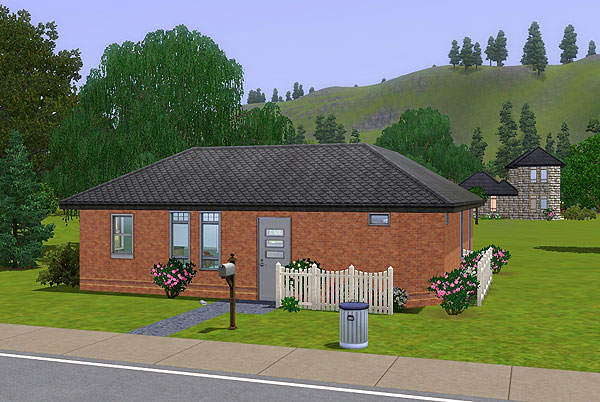 Also finding their way into Simsville were the "bin" families from TS1's first incarnation: the Pleasants, the Roomies, and Michael Bachelor. Good old Michael – I remember playing him. The Goths, too. Young Cassandra Goth became a piano virtuoso since there was nothing much else for her to do but play that blasted thing all day long. Poor girl couldn't even grow up; she was stuck in childhood purgatory forever. (I miss pianos, though.) And of course I played the Newbies. Almost everyone played with them; they were the tutorial family. Bob and Betty Newbie taught me how to play The Sims.
So, for old times' sake, I just had to play them in The Sims 3. And I got totally hooked. I like the traits that Simbil gave the Newbies; it makes them a fun and likeable couple to play.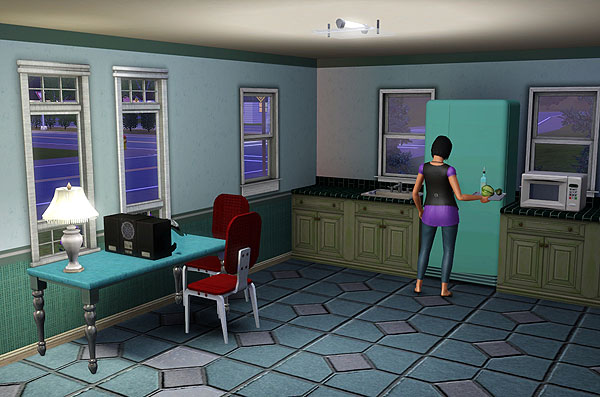 CTNutmegger, Simbil, and Klnl from Neighborhood99 took great pains to re-create the TS1 homes in Simsville. The Newbie House at 7 Sim Lane was created by Simbil, and despite the limitations of TS3 content (no big square table, darnit!), I think it's a wonderfully accurate representation of the original.
My sister was sitting with me when I first played Simsville, and she wanted to see a bit of World Adventures, so I sent the Newbies on a little trip. I had used the "freerealestate" cheat to move all my families into their respective homes, so they still had their starting funds, and there was plenty of money for a short vacation. Bob had a wish to visit France, but my sister voted for Egypt, so Egypt it was.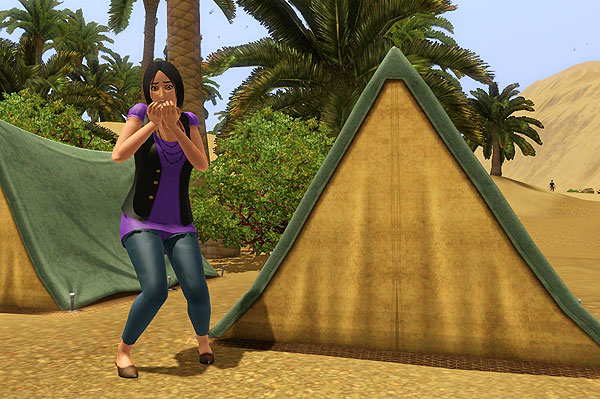 Betty has the Coward trait, which I'd never really played before. It doesn't seem to affect her too much except for the occasional wig-out like above. Plus she doesn't like being outside at night without any lights around. I can't say I blame her.
Betty also loves the outdoors and wanted to fish, so I sent her to a nice little spot by the river while Bob signed up for an adventure.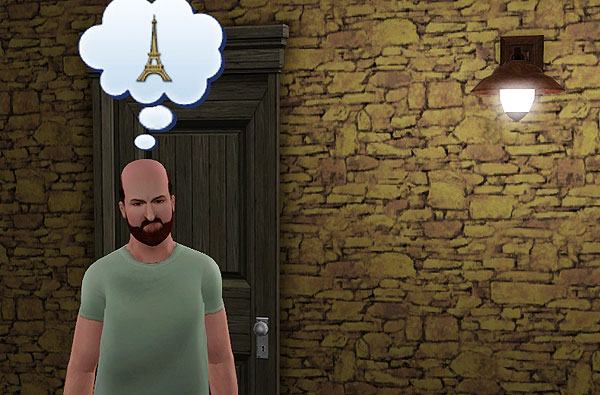 Couch Potato Bob isn't really the adventuring type, but I wanted to show my sister what the tombs were all about. As you can see in the snapshot, he's not too impressed with this tomb business and would rather be in France. Sorry, Bob. Maybe next time!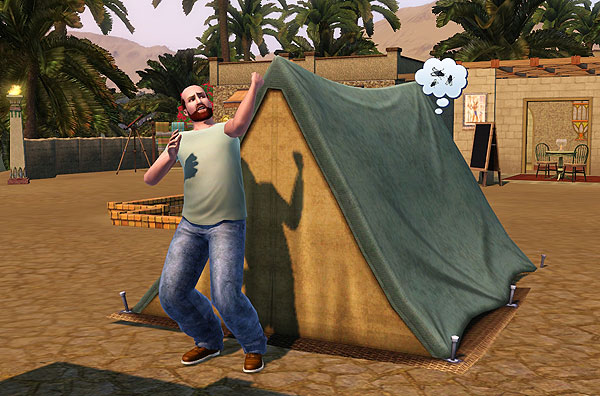 Bob's a wee bit off his rocker, so he enjoys talking to himself. Which usually leads to strangling himself. Bob is not very kind to Bob. And I shudder to think what Betty is dreaming about that involves flies.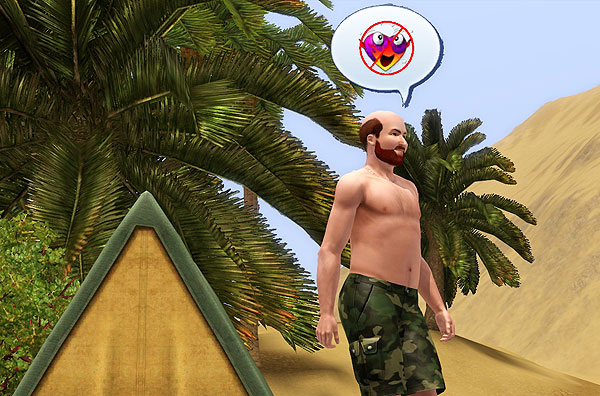 Betty wanted to woohoo — actually, she wished to "have a child" — but Bob was having None. Of. It. Aw come on, Bob, wouldn't it be cute and kind of romantic to conceive your first kid in a mysterious desert land? Are you worried about getting sand in your pants? Are you still bummed that you're not in Champs les Sims? What?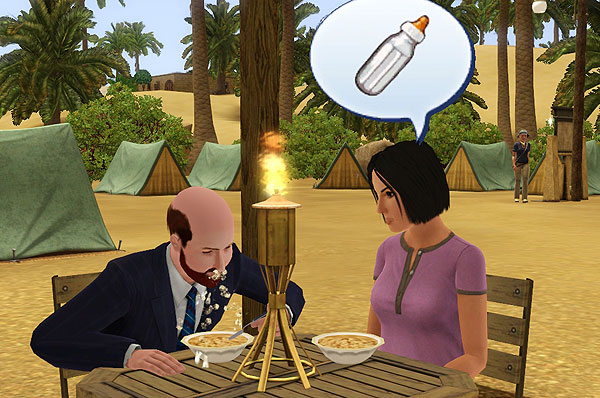 So Betty sat down over breakfast and had a little talk with Bob. She explained calmly that, despite Bob's sloppiness and his tendency to wear inappropriate clothing at times, she really wanted to have a baby with him. Whatever she said, it worked, because they tried the hanky-panky again, and this time, Bob complied. The tent spun around and hovered in the air, baby chimes played, and there was much rejoicing.
(continued on Page 2)