UPDATE: This house is available for download (now with a green door!) from Mod the Sims. However, some people are having issues with it being usable in game. I have a feeling it's a lot placement issue (like we get in TS2 sometimes when the terrain isn't uniform), but I don't know for sure. Let me know if it works for you or not!
UPDATE #2: I think I've fixed the problem! The lot has been repackaged and re-uploaded to MTS, so if you were having issues and still want to use the house (heh), please re-download! And again, let me know if it's still being stupid or you have any other issues.
So I took a break from gameplay to mess around with CAS and attempt to build a house. This time I used the "motherlode" cheat so that I could do whatever I wanted, and man, it was a blast.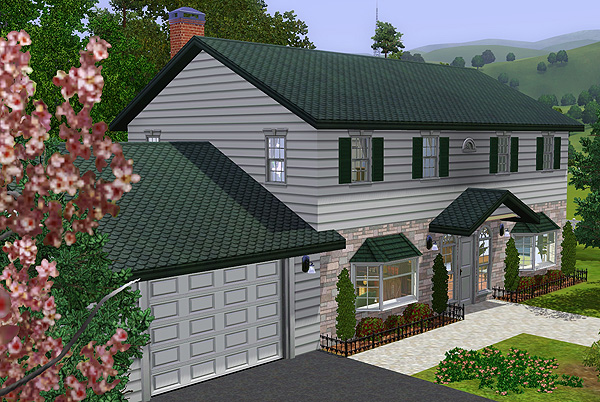 I worked on this house for about 6 hours, and I'm still not done with it! You'd think it wouldn't take that long with just the base game items and no CC, but I'm still learning TS3, plus Create-A-Style is amazing and full of endless options. I'm sure I'll get sick of the patterns at some point, but they're still new right now. It's overwhelming, really.
More pics and rambling after the jump…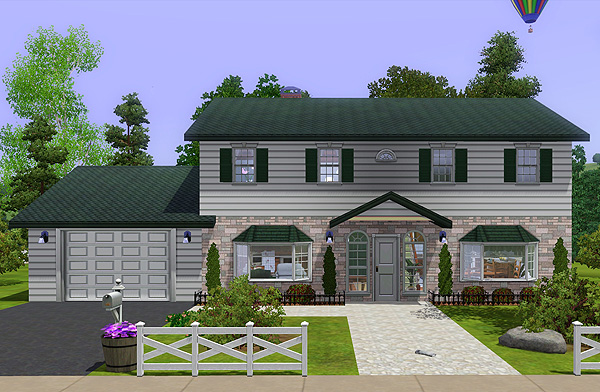 This house was inspired by those idyllic suburban homes you see all the time in the movies. For some reason I was imagining a 1980s John Hughes movie taking place here, like Sims 3 meets Sixteen Candles. Heh. I loved being able to make all of the windows the same shade and texture. And I could make the roof of the bay windows match the roof of the house. I did the same with the shutters. EA did something right with CAST, I tell ya.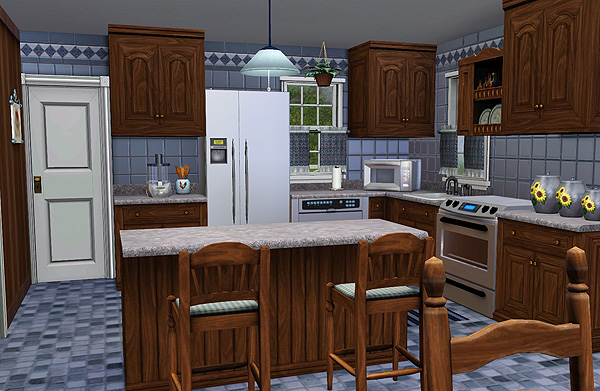 I took the easy way out and found one woodgrain pattern I liked. Then I used it over and over and over again. Woot! I really like that we can use corner counters in TS3. And you don't need OMSPs to put multiple things on most surfaces.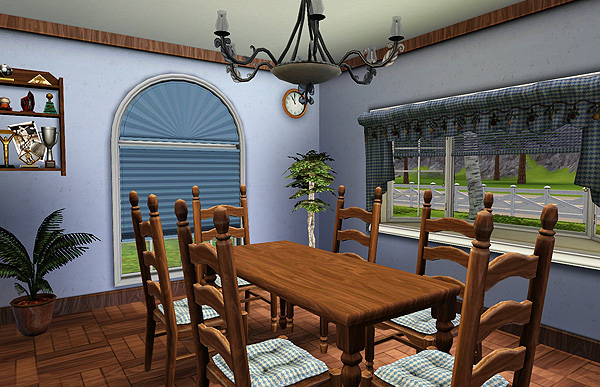 Very happy about ceilings being in TS3. It's too bad we can't recolor them (at least, I couldn't figure out a way), but that's something we didn't get in TS2 until the very last expansion pack (!), so I'm not complaining.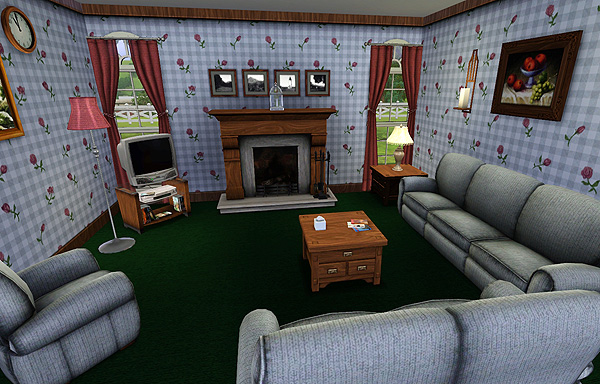 I did have some frustrations while I was building and decorating, but of course now I can't remember what they were. I'll have to take notes next time!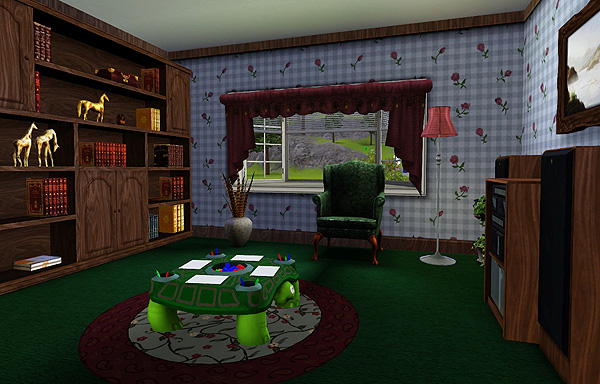 I still have to finish the upstairs and the backyard for this house, but after that I'm thinking of putting it up for download (here, not at the Exchange). I have a family in there already, so I'm going to playtest a little and see how it goes.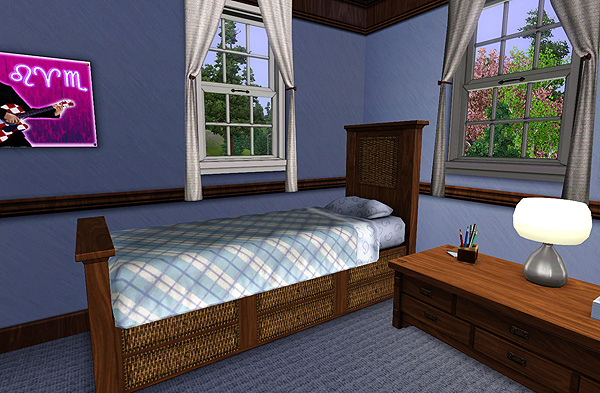 So yeah, having a great time with the building and decorating aspect of TS3. I think I actually prefer it to TS2 in that regard, for two big reasons: 1) CAST is awesome and makes it so much easier to match things; and 2) the landscaping and the scenery are just beautiful. I love the trees and shrubs and textures and shiny pond water. It's awesome to be able to take a picture of a house and see pretty stuff all around, not just monotone green hills with no definition to them, or blurry trees floating in midair.
Still not sure about the storytelling side of things. And neighborhood/world creation is pretty much non-existent at this point. Hopefully that will change in the near future!