OK, the in-game camera works MUCH better than Snag-It. Hooray for that! Some of my pics are still dark, but that's mainly because they were taken at night. The daytime pictures are much improved.
I'm also enjoying the game more, although the combination of the new Sims and the recycled Sims 2 animations is jarring at times, as if I were watching a scene-by-scene re-creation of my favorite movie starring a completely different cast. (Hey, like Gus Van Sant did with Psycho.)
Here are some more pics if you're interested!
Last we left Rosy Curran, she was hitting it off with fellow Coffee Courier Don Lothario at the community garden in Riverview.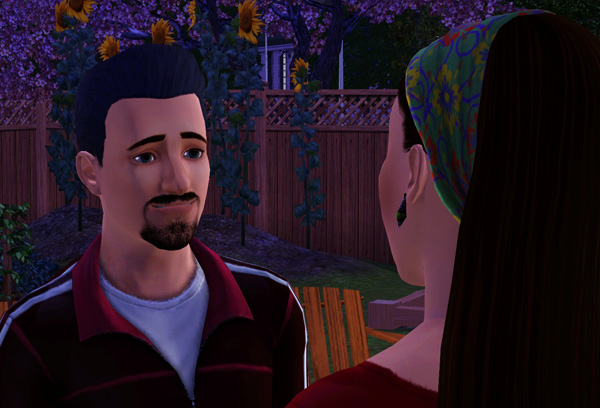 They chatted about work and gardening and made silly faces at each other.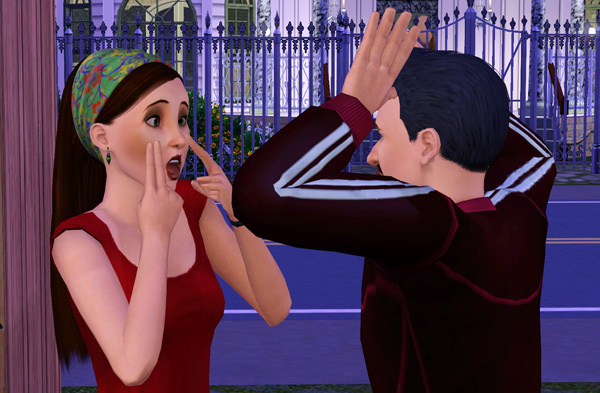 Careful, Rosy! Your face might freeze that way!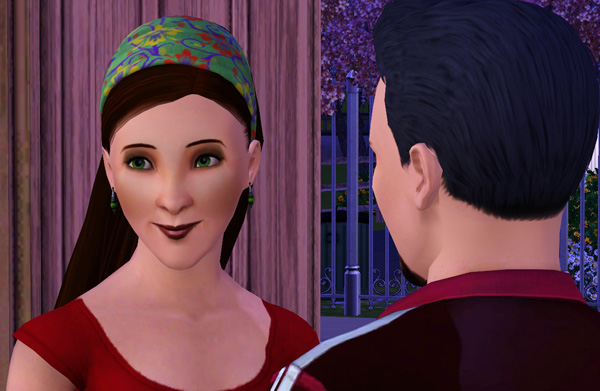 I have no idea what Rosy was doing here, but I love this look! It's so…smug! Like she knows something momentous is happening.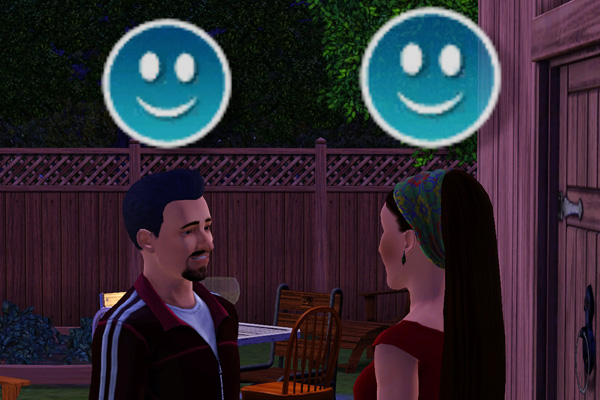 Aw, her first real friend. That IS momentous!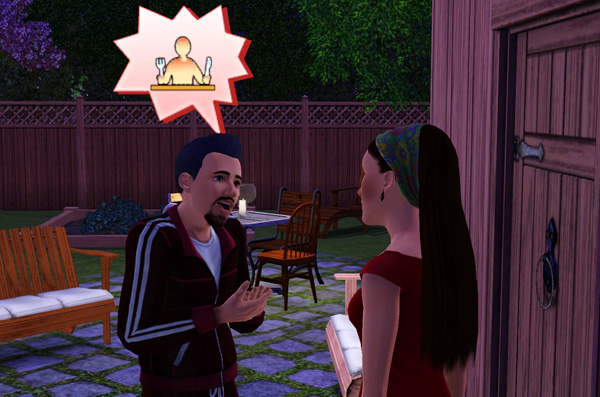 Don was having such a good time, he ignored his gnawing hunger pangs so he could chat with Rosy a bit more. How sweet.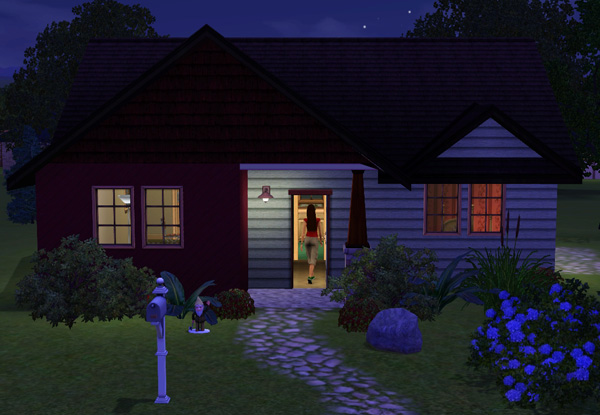 Eventually Rosy got tired and hailed a cab back home. (Which reminds me…is that costing her money every time? If so, then D'OH…no wonder the poor gal is broke all the time!)
Little quiz for you. In the picture below, Rosy is: a) witnessing a murder; b) seeing a ghost; or c) arriving at a nondescript office building for her first day on the job.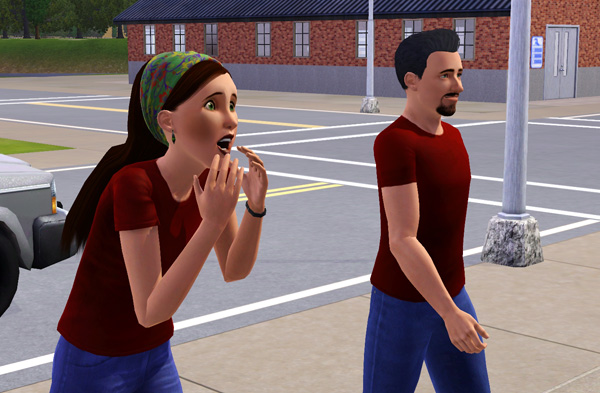 The answer is c, of course. Wow, I guess Excitable Sims really do get excited.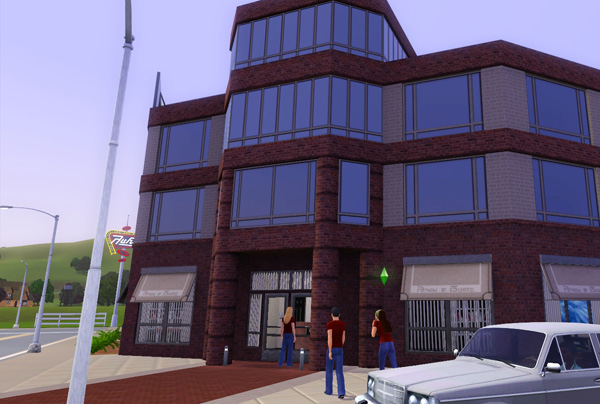 The building that made Rosy's eyes bug out.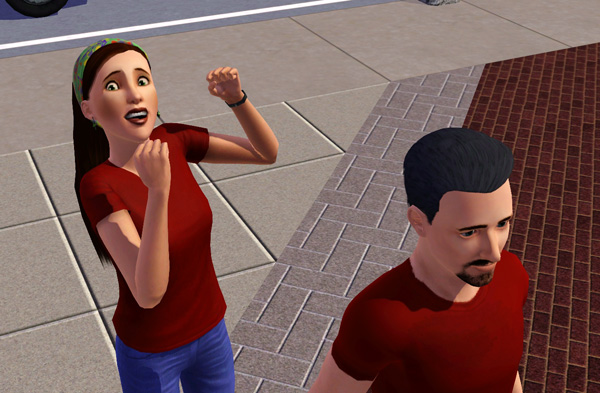 My favorite expression so far. She looks absolutely horrified! Frightened out of her wits! But no! She's just really really REALLY psyched about going to work! YAY WORK!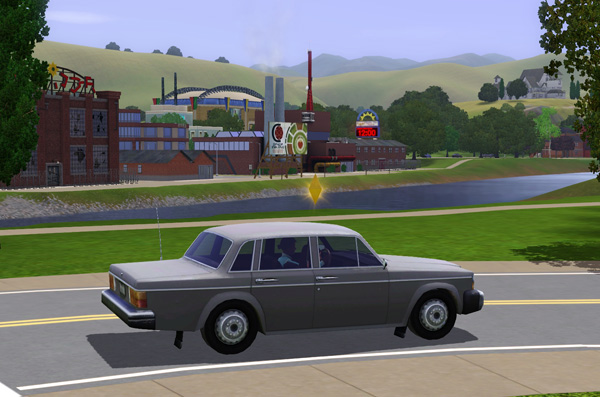 Here she takes the carpool home after YAY WORK! I liked the view of the industrial sector (where the makers of Riverview crammed almost all of the career-related buildings). Also, curved roads are awesome.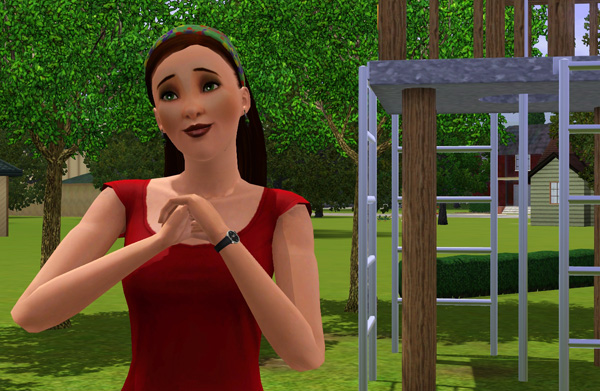 After a hard day's YAY WORK! Rosy needed to relax and raise her mood, so I clicked on her and selected "Visit Community Park". It took her about two seconds to reach her destination, because it's practically in her backyard. You can see the greenish siding of her house in the right half of the screenshot. So it kind of cracked me up that she was all, "Oh! Here I am! At the park! It was so worth the hike!"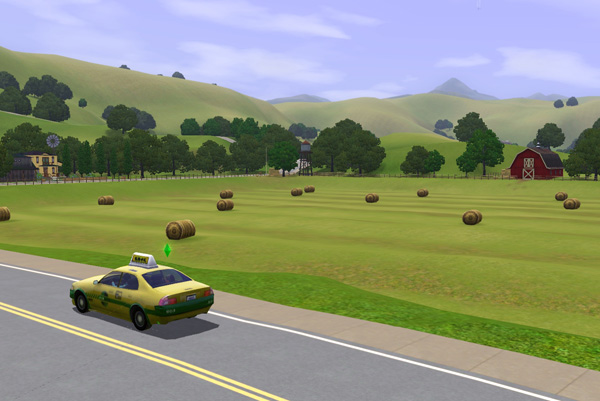 Rosy wanted to do some more fishing, so I went into Map View and saw this lone park out in the country with a little "fishing" icon over it. Along the way, she passed pretty farmland. I do love the scenery in this game!
(continued on Page 2)