So…I'm working on a second neighborhood in addition to Annabel Island. (You know, because I don't have enough Sims projects going on right now. *weak laugh*)
The nifty thing about this hood, though, is that Fran will end up here eventually — so it's a Fran project as well as a general hood-building project.
Having two neighborhoods in progress works out nicely for my Sims-related ADD (tm Kay). When I get the urge to play my Victorian Sims, I can visit Annabel Island, and when I want to play modern Sims, I can pop over to Fran and Ahanu Bay.
It's all Jade's fault — I am seriously hooked on hood-building! I haven't gotten very far yet with either hood, but even the preliminary work — the planning, pondering, and downloading helpful mods and objects — is so darned entertaining.
Anyway, I worked on Ahanu Bay a little bit last night and thought I'd share it with you guys. Keep in mind it's a work in progress, so it's in the very early stages of development. I'm experimenting with building the hood somewhat organically; that is, I want the hood to grow from the Sims and from gameplay rather than the other way around.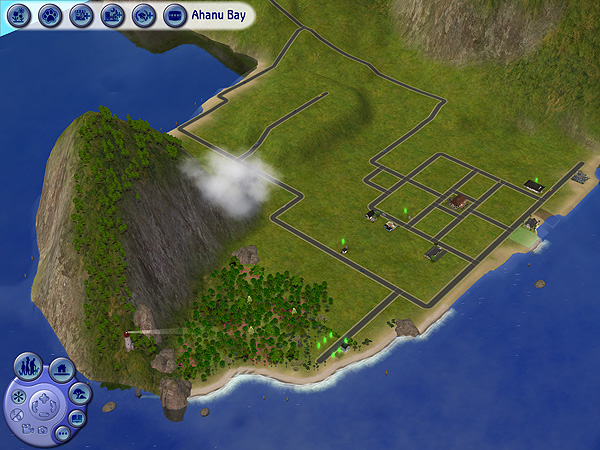 Overview of the hood
I'm using the Bluewater Village terrain, but I've redone the roads more to my liking. I wanted to have plenty of room for beachfront property and a little grid for the town proper. You can see my Mediterranean-style town hall in the center of the grid. The rest of the buildings will be placed on the streets surrounding it and along the shoreline.
I probably won't use much of the rest of the land – I want to keep Ahanu Bay small and manageable. So as with Annabel Island, I'll fill it up with trees, landmarks, and maybe the occasional "rural" home or business.
More about Ahanu Bay after the jump!
For my first "experiment" in this hood, I'm starting with 6 Sims I've dubbed "The Founders". The Founders were randomly generated (using RandomStuff by Hook at MATY). I edited the config file to add my own lists, generated 6 Sims, and created them in CAS.
I made a few tweaks here and there, but kept the randomly rolled aspirations, astrological signs, and turn-ons/turn-offs. In some cases I also kept the randomly rolled names, skintone, hair color, eye color, hairstyle, and fashion style. I let the game choose their interests, but they all turned out to be very similar (everyone hates Work, for example — buncha slackers!) so I've modified those as well. Gotta have some variety, ya know.

The Cottages
Each Founder lives in one of 6 tiny cottages in Ahanu Bay. I only have one cottage built, which you can see in the screenshot above. They're all on 1×1 plots of land (thanks to MaryLou at MTS2), which funnily enough seem to add §400 to the Sim's bank account instead of taking it away. So they're all starting with 20,400. Beyond that, however, I'm not going to cheat in any of the Founder households.
My plan is to play them in rotation for awhile and focus on their Wants. I am hoping that eventually some of them will marry each other, have kids, start businesses, buy bigger homes, etc. After awhile I'll throw some more Sims (some randomly generated, some not) into the bunch and see what happens. In this way, I hope, the hood will sort of grow on its own.
By the time Fran moves into town, these Founders will either be elders or have passed on to Sims heaven, a.k.a. The Great Tiki Bar in the Sky… *strums ukelele*
But for now, they're young and spirited. Here are my 6 Founders: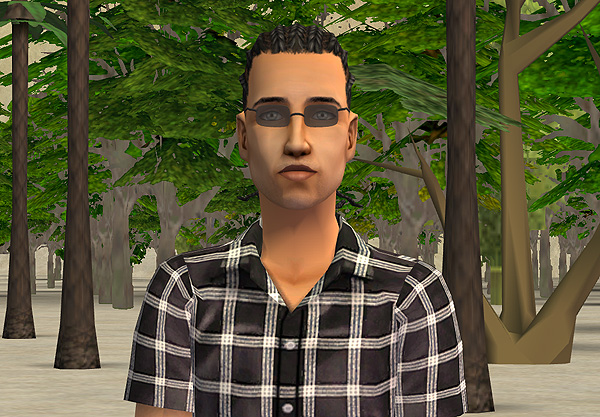 Patrick Glassman
Aspiration: Popularity
Astrological sign: Capricorn
Cottage: The Heliconia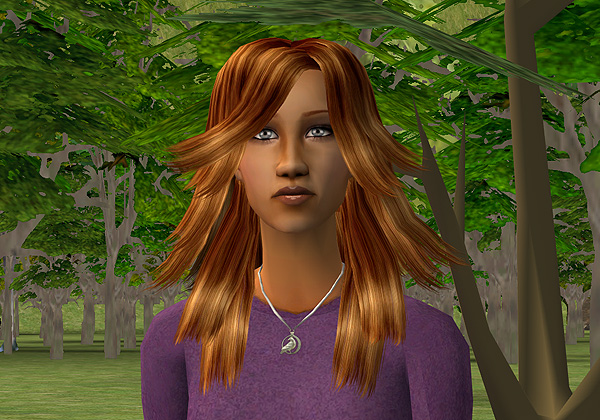 Danielle Greenwald
Aspiration: Knowledge
Astrological sign: Capricorn
Cottage: The Orchid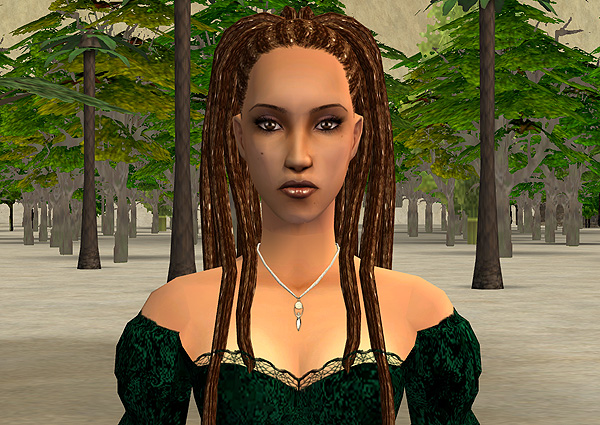 Ailsa Morphew
Aspiration: Romance
Astrological sign: Taurus
Cottage: The Jacaranda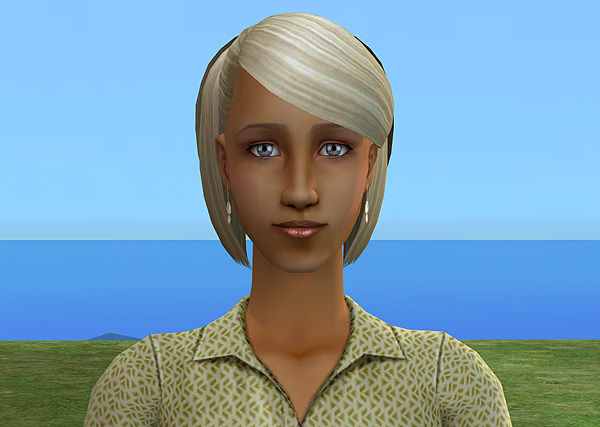 Kelsey Pollitt
Aspiration: Knowledge
Astrological sign: Cancer
Cottage: The Waterlily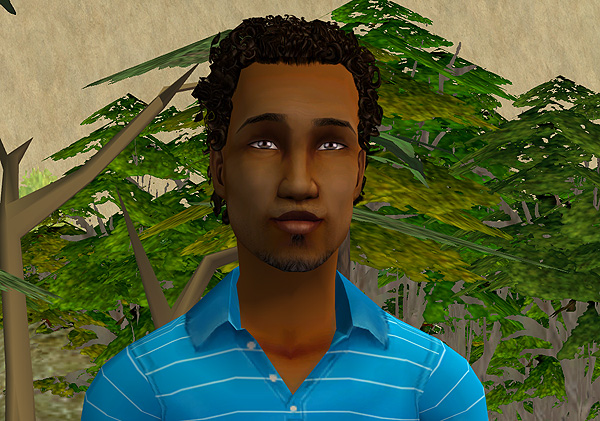 Lorenz McSherry
Aspiration: Popularity
Astrological sign: Pisces
Cottage: The Mandevilla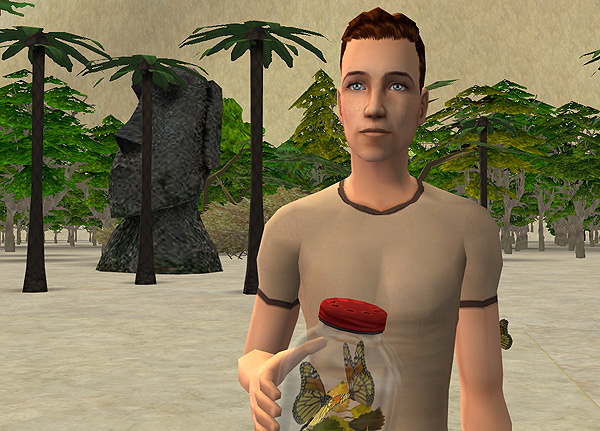 Brice Castillon
Aspiration: Pleasure
Astrological sign: Pisces
Cottage: The Begonia
It's weird how my hood terrain is supposed to be "Lush" (that is, green), but if I'm on a lot by the shoreline, the whole hood — from that lot's point of view — becomes sandy white. The inconsistency bugs the heck out of me, but oh well. I'm not re-doing the hood over again (this is my third iteration already!), and I like those shoreline lots.
Another note: I made the Sims look similar at least in facial structure so that they wouldn't have completely bizarre-looking children. And who knows, they still might. (In which case, they'll visit the good old plastic surgery machine. Ouch, that just sounds painful.)
Happy Simming!
Credits:
Hair
Danielle, Kelsey, Brice: NoukieSims2
Lorenz: HystericalParoxysm @ MTS2
Ailsa: JessicaRichie @ MTS2 (Mesh by Nouk)
Eyes
Gemstone Eyes by Bruno @ MTS2
Make-up & Brows
Helaene
Bruno @ MTS2
Just Sims 2 (Barcelonista)
Kamikitten
HystericalParoxysm @ MTS2
Lyran
Clothing
Patrick's outfit by All About Style (based on an H&M Stuff Pack mesh)
Danielle's shirt by HystericalParoxysm @ MTS2
Ailsa's shirt from RockChickSims
Brice's shirt by fanseelamb @ MTS2
Kelsey's dress and Lorenz's outfit from H&M Stuff Pack
Jewelry
Just Sims 2
ShiversTheNinja @ MTS2
Huge thanks to all of the creators listed above!