First off, thank you so much to those of you who commented in support of my game "reboot". It means a lot to me that you continue to read this blog through the waxing and waning of my various Simming interests. And my computer is much happier with me now that I deleted those other two accounts. I'm still weeding through my downloads so that I have only the essentials in my folder, but my game already loads in half the time. I feel like I'm ready for Seasons now.
Speaking of Seasons…I won't say any more lest I veer dangerously into giddyland, but I've downloaded the game via EA Link and am all ready to install it once it is released tomorrow afternoon! I plan on playing the new Maxis 'hood for a little while just to get my feet wet (*snork*) and try out all the neat new shtuff. I guess that means I'll be experiencing Sim winter first, even though stupid snow is about the LAST thing I want to see right now…(*shakes fist at Mother Nature*) That's what I get for living in Minnesota.
OK, enough whining about the weather…I want to sing the praises of custom content creators! Especially ones who contribute to free sites. I want to bake cookies for them and throw crazy parties in their honor. Last night I built a town hall for my new 'hood using macarossi's classical window set, and I have to say, this is the most gorgeous window set I've ever seen. I am in total love with it. With macarossi's, Marina's, and phoenix_phaerie's windows in my Downloads folder, I am a very happy little builder.
(Click "continue reading" to see some pics)
Here's a sneak preview of the town hall, showcasing these marvelous windows: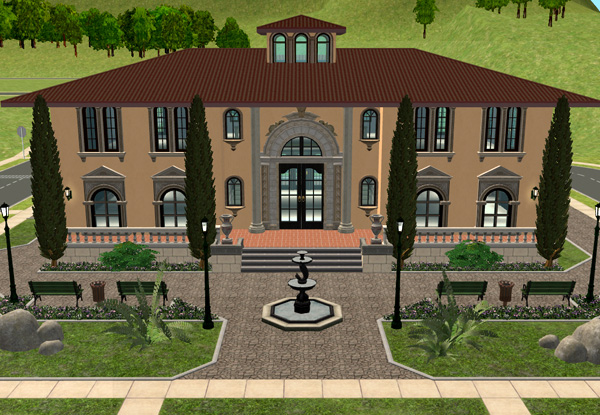 The rear view: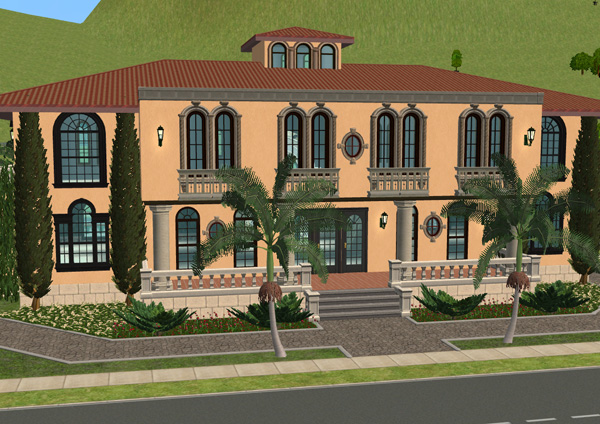 Gah, they're so flippin' awesome. LOVE!
Other wonderful custom content seen in these pics:
And those are all completely free sites, of course.
See you soon, hopefully with some pics of Seasons gameplay, and maybe even a story or two…