For the next house in my 1926 Sears Roebuck series, I give you "The Gladstone". This style of home, best known as an American Foursquare, can be found in almost any town or city across the U.S. My version isn't quite right – I couldn't do the low dormer on the roof, and the pitch of the porch roof is too high. Supposedly there is a tool in Pets which allows you to vary the roof pitches on your homes – instead of having all roofs be the same pitch – but I couldn't get it to work. Apparently even if you can get it to work, the change doesn't "stick – it just goes back to the default pitch after you quit out of the lot. Boo.
At any rate, this is a relatively cheap home, well-suited to a small family or retired couple. The exterior can be customized in countless different ways to recreate the look of the foursquares you see all over America. I've included one example of an alternate exterior towards the end of this post (using completely free custom content, as always!).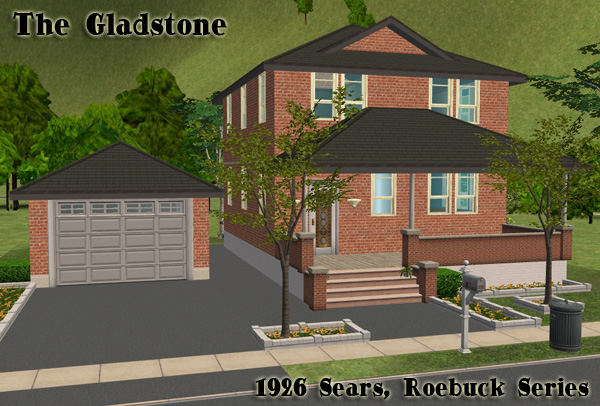 Lot Size: 2 x 2
Unfurnished
Hack & custom content-free
EPs required: University, Nightlife, Open for Business, Pets (NOTE: I also have all of the Stuff Packs installed, but you shouldn't need them to play this lot. Let me know if you have any problems with it!)
Download The Gladstone (ZIP file)
First floor: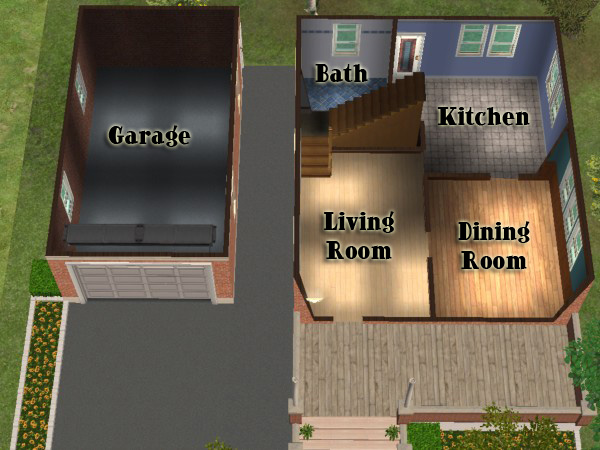 Second floor: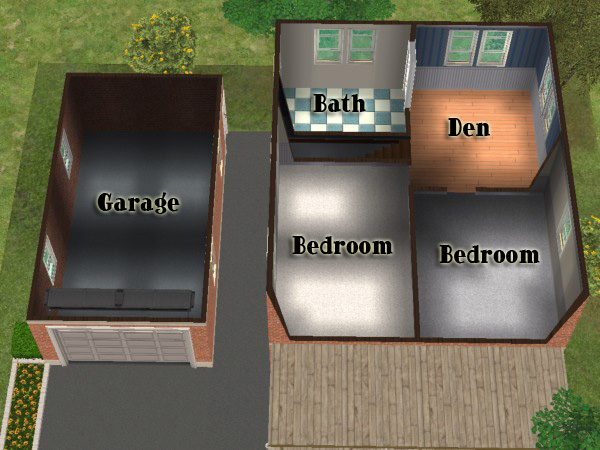 Here's an example of an alternate exterior for "The Gladstone" which uses custom content from completely free sites. I have listed the credits below the picture.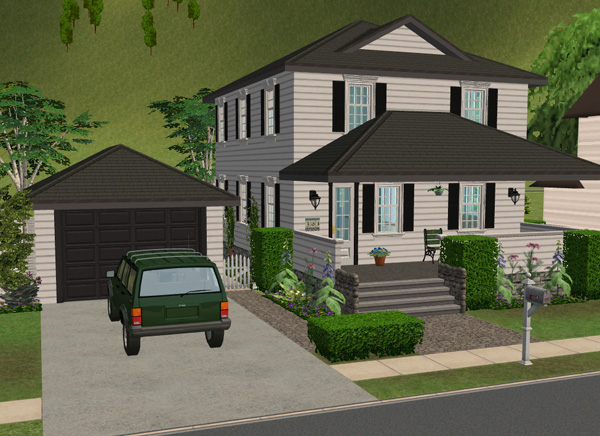 Colonial Revival Gladstone
Credits:
White siding by JillyannLSRE (Rock Wall Set Add-on)
Foundation wall by AvenidaSims
Magnolia tree by Maxis/Numenor
Front door and windows by phoenix_phaerie (part of the "Modern Georgian Manor Set")
Exterior light by AvenidaSims
House numbers sign by Komasutra
Foxglove, Redwort, & Mandrake plants by Kate @ Parsimonious
Potted plant by Nengi @ Nengi's Builds and Things
Pansies recolor by deele4952
Jeep Cherokee by Fresh-Prince
White woven fence by Frillen
Invisible Driveway by roddyaleixo
Driveway flooring by jendea @ The Sims Zone (Concretes set)
Happy Simming!