Here's another Sears bungalow for you guys – "The Avalon". I've included examples of alternate exteriors once again (using completely free custom content!). Here ya go: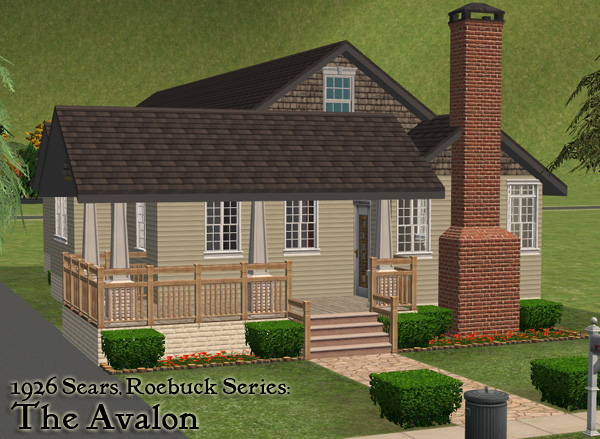 Lot Size: 2 x 3
Unfurnished
Hack & custom content-free
EPs required: University, Nightlife, Open for Business, Pets (NOTE: I also have all of the Stuff Packs installed, but you shouldn't need them to play this lot. Let me know if you have any problems with it!)
The floorplan: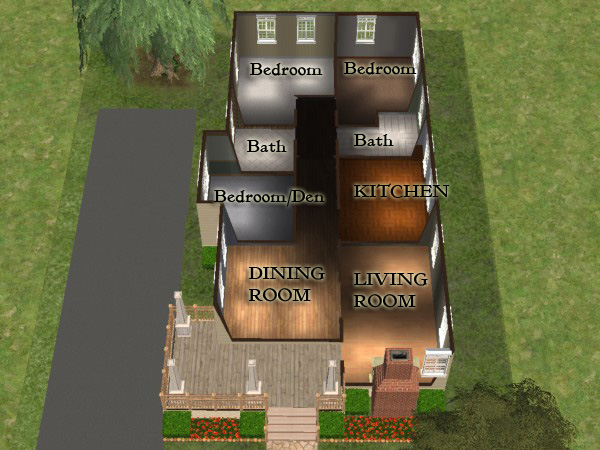 Download The Avalon (ZIP file)
A picture of the original house and floorplan
As before…since I'm going to be recycling this home myself, I thought I'd display some examples of how it could be altered, using free custom content to do so. These are just suggestions and are not available for download. However, I have listed credits below each picture if you want to go and snag some of the great stuff on display.
The first one is sort of cottage-y: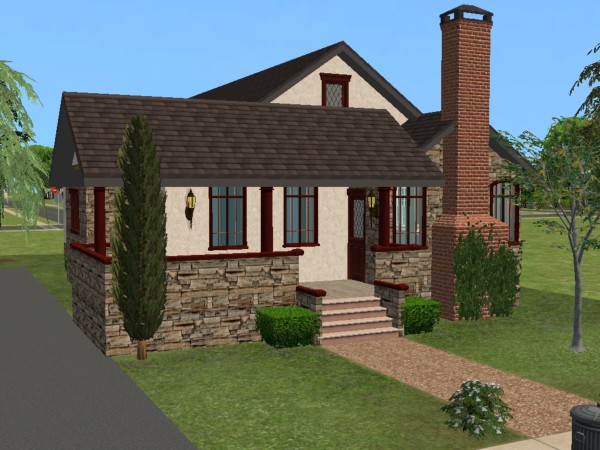 Avalon Cottage
Credits:
Exterior and foundation walls by AvenidaSims
Granite pathway by kittyispretty69
Old Mystery Wall Sconce by simfantastic2 (part of the Halloween Pack)
Smaller Mediterranean Cypress tree by xrax
1 Tile Window by macarossi (part of the "Eclectic Expressions" set)
Eucalyptus tree by darylmarkloc (part of the "Australian Federation Collection")
Small & medium ivy from Pimp My Sims
And this one is more Victorian: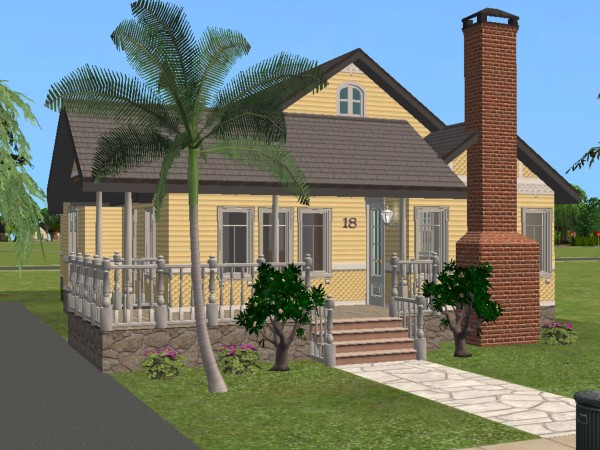 Victorian Avalon
Palm tree by alex_stanton1983
Outdoor lantern by Numenor
Plumeria tree by Maxis/Numenor
Pathway floor by Jope @ Simply Styling (part of the "Gardenset", I believe)
Exterior walls by SimGoddessByline
Upwardly Mobile Fence in White by sunnisims
Upper window ("closed pane window") by Helena @ PixelSims
Classic short window by Marina
House numbers by sup@tramp
Front door by phoenix_phaerie (part of the "Modern Georgian Manor Set")
Happy Simming!