I decided to take a break from building and do some decorating instead. Inspired by the "Favorite Room" thread over at the Sims 2 Community, I put together a room for one of my Sims (in fact, I think I'll post it over there, too). I tried to keep the room cozy and semi-realistic, which is why there's so much stuff in the pic. I've sort of fallen in love with clutter — it gives a room that lived-in look. (I only love it in the Sims, though — I need to get rid of the clutter in my house!)
As with my Sears homes, I've listed credits below the pic, and I'm using custom content from completely free sites only. I've been finding some great stuff in my search for non-pay sites. My sidebar of links is updated pretty regularly, so check it out if you're on the hunt for some new (and totally free) creations.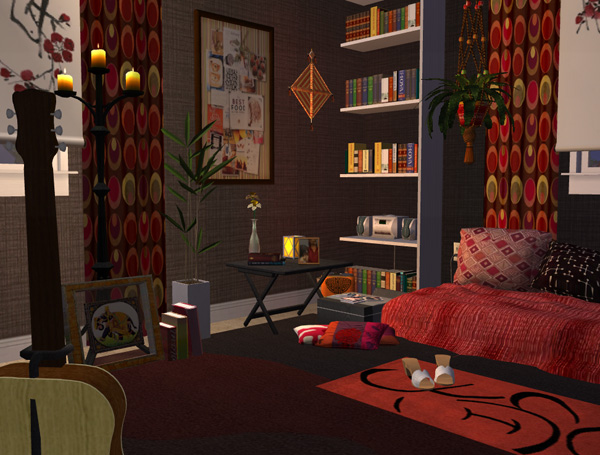 Pimento Room
I'm calling this the "Pimento Room" because the colors and the curtains remind me of pimentos. I couldn't think of anything else. Believe me, I tried.
Credits:
Bed – Delphine @ Sims in Paris
Elephant pic & books, basket (by bookshelf) – Steffor @ Avalon
Acoustic guitar – atavera @ MTS2
Chocolate linen wallpaper, bulletin board – decorgal @ MTS2
Window shade ("Inosign" curtain), small rug – Sims 2 Play
Beige plush carpet – Ennaedwyn @ MTS2
Slippers – Kjote @ MTS2
One More Slot Package for coffee table – ariffrazalin @ MTS2
Outlet with cord – KevinsHope @ MTS2
"God's Eye" hanging decor, hanging macrame holder w/plant – CTNutmegger @ N99
Cushions on floor, long curtains, books & picture on table, large rug, bamboo plant, bookshelf – MangoSims
CD shelf (on floor by bookcase) – Sunair Sims
Happy Simming!