Hey, peeps. As I mentioned in my last post, I'm rebuilding Shady Bluff, and I plan on sharing each part of the process here on my blog. Like before, I'm following Jade's most excellent "Creating a Custom Hood" tutorials. In this post I'll go through Part I and some of Part II.
The first thing I had to do was make some decisions about the kind of neighborhood I wanted Shady Bluff to be. A slightly spooky New England village? A colorful resort town? Your typical midwestern river city? In the end I decided to go for a slightly utopian, slightly old-fashioned Main Street U.S.A. feel. I knew I wanted a few things for sure: a body of water, mountains, a small grid of streets, a town square.
Once I figured that out, I went terrain-shopping. There are a ton of great neighborhood terrains out there, but nothing quite fit my vision of Shady Bluff. So, being the perfectionistic control freak that I am, I decided to build my own terrain. With the help of a couple of handy tutorials (here and here), and after several do-overs, I ended up with this: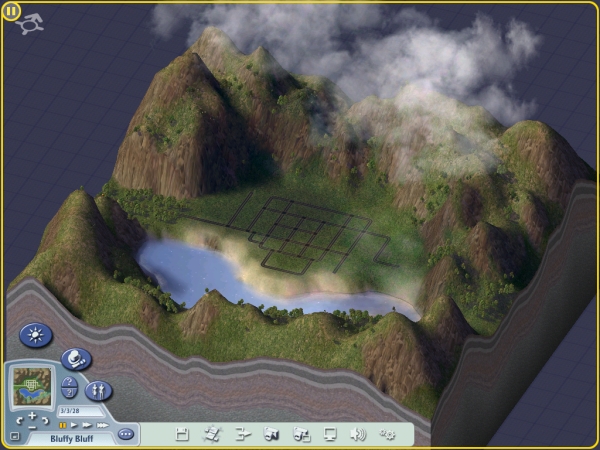 At first I wanted to have a river going through town, but my bridges wouldn't transfer over to The Sims 2 for some reason (and yes, I did use the right bridge, dangnabbit), so I scrapped that idea and went with a lake instead.
(The 'hood is called "Bluffy Bluff" because instead of deleting the old terrains and starting over, I'd create a new one and have to give it a different name. I had already exhausted Shady Bluff, Shadier Bluff, New Shady Bluff, etc., so I ended up with the very silly-sounding Bluffy Bluff. My 'hood is pretty darned bluffy, though, don't you think?)
As you can see, the actual town area doesn't take up much of the terrain; in fact, it looks a bit small. But as you can see from my picture of the old Shady Bluff, if you keep your lot sizes down, you can fit quite a few buildings into this 'hood. I didn't want it to look too sprawling, so this worked out pretty well.
If you'd like to try Bluffy Bluff in your game, feel free to download it below. Just unzip it and save all of the files to your C:\My Documents\EA Games\The Sims 2\SC4Terrains folder. When you boot up TS2 and create a new neighborhood, Bluffy Bluff should show up in your list of terrain choices. I've included the .PNG picture files so the previews of the different terrain types (desert and lush, and also dirt and concerte if you have Nightlife) should be there, too.
Download the Bluffy Bluff terrain
So here's what Bluffy Bluff looked like after I loaded it into my game and created a new neighborhood out of it: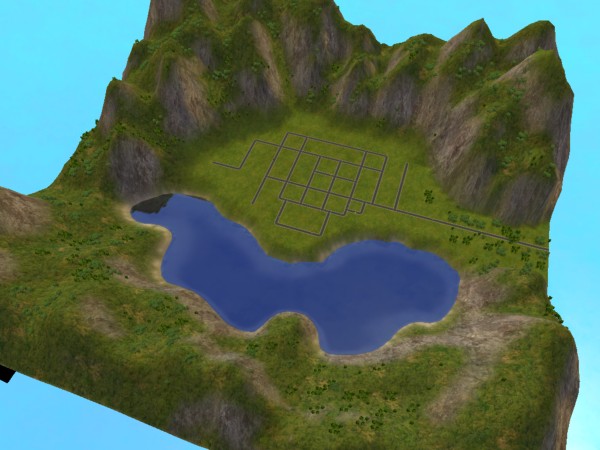 You'll see that the terrain is reversed from the way it was in Sim City 4. It didn't affect the way I wanted Shady Bluff to look, but if you're basing a terrain on a real town or a map you've drawn, you'll want to be aware of the reversal issue.
Here's a closer look at the streets of Shady Bluff: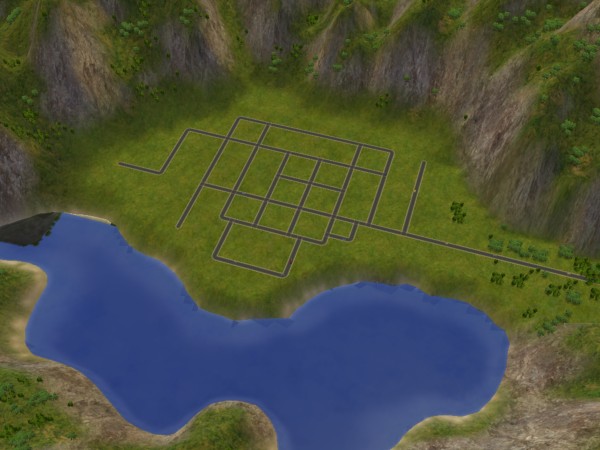 You can see the 5X5 areas I left in the middle of the grid for my city hall/town square, city park, and library/museum space.
At this point, per Jade's instructions, I did a "deleteallcharacters" and cleaned out the files in SimPE. She explains why that's a good idea in her tutorial, so if you're curious, I recommend bopping over to Jade's site and taking a gander.
Eager to get going on the really fun stuff, I started placing my lots. Since I'm no longer using the bazillion buildings I downloaded from pay sites, I'm left with my own creations, a couple of Mandie's lovely houses, and CTNutmegger's awesome New England set. (The latter is available through the kind people at the Neighborhood 99 forum, and you can see a picture of the set at RSSS for TS2, under "Lots".) Here's what I ended up with: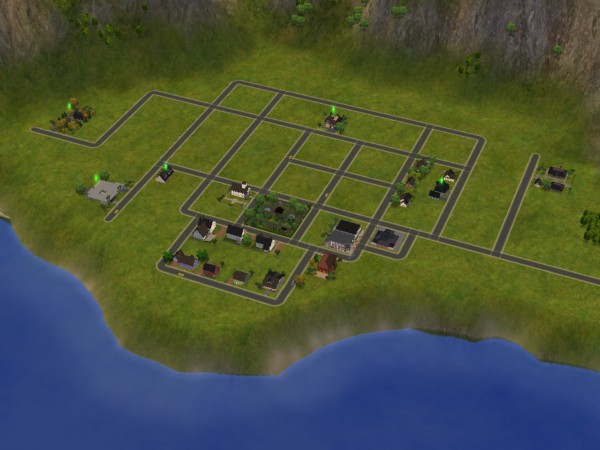 As you can see, I have a ton of building to do. Gotta fill up all of those wide open spaces, you know. But I look forward to it. While researching the 1920s for the Burrs, I fell in love with a book of Sears houses from 1926. I've decided that Shady Bluff had a "boom" in the 1920s, and that's when most of its homes were constructed. I have another book full of houses from the 1920s, too, so I won't run out of ideas or floor plans anytime soon. Still, I don't want to spend the next year building homes for Shady Bluff, so I will be creating lots that can be re-used and recycled easily.
Next up, my first 1926 house, The Vallonia! (Or at least some semblance of it. ;-))
By the way, Katie over at Simply Sims is also going through Jade's tutorials and building a neighborhood, and she already has a tour up of her town hall! It's AWESOME.