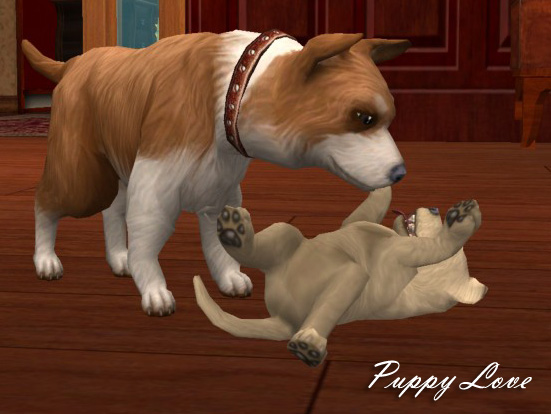 Last we left the Burrs, the children of Generation 4 had blossomed into…well…children, and their father had suffered an unfortunate accident with a certain carnivorous creeper. His hasty demise left their mother distraught and desirous of renewing her affairs with several old flames, which she kept bright through repeated use of the cuddle couch. Meanwhile, a canine named Dinglehopper joined the family, and the corgi Ariel became pregnant with his puppies.
It wasn't long before Ariel gave birth to her brood, two bright-eyed young pups I named Belle and Gaston.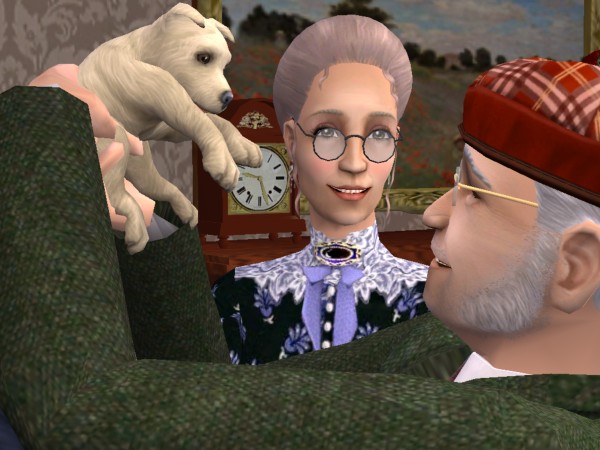 "This one's a girl…no, wait! It's a boy…er…I can't tell WHAT it is!"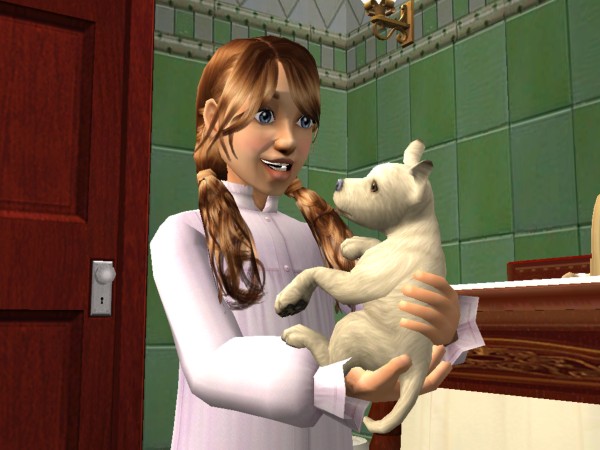 "A puppy of my very own! I shall love him and squeeze him and call him Gassy."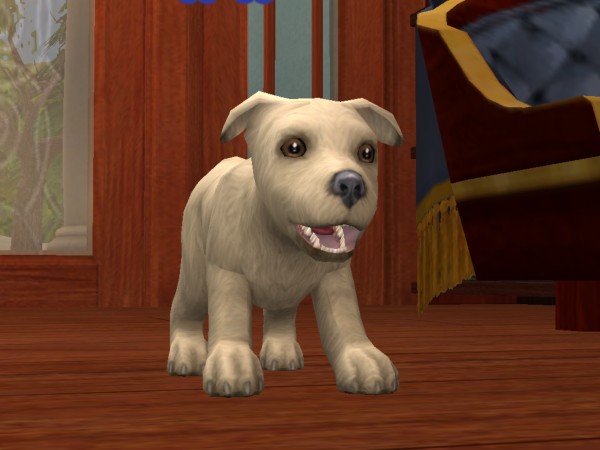 *yip yip!*
There was such a hubbub over the puppies that the poor feline Sebastian was rather neglected. Luckily he had a crazy catnip toy to keep him occupied.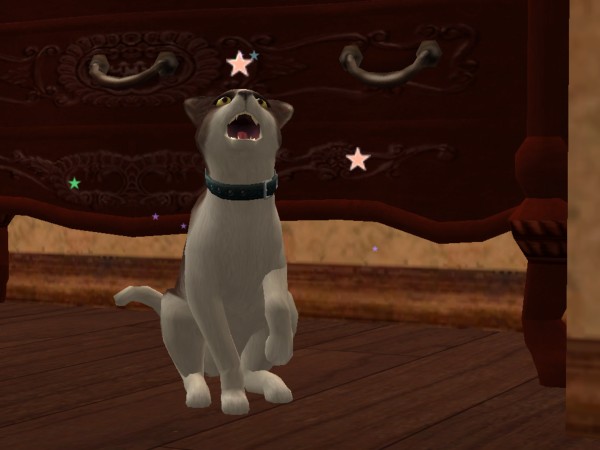 "Mmmrooowwww…"
Eventually young Daisy became a teenager. I rolled Pleasure for her aspiration, which made me groan at first, but now I think it'll be perfect. She just needs to get read of her sleepy tomboy look. Not quite yet, though.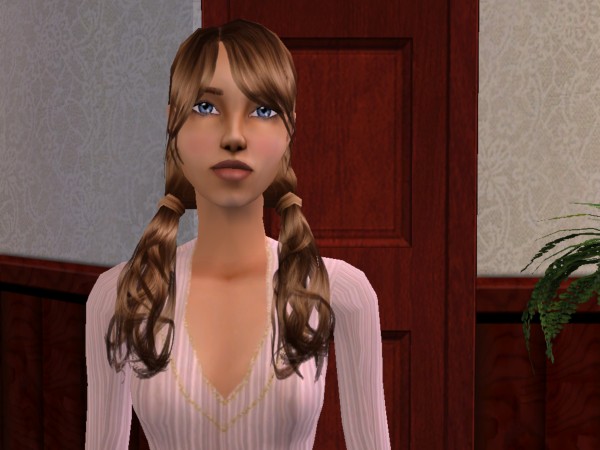 "What, you mean Pleasure Sims can't enjoy a little slumber? It's one of the *yawn* best things in life!"
After her birthday, it was back to the old skill-building grind. I'm such a taskmaster with these poor teens. Work, Daisy, work! Raise those skill points! Earn those scholarships! Even though you don't really need the money.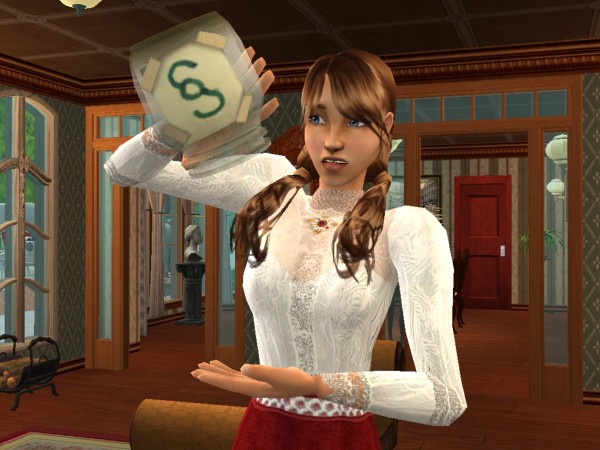 "If I don't need the money, why does the emptiness of this tip jar make me feel so glum?"
What were you expecting, my dear Daisy? A couple hundred Simoleons from Grandpa? You need to take your piano show on the road to make the big bucks, kid!
Daisy's disappointment over the bareness of the tip jar was quickly supplanted by a strange enjoyment in doing household chores. Good grief, she's in seventh heaven scrubbing this dish! Either that, or she's doing a commercial.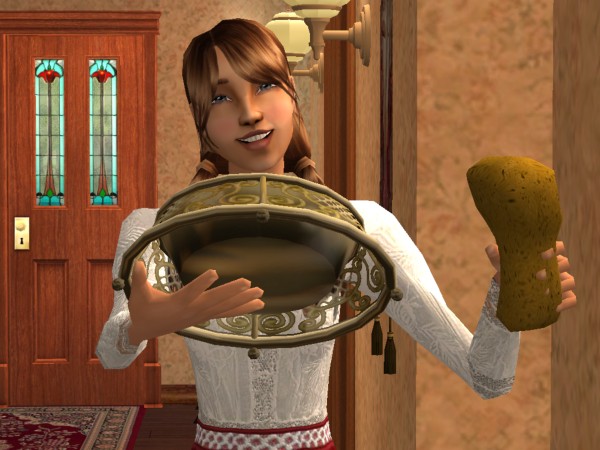 "You can be in heaven, too, if you buy Pure-Clean Sponges!"
She's also enamored of the pet food.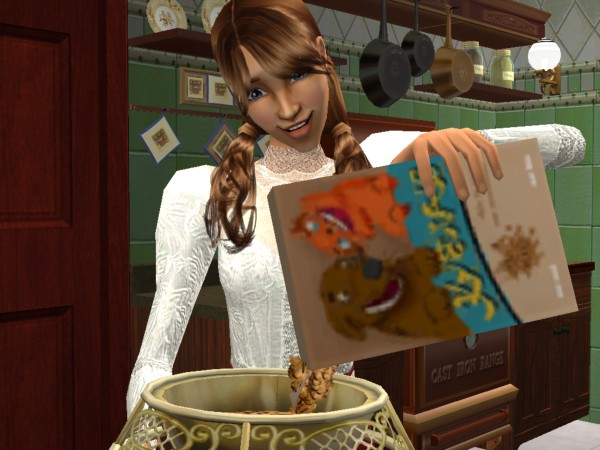 "Are you kidding? This is the most amazing-looking kibble I have ever SEEN!"
That's nice, Daisy, but it's PET FOOD. Not exactly a masterpiece of the culinary arts, here. Oh wait, I forgot you're a Pleasure Sim. You find enjoyment in almost anything. Even talking to that old geezer Grandpa Farley.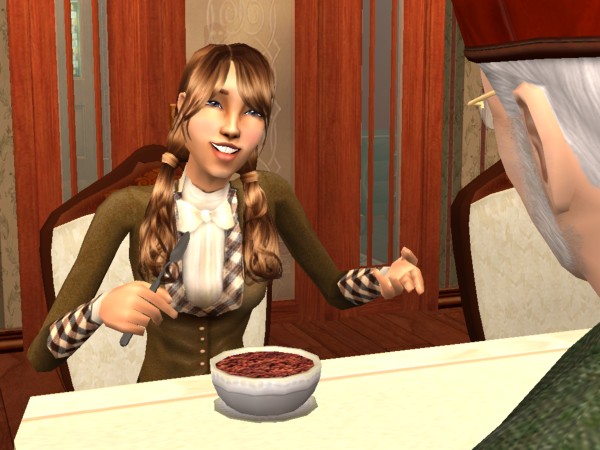 "So Grandpa, do you think I'd make a good kibble merchant? How 'bout sponges?"
(continued on Page 2)