Ariel and Dinglehopper had a friendly sniffing session or two and seemed to get along well. Their relationship score was in the 30s when I directed them to make puppies.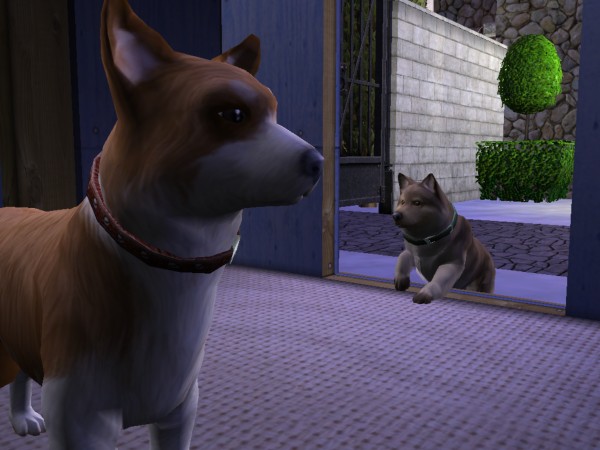 "Oh great, here we go…"
The lullaby chimed, so I knew that puppies were on the way. But while Ariel was pregnant, Dinglehopper engaged in some very bad behavior. He's not an aggressive dog — he's "normal" on that scale — but for some reason he loves to pick on Ariel. They got into it one night up in the kids' bedroom, and the fur was flying.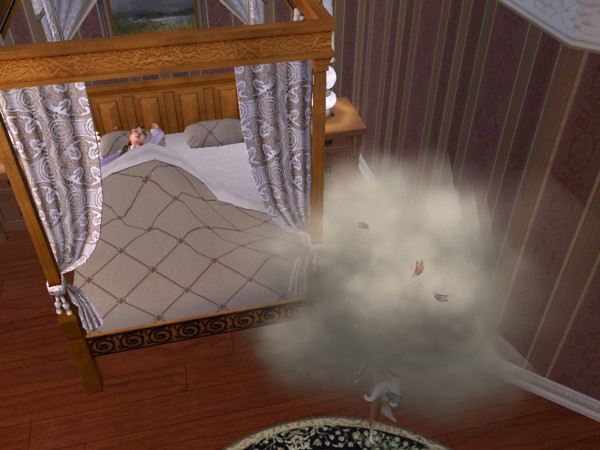 Can you guess who won?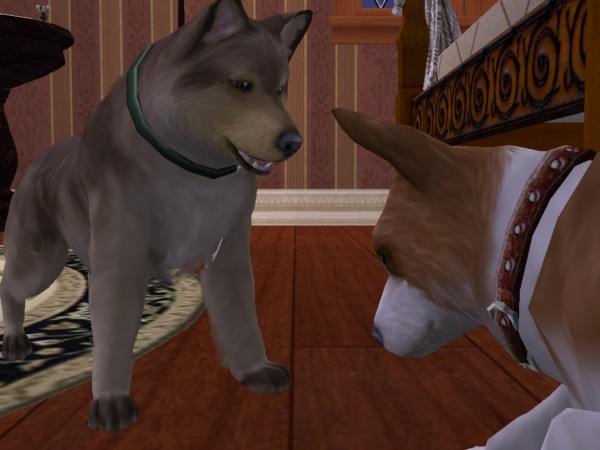 "Ha! You never mess with Dinglehopper Burr!"
What a bully. At least little Daisy slept right through the fight.
The next day I wanted to get the kids into private school, so I invited the headmaster over for din-din.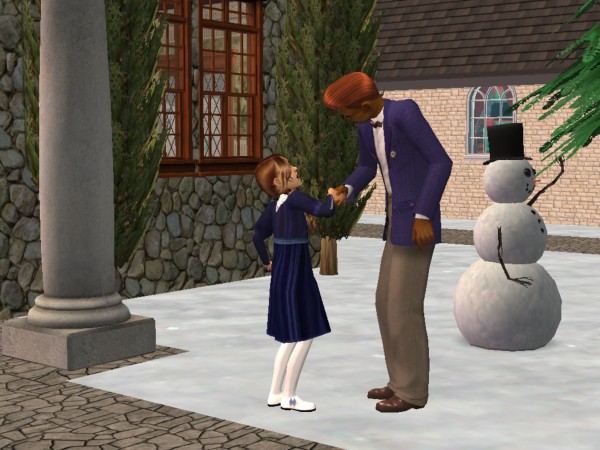 "Hello, Mr. Headmaster, sir! Wanna see our cowplant?"
The visit went superbly, and the kids were accepted into private school. It's still hard to keep their Fun scores up, however, so I'm really looking forward to the Golden Age of Television.
Camellia cheered up eventually and dove headlong into more man-wooing. She was in danger of falling out of love with some of her old college flames, so I invited them over for some good-natured cuddling.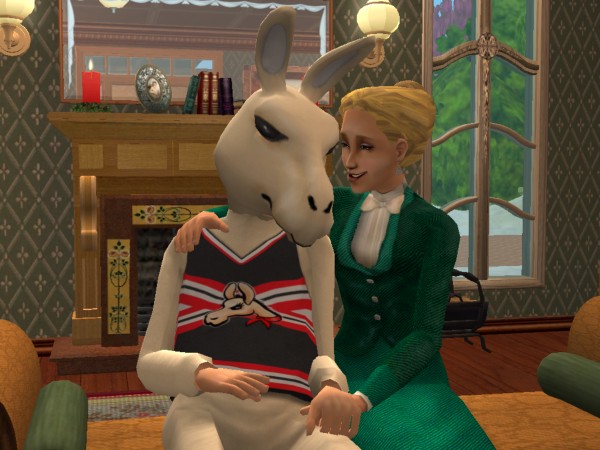 "Oh, my llama love, how I missed your sullen expression and snorty laughter."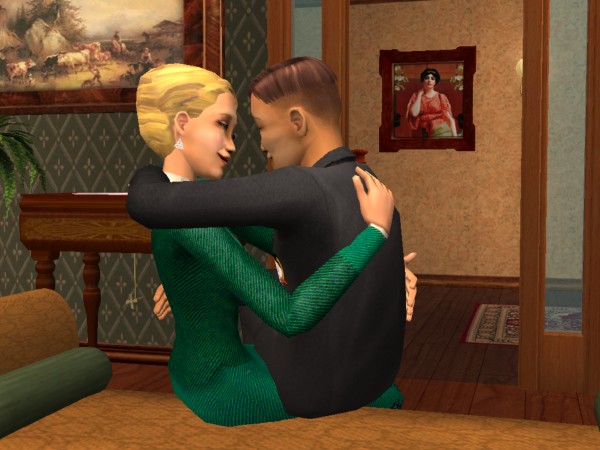 "Gee, Miss Camellia, usually the girl sits on my lap!"
Meanwhile poor Farley's just trying to get in a good nap or two.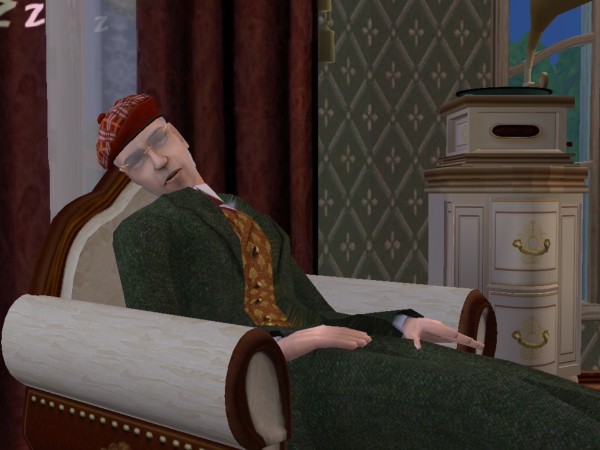 Gads, that looks uncomfortable. I get a crick in my neck just looking at him.
That's it for Camellia's family. I actually have a bunch more pictures ready to share with you, so another update will follow in a few days or so. I had planned on posting this one earlier in the week, but work has been a bear, and I'm just plain pooped at night. If this post is a bit disjointed, it's because I wrote it over the course of a few days, just adding bits here and there before I started dozing off. Once again, I need a re-energizer!
Before I leave you for the day, here's a bonus picture: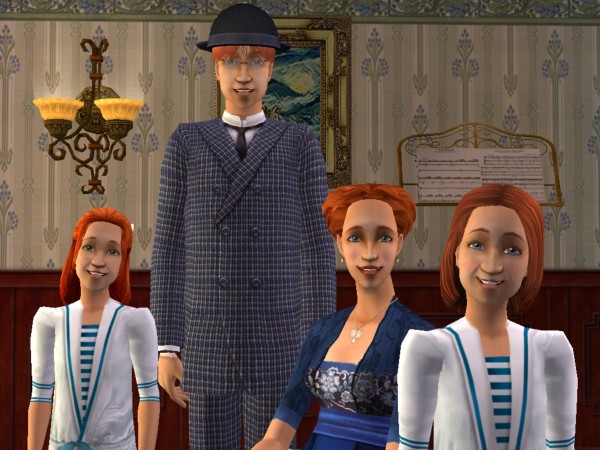 That's Camellia's brother Coriander with his wife Clytemnestra (say that five times real fast), and his twin girls, Delfina and Dionna. I don't know if I'll play them again, though it might be fun to send the girls to college with Daisy and Delano. We shall see. I still haven't done anything with Cousin Calhoun! Sigh. Need. More. Hours. In. The Day.
I've been working on Shady Bluff a bit, so I might share some tidbits/spoilers with you soon, but in the meantime, I'm on a bit of a roll with the Burrs, and will probably be updating almost exclusively on them for awhile. I'm determined to finish their challenge, and I know if I get deep into the Shady Bluff stuff (which will include the Ravelos now), I might lose track of the Burrs altogether. As I mentioned before, I am bad at multi-tasking. I hope that's OK with you guys.
By the way, it's so great to see some old friends dropping by again! A hearty hello to Devin and DylanTK! You have been missed! :-D
Next up, Daisy and Delano Burr become teens, and Ariel has her puppies! Happy Simming, all!