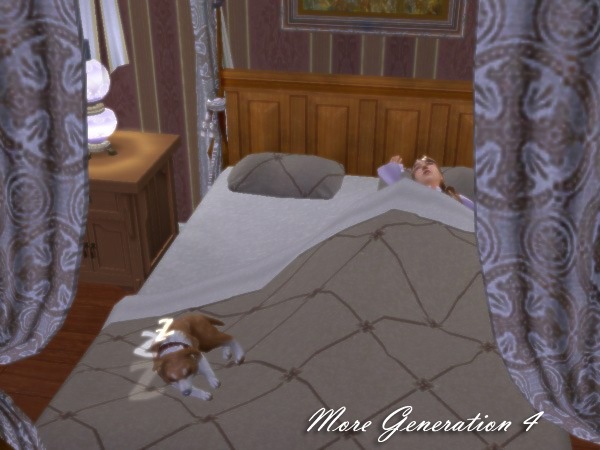 In the last Burr update, fourth generation heiress Daisy was born, just in time for the family to move into a much-expanded and finished version of their house and shop, which was visited by none other than Father Christmas (who, since he hates winter, is retiring and relocating to Florida as we speak. Wait – make that the Virgin Islands, since Mandie reported of a snowstorm in Orlando not too long ago. Yikes! Are pigs flying, too?)
Since Katie asked how I balance time at the home and time at the shop, I thought I'd post this picture, which pretty much explains it all: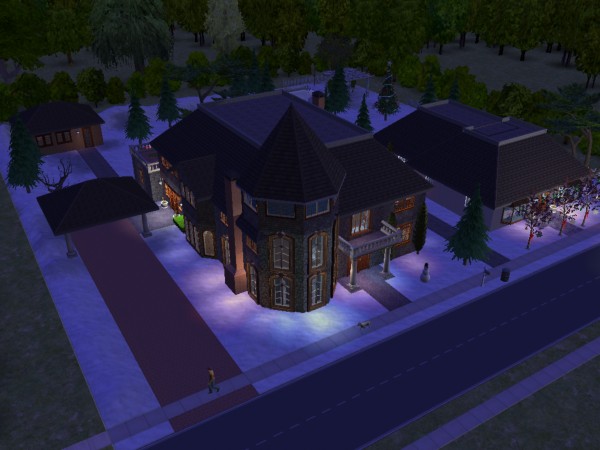 As you can see, the flower shop and the house are on the same lot, so essentially it's a home business. I had thought about opening up a business on another lot, but I knew I'd hate having to go back and forth. Things move slowly enough as it is with everything on the same lot; the game positively crawls when the shop is open. But at least I'm not getting bluescreens anymore! (*knock on wood*)
Now, on with more of gen 4! Now that the Burrs live in the Middle of Somewhere, I can buy birthday cakes at whim. Daisy became the first Burr to celebrate her birthday with a cake (with help from Grandma Belinda).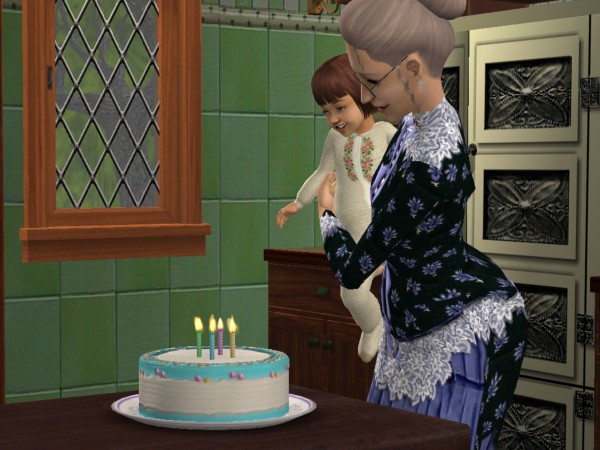 "Now…wish for Grammy to win a million dollars…that's a good girl!"
Daisy grew into a lovely little girl with sleepy eyes.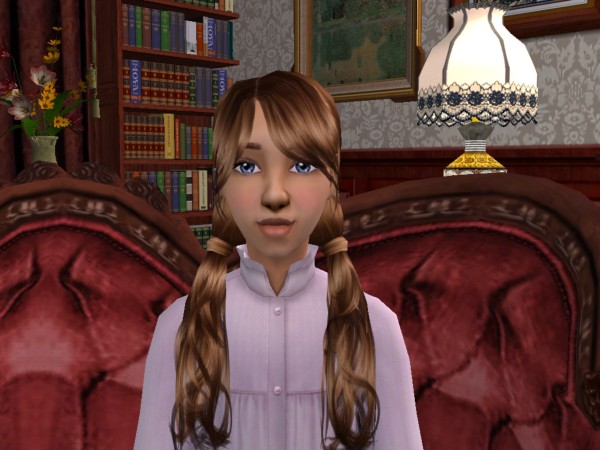 "You'd be sleepy, too, if you had wolves howling outside your window all night!"
Here's Daisy with her dad, Horatio. Hug him while you can, Daisy! Mwahahahaaa.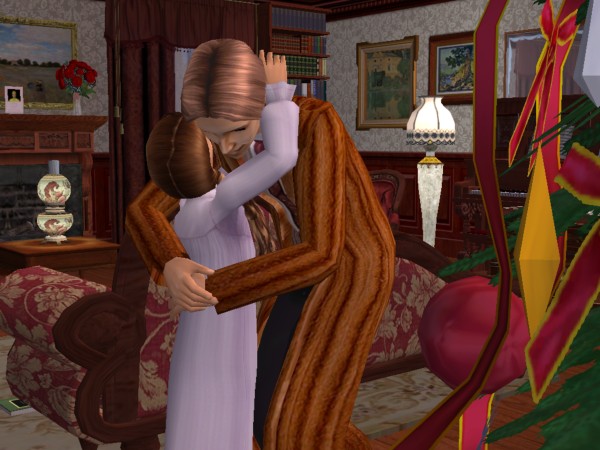 "Daddy, what's that eerie sound? It's like a witch cackling."
Heh. Sorry about that. My evil streak flared up for a moment. Sort of like the Christmas tree in the last update. Speaking of which, sgx1018 asked how the tree caught on fire – to answer your question, it combusted on its own after I had one of my Sims turn its lights on. Oops. Henceforth my Christmas trees shall remain dark. No more twinkly lights for the Burrs!
I neglected to take pictures of the birth of Daisy's sibling, so we'll jump ahead to his birthday, which took place on the same day as his sister's.
That's right, it's a boy! He's third in a long line of useless spare heirs. Sorry, kid, but dem's da breaks. This is a matriarchy, you know.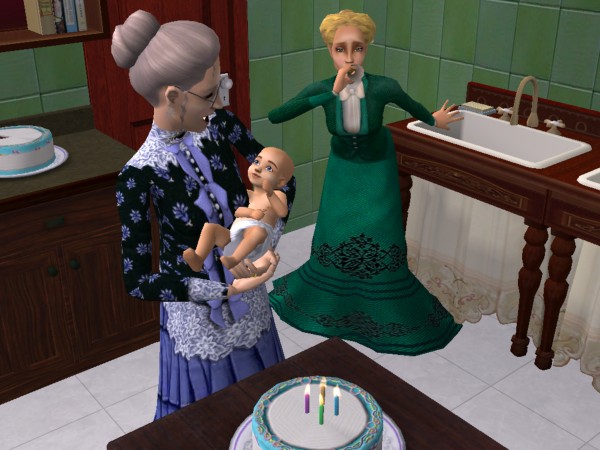 "You just grow up and show that woman you're not useless! Matriarchy shmatriarchy!"
Hey, no backtalk from you, Belinda, or I'll throw you to the wolves! Oh wait. You WANT to become a werewolf. Never mind then. Crazy old Knowledge Sims…
I named the boy Delano, which means either "nighttime" or "nut tree", take your pick. I'm going with the latter since I'm sticking with the plant name theme. It was either Delano or Dogwood, and I just couldn't stomach the nickname Doggie (and you know I would have started calling him that. How could I resist?), so I picked Delano. It's bad enough being a useless spare heir without some crazy name to top it off.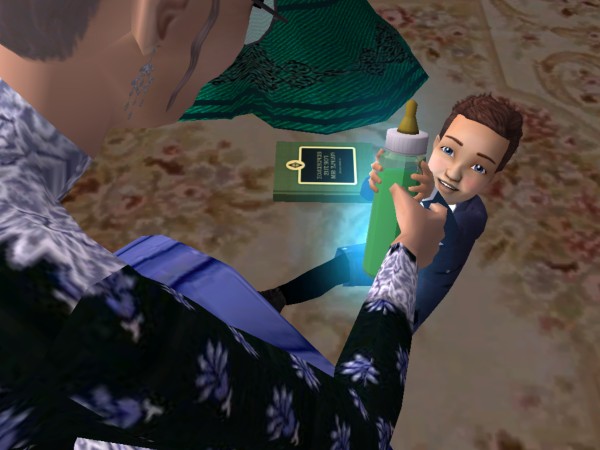 "Gimme."
And now…family portrait time! The calm before the storm. First off we have the two old geezers, Belinda and Farley.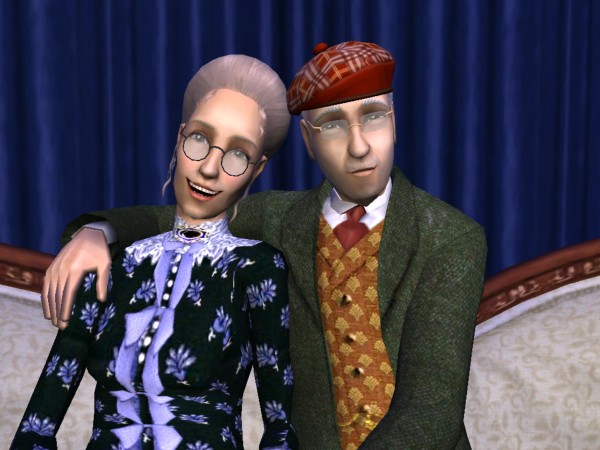 "Who you callin' a geezer?"
Here are Daisy and Delano with their parents, Camellia and Horatio. I wish there were some way to have the toddler sitting on one of his parents' laps, but oh well. *cries out for more camera options*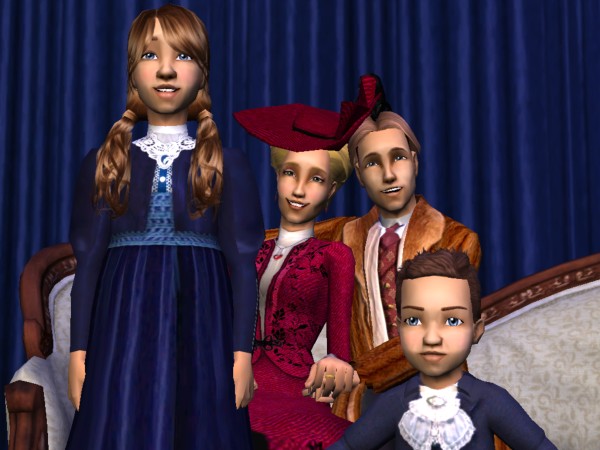 The Burrs, minus the geezers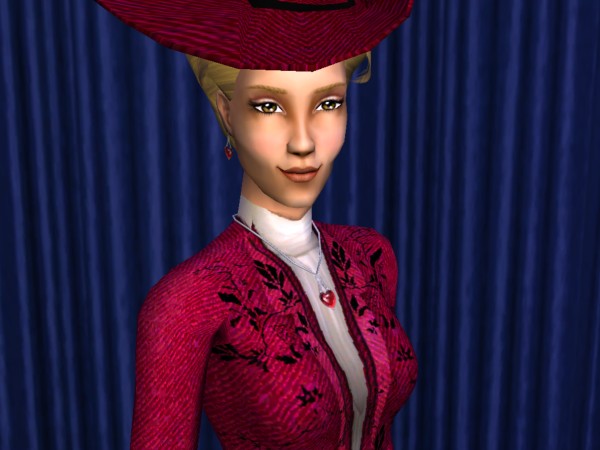 Camellia Burr, 3rd generation heiress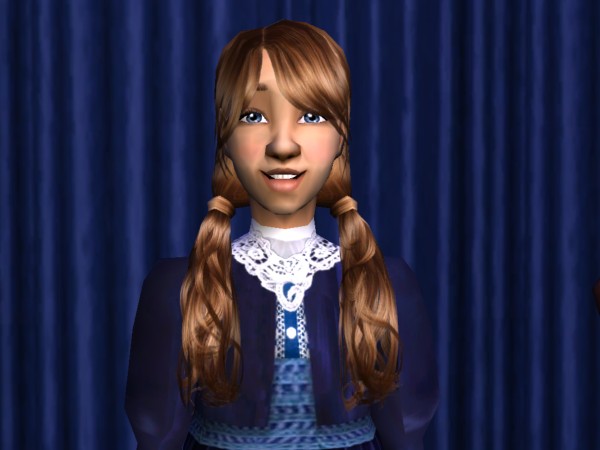 Daisy Burr, 4th generation heiress
Buckle up, my friends — here comes the oh-so-terrible tragedy that befell Mr. Horatio Burr. First, I should say that I do feel a bit bad about it. I don't enjoy killing off my Sims. I get rather attached to them. But…Horatio had just plain worn out his welcome. He'd done his duty by giving the family an heiress and handing over a couple of career rewards. Now he was just an obstacle in the path of Camellia's quest to be in love with 20 Sims at the same time. It sounds horribly callous of me, but it's true. Besides, I need at least some ghost points. And…and…he's lazy! Just look!
(continued on Page 2)