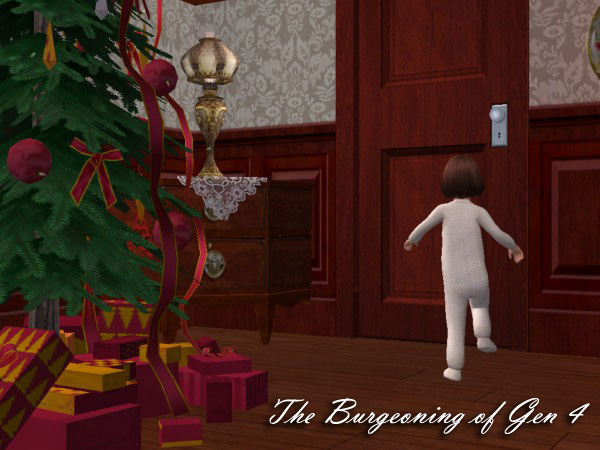 I played the Burrs a whole bunch over the weekend and took about five trillion pictures. After I narrowed it down to the ones I wanted to share, I still had over 50. So I've split this update into two parts.
Part I begins with our third generation heiress Camellia Burr (in her scary man-eating hat) ensuring the future of her family's legacy by reeling in one Horatio Palmfeather, former paperboy turned…farmer?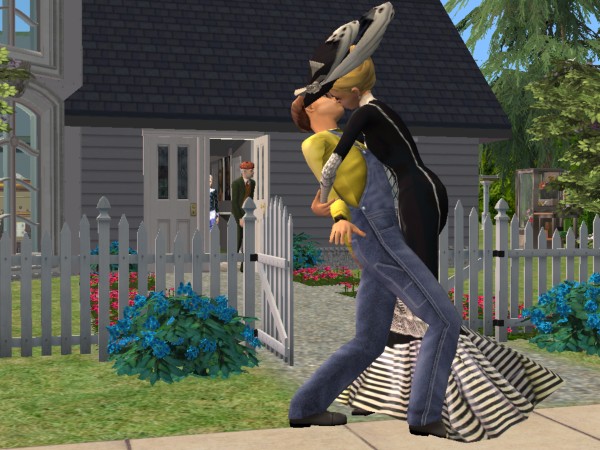 "Wait, Camellia! I've been working on the farm all day, and I smell like — *Mrrmf* *smooch noises*"
They had a lurvely wedding out behind Burr Cottage.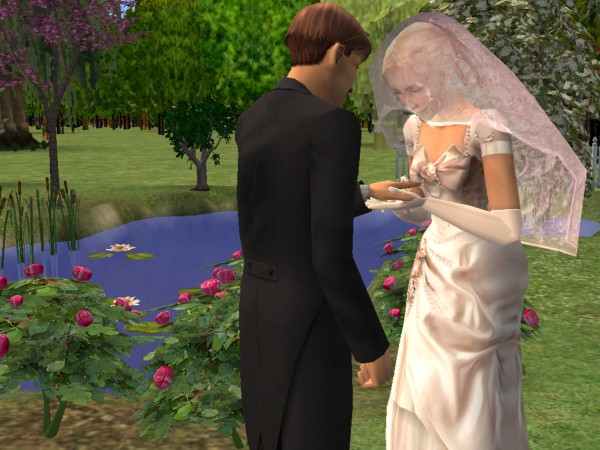 "Let me see your palm. Is it really feathery?"
Thankfully neither of these Romance fools had a fear of getting hitched. That's one nice thing about the Pets expansion – instead of fearing marriage or death, they're all afraid of skunks now. Seriously – I think all of my Sims have skunkophobia. It's an epidemic.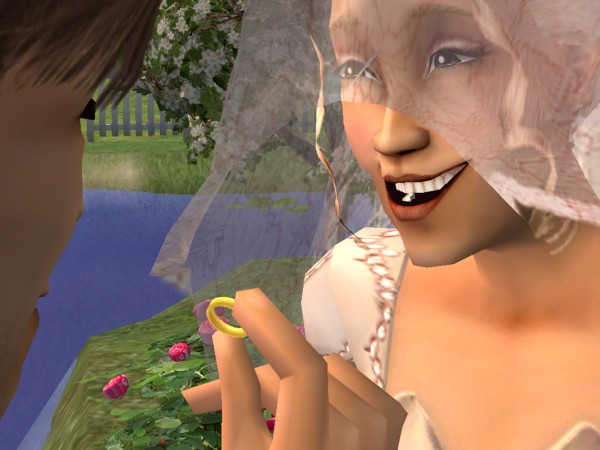 "I can't believe I'm getting married! I must be drunk!"
Poor Camellia. Her coquettin' days are over. For a little while, anyway.
So how about the rest of the family?
Camellia's brother Coriander got a job in the Natural Science field and worked on maxing all of his skills. He also helped out with the pets on occasion. Here he shakes the paw of little Ariel, the Pembroke Welsh Corgi.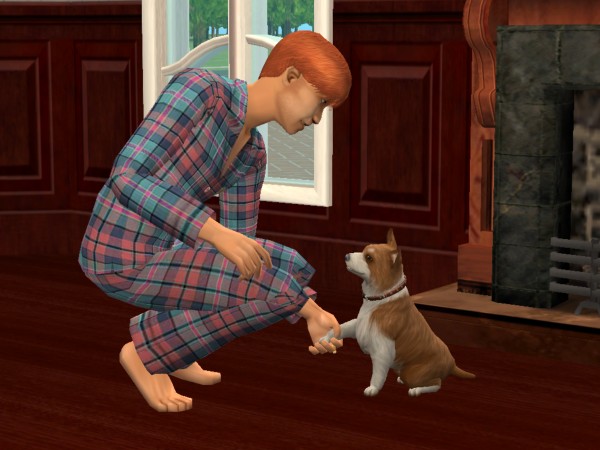 "'Ello, guv-nah!"
And here's the family cat, Sebastian. I love how pets will sleep on the bed if you don't have any pet beds around. In real life, I'd probably be all, "get off the darned bed! You're shedding all over my pillow!" But in the Sims it's just plain cute. Nothing says "cozy" to me like a cat all curled up on a blankie, dozing away.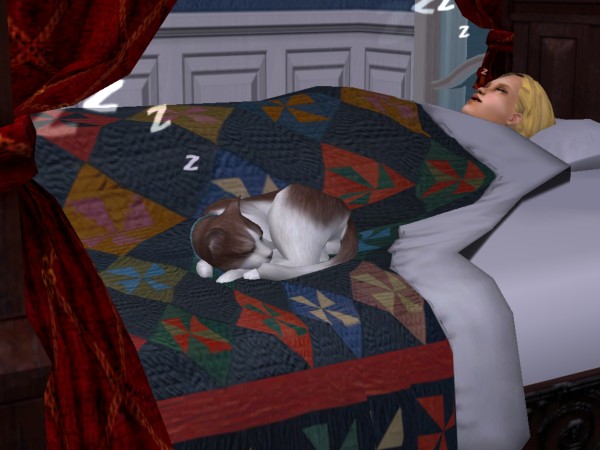 *zzzZZZZzzz*
(You can't tell by the picture, but Camellia is pregnant in it. Woohoo! [literally!])
Ariel and Sebastian get along for the most part, but once in awhile, as playful pets are wont to do, they get into mock battles.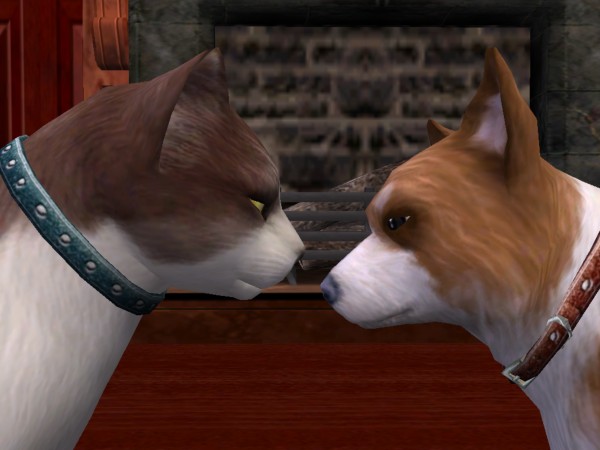 "You are SO dead."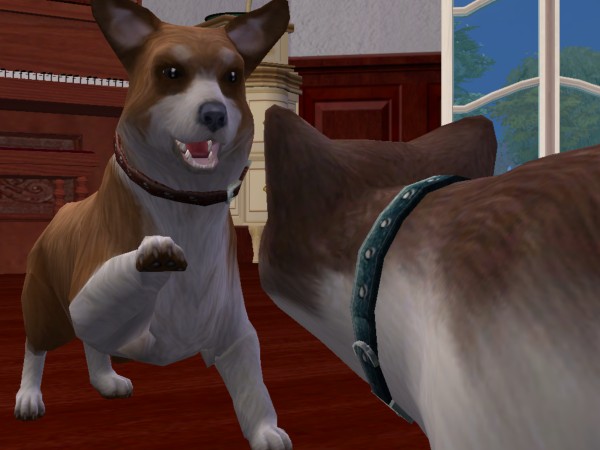 "Just try and catch me, catnip-for-brains!"
Those wacky pets. But wait! Here's someone even wackier! It's Horatio, trimming the hedge in his sock garters.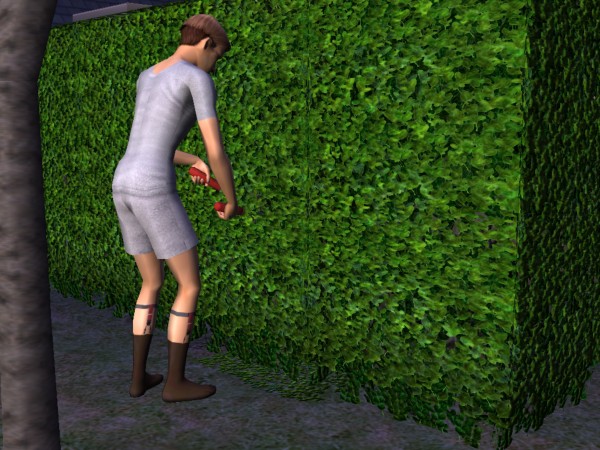 "Blast these Burrs…making me do chores…why can't they just let me play piano for tips all day? I made like §300 this morning!"
Horatio is one sloppy, lazy, whiny feller, but he does have his nice moments. Looking at this, I feel bad for what I did to him later on…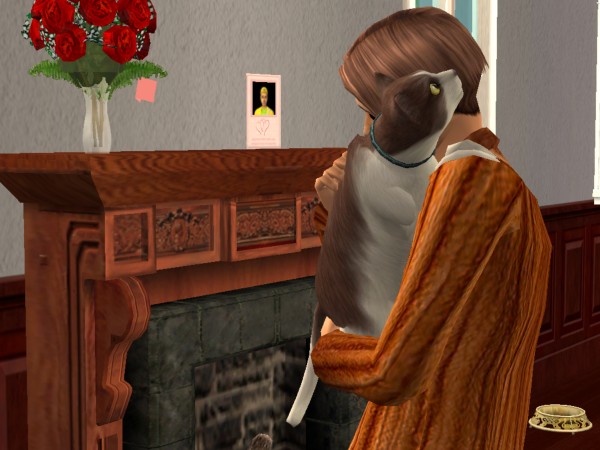 "Sebastian, you're the only one who truly understands me."
You know, I said "How about the rest of the family?" and then left out Belinda and Farley. I just don't take many pictures of those old geezers. Probably because they're busy running the flower shop all the time. But they'll turn up in here somewhere…
(continued on Page 2)