And now for something completely self-indulgent…an update on Basil Burr and his family. If you're curious as to how they all turned out, then please do read on! If not, that's okeedokee.
Later this week I'll have a regular Burr update, and then maybe Ravelos, or perhaps a teaser for the new set of stories I'm working on. Also, don't forget that midnight is the deadline for Maude's Scavenger Hunt. Since I won't check my e-mail until morning, however, you have a few extra hours…
Now…on with the show!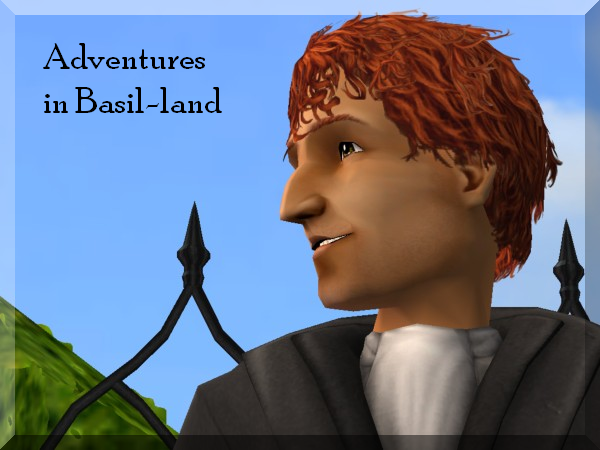 Basil Burr, his wife Roxy, and his two sons Cornelius and Cole moved into my Country Gothic house just down the road from Burr Cottage. Basil continued his lucrative gig in the Art career, while Roxy maintained her status as a Mad Scientist.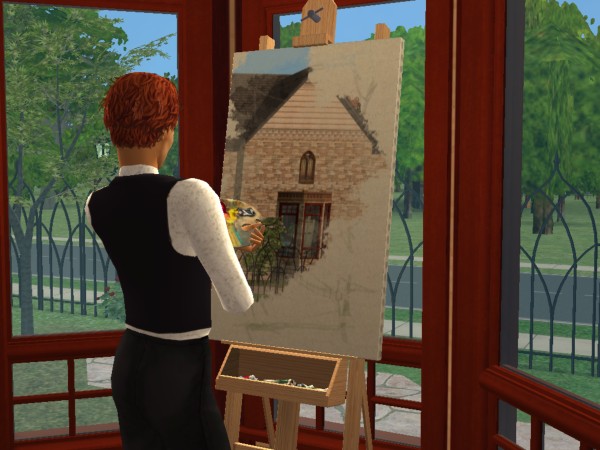 "Well, what do you know…I can see myself in the window."
Most of these pictures are either portraits which show how the members of Basil's brood looked after they grew up or random little moments that I found amusing. And I am pretty easily amused. Here's Cole Burr as a baby, his head already swirling with high-falutin' plans for his future. (How fitting that he turned out to be a Knowledge Sim.)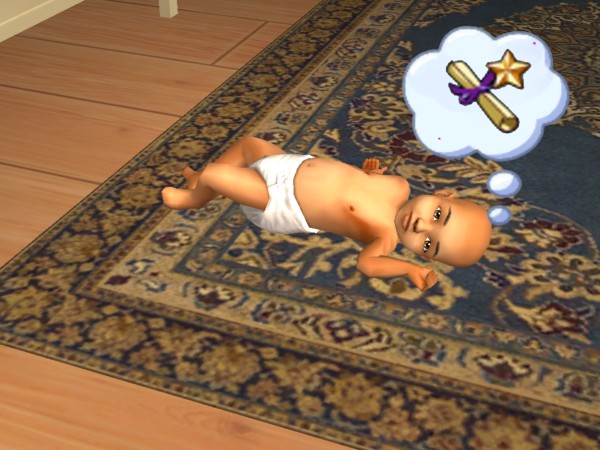 "Can one get a Master's degree in diaper-filling, I wonder?"
Here are Cornelius and Cole as kids. Since Cole is pretty much a clone of Cornelius, I gave him a little bit o' plastic surgery so he'd have slightly different features.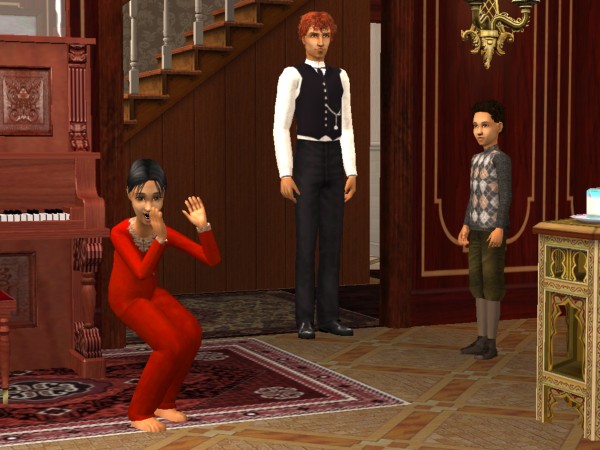 "I call this the 'let's have some cake' dance."
Cornelius was the first to become a teenager. He definitely takes after his mother. Look at those long lashes! Eeek.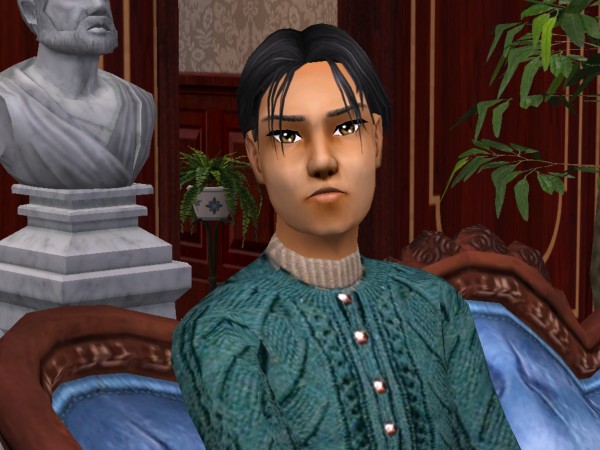 Cornelius Burr
As I said, things are a bit random and out of order here, as I haven't shown any pictures of Kid #3, but here's Kid #4, Calhoun. He wandered in while Basil, Roxy, and Cornelius were hanging out in the kitchen. I just thought it was cute how he sat right in the middle of their little "circle". Aw, he wants to hang with the grown-ups!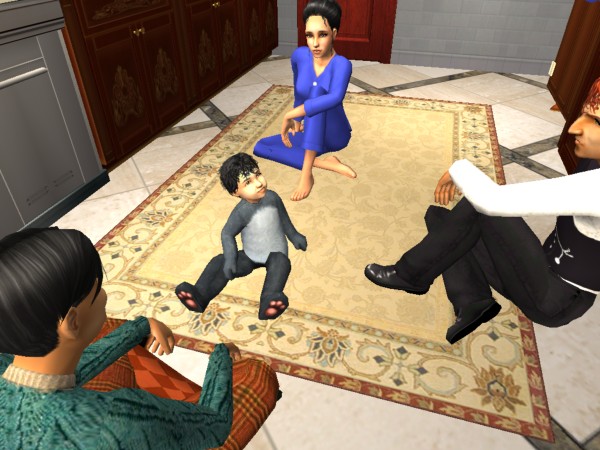 "How 'bout a little game of 'Spin-the-Toddler'?"
Calhoun grew into the cutest little boy (though not as cute as Basil, of course!).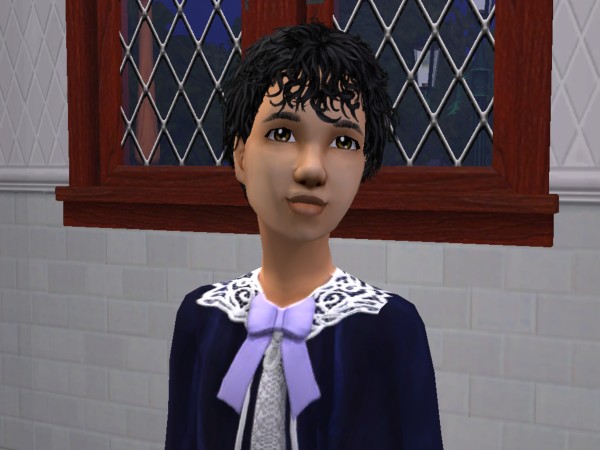 Calhoun Burr
And he has a Niceness of 9! This is significant because the first three kids all had a Niceness of 3. So I looked at little Calhoun and thought, in my nauseatingly sentimental fashion, "What a darling little angel!" And then, not two seconds later, he did this: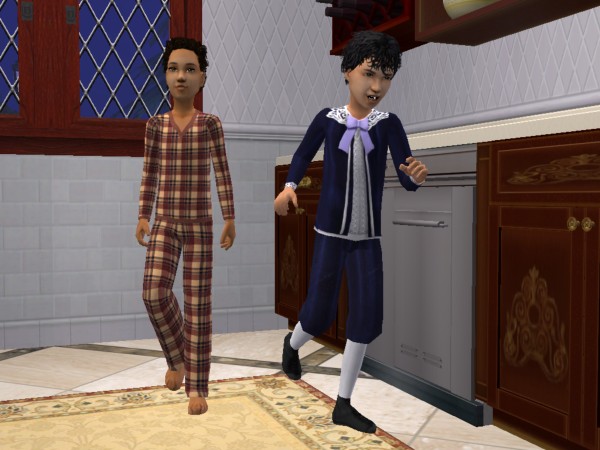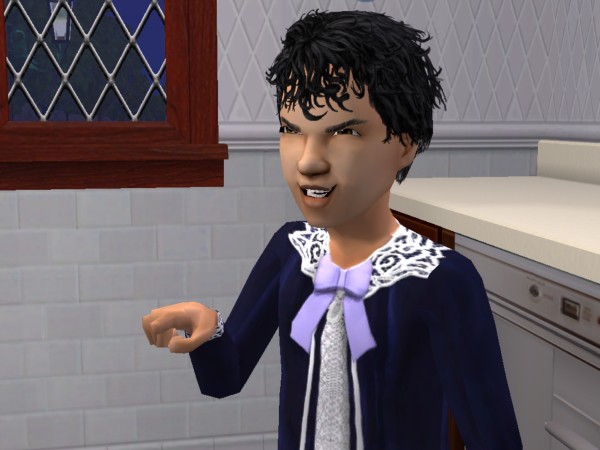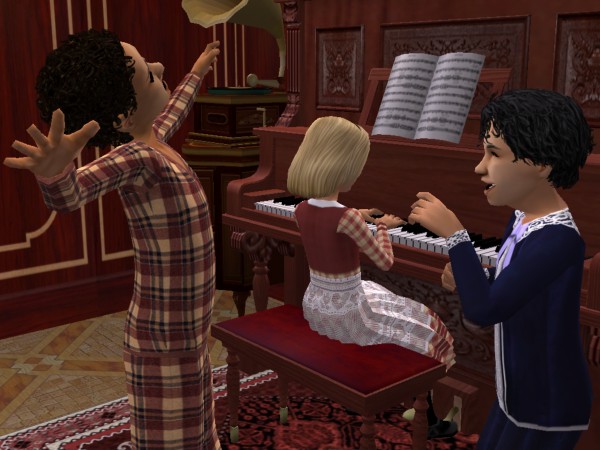 That's right, he rubbed his feet on the rug and went off to shock poor Cole. Calhoun! Niceness of NINE! So I guess all Sim kids must have a hidden mean streak and like to give people a jolt now and then.
(continued on Page 2)