I hope you all had a fantastic New Year's Eve! As for me, I ate too much chocolate, drank too much pop, and laughed my head off. If there's any truth to the theory that the way you ring in the New Year is the way you'll spend the rest of the year, then I have 12 months of hilarity and stomachaches to look forward to. :-D
My brain was yowling today after working on the Brayton update, so I took a break and did something a little more relaxing: I built a house. On Friday I got a new book called American Country Building Design, which is full of real floor plans from farm and country houses of the 19th century (and just as much fun to read as it is to look at). The house I decided to build was originally published in a book called "The Country Gentleman" in 1856 and is basically a farmhouse in a gothic style, hence the name "Country Gothic".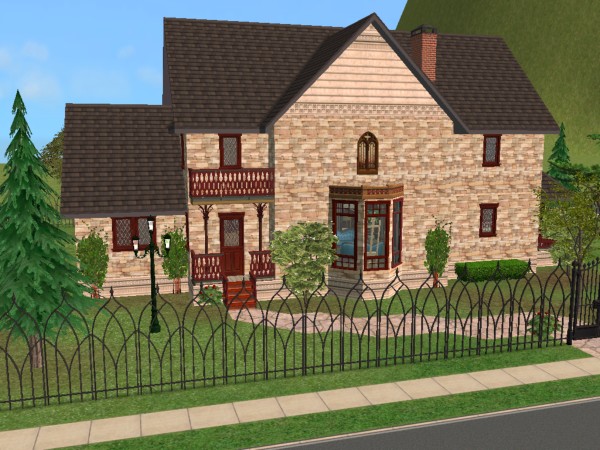 I built it on my "clean" Windows account using all Maxis items except for some walls, floors, and fencing by Marina (who kindly gave me permission to redistribute her items). The house costs around §163,000 and is fully furnished in the Victorian style (except where I had to use modern items like the telephone, smoke detector, and refrigerator). Instead of uploading it to the Exchange, I put it on my own webspace this time — let me know if you have any problems.
Download "Country Gothic" (just unzip and double-click to install)
(UPDATE: I forgot to mention that you will need the University and Nightlife expansions for this house.)
If you'd like to see some more pictures, click on the link below. Enjoy!
Here I was just messing around with switching between night and day and taking a picture in that split second of "morning light", but it provides another view of the front of the house.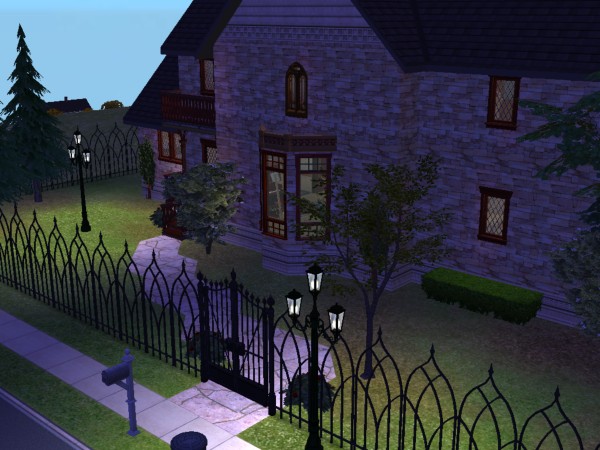 Early morning in the country
One thing I really liked about this floor plan was the "children's veranda" off of the nursery. From the book:
"It will be observed that special attention is given to the comfort of children, by providing them with a pleasant veranda, instead of attaching it to the parlor, a room far less frequently used and used too by those who can well forego a little comfort for a most interesting class of the human race, quite as much deserving, but too often thrust aside to make room for full-grown loungers."
OK, so it's a little wordy, but it made me chuckle. The veranda is a bit small, but a chair has been provided so your nannies can sit and watch the children play in the yard.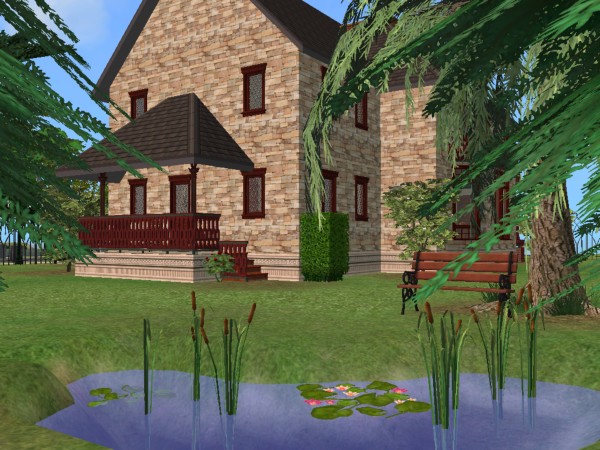 Pond & children's veranda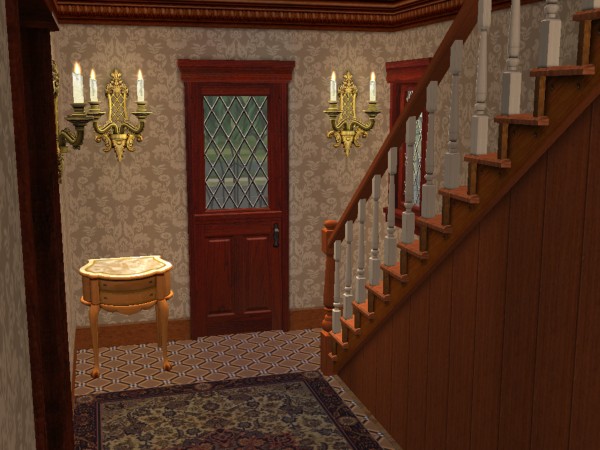 The hall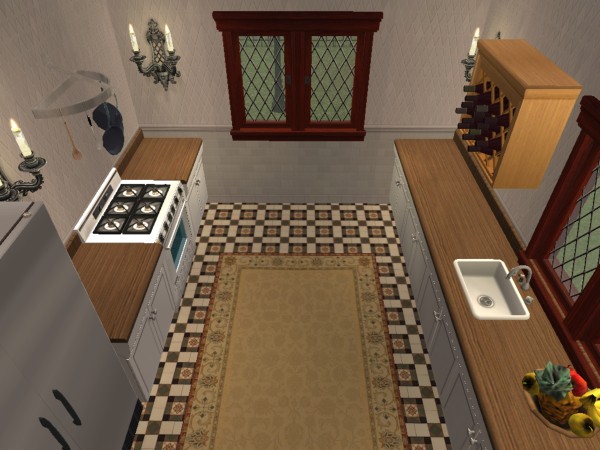 The kitchen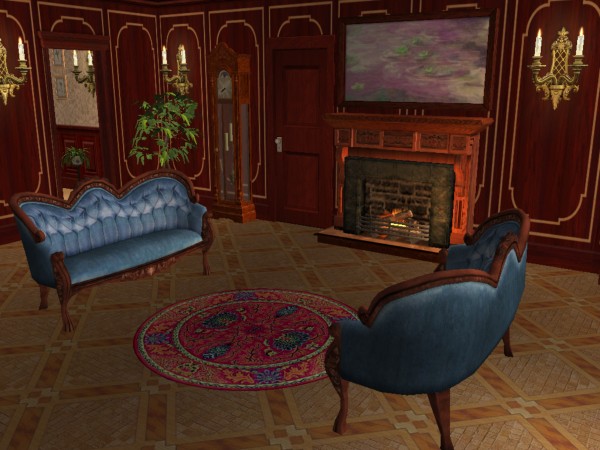 The parlor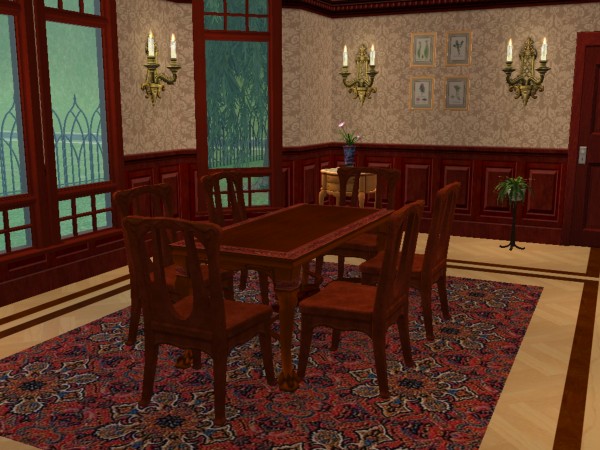 The dining room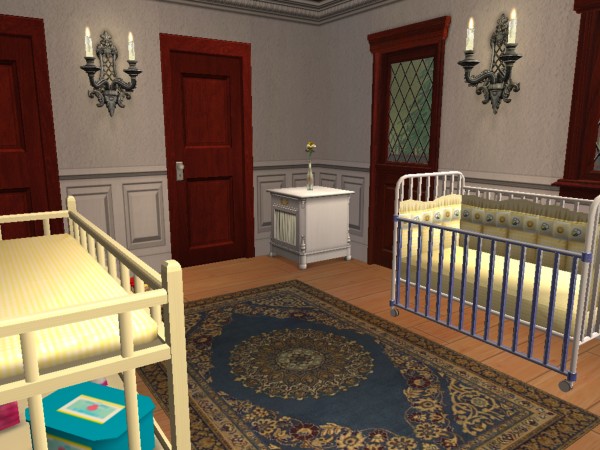 The nursery (with a "hidden" closet containing a fridge and trash compactor to make bottle-feeding more convenient)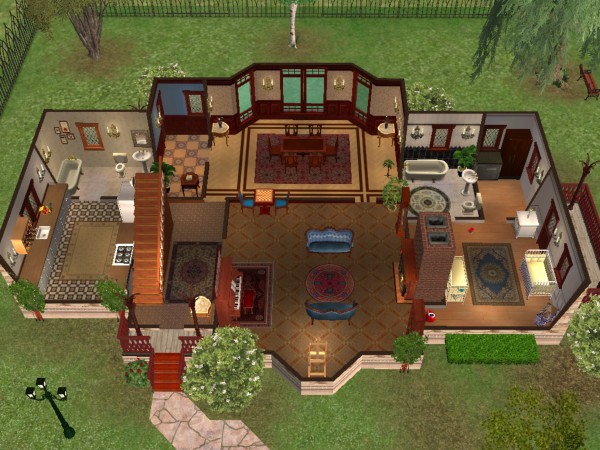 First floor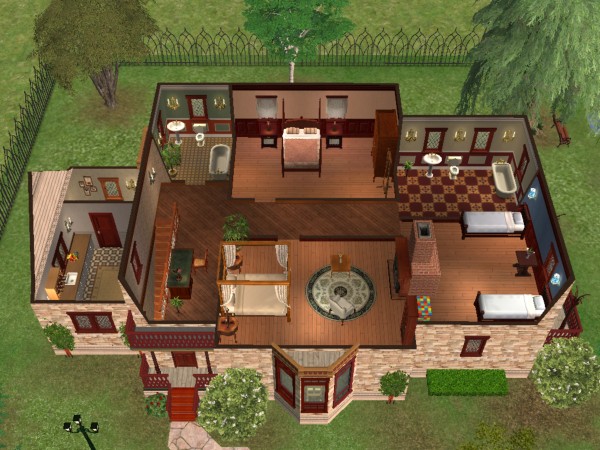 Second floor