After an hour of primping and dressing and fretting, Cecily examined her appearance, and doing so, she could almost believe what Carol had said of her. In her sparkling dress and long white gloves, she felt rather beautiful.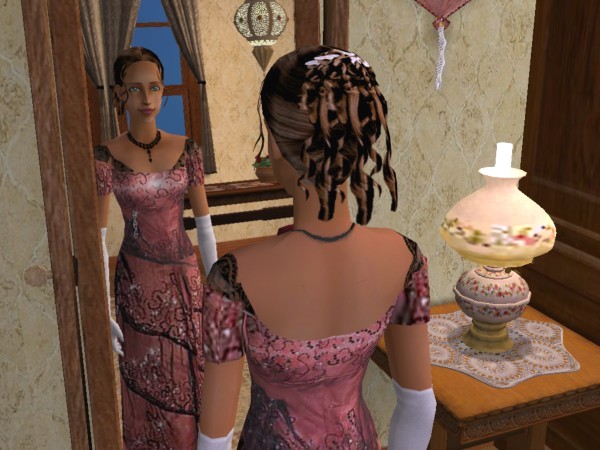 Cecily turned and looked at Carol. "I owe this to you," she said with girlish little laugh, as if she still couldn't believe how splendid she looked. "I feel equal to anything the Haddaways might throw at me now."
"You owe it only to yourself," Carol replied, making a last-minute readjustment to Cecily's necklace.
"That's not true — you've spent the last hour buoying me up, and if you hadn't, I'd still be a mess of nerves."
Carol smiled and patted Cecily's shoulders. "Just don't forget to eat something, and don't dance all night, or you'll be sorry for it tomorrow when your feet swell up."
"Oh, I won't dance. I barely know a step!" Cecily giggled at her own ignorance before throwing her arms around Carol. "Thank you for everything. You're like a mother to me, you know." That last bit slipped out before Cecily could stop it, but she was glad to have said it.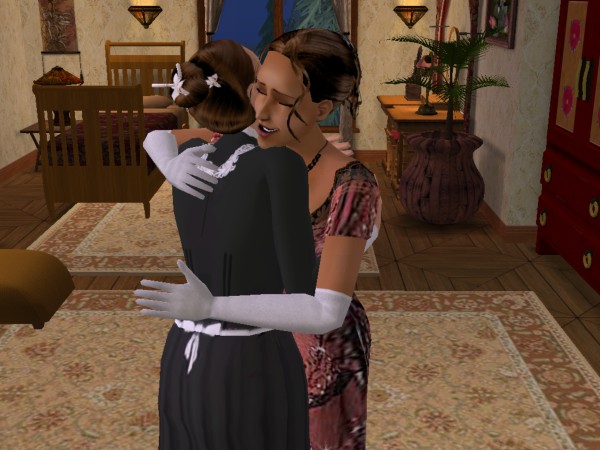 "Now hurry down to your father," Carol said, pulling away. "I'm sure he's waiting for you."
With a last smile of gratitude, Cecily hastened out of the room in a rustle of lace and satin, the beads of her dress glinting and tinkling as she went. She found her father in the foyer, waiting for her as expected.
Harry stared as if he had never seen his daughter before, then smiled, the glow of fatherly pride warming his expression.
"My goodness!" he exclaimed, throwing up his hands. "You've grown into a woman! When did that happen?"
Cecily laughed, suddenly feeling like a child again. "When your hair turned white."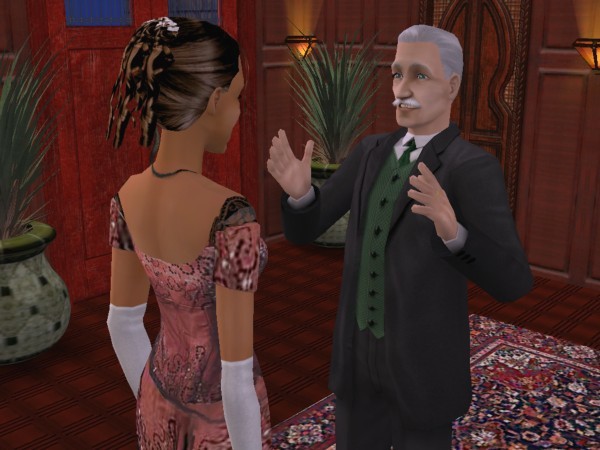 "Why, of course," Harry chortled, offering his arm to Cecily. "But I've always been old, Cecily dear, while only yesterday you were still a child."
"I haven't been a child for two or three years now," Cecily said with gentle playfulness. She felt like adding something, but restrained herself.
The carriage ride down the road to Haddaway Hall was short and relatively silent. Cecily felt as if she barely knew the man who was sitting next to her, guiding the aged brown mare to its destination, but she felt comfortable in his presence nonetheless. It reminded her of the old house, the wavering candlelight in the parlor, the aroma of Arianna cooking pancakes, the sound of her mother's voice – did she really remember that voice, or was it merely the sound of her mother's ghost, moaning as it drifted through the rose bushes of Brayton Hill?
Cecily's thoughts were interrupted by the sight of Haddaway Hall, grand and gleaming in the dusky night. Before she had time to reconsider, her father was standing on the ground, holding up his hand. Cecily took it and stepped gracefully down from the carriage. She was early; there were no other carriages in sight.
Harry took his daughter's hands and leaned forward to kiss her forehead. "Be careful tonight," he said, and even though Cecily wasn't sure what he meant by it, she understood why he said it. In that moment she felt that he truly loved her, despite his inattentiveness over the years, and it bolstered her spirits. She felt her confidence from before come rushing back, and she glided towards the front doors of Haddaway Hall with an assurance she didn't know she possessed.
As she waited for the butler to answer the door, Cecily glanced idly through the lacy curtains into the drawing room where she used to play piano for old Mrs. Haddaway. A man stood before the mantle, leaning against it in a most appealing way, and as he detached himself from the mantle and made his way across the room, Cecily realized with a sickening pang that the man was Mr. James Haddaway.