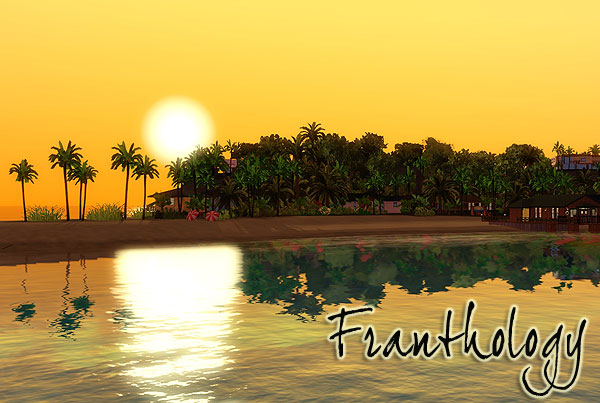 Hi all, it's Fran here. I have so much to tell you! Although it probably won't seem like much. It's not as if anything hugely life-changing has occurred to me in the last few days. But when you think about it, our lives change in tiny little ways every day, don't they?
One of the ways my life has changed lately is that I'm getting better at cooking…in microscopically small increments. Like, I was really rockin' and rollin' with the mac and cheese the other day. It's my favorite dish, and I've made it at least twice before with no issues…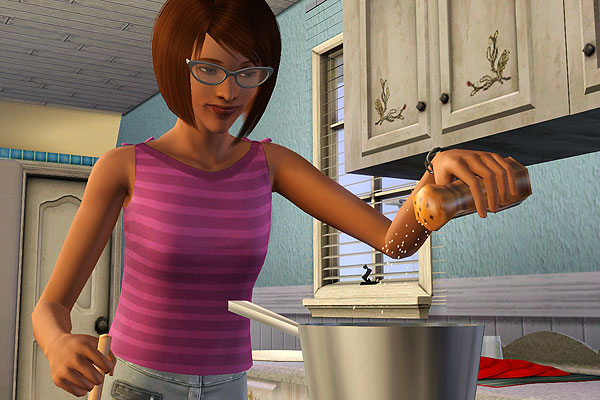 …but that was back in my teenage days, and I've apparently forgotten a few minor details since then. Such as how long to cook the danged stuff. I had no idea that mac and cheese could…you know…explode. Days later, I'm still scraping pasta off of my wall.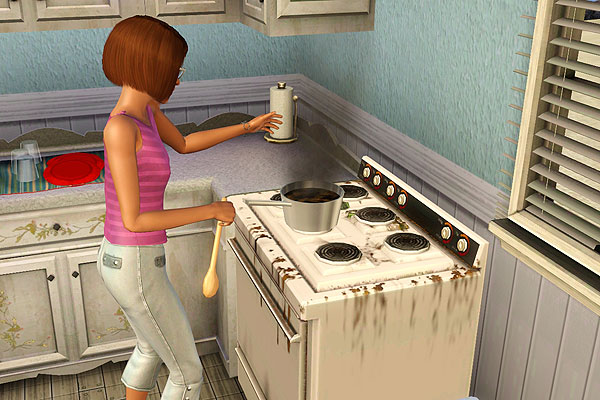 I blame the stove. They're all different, right? I mean, I'm not saying my stove is deliberately trying to sabotage me…but…you never know. I'm watching you, stove.
My foray into the wonderful world of fishing continues. That's right, I haven't given up yet! Miraculous. It helps that Uncle Elvis responded to my e-mail with some useful tips.
His first suggestion was to try different selling methods. Since we have both a consignment shop and a grocery store, I figured I might as well try each one and see if one is more profitable than the other. (Profit…hmm…very foreign concept to me at the moment, as I sit here with §8 in my account.)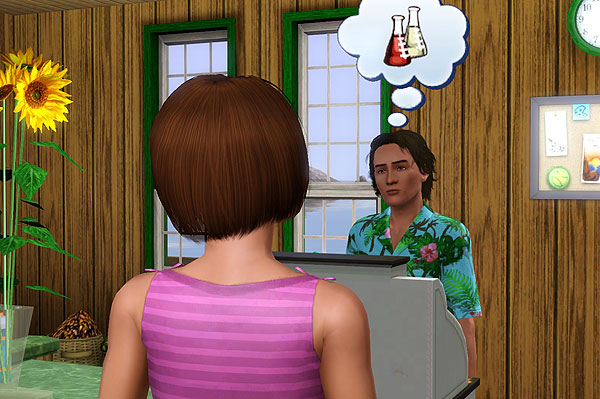 Unfortunately I'm horrible at this whole "selling" thing and didn't even know how to speak to the consignment store clerk properly. He thought I was doing some kind of scientific experiment and gave me funny looks. I'll try the grocery store next time.
Elvis also recommended a few books on fishing bait. I had no idea that mattered – I had been just throwing my hook into the water and saying "here, fishy fishy".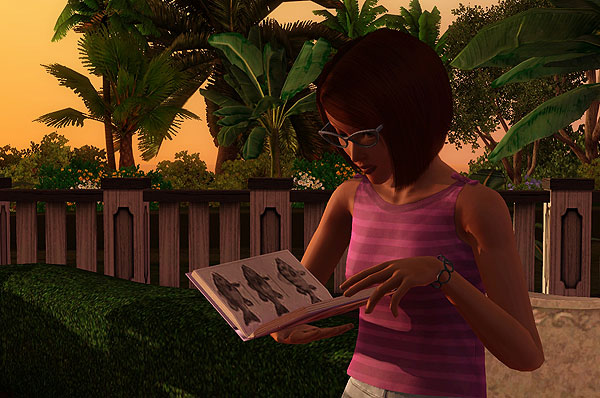 But now I've learned that I can use my meager minnows as bait to catch much larger fish, which should net me (pardon the pun) more moolah.
Another handy tip from Elvis was to try fishing at different times of the day, such as 5 AM. Now, I am not a morning person by any stretch of the imagination, but I did manage one pre-dawn fishing expedition…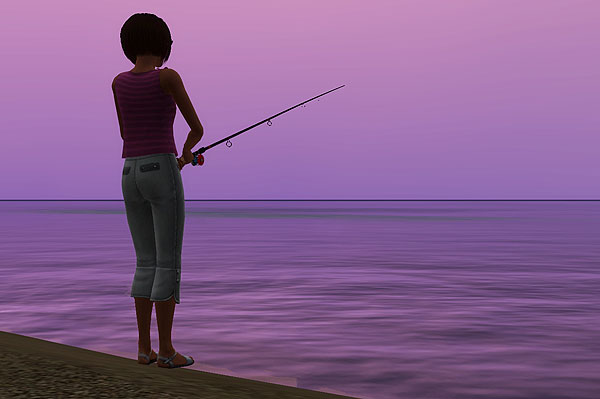 …and I really enjoyed it. I also caught my largest fish ever – a jellyfish. Do people actually eat these things? They give me the creeps.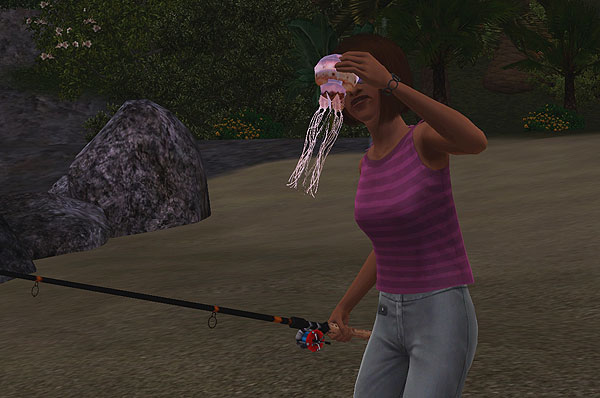 I don't know if it was the inhuman hour of the day or what, but later that morning I cooked something that didn't burn or explode.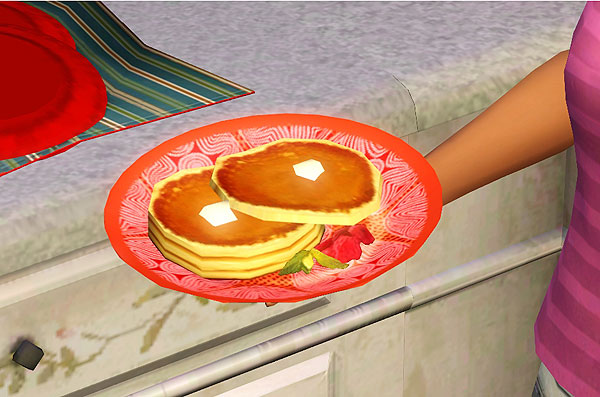 That's right, folks – I finally made something edible! I was so proud I could have paraded my pancakes up and down main street. Sound the trumpets!
So the fishing and cooking are improving in teensy weensy but still significant ways, and the same goes for Project: Make New Friends. It was tough at first – you'd think people would be all relaxed and laid-back on the island, but they're always running off to work before I can even learn their names.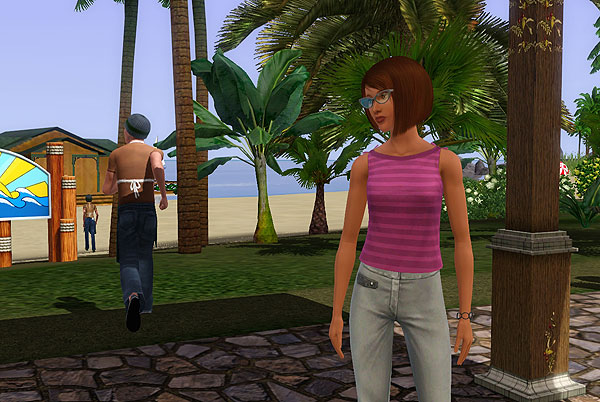 Most of them work at the giant pirate ship – I guess there's a famous fancy restaurant in there, but I haven't gone yet. I'll have to sell some bigger fish first.
I'm lucky I can afford to play some Darwin's Revenge. Love that game.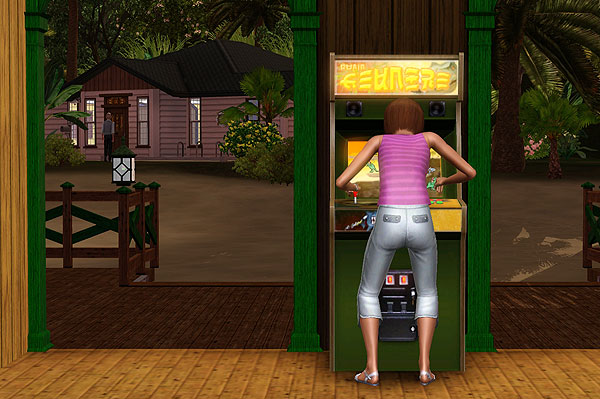 And I guess I'm lucky that I don't mind being alone. After growing up in that crazy family of mine, I welcome the solitude. I just don't want to get too used to it. I can easily see myself becoming Hermit Fran, holed up in my little blue hut, coming out to fish alone before dawn and selling my catch to the market before anyone else wakes up.
And well, I have nothing against hermits, but…if you're alone for too long you can get kind of weird. And I'm weird enough as it is.
So yesterday I went jogging – me, jogging! Along a beach! I'm in heaven! – and tried to open my mind a bit more to the idea of meeting people.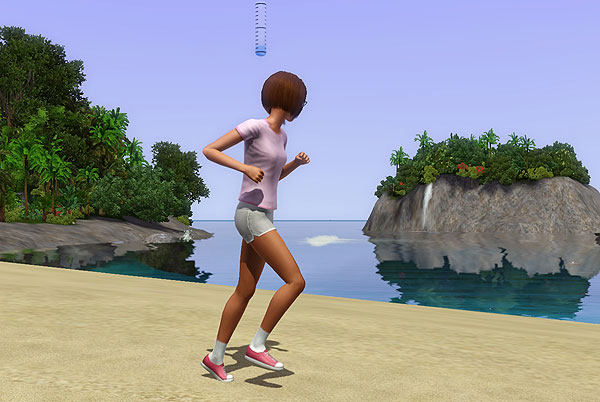 It's not always easy for me – I used to be painfully shy. But I've gotten a little bolder since my failed college experiment. I screwed that up so badly, I feel like I have nothing to lose now. And I try not to judge the people of Mariner's Reach, but some of them are just plain funny-lookin'.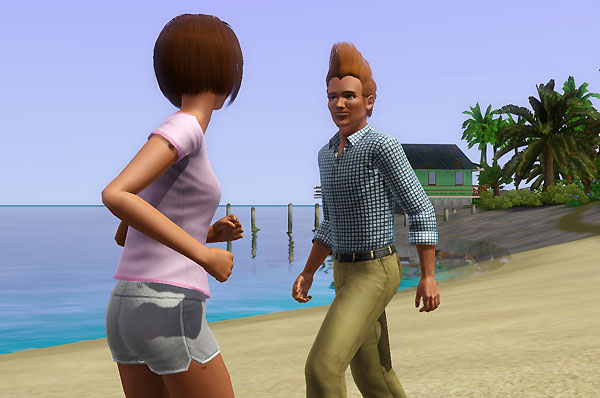 And some of them are…well, I'm getting a little ahead of myself. Because the cool thing about this next guy I met is that I heard him before I saw him.
(continued on Page 2)