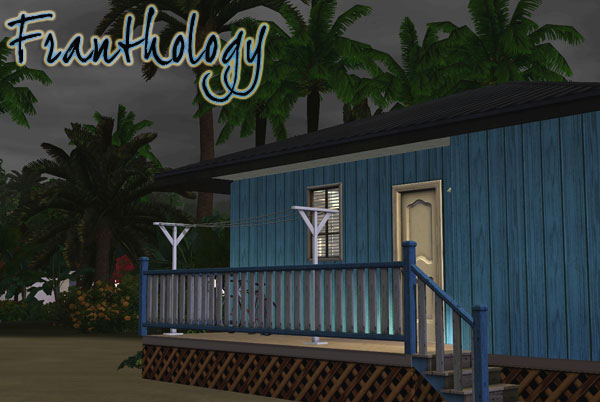 Hi all, Fran here again, writing from the island of Mariner's Reach, where it's beautiful even on cloudy days. Well, relatively beautiful. I mean, the island is perfect, don't get me wrong…but my house? This little blue hut that I call home? I think it's…alive. And possibly evil.
Remember when I joked about the stove trying to sabotage me? Well, I don't think I should have made light of the situation. Because I think my stove reads this blog. I think I may have offended it by not taking it seriously, and now it has involved every other appliance in my home in a conspiracy to push me over the edge.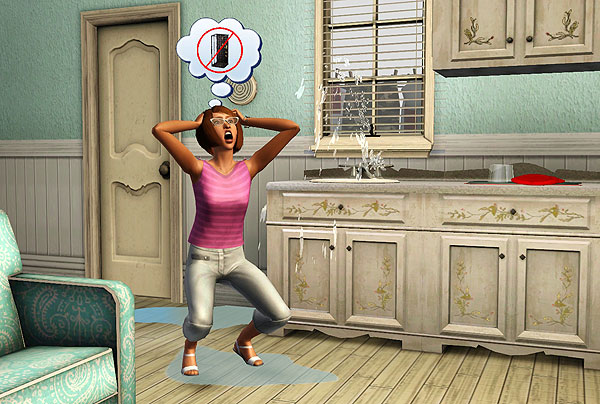 I don't know how else to explain it. Everything just went kerplooey all at once. First was the toilet, which clogged up so badly I spent the better part of an afternoon trying to clean it out.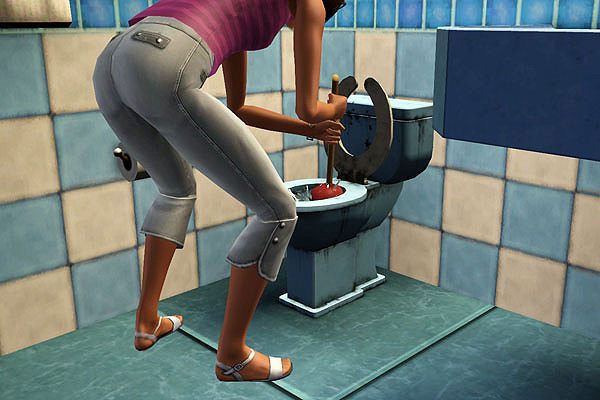 Maybe I've been eating too much autumn salad, but geez louise. It just plain refused to unclog. And I'm only one person! How did our toilets in Riverblossom Hills survive the onslaught of seven people using them? Eeesh.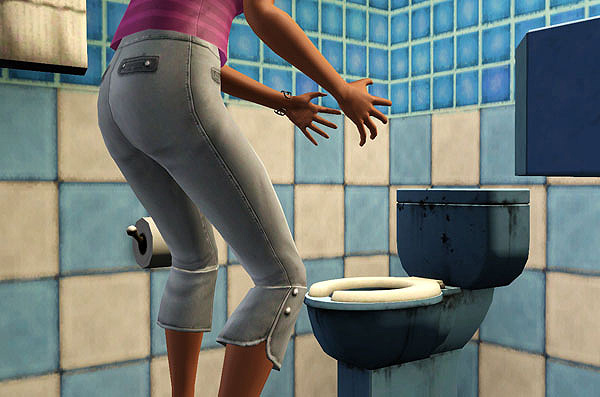 Then there's my shower. Half the time I can't even get it to produce anything resembling hot water. It might as well be spitting ice cubes at me. It takes two hours after a shower for my blood to start circulating again.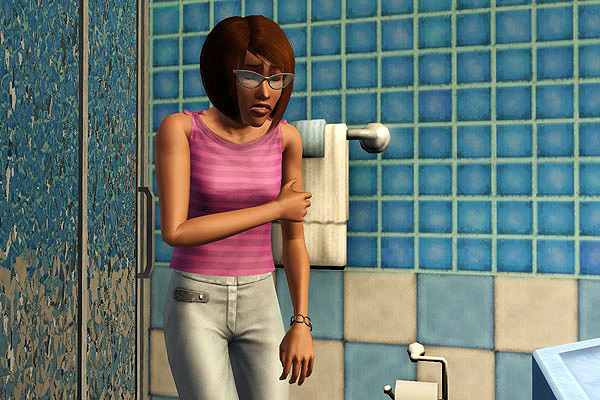 The washer is possibly the most mischievous of the bunch. Sometimes it shakes and swerves itself right into the middle of the bathroom, like it's trying to make an escape. Other times it spews soapy water at me when I open the lid, soaking me from head to toe. You just never know what it's going to do. Washer, I hate you most of all. You aren't even energy-efficient.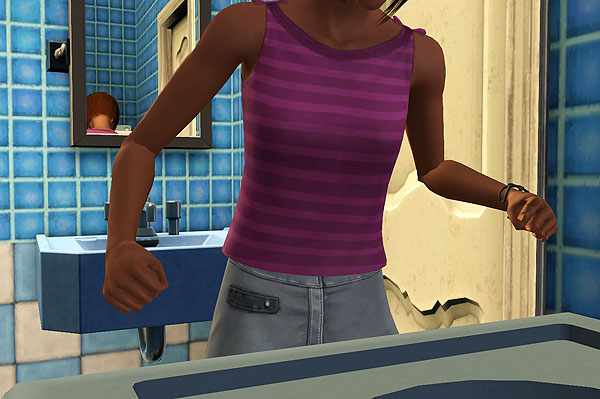 I guess I should be careful. If my house really is reading this blog, I shouldn't give it more fuel for its shenanigans. I should tell it that I love it, that I will never speak ill of it, that I am devoted to it always and forever…aw, frammit, I can't even pretend. My house hates me and I hate it. Sigh.
I forgot to mention that my kitchen sink got in on the fun, too. It sprayed water all over my head and made a horrid mess. That was the last straw, really. I called a repairman to come and fix everything, and he did just that. Yeah, that'll show 'em! Too bad I had to spend §50, which is a lot when you have less than §400 to your name, and there are bills to pay.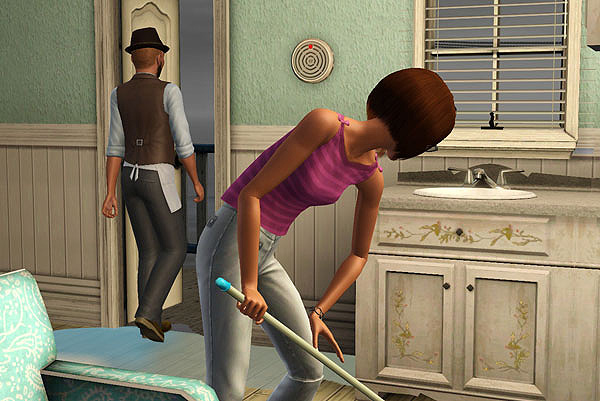 I apologize for sounding so complainy. I should be grateful that I have a roof over my head, even if it is an evil one. And I am grateful. Besides, I have discovered something that makes even the pain of traitorous appliances go away.
This thing is called…nectar.
I was so stressed by my house falling apart that I needed to do something fun and different, so I put on my one nice outfit and strolled over to the Blue Bay Nectary.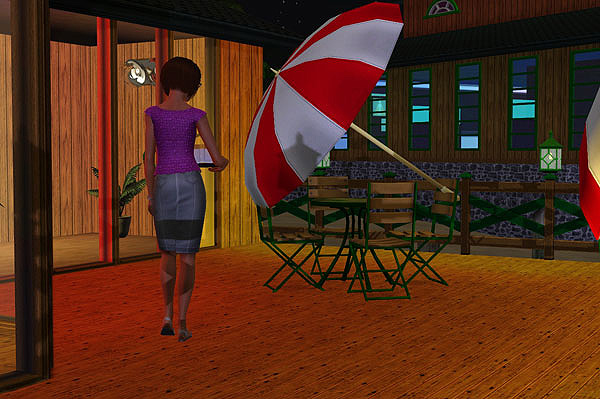 Seriously, where has this stuff been all my life? The heavenly combination of flavors that tingle the tongue…the super zingy sugar rush…I could drink it all day.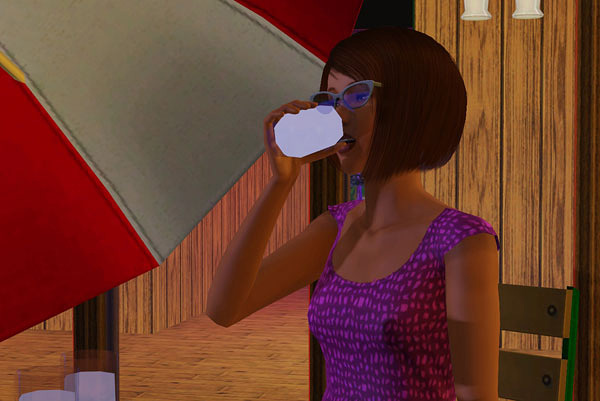 While I was sampling this lovely libation, a nice lady sat down at my table and introduced herself. She said her name was Nerissa Powell and that she had just moved into a new house with her brother Murton, or "Murt", as she calls him.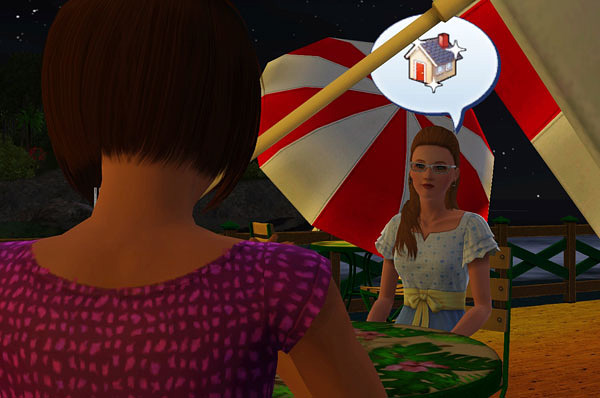 She was one of those bold and breezy people that makes us shy folks feel more comfortable because they drive the conversation, leaving us no time to fumble about for the next thing to say. She wasn't pushy about it, though – just very confident and skilled in the art of gabbing.
And she likes outdoorsy stuff! It's hard to believe, but she's one of the only people I've met so far on the island that actually enjoys talking about plants and sunsets and fishies. She even likes to garden, but they don't have much space on their lot for planting, so she goes up to the community garden at the community center. I always wondered what that was! (The garden, not the center.)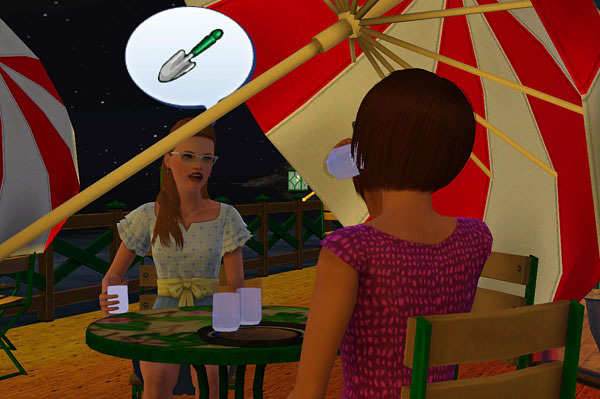 After a couple of hours of chatting and downing nectar like it was going out of style, we parted ways and promised to hang out again in the future. I'm so happy I've made another cool friend on the island. Of course, everything seems cool when you're loaded with sugar. I spent a good §100 on a bottle of nectar to take home, which wasn't the wisest thing I've ever done, but probably not the dumbest, either.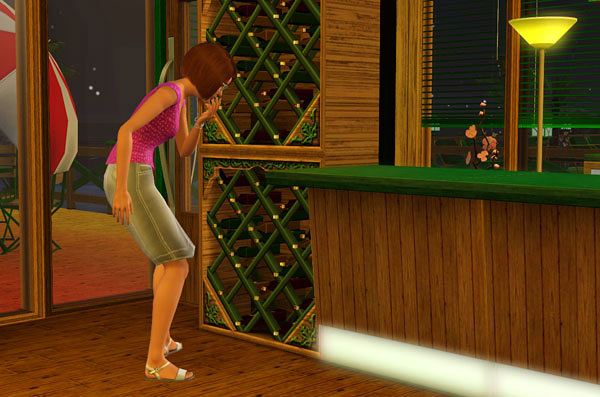 I'm not sure what the dumbest thing would be, exactly, but this next thing I did has to be in the Top 10. Well, maybe it wasn't dumb, but it was definitely uncool. See, I was so giddy from the nectar and from making a new friend that I wasn't thinking straight, and I ended up creeping the bejeebers out of my other new friend, Gavin the Godlike Guitarist.
(continued on Page 2)