Thanks to all who voted in the Pub Name Poll! The winning name was "The Cornerstone", suggested by Lilymayrose. I think it's a very fitting moniker for the place!
Now for the second community lot in town — the town hall/police station. I hadn't planned on building one originally (at least not for awhile), but I wanted to use certain aspects of Twallan's Register and Careers mods, so I had to bust my "no rabbithole" rule and put at least a City Hall rabbithole rug somewhere in town.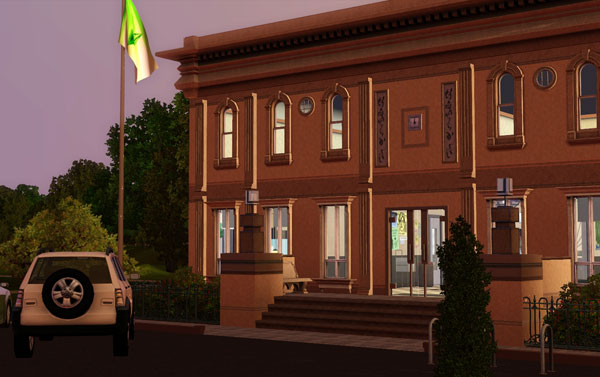 It was constructed not long after the 1920s-style homes in Ely Corners, during a slight population boom in Wilshaw County, so it's bigger than it needs to be (the town aldermen were very optimistic at the time). I went for a 1930s art deco feel, inspired by the old city hall in my hometown (which has been converted into apartments).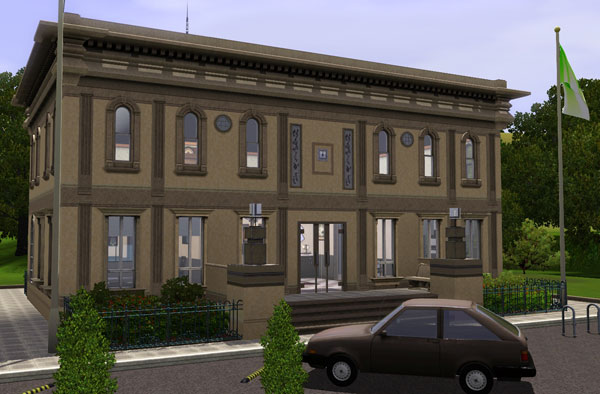 It didn't really fit in with the buildings over in Ely Corners, so it's over on the other side of the hill, in my "industrial" section. Eventually this area of town will also be the home of the old lumberyard, the old train depot (now a coffeehouse/recording studio), and some old worker houses. I'll probably put a junkyard over there, too, and maybe a seedy salon/tattoo parlor, just for kicks. Whew, this project is getting bigger by the minute.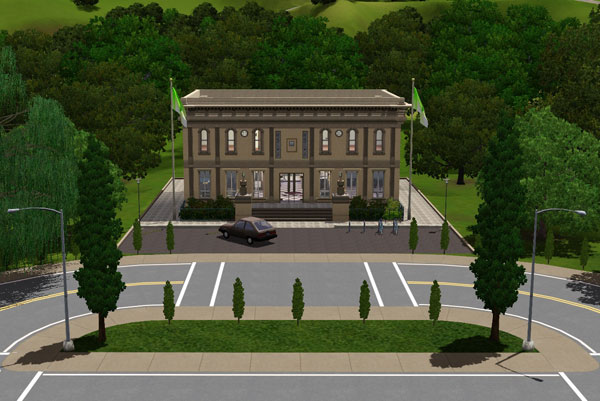 Here's the front lobby. I figure I can put pics of wanted criminals in the digital picture frames, but since I don't have any criminals yet, they remain empty.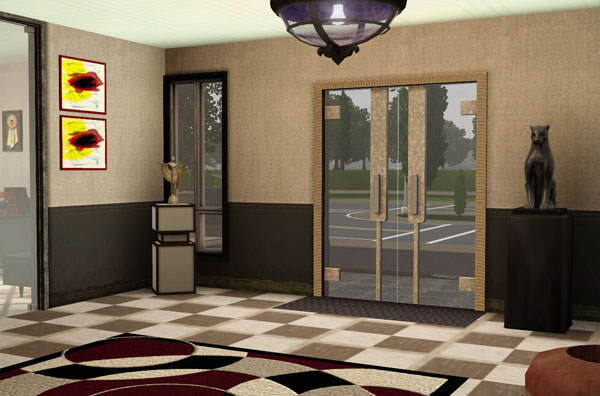 Elevators are a pain in the heinder, but since there's nothing upstairs but a rabbithole rug, and the elevators look very art-deco-cool, I thought I'd plop one in there.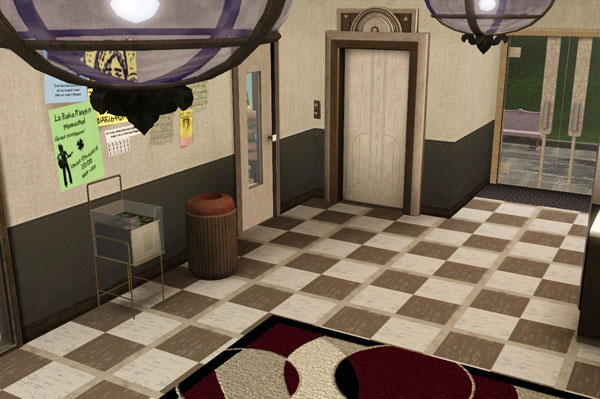 They haven't renovated the place in years, so everything looks slightly shabby. There is a coffee machine, though! Gotta have coffee for the sheriff, right?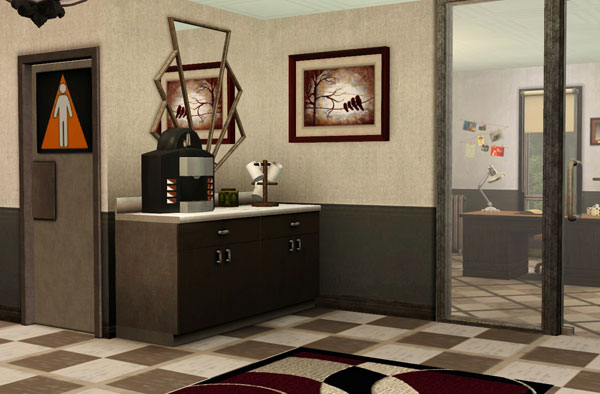 Here's the sheriff's office. Not much there since I didn't want people swarming the place to read books and whatnot.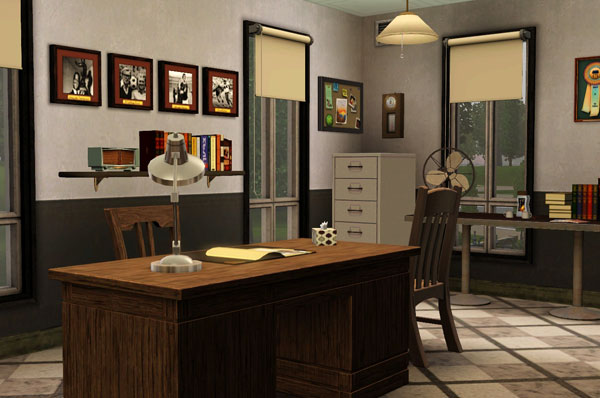 As it is, I may have to make the place "No Visitors Allowed" since the good people of Ely Corners like to turn on the sheriff's radio and dance around his office or use the jail cell as a restroom (I almost snapped a picture of that, but they just looked so undignified, I couldn't do it.)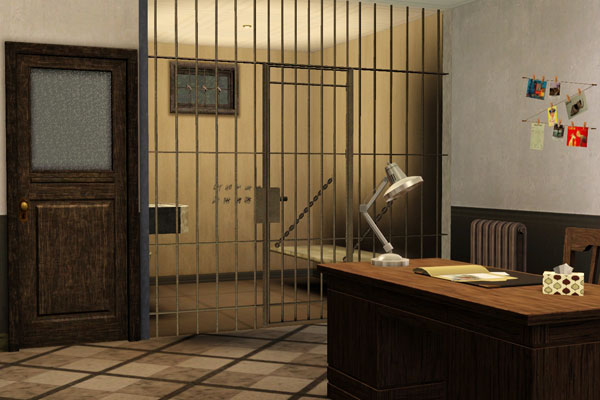 I'll probably end up just using the building for story purposes every so often, if someone needs to meet with the sheriff or the mayor, or if the board of aldermen need to hold council meeting.
Here's the mayor's desk: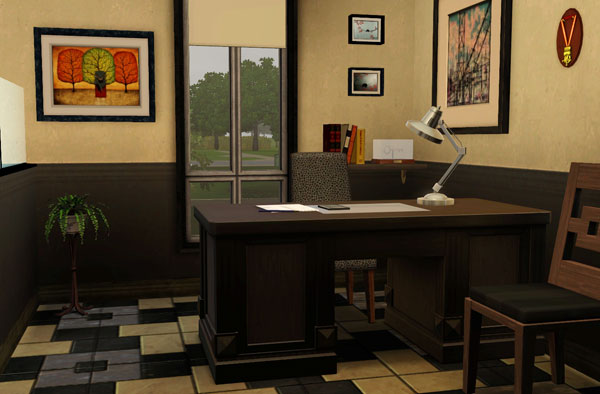 And the meeting room, which can also be used by the sheriff if he needs a private place to question a witness or something: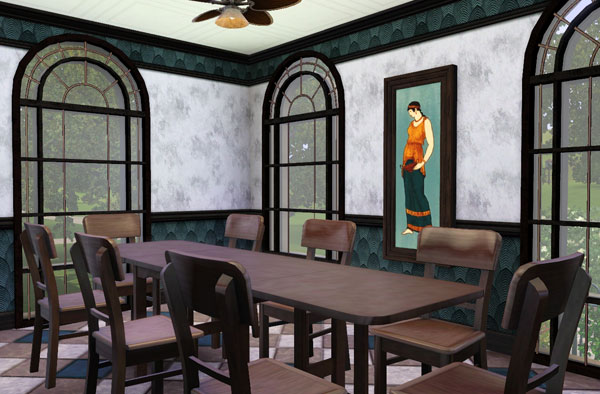 As I mentioned, the upstairs is empty except for the rabbithole rug, but people still like to check it out.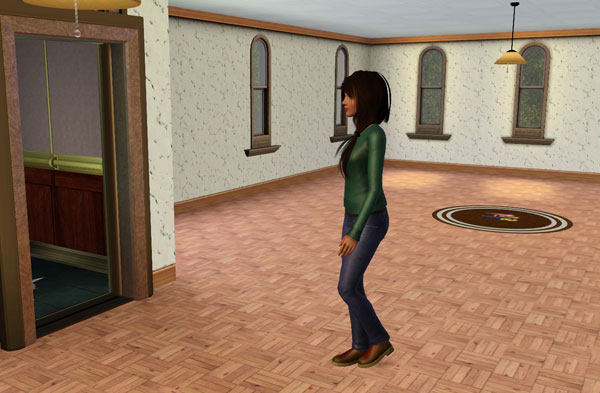 (continued on Page 2)