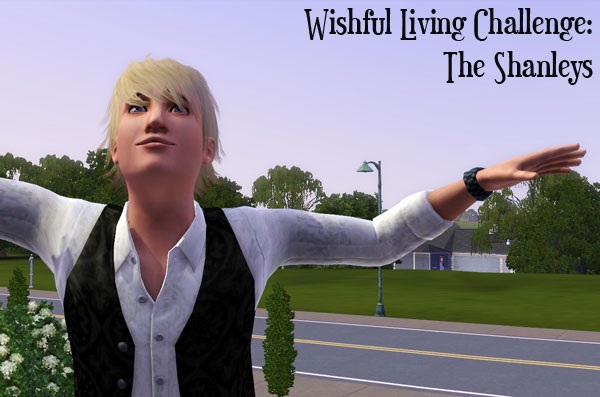 Last we left the Shanleys, my Wishful Living Challenge family, they were living it up in the Garage Apartment in Riverview. Third generation heiress/torch-holder Violet had married Benedict Driscoll and given birth to two babies, Gibson and Georgia. Everyone was skilling away like the good little Sims they are, when I just up and decided to move them all to Twinbrook, the new Ambitions town.

Before they escaped Riverview, Benny spent a couple of days at the local library reading the Vol. 3 Charisma book in order to achieve his Lifetime Wish of Golden Fingers, Golden Tongue. When he completed his LTW, he stood up from his chair with absolutely no expression on his face and put the book away. Sigh. They really need to add some animations to that! I know if I achieved my LTW of marrying Hugh Jackman and becoming the next J.K. Rowling, I'd be snoopy-dancing on a cloud of cotton candy, with rainbows and unicorns all around. But for a Sim, realizing their dreams is about as exciting as making a cup of coffee. Sure, they get a sweet moodlet and all of those happy points, but they act as if nothing happened.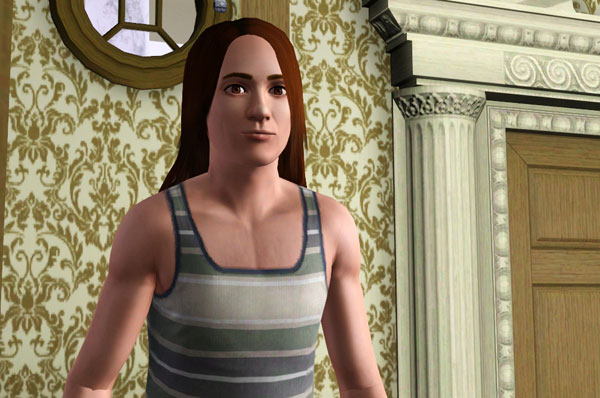 "What, you can't tell that I'm happy? I'm totally ecstatic! My face is just numb from reading for so long…"
OK, enough ranting. On to Twinbrook!
The Shanleys packed all their belongings and bought a home that I can't recall the name of, unfortunately – again, my notes suck – but it was something like the Low Country Rambler, and it looked like this: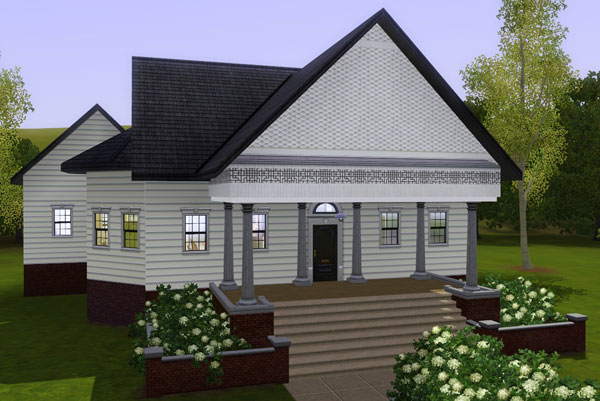 Not too shabby, I must say. I didn't do too much remodeling inside – I changed the layout of the living area and added a bathroom – and on the outside I just spruced it up a bit.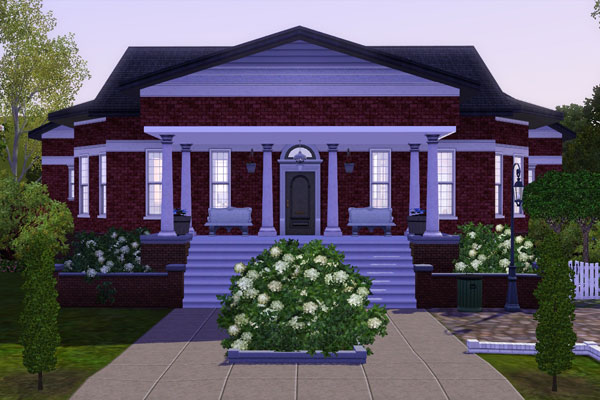 Yay, now it looks like a library! Or maybe a nursing home. Anyway, a few Twinbrookians popped over and welcomed the Shanleys to the neighborhood. They seemed like nice, normal folk. No chainsaw-wielding maniacs or anything.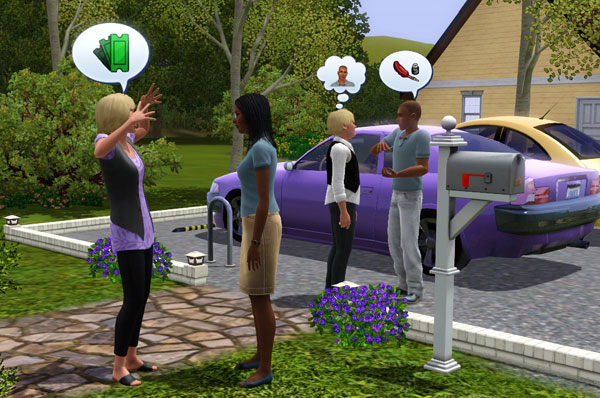 Then Georgia set out her baking stand, and the riff-raff started showing up.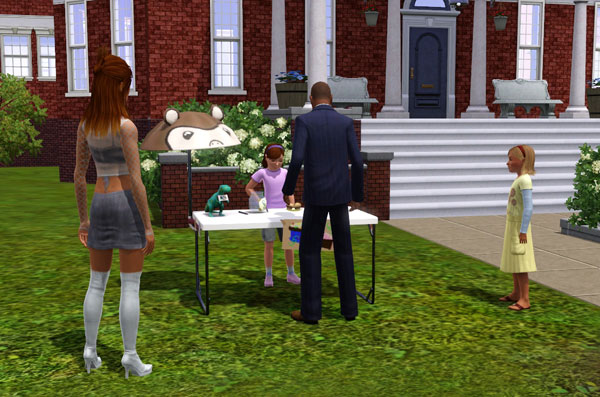 One man actually bought a vanilla muffin, but when Georgia collected the money from the jar later on, she got ZERO Simoleons. I smell a bug. Either that or the guy was a sleight of hand expert.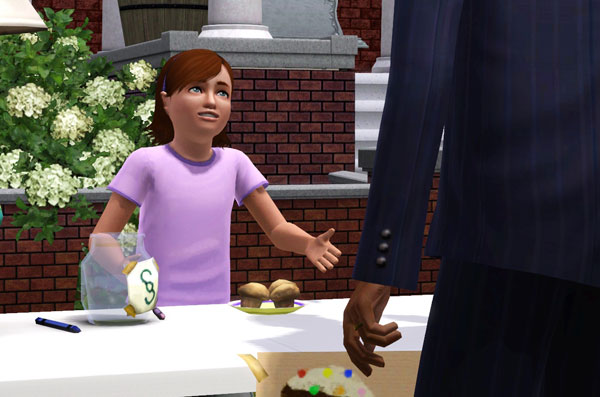 I bought the family a trampoline just to see what it was all about, and it was like I had built the Field of Dreams: everyone was flocking to it. They'd pull up in their taxis and literally RUN over to the trampoline.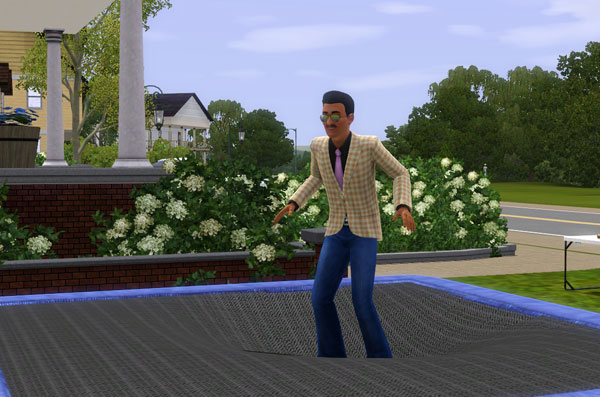 "Ooh, me first, ME FIRST!!!!!"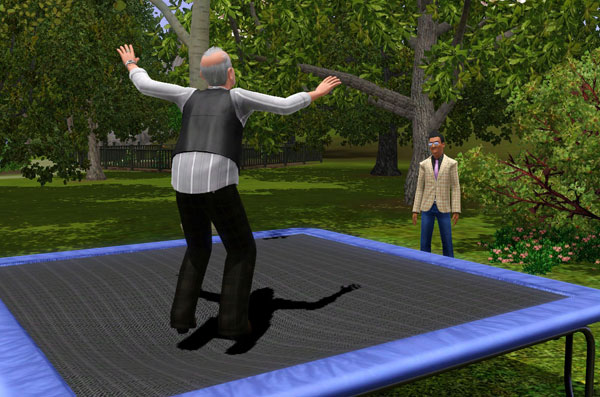 If you buy it, they will jump.
I thought I might need to sell the trampoline in order to halt the endless stream of visitors, but then I put the baking table away, and that seemed to stop the insanity. I guess if you want townies to descend upon your house in droves, put out a muffin stand!
It wasn't all bad, though. One of the visitors turned out to be Benny's new boss in the Music career, DeAndre Wolf. Benny sucked up to him big time (I actually used an Irresistible Greet on him before I realized it was a flirt – woops!) and did the Worship social, which I hadn't seen yet.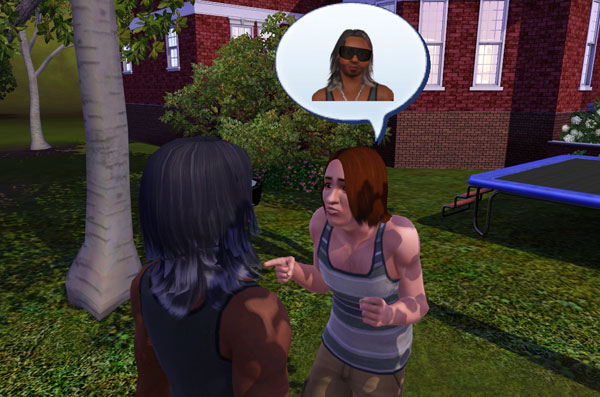 "You're going to be my boss? YOU? DeAndre Wolf?? I have all your albums, man! I'm not worthy!" *pees pants*
(continued on Page 2)