Hooray, Ambitions is here! I've gotten everything installed properly (even added HELS to the mix), put all my custom content back in (in the new location), and updated my Twallan mods (Story Progression and SuperComputer for now). I'm sure I'll see some weird glitches and bugs as I proceed — and it's possible I already have — but everything seems to be running smoothly for now. So, moving right along with the Shanleys, my Wishful Living Challenge family!
In the last update, third generation heiress Violet Shanley was in the process of moving out of Skunk Haven and into her own abode. Here's where I ran into a little trouble. According to the rules of the challenge, the third gen heir has a spending limit of §39,999 for the home — that's for the lot itself, not any decorating or upgrading they do afterwards. Well, at the time I moved Vi out, there were NO houses that cost under §39,999, not even an ugly little shack.
I consulted with my Simming friends who created and tested the challenge, and one of them suggested I merge two families with the same name (reuniting them, in a sense), thus freeing up a house for Violet. I looked around Riverview and saw that a Newbie family was living in the Garage Apartment (near the Broke trailer park), and elderly Barry Newbie was still on the McDermott Farm. So the younger Newbies moved in with Uncle Barry to take care of him in his old age, and Vi moved into the Garage Apartment at 17 Lost Willow Road.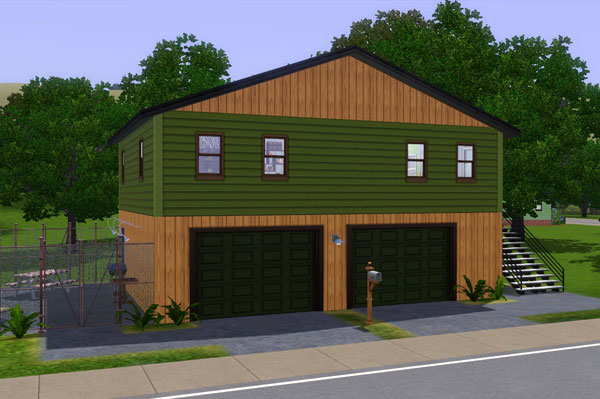 It cost Violet around §39,100, so it was right up to the limit of what she could spend. After she purchased the lot and moved in, I divided her old home's family funds by four (for four grown adults) and gave Vi her portion. I couldn't do it in the moving screen, and the familyfunds cheat is tricky when you have two families with the same name, so I just "kachinged" a bunch of times. Heh.
She ended up with around §40,000 with which to play in renovating the good ol' Garage Apartment, and man, she needed it — the place was a total bachelor pad! Which makes me feel a bit sad for the family of four (including two children) who lived here before.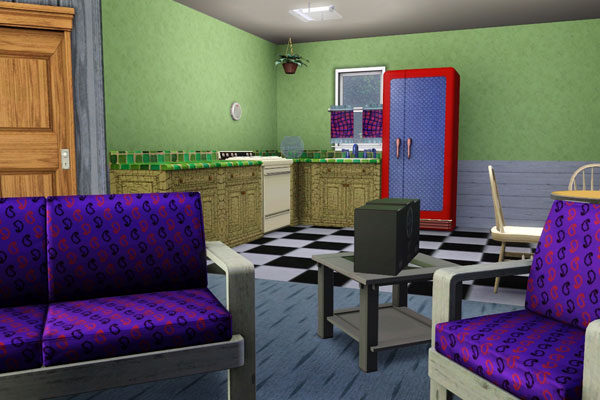 Apparently Hal Breckenridge was the original inhabitant a few generations back, and his bio states that "Hal is quite the man about town. He's a love 'em and leave 'em kind of guy." A-ha! That explains the "seduction lair" bedroom, complete with heart-covered bedspread and wall of mirrors…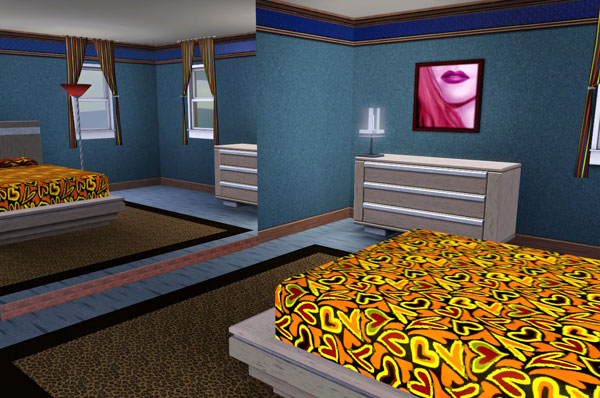 It took me several hours to remodel the house, but I had a total blast. I basically sledgehammered everything except for the outer walls, which I had to keep intact according to the rules of the challenge. I did repaint them, though!
The stairs leading up to the entrance on the second floor were relocated inside, and the old entrance area is now a deck. I moved the living/kitchen area to the main floor, and put the bedrooms and study on the second floor. I also bought Vi a yellow Beetle, because they're just darned cute.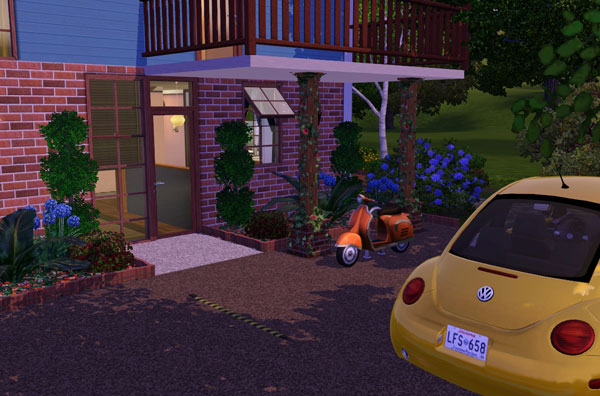 The backyard is pretty small, so I just made a little patio and a spot for the Sultan's Tabernacle. I love that thing — you don't even really need bedrooms with that around, but I still like a "traditional" house, so I made bedrooms anyway.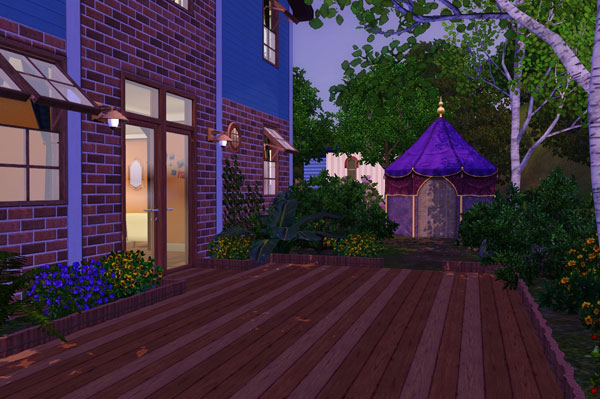 For being on the "cheap" side of town, the Garage Apartment has beautiful views of the river and surrounding countryside: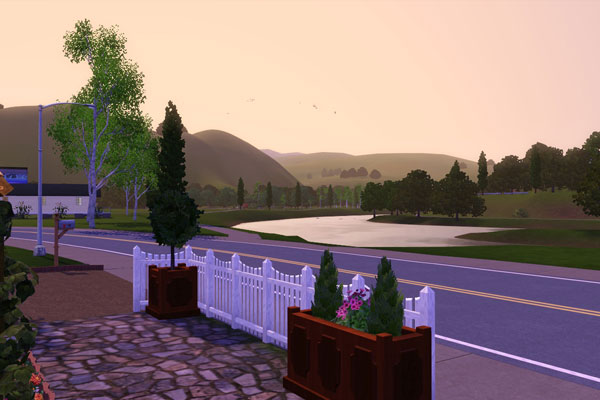 Right after Vi moved in, her twin sister Fern came by to visit! They had a nice chat and a hearty chuckle outside (Vi has a Good Sense of Humor and tells hilarious jokes, apparently).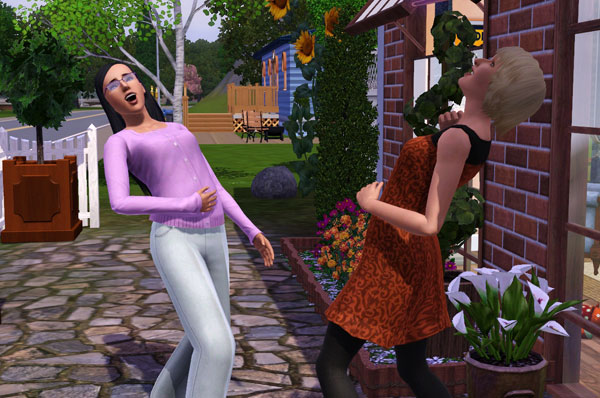 They watched some TV inside, too, and I snapped a pic of their profiles — you can see they both share the notorious Lothario nose.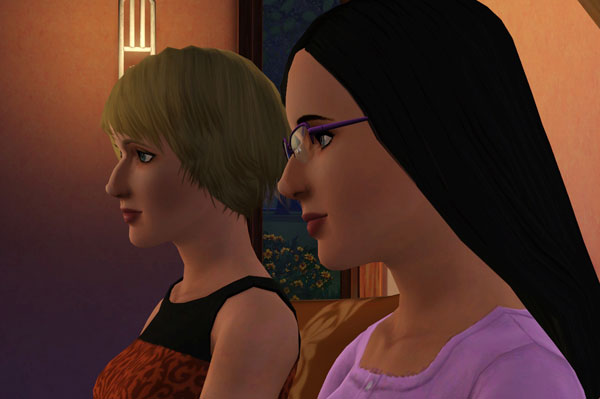 I just liked this expression on Vi's face while she watched TV. Also, it shows the one painting of hers that she brought along with her (my Simming buddy Angelia wanted to see some paintings, so there's one, at least!).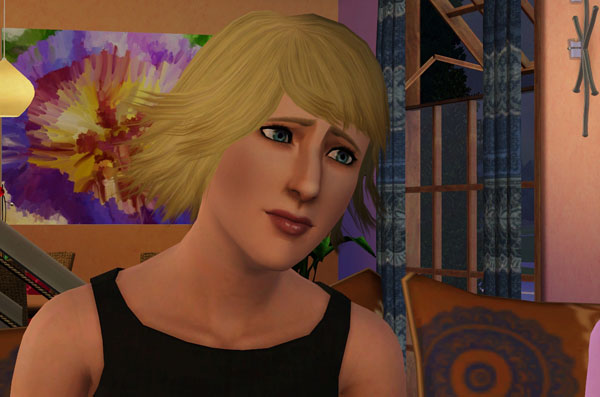 (continued on Page 2)