I'd like to get caught up with this family before I get too involved in Ambitions (which I hope to pick up tomorrow!), so I apologize if this update seems a bit rushed. I will probably end up moving the challenge to Twinbrook (the new city in the EP) when Gen 4 ages up to Young Adult, so the Shanleys and my attempt at the Wishful Living Challenge can continue even as I explore the new stuff!
In the last update, Generation 2 heiress Hope Shanley had finally married her best friend, Travis, and popped out twins, Fern and Violet. Travis's LTW was to be a Seasoned Traveler, and since he was already an elder, I had a limited amount of time in which to fulfill this wish. Thankfully Sims do not age while they're on vacation, so that gave me a little bit of breathing room.
Since toddlers cannot travel, Hope and Travis left them behind with a babysitter and zoomed off to France. Hope already had the Prepared Traveler lifetime reward, which meant they could stay three days longer than usual. Despite that, the first trip went by so quickly, and I was so focused, that I didn't even take any pictures. Woops!
Here's one from their second trip to France: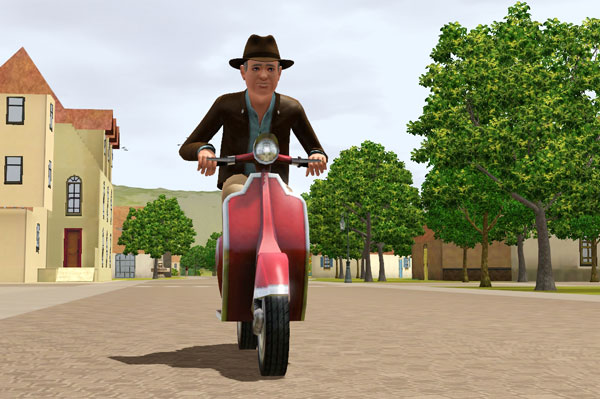 Since time was of the essence in trying to complete Travis's LTW, I concentrated on fulfilling promises so he could eventually purchase the Midlife Crisis reward for Travis. This meant I could change his traits – I got rid of Unflirty and Can't Stand Art and added Adventurous and Brave. Travis was now a true explorer!

While Travis worked on completing opportunities, Hope worked on collecting – rocks, gems, insects, fish, you name it.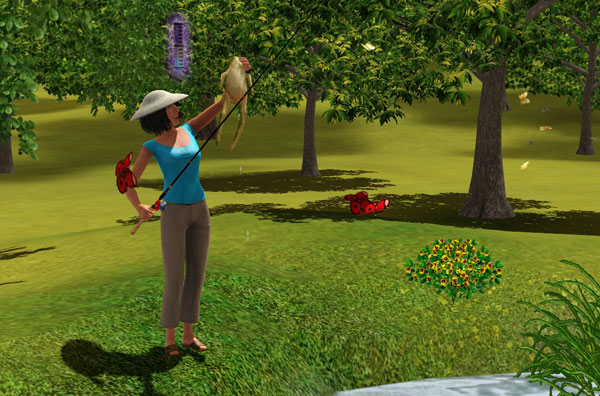 Here she is catching a frog, which made me a bit sad…frogs are like, my totem animal! Please, think of the froggies!
Hope also caught a laptop, which she batter-fried and ate for lunch…no, wait – that was a herring. At any rate, it was a nice catch. Now she could chat with her friends back home when she got bored with collecting.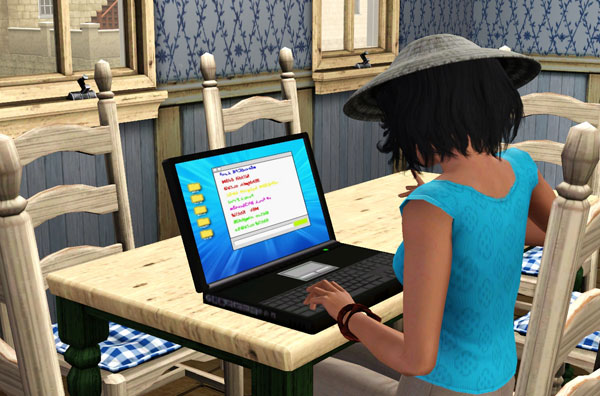 On the second trip to France, Travis reached Visa level three! In the picture it looks like level two, but it was really three. Can we say bug? Even the French merchant lady thinks it's fishy…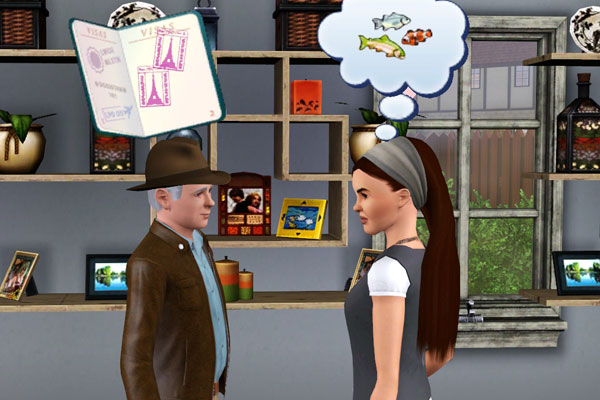 Hope and Travis built a house in France, but I neglected to take pictures of it. Le sigh. I'm sure we'll see it again somewhere down the road.
Back at home, Travis and Hope worked on training their toddlers. I really miss smart milk — it takes sooo looong to train kids in TS3, and it's more important, too, since you need to train them in all three skills if you want to pick their trait.
I wanted to make some Ambrosia to extend Travis's life a bit, so he embarked on a project to catch Deathfish, which involved first catching a bunch of Alley Catfish (using cheese from the grocery store as bait), then using the Alley Catfish as bait for Angelfish, and then using the Angelfish as bait for the Deathfish. Good thing Travis was an Angler – it made the process go a bit faster.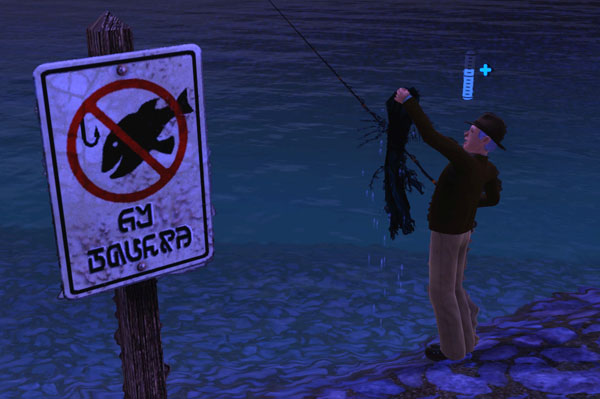 And man, deathfish are ugly. They give me the creeps.
Once Travis's travel wait time was up, I attempted to send him and Hope to China…but alas, I forgot to shift Travis over to the travel side in the dialog box, so only Hope went. D'oh!!!
Gratuitous Shang Simla shot: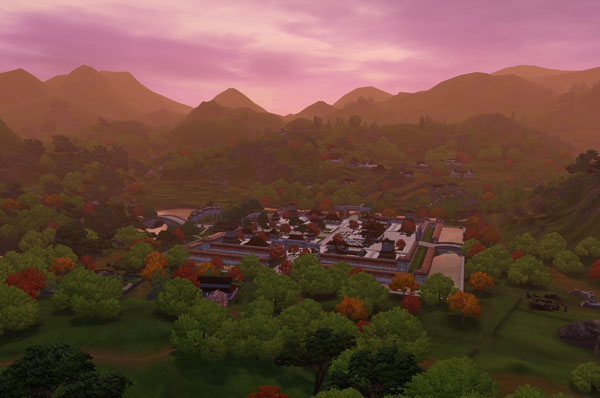 I made the best of it and had Hope do more collecting and exploring to raise her Visa level. She's Adventurous herself, so she had a good time completing opportunities. I even made her wear a spiffy local outfit in her favorite color.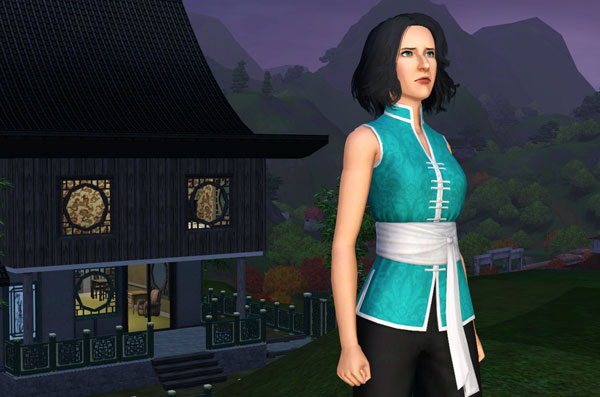 Eventually she reached Visa level three, so I purchased a lot and built their Shang Simla vacation home. I had a ton of fun with that, and it's in a great location near the town center and by the water.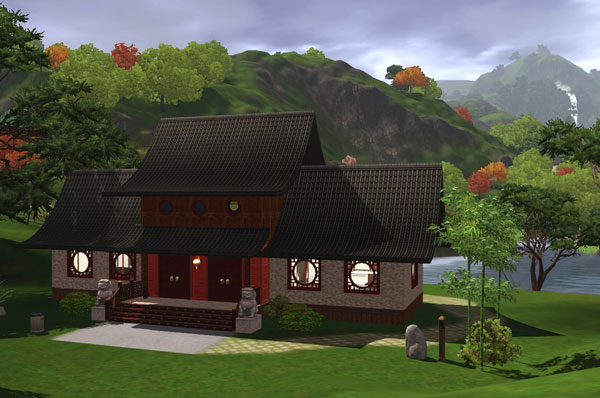 Back home again, Hope kept working on her garden (trying to grow life fruit for the ambrosia) and getting the kids all trained up. Eventually she succeeded in the latter, and they aged up to children just in time for the next trip to Shang Simla.
I took only one picture in the interim: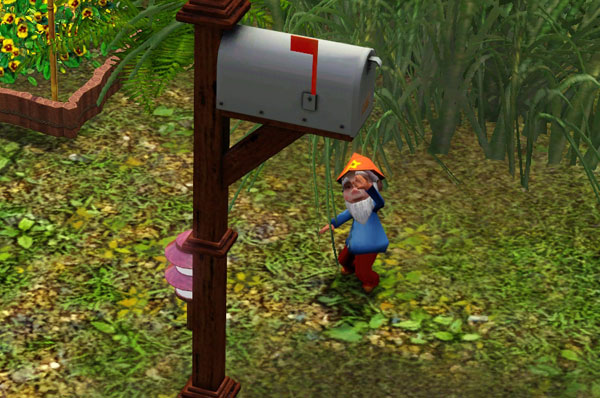 Russ the Gnome is afraid of mailboxes, apparently.
(continued on Page 2)