Last we left my Wishful Living Challenge family, Hope Shanley was living on her own in a house called Skunk Haven and searching for a decent spouse. Her mother Zuzu had just passed away, and Hope had traveled to China in order to regroup and revitalize, which is exactly what she did.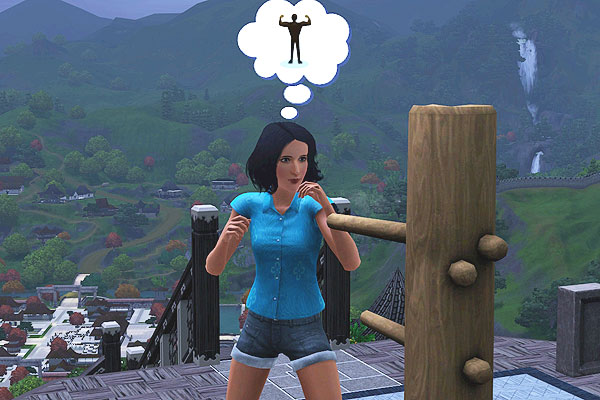 The spouse-search was put on hold while she had a good time, got over her mourning period, and made some moolah. She even found a Mysterious Mr. Gnome while fishing one evening. I named him Russ.

When she got back, though, the hubby-hunt became my number one priority. After all, Hope was only a couple of days away from the Adult stage, and she had to pop out some heirs pretty soon if I was to continue this challenge.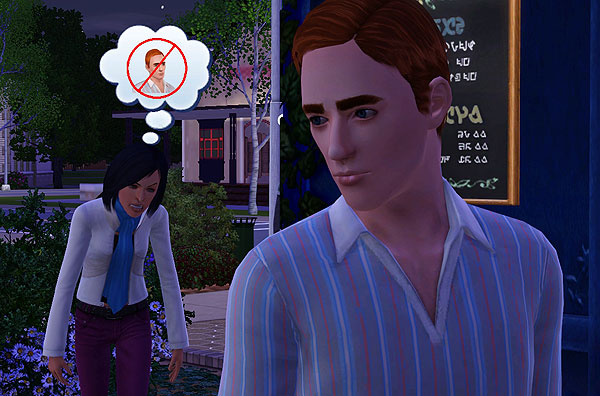 I had been receiving Twallan's Story Progression alerts that Beckett Newbie and his wife Liv were fighting constantly and had declared each other to be enemies. TSP also made Liv the Town Bike, which means she flirts with every guy in town and is vilified by all of the women. Oddly enough, Beckett and Liv also had a child in the midst of all of this.
Well, I couldn't feel too terribly bad about breaking up that marriage, child or no — they were obviously on the skids. So Hope dusted off her feminine wiles and invited Beckett over for some of her famous Key Lime Pie.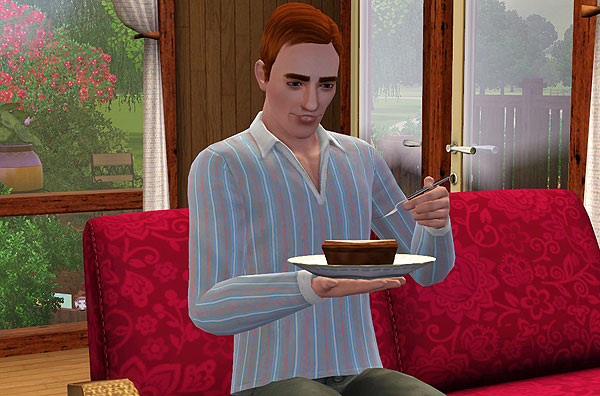 The day before, she had asked her friend from Shang Simla, Zhan Su, to visit for a couple of days. (He's the one who taught her the Chinese song in the last update.) He showed up while Beckett was there.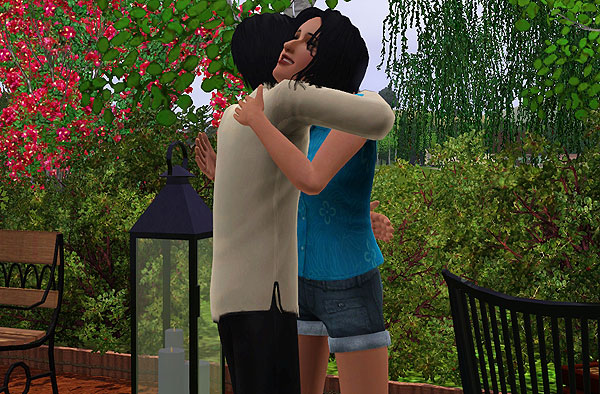 So Hope ended up with two guys competing for her attention. Well, not really competing, as Beckett seemed more interested in playing computer games, but but Hope made him mosey outside to join the conversation.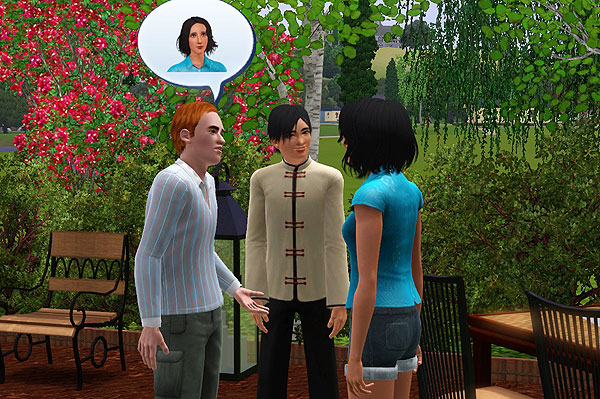 Eventually Zhan wandered off to another part of the yard, and Hope tried win Beckett over with her various charms.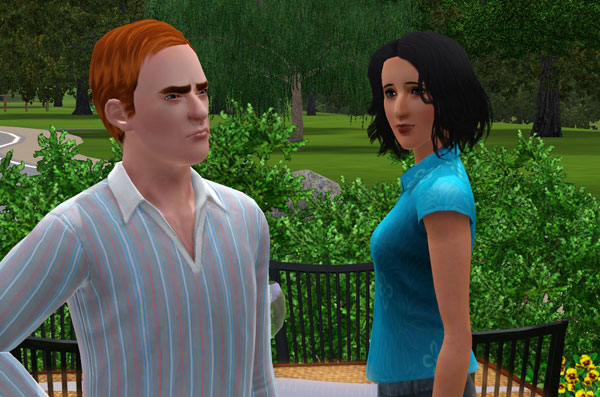 They could barely get to the flirting stage before Beckett got annoyed with Hope's behavior, and to make matters worse, Hope had to rush off to work.
When she came out of the Bistro afterwards, she wore a very concerned expression.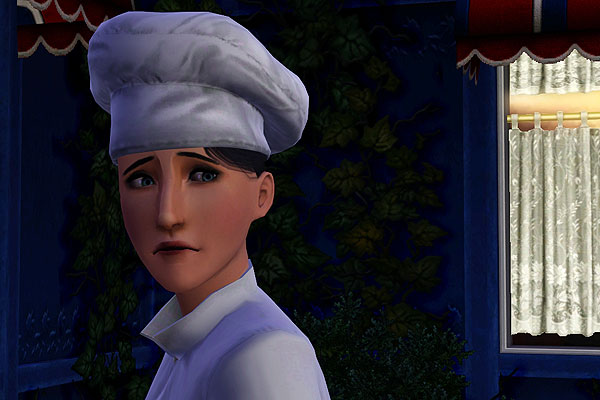 Was it because she was going to have a birthday that night? Was she afraid of growing old? Or was it because she had left Zhan outside all night and never invited him into the house? Woops!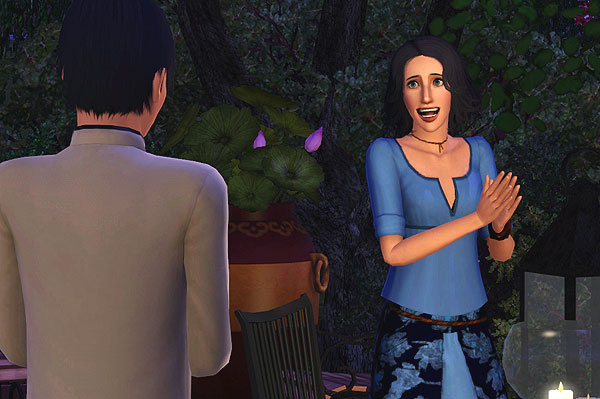 Poor Zhan. He couldn't use that bathroom that whole time. He was a good sport about it, though. Hope invited him in officially, then changed into her formal duds and celebrated her birthday with him. She was now a mature Adult!
Zhan spent the night in the tent, and the next day Hope attempted to flirt with him. But it was too much, too soon. Hope was getting over-eager and losing her touch.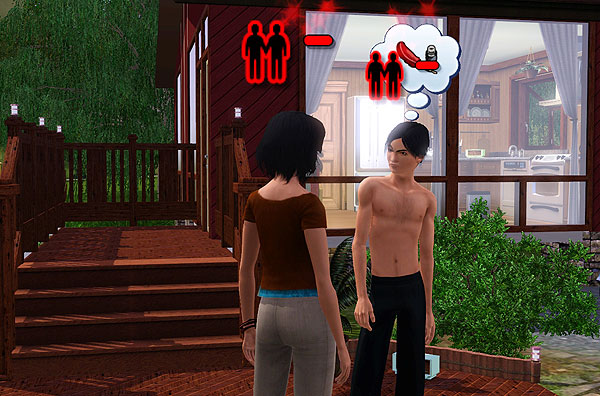 She invited Beckett over again to make one last attempt at wooing him, but he wasn't having any of it. He didn't respond favorably to any of her flirts – he'd just shrug at her, like, "What do you want me to do? I'm married. I have a kid. I'm Good. I just want to be friends, you know?"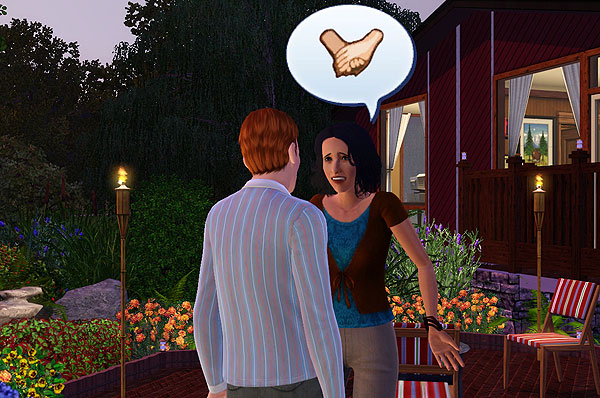 Hope tried to explain how she felt, that she just wanted someone to care for her, to hold her hand and be her partner, but it was to no avail. She and Beckett were not meant to be.
Russ the Gnome waved goodbye as Beckett fled the scene. "Don't let the screen door hit you on the way out," he muttered.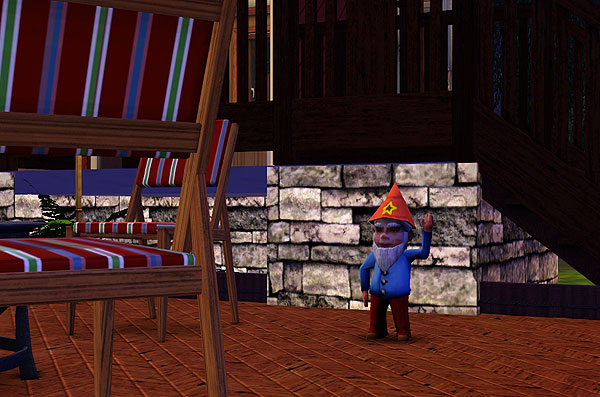 (continued on Page 2)