I'm still going strong with the Wishful Living Challenge and having a total blast. However, my actual progression with the challenge has been fairly slow. This is not due to lack of playtime, as I've been playing nearly every chance I get (even staying up until 2 AM on work nights, because I'm an idiot), but due to various unexpected difficulties, mostly self-imposed. I'm just way too picky when it comes to my Sims.
Last we left Hope Shanley, I was trying to find her a suitable marriage partner and not having much success (because of aforementioned picky-ness). Well, that was only the beginning of the trouble I was to have getting my poor Gen 2 heiress knocked up.
But first…a little side trip to Egypt! Hope received a random opportunity from the military, which is odd because she's in the culinary career track. But World Adventures wants everyone to travel as much as possible, so Hope was tapped to learn a game called Senet in Egypt and report back to military headquarters in Riverview.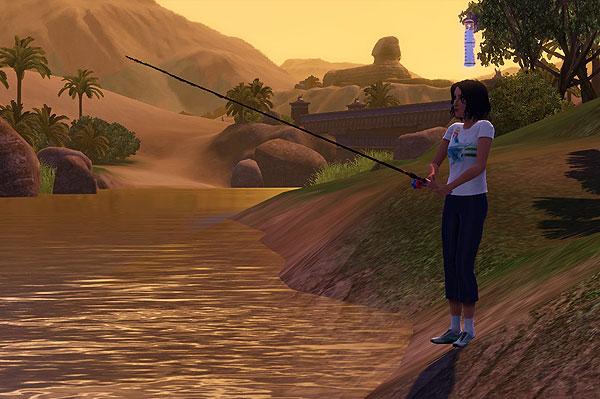 Learning Senet involved a mere chit-chat with one of the locals (why didn't they put the actual game in the EP? A Senet table would have been cool!), so Hope spent the rest of her vacation time fishing and collecting.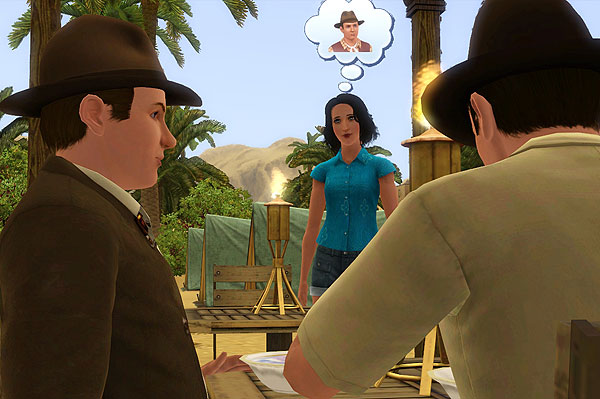 Hope developed a slight crush on a French tourist named Sebastien Goncalves, but he seemed completely uninterested in her. Every time she tried to flirt with him, he'd dart off into the desert to explore who-knows-what. Plus he always slept in some other lady's tent. (Strike-out #1)
Upon returning to Riverview, Hope received a work-related opportunity that required her to bring someone to dinner at the bistro. I had her choose her best friend Travis.
Before dinner, Hope asked Travis if he was single and found out that he is married, which didn't surprise me since he was always bringing his toddler over to visit. I was disappointed, though, as he still seemed like the best option for her future spouse.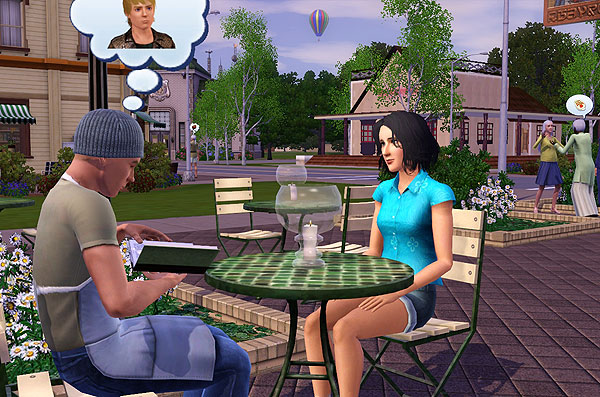 They had a nice meal and discussed one of their favorite mutual interests — the great outdoors — but after dinner, Travis decided that sticking his nose in a book was preferable to gabbing with his BFF. Not a good sign. Maybe he could sense Hope's (and my) desperation.
(I love how the lady in the background is yelling at the other one about ratatouille, of all things.)
For whatever reason, probably to satisfy my own curiosity, or maybe because Travis called and asked Hope to hang out, I had her visit his house, which is a lovely farm out in the boonies. Strangely enough, Barry Newbie was there. I thought he was just visiting, but I later found out that he was living there with Travis and his family. Weird.
Hope met Travis's wife, Reagan. Imagine my surprise to find that she was an elder! An elder with questionable fashion sense.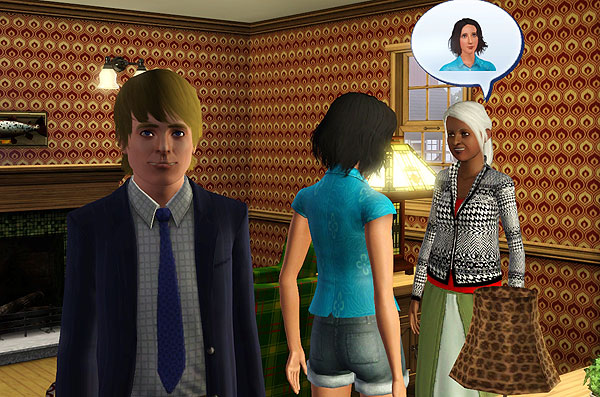 Travis and Reagan seemed very much in love – they even flirted openly right in front of Hope. Bummer. I hated to break up a happy marriage. But it occurred to me that she could pass away soon, leaving Travis single again. Horrible thought, but desperation knows no shame.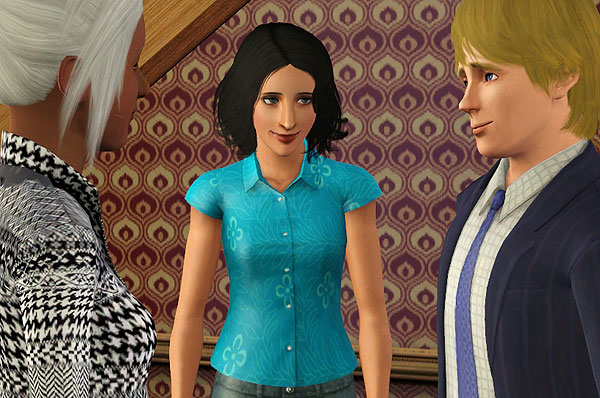 Before Hope left for the night, she and Travis played catch out in the garden, which I thought was kind of neat because it was right in view of the Granary where Hope's father, Don Lothario, used to live.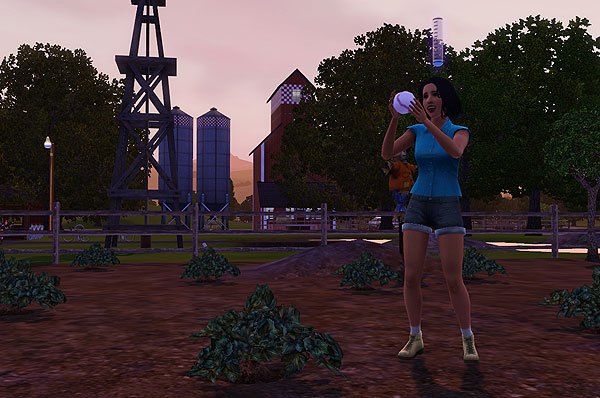 I found it funny that Hope nearly beaned Travis in the head with the ball. If I didn't know better I would have thought she was a little torqued about his marriedness.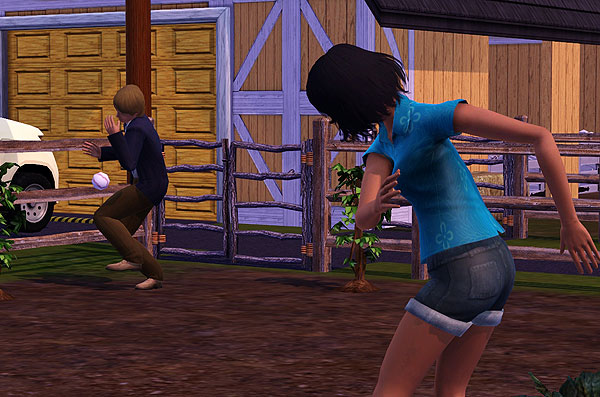 The next day I decided that Hope might as well attempt to break the marriage up. Reagan's days were numbered, and for that matter, so were Hope's. Desperate times call for desperate measures, etc. So the next evening, she invited Travis over for dinner and readied her lair for an attempt at seduction. There was grilled salmon, good music, a little vertical woohoo…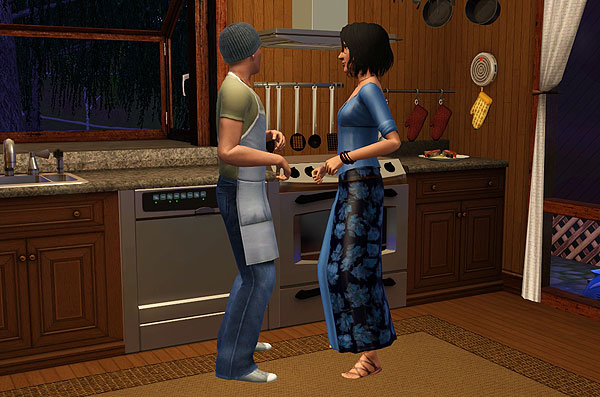 …and it seemed to be working! Travis responded positively to Hope's flirtations. We were on our way.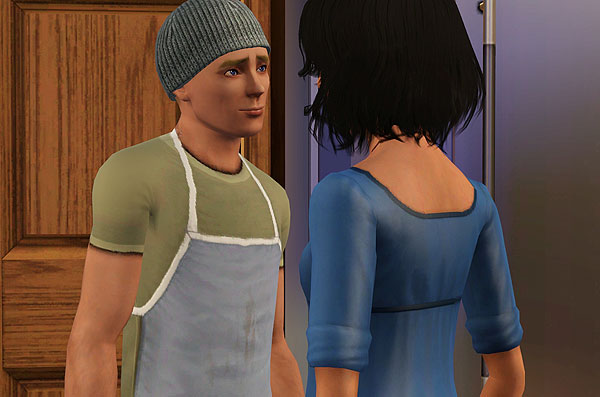 But Hope could never get past the light flirting stage with Travis, and he never flirted back autonomously with her – he kept wanting to Chat and Tell Stories. It felt like he was responding just to be nice and didn't really reciprocate her feelings.
Eventually it got late, and Travis had to leave. The status of their relationship when he left hadn't changed one whit all evening – they were still Best Friends. It was as if nothing romantic had even occurred.
Well, that was enough for me. Travis was proving to be far too difficult to woo, and time was running out. (Strike-out #2)
It was time for a new strategy. Since single adult males were so few and far between in Riverview, I started watching the story progression notifications for guys who had just turned from Teen to Young Adult. I figured maybe Hope could snatch one up before story progression married him off.
The next night, a story popped up to let me know that someone named Beckett Newbie had aged up to Young Adult. I clicked on his picture to find out where he was — the camera zoomed to his location — and had Hope drop what she was doing to rush off and meet him. Yes, it had come to this. Hope and I were stalkers now. No single man was safe from our mighty ray of ZOOM!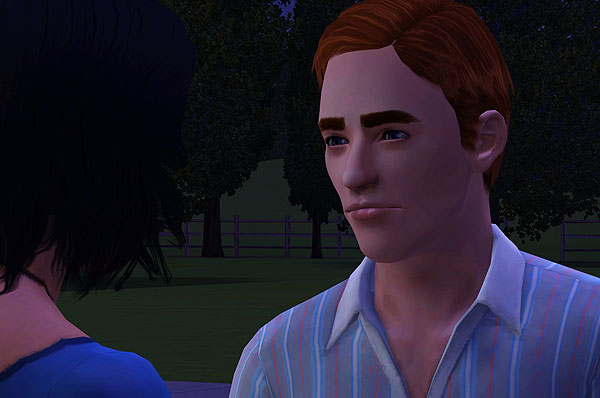 Beckett was having a nice conversation with one of Riverview's many old geezers, but Hope butted in and chatted up a storm, working her way up to the ultimate question – which I hoped would lead him to flirt with her. Yeah, I still had this stubborn idea/hope that Mr. Right would flirt naturally with her and not have to be forced, prodded, coerced, and cajoled.
"Are you single?" she asked him.
Beckett replied that he was married to someone.
Wait…married?
MARRIED?
The guy had just become a YA like five seconds ago, how could he be married to someone already? Curse you, Story Progression! How did Hope stand a chance if all of the available males got hitched two minutes out of high school? You know, aside from the obviously horrible ones like Barry Newbie, who couldn't keep a steady relationship to save his soul.
Ah well, another strategy shot in the kiester. (Strike-out #3)
(continued on Page 2)