When last we left the Lloyds, Christopher and Zoey had just gotten hitched and hopped into the sack for some good old-fashioned wooing and hooing. You may have noticed that they were outside for most of the night, then suddenly in a house when it came time to do le woohoo. That's because I paused right after Christopher moved in and…built them a house. All Zoey had was an outhouse and some furniture out on the lawn; newlyweds need a proper home in which to cavort and make babies and such.
Of course, as soon as you build a house in TS3, it becomes a burglar magnet. I don't know why these guys don't show up when everything is out on the lawn, easily accessible. Nope, they wait until you have WALLS and DOORS. I clicked frantically on Zoey to wake her up so she could beat the robber to a pulp, but I was clicking on the bed instead of Zoey, and she didn't wake up fast enough.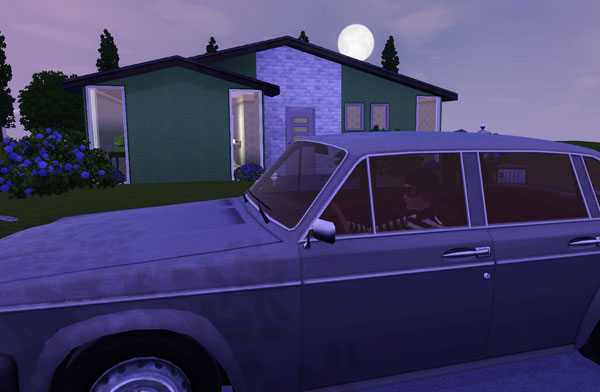 So…the burglar grabbed some loot (I forget what it was…probably a cheese grater or something stupid) and made off in her crappy getaway car before Zoey could even get out of her bedroom. LAAAAME. What's the use of being a cop who can kick the tar out of burglars if you snooze right through the burglaration? *shakes head sadly*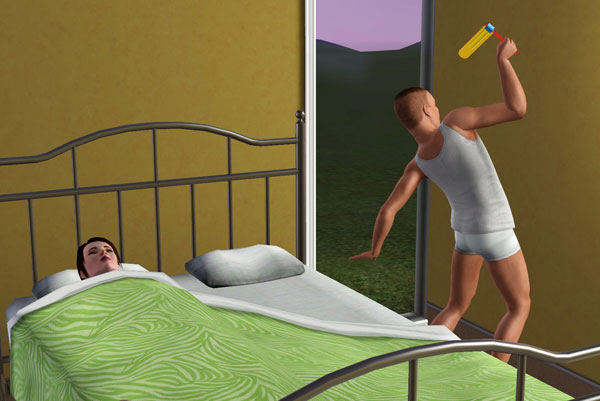 Come to think of it, I don't even think Zoey woke up at all. But Christopher did. Just so he could make a big racket and wish himself a happy birthday. He was all mature now! (Riiiiight.)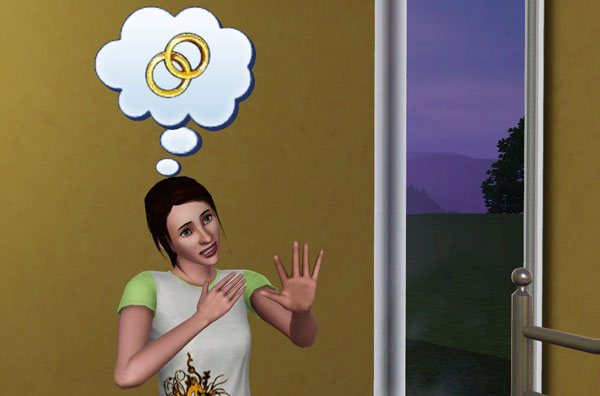 Zoey woke up eventually and just stood by the bed, ogling her wedding ring. Wait a second…she isn't WEARING A RING! Do TS3 Sims not wear wedding bands? *looks through more pics* Gack! Apparently not. Somehow I missed that memo completely. OK. Moving on.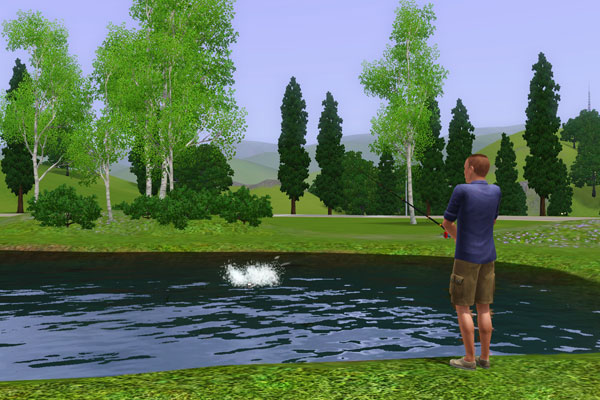 Christopher's Lifetime Wish was Presenting the Perfect Aquarium (collect 13 species of Perfect fish), plus he's an Angler and Loves the Outdoors, so I sent him across the street to fish. It's nice having that pond right across the street. Goodness knows everything else in town is a bazillion miles away.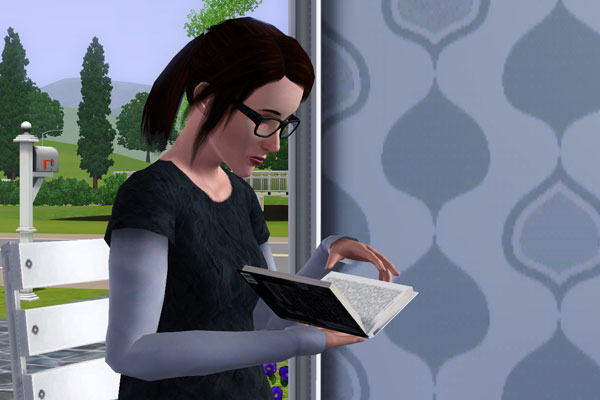 Zoey got her baby bump, which really sneaks up on you in Sims 3 — none of this whirling around and flailing and whatnot. It just…appears. I like that. Anyway, I had her buy a pregnancy book and read up. I figured the kid would need all the help it could get.
When Zoey went into labor, she and Christopher rushed to the hospital. I felt like the anxious grandparent waiting outside, wondering how everyone was doing. That's when I decided I don't really like the hospital, because you can't see what's going on. I appreciate that they tried to add a bit more realism with the water breaking and the contractions beforehand and whatnot, but the actual hospital birth is just…meh. I kind of miss the plumbob splitting and all that nonsense.
Anyway, they had a bouncing baby boy! Oddly enough, both Christopher and Zoey had rolled up wishes to have a boy, and I promised them they would. So they got a lot of happy points for that.
(I had no way of urging Zoey to have a boy, however, since I have the No Apple/Watermelon Gender Disposition mod installed. So it was completely random, and I just got lucky.)
Everyone arrived home safe and sound. By the way, I named the kid Marty, because at the time I was still very much amused by the whole "Christopher Lloyd" thing. I was allowed to choose his first two traits. I decided to roll randomly, then replace one trait with the "family trait". I can't remember what I rolled initially, but he ended up with Light Sleeper and Genius (the family trait).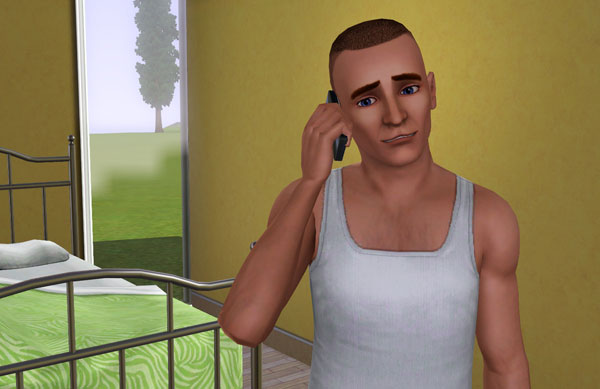 I have no idea why I took this picture, or to whom Christopher was talking. But he looks cute, eh? I gave him the buzzcut permanently so he wouldn't suddenly grow hair, Chia Pet-like, every time he changed out of his uniform. Ch-ch-chia!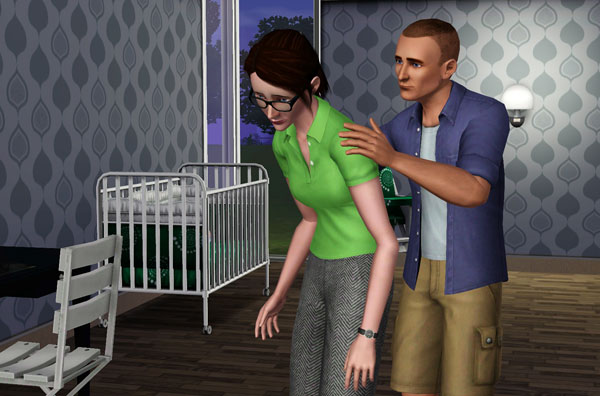 Aw, it gives me warm fuzzies when my Sim couples want to be sweet to one another. (I know, *gag*). Christopher had a wish to give Zoey a massage. She was on the verge of elderhood so maybe he had an inkling that their time was running short. Or maybe he's just a really nice guy.
(continued on Page 2)