OK, I started a legacy-style family, and I'm actually having fun. Part of that is because I'm alpha-testing the Indie Stone Story Progression Rewrite Mod, which is an attempt to rewrite the Sims 3 story progression from the ground up. It's a core mod, so I had to take out AwesomeMod (*huggles AwesomeMod*), but I like how it makes the town feel more alive.
I'm still not sure how I feel about Sims I've created having lives without my input, but it works wonderfully with the pre-mades. They're falling in love, marrying each other, moving in together (sometimes; the mod has some kinks which need to be ironed out, but hey, it's in the alpha phase), having babies, and progressing in their careers. And you can filter which updates you want to hear about. I like this because I don't have to remember to read the paper every day just to get a feel for what's going on in the town.

It's also nice to have the town evolve without me having to play every single family. And if you want a Sims 3 town to feel alive, you need a LOT of families. I tried putting a bunch of singles in my empty town and put progression on "silly fast" to see if they would pair up quickly and begin populating the town. Well, even on "silly fast", it would have taken me forever to fill up the town with Sims. So that's why I switched back to original recipe Sunset Valley, just to test this mod and do some more exploration of the game.
Another twist I've thrown in is that I'm playing this family on "Short" lifespan. So they only have 25 days (maybe a few more than that) of life. I really have to decide what is important for every minute of their lives so no time is wasted. It's hard to find the right balance. I was focusing on my founder's career at first so she could get more money and get closer to achieving her LTW, but it suddenly became much more important for her to find a spouse and have a kid, so her family wouldn't die out. Anyway, if you'd like to read more…there's more!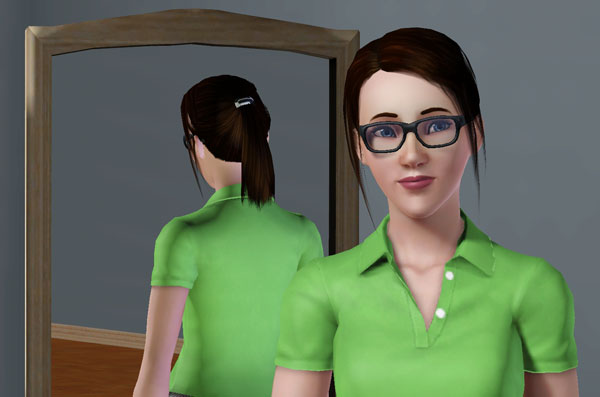 This is Zoey Lloyd. Her traits are: Ambitious, Computer Whiz, Genius, Neat, and Workaholic. So she's basically an overachieving nerd. And if she looks a tad familiar, it's because her face template is the same as Hildy's (with a few very slight modifications). Her lifetime wish is to become a Dynamic DNA Profiler in the Law Enforcement career track. Her favorite food is Waffles, her favorite music is Pop, and her favorite color is Lime Green.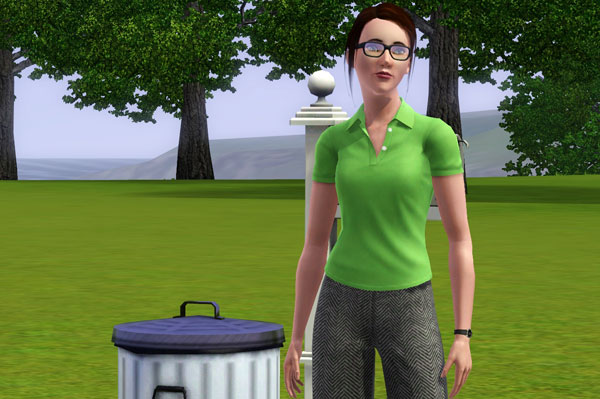 Zoey started out with 4 days left as a young adult. She also started out with nothing but a mailbox, a trashcan, and a Beautiful Vista. Thank goodness this is TS3 and Sims can live without toilets, showers, or fridges for quite some time.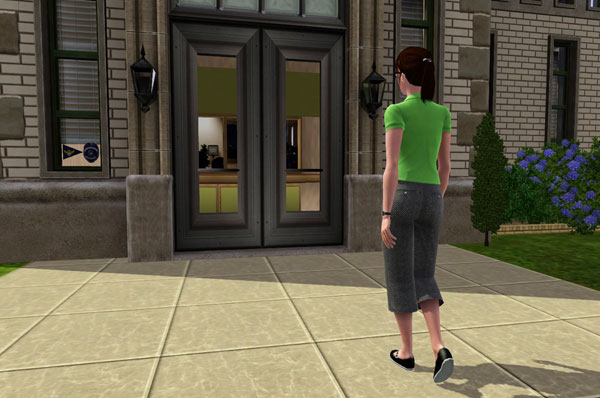 The first thing she wanted to do was get a job in Law Enforcement. Since she didn't start work until the next day, I figured she should work on building up her logic so she could get a promotion right off the bat. And hey, she wanted to work on her logic, too. She's a genius after all.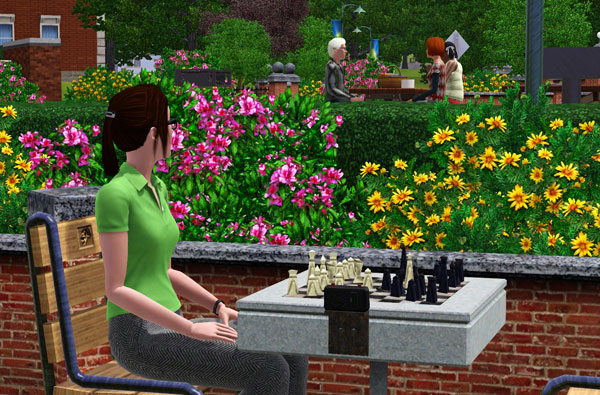 She played chess for a spell, then looked longingly over at the usual group of yayhoos over at the picnic tables. Was she yearning for companionship?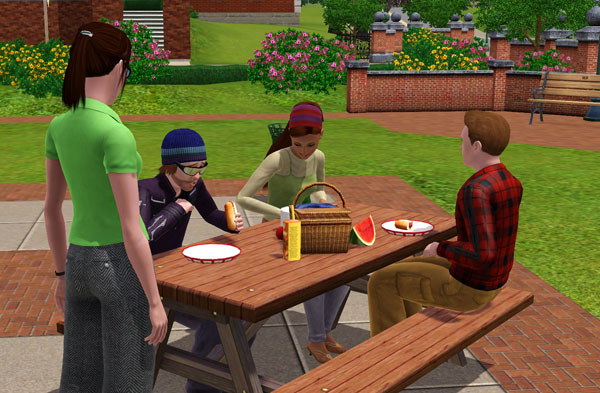 No, she just wanted to clean up their messy picnic basket mess. Neatness first!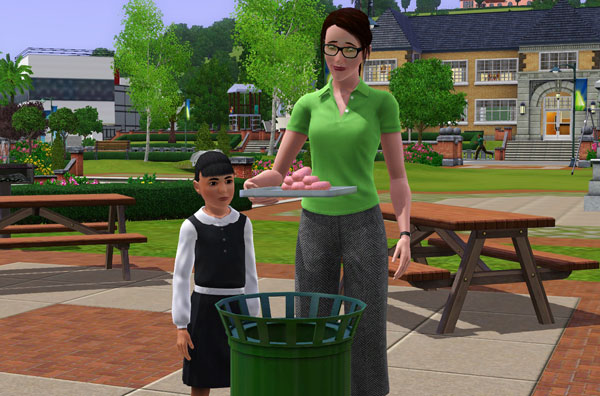 A young Kaylynn Langerak looks on as Zoey continues to tidy up the town square. Kaylynn thinks, "Wow, cleaning up after other people looks like fun! I think I'll do it for the rest of my life!" No, Kaylynn, noooo!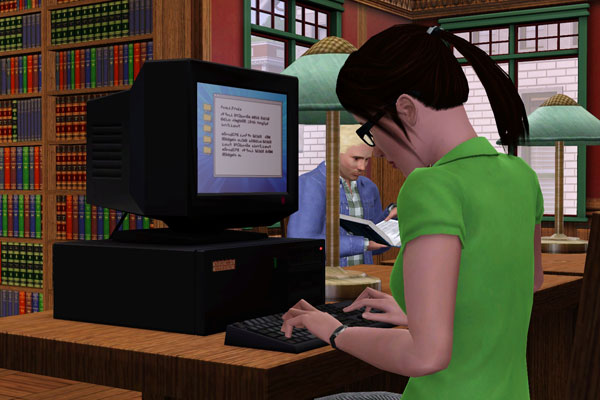 Zoey is such an overachiever that she wanted to work from home. Well, you can't exactly work from home if you don't have a home to speak of. And I didn't want her to waste money on a computer just yet. So it was off the library to "work from home" for a couple of hours.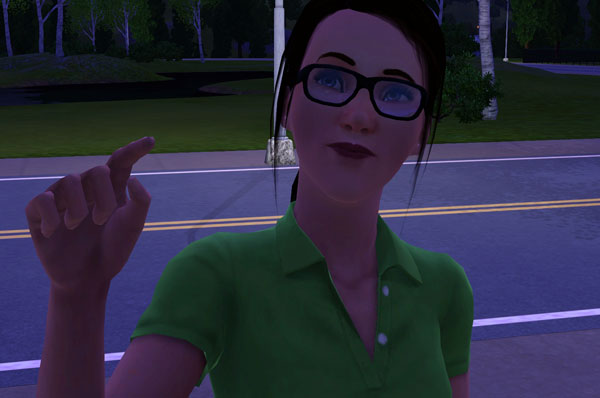 I love how Genius Sims do this calculating thing when they idle sometimes, like they're doing long division in the air.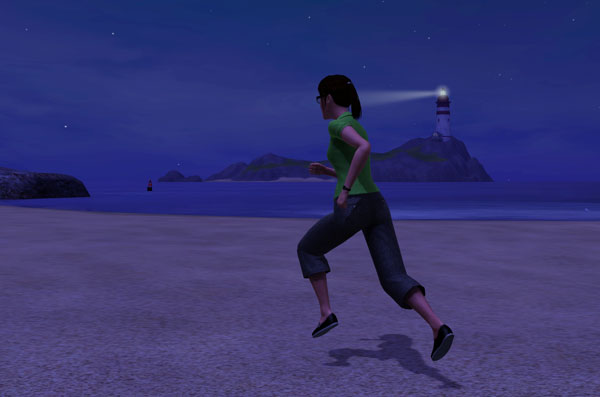 Zoey started wanting appliances all of a sudden. First a fridge, then a stove. And since dirty dishes are the devil, she needed a sink, too. But she also wanted a chess table…and a computer…and…and she had no money. Time to go collecting!
She found a couple of butterflies, one piece of iron ore, and a ton of harvestable fruits and vegetables. She sold the butterflies to the science lab and the fruits and veggies to the grocery store. The ore just went into that little Simoleon icon in her backpack and netted her §13. I know it's worth more if you get it smelted, but that costs $40, and she couldn't afford to spend that much just to have her ore be worth §10 more or something.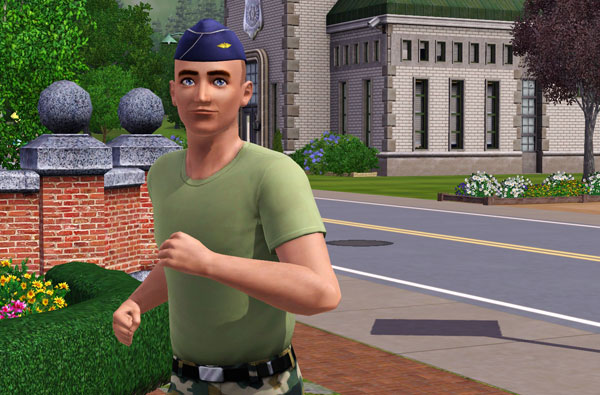 Oh, she also collected a handsome military man…but couldn't sell him anywhere, so she kept him for herself.
(continued on Page 2)