Hey, folks! I thought I'd give you the scoop on what I've been up to with Gnomesby lately. Mostly I've been researching cool stuff and downloading even cooler stuff, but tonight I finally fired up the game and did some building. I've decided to do what I'm calling a "first pass" of all the buildings in Gnomesby. That means exteriors only – no interiors (which is usually what takes the most time, at least for me). I have a list of all of the buildings I want in Gnomesby, but I don't know where they're going to be or how they're going to fit together. So this is just a way to get a feel for how things are going to look eventually.
***
Tonight I worked on the heart of Gnomesby, the Great Hall. The name may change, but that's what I'm calling it for now. It's basically the government center of town; the aldermen and alderwomen have offices here, and there are town meetings in the Assembly Room. I may also put the Chamber of Commerce, Post Office, Historical Society, and a gift shop somewhere in here, too. Not sure how much I want to cram in there. Anyway, here's The Great Hall: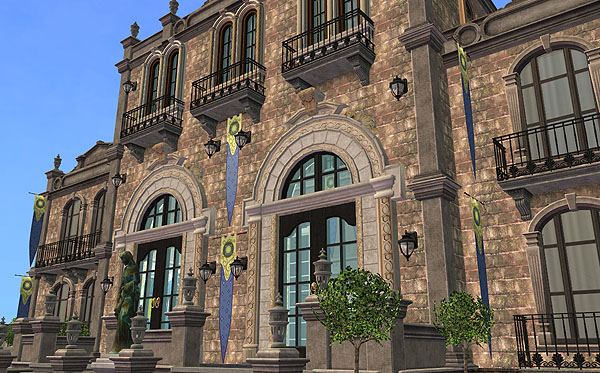 The Great Hall is full of history. It's one of the oldest buildings in Gnomesby, and in a former life was the palace for a noble family. Why that family abandoned the hall and left it to decay for many moons is a complete mystery to the inhabitants of Gnomesby (although many of them have their theories).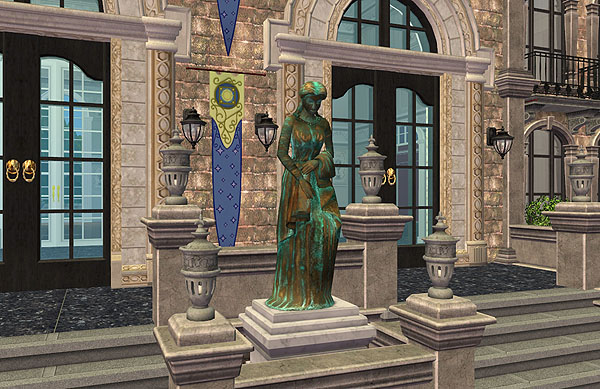 Some say the statue of the woman in front of the hall is a clue to what happened, but as the town historians spend most of their time arguing over who the heck she is in the first place, no one has been able to make much progress.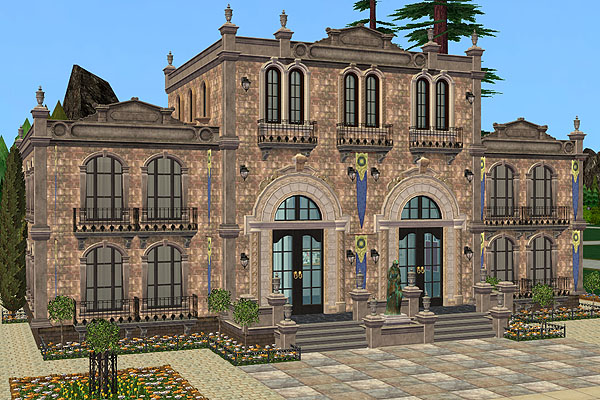 Of course, the building has been mostly renovated since its palace days and is one of the most popular destinations for Gnomesby's many visitors.
More sneak previews on the way…(not that I'm making any promises, mind you!) ;-)
Credits:
Classical Window and Door Set – macarossi @ MTS2
Rejal Set (balconies and fence lighting) – Murano @ TSR (Arrr, matey)
Old Mason Set (windows, pediments, fencing) – Holy Simoly (Donation Pack #3) (Arrr, matey)
Plastic Two-Tone Roses – Chrissy @ TS2 Creations
Banners – tiggerypum @ MTS2 (recolor of mesh by lethe_s)
Exterior Brick – konwallia @ MTS2
Outdoor Light – Avenida Sims
Still tracking down the flooring…