OK, so I've decided to go in a slightly different direction with Gnomesby. Again. ;-) Big surprise, right? 'Hood evolution in action!
I've completely redone the terrain, which took me several hours but was well worth it. It's less scenic, perhaps, but it's more like the slightly rolling farmland I had originally envisioned. I'm using a couple of mods which will give it a completely different look, and I've integrated the new railroad deco from Free Time into the hood. Woot! As soon as I saw it, I knew I HAD to work it into Gnomesby. So here's a little sneak preview pic of my choo choo train. ;-)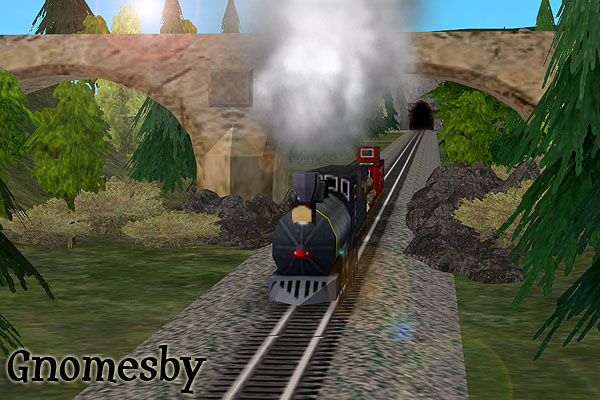 (The tunnel is totally fake, by the way — I painted it in. My barn/billboard/torii gate tunnel opening didn't look very much like an opening, I'm afraid. I need to learn how to retexture…)
So there you go. Just a little sampling of the new and improved Gnomesby.
For those of you asking about when I'm going to update or give tours and such, all I can say is…I'm not sure. I don't mean to be mysterious, but I really don't want to make any promises about anything. That's what got me burned out with Mt. Geneva! So I'm trying to go at my own pace and work on whatever I feel like working on. I know that'll drive some people nuts, but it's what I need to do in order to keep my sanity and continue to update this site. I hope you understand, and I thank you for your patience. :-)