Hm, another Stone Temple Pilots song. I need to rotate some new music into my playlist. ;-)
I created a new family tonight — the Pells. I had some issues, though, as you'll see — so I only have a couple of pictures.
Here's the dad of the family, Cody Pell. With the custom skins I'm using, it's harder to make my Sims look middle-aged. Everyone looks so young and dewy-skinned. In an attempt to make Cody look like someone in his 40s as opposed to his 20s, I used Onah's eye wrinkles and a "late adult" full face make-up from Mermaid Cove (which basically adds some laugh lines and slight bags under the eyes). He still looks a bit too young, but oh well. Perhaps the waters in Gnomesby have magical youth-extending properties…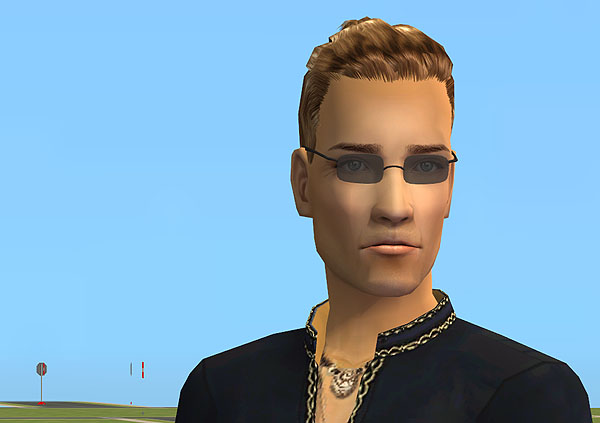 I'm still working out a backstory for this family, but I have a few basics. Cody used to be in a Beach Boys-esque surf band and is now a music teacher. Or possibly a florist. I haven't decided yet. He's married to Maureen, who photographed the band a few times back in their heyday. She's a bit new agey now and has started her own business (she's going to sell potions, perfumes, and aromatherapy stuff). Maureen and Cody gave all of their kids hippie-ish names: River, Cherish, and Sunshine.
This is their middle child, Cherish. I really like how she turned out, but I think I may have crossed the line into "too realistic" territory.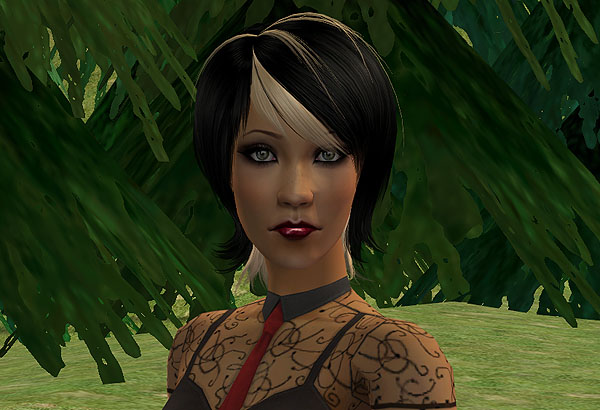 Cherish is rebelling against her parents' hippie lifestyle by gothing it up. But she has to admit the whole mantra of "make love, not war" has a certain appeal (I rolled her as a Romance Sim, heehee).
I wanted to take pics of the rest of the family, but as you can see from the snapshot below, they were having issues; River's and Sunny's hairdos have detached completely from their heads.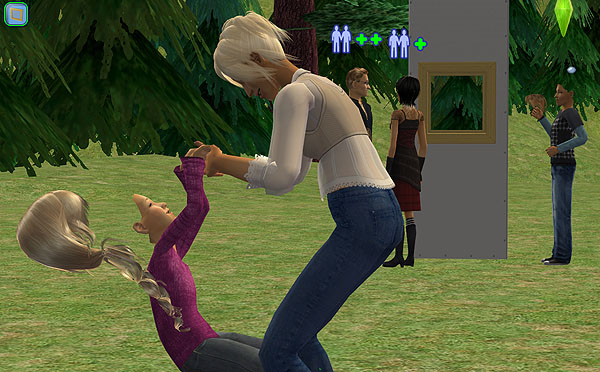 Not even a trip to the mirror could fix them. I suspect my graphics card was acting up again. Oh, and can you find the green square??
I think I may try rolling back to another graphics driver, but since I have an Nvidia card, I'm wary of bluescreen o' death problems. It never ends… :-)