Good evening, dears! Do you remember old Maude? Some of you may. For those of you who don't, I'm the friendly phantom that used to flit around Mt. Geneva, spying on its residents and spinning tales out of their triumphs and tragedies. A lonely job, to be sure, but better than hiding in one's tombstone and venturing out only to scare young ruffians.
When Mt. Geneva disappeared (one day it was there; the next day it was not! Tragic!), I escaped to tranquil Shady Bluff. For awhile it showed promise, but then it, too, withered away, and I was left watching the squirrels run around and chitter at each other. Not very exciting for an old busybody like myself! Maude needs people, you know, not squirrels.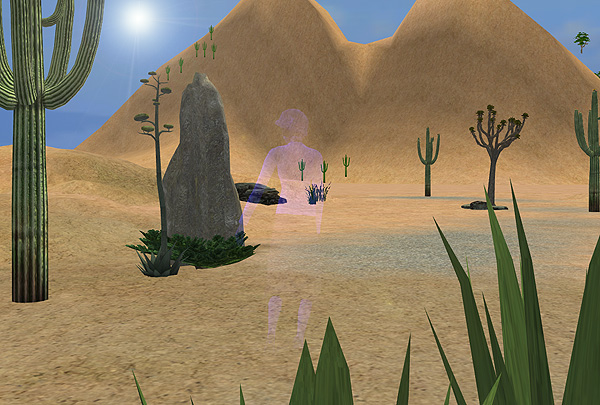 So I became a wanderer. I drifted away from Shady Bluff and traversed the vast lands of Sim Nation, through forests and fields and desert. Mostly desert. I don't know what I was looking for, dears, but it certainly wasn't turning up.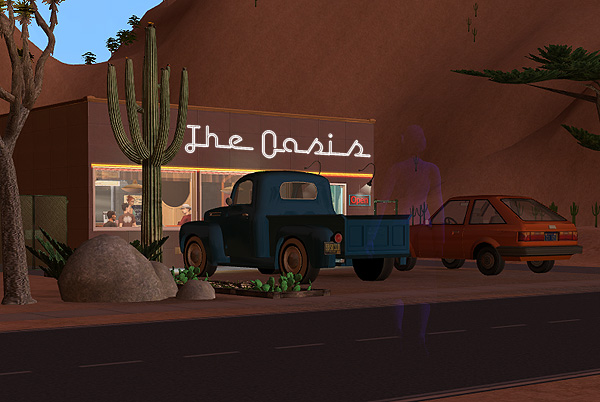 Eventually I came upon an Oasis in the middle of the sands. If I had real eyes, my dears, I would have rubbed them. Was it a mirage? It had to be. Why else would a little diner would be sitting smack dab in the middle of nowhere? Very odd, to say the least!
I floated onwards, my curiosity piqued.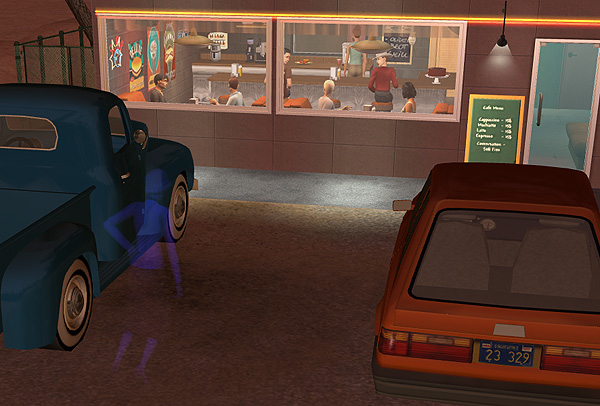 Oh, happy day! There were people inside! A good number of them! I had been aching to hear some real conversation. Who knows how long I languished in Shady Bluff without so much as a murmur from any living thing!
(Unless you count the murmur of leaves rustling in the wind…but even that gets a little tiresome, dear readers. Trees tend to say the same things over and over again. People are ever so much more intriguing in the long run.)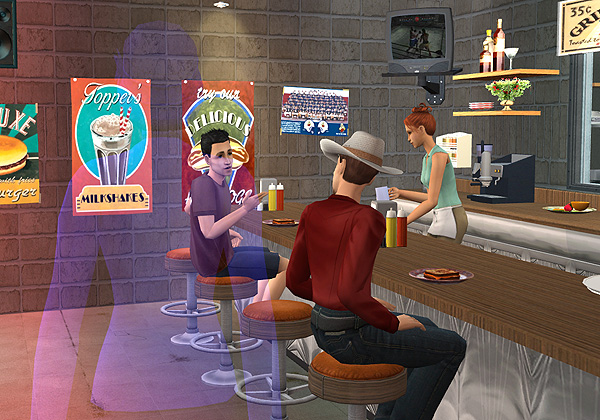 Right away I spied two gentlemen who looked promising. I hurried towards them! But as it turns out, they weren't talking about anything interesting — just the boxing match that was playing on the television. Boxing! Of all things. I'd rather listen to trees!
I fizzled for the briefest of moments, then turned hopefully towards a young couple sitting by the window.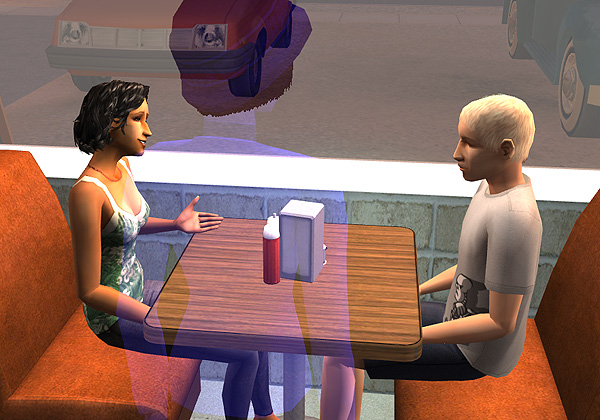 "But honey, it's only 35 cents!"
"I don't care. You're NOT getting the grilled cheese again."
"But honey, it's the best thing on the menu!"
"I don't care, Margaret! I refuse to enable your grilled cheese addiction!"
"But honey…"
Well! I thought. Enough of that. As much as I savor a little conflict now and then (just to keep the ennui from settling in, you understand), this exchange was just plain silly. Maude has a difficult time abiding extreme silliness.
Wasn't anyone going to satisfy me with a conversation of substance? Was the Oasis to be as desolate as the desert surrounding it? Goodness gracious.
The two men sitting in the corner booth were my last hope.
(continued on Page 2)