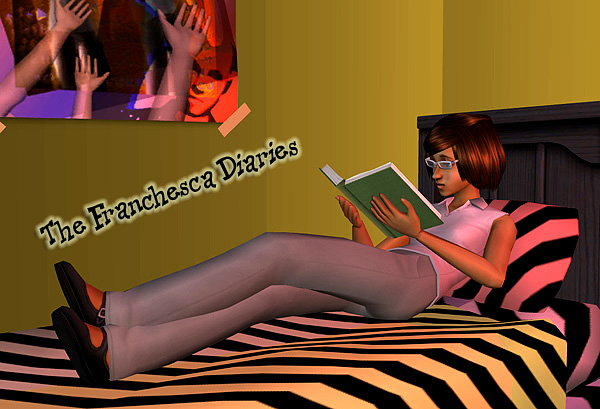 Day 7, Sunday, 9:38 PM
I think my parents have lost their minds. Seriously! I went downstairs to get a glass of water, and they were kissing — and I mean full-on MAKING OUT — with the baby just lying there on the kitchen floor like yesterday's edition of the Riverblossom Hills Gazette.
Gack!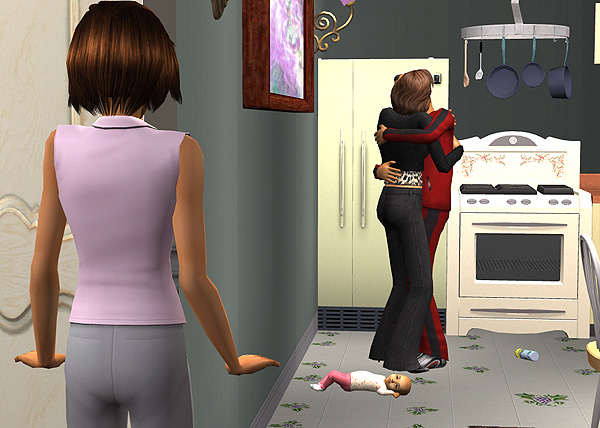 Poor Weezy. She wasn't crying, but how could my parents just leave her there like that while they smooch away? I've never known them to be so negligent (ooh, big word). Wait, let me rephrase that — I've never known MOM to be so negligent. Dad, of course, is the very definition of the word. I guess he's pullling mom down into the abyss of lameness with him.
I scooped up poor Weezy and said, "Uh…hey?"
Mom had the grace to look embarrassed, but Dad just grinned at me.
"Hiya, Fran!" he said, then glanced at the baby. "How's my little Weezy-weezy-weezy-woo?"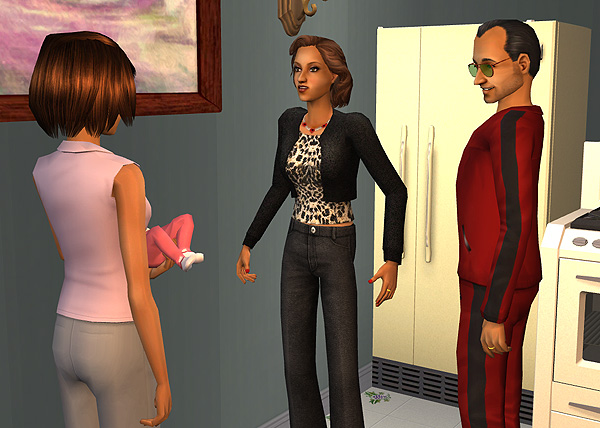 Ugh! I hate it when he acts like he's Dad of the Year. I wonder if he talked to me like that when I was a baby? Franny-wanny-wanny-woo! He probably did. It's a wonder any of us turned out halfways normal.
Anyway, I should finish telling you about my day (before anything else weird happens).
After I bought the gnome for Bernie's birthday, I decided to mosey on over to the record store. You know, just for kicks. I thought they might have some Llama Mama merch on sale or something. A tee-shirt, perhaps.
In other words, my desire to go there had nothing to do with the fact that Joel was working. No, really! I'm innocent, I tell you!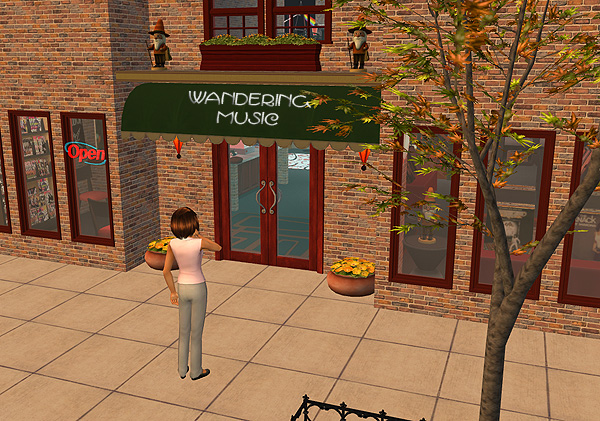 Some obnoxious techno music was blasting when I went in. A couple of people browsed the record stacks (real records…how awesomely vintage!) but otherwise the place was pretty dead.
I had one of those weird feelings – do you ever get those? You know, when you're nervous and terrified and excited all at once? I felt like Taz was doing kung fu inside my stomach. What was causing it, I had no idea. But it was freaking me out.
I was about to turn around and leave the store when something large and fuzzy leaped out of nowhere, shouted "FRAN!" and nearly squeezed the life out of me.
Aside from the alarming lack of oxygen, it was the happiest moment of my life.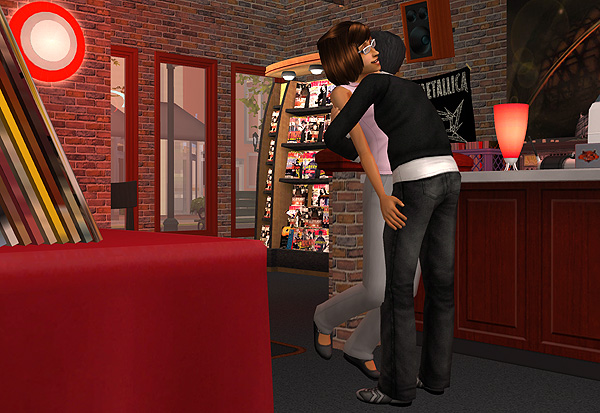 I've never been hugged like that. Ever. I wanted it to last a kajillion years. I know, I know, I'm probably killing you guys with all of this gooey lovey dovey crap, but I just can't help yapping about it. I mean, who else am I going to talk to about this stuff? Elvis's apple tree?
Joel let me go (darnit) and said he almost didn't recognize me with the haircut. I'm almost positive I was about to say something incredibly charming and witty when we were interrupted by Joel's boss, Dwayne.
"This your new girlfriend, Joel?" he said, sounding a little ticked off.
Joel sputtered. "Uh. Well. She's…uh…just a friend…uh…but…uh…sorry I was…uh…"
I tried to help his cause by being my usual winning self.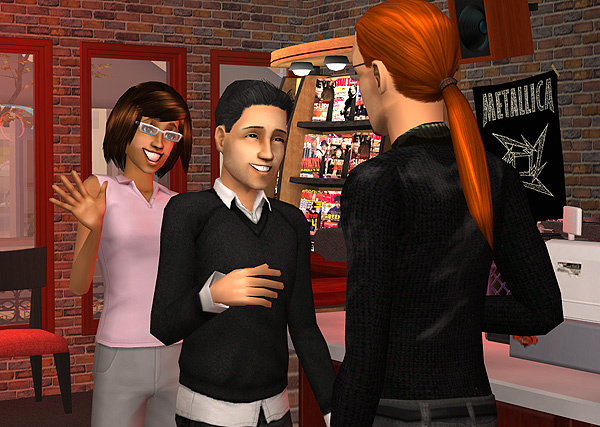 Dwayne raised an eyebrow at me, then turned his attention back to Joel. "Well, in the future, try to keep it cool, OK? I'm gonna go across the street for coffee, so I want you guys to –"
BAM! For the second time today someone appeared out of nowhere and grabbed me like I was nothing but a floppy teddy bear. Only this time I didn't get a hug. I got a NOOGIE. And not a very nice noogie, either.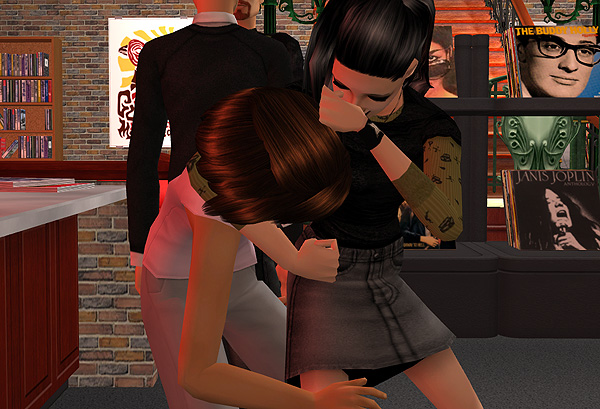 In fact, of all the noogies I've received in my lifetime, this one has to be the worst. And I'm including the eleventy-thousand times Rico tried to drill a hole in my head with his knuckles.
"OW!" I cried. My assailant let go of me, and I clutched my head in shock. "That really hurt! What the heck?"
I was staring at a creature of the night. You know…Goth meets punk meets drooling undead brain-eater. But pretty.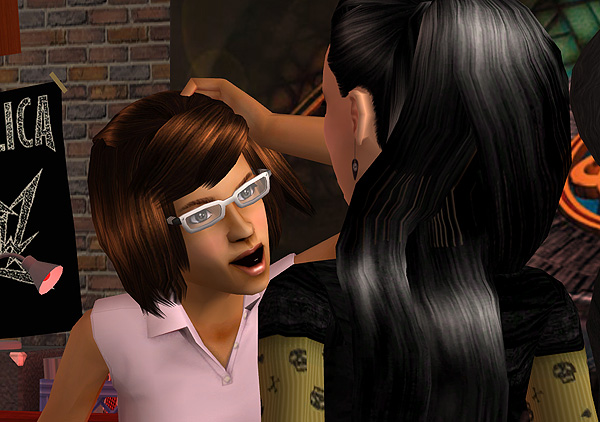 "Do I know you?" I asked. She looked vaguely familiar, but I was drawing a blank.
Freaky Undead Girl circled around me and glared at me with such hatred that I didn't know whether to laugh my head off or curl up into a fetal position and sob quietly. I looked to Joel for help, but he and Dwayne had ventured to the other side of the room.
(continued on Page 2)