Hey, folks. Seasons is here! Just for fun I created a new family in Riverblossom Hills and played them through winter. I thought I'd share some of the pics. If you're avoiding spoilers or would rather discover some of this stuff on your own, you might want to skip this post.
And now…it's snowtime!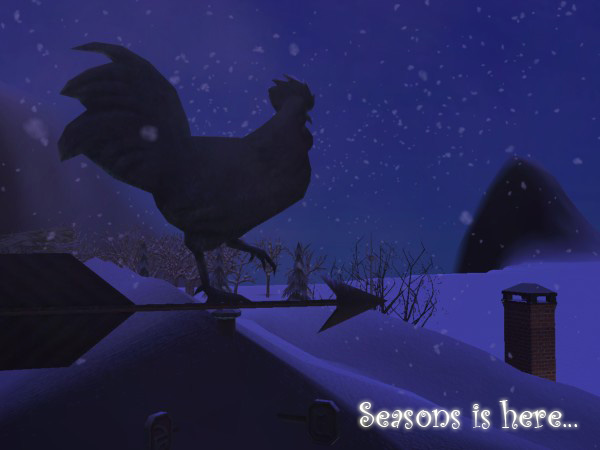 This is Carolyn Pfefferle and her daughter, Misty. Carolyn is sporting one of the new hairstyles (there are three for women and one for men, not counting the outerwear styles) and a new outfit.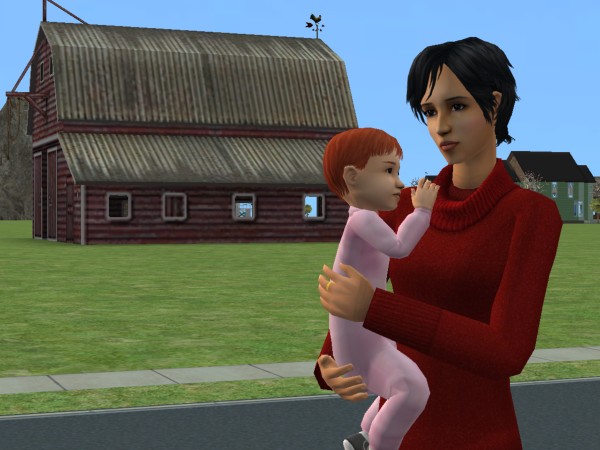 You can also see one of the new neighborhood objects, a barn, in the background. The barns look great with the farmland in neighborhood view. It would have been even cooler if they had given us a tool to create those kinds of roofs so we could build our own barns, but oh well!
Here's the rest of the family: Carolyn's husband, Henry, their son Joel, their teenage daughter Alicia, and Henry's father, George.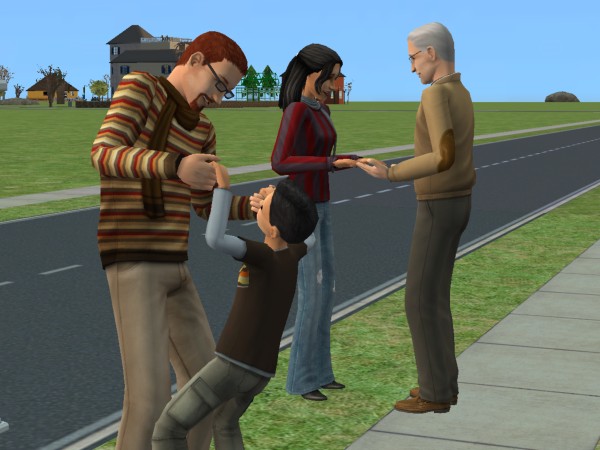 Henry has the new men's hairstyle, which to my eyes looks an awful lot like this custom hair by HystericalParoxysm. It's a little shorter overall, but it's similar enough that I did a double-take when I saw it. "Wait, I thought I moved my Downloads folder onto the desktop? What's HP's hair doing in here??"
I have to say, playing with no downloads (except for Siluetta's eyes, which I just HAD to keep in) is both a blessing and a curse. Building and decorating a house doesn't take nearly as long, and of course the game loads extraordinarily quickly, but…man. I was really missing things like Echo's rugs and Christianlov's clothing rack.
Here's Carolyn greeting a representative of the gardening club. It's kind of nifty how Sims will switch into their outerwear before going outside (I think you can prevent this with an option on the new coatstand object, but I'm not sure).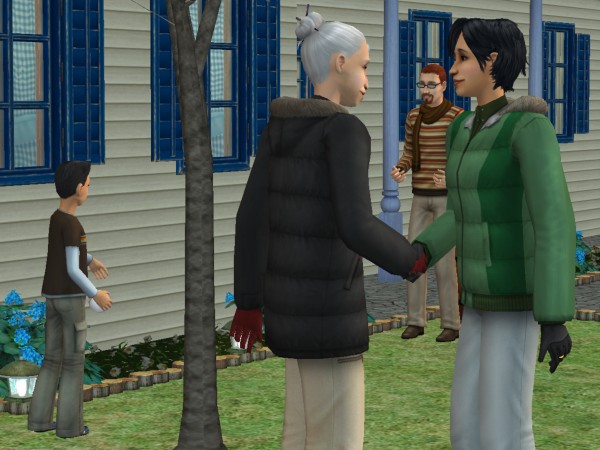 Henry and Joel are playing catch behind them. (They hadn't gone inside the house yet, and therefore hadn't come back outside and switched into their outerwear.) Note the dead flowers in the yard — they wilted immediately because it was supposedly winter. The leaves fell off the trees, too. But…no snow yet.
Grumpy teenager Alicia heads outside. She had to have that hairstyle in order to wear the earmuffs, which is weird — I figured they'd be an accessory like the kids' snorkels. But nope, they're integrated into the hair mesh. Bummer.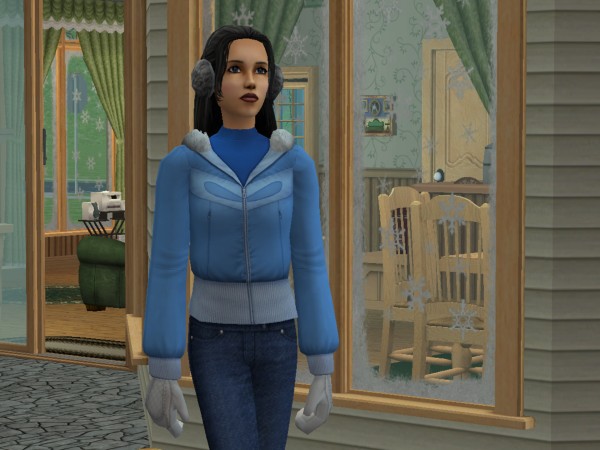 Grandpa George chats up Riverblossom Hills resident Stella Roth. (Who has kids named Xander and Sandra and a husband named Morty. Hee.)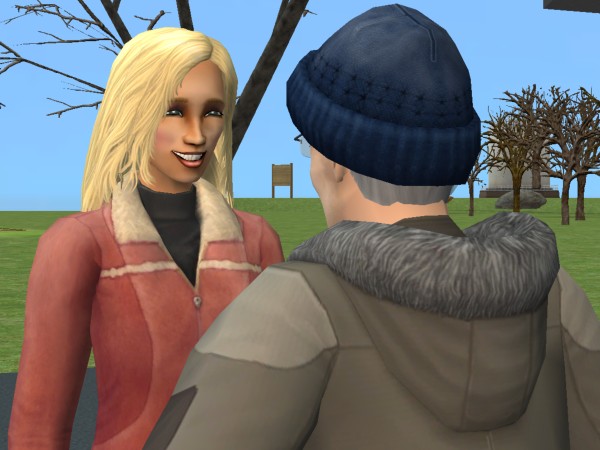 George really sucks at playing catch. (Not a good omen for a romance Sim!)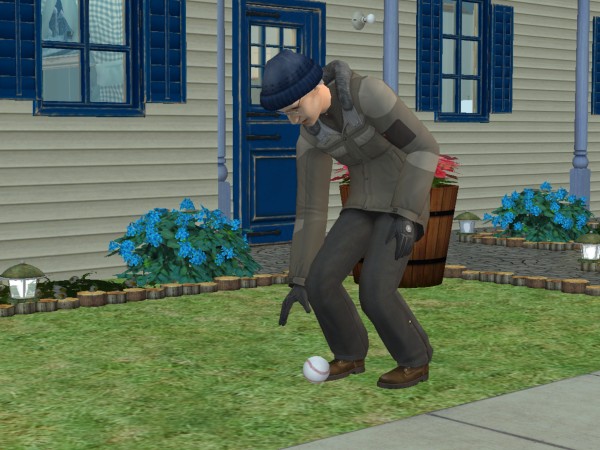 And we have the wind-up…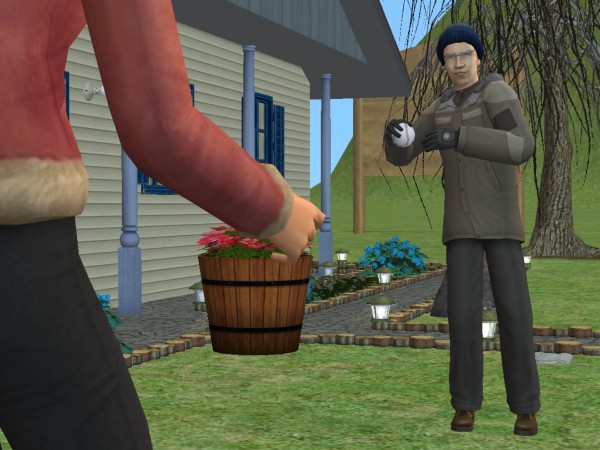 Aw, it's all right, George. Stella's no good this game, either.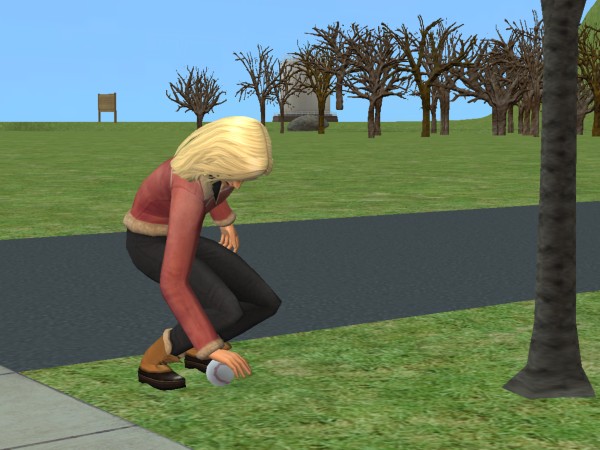 After a day of barren trees, dead flower plots, and green, green grass, it finally snows!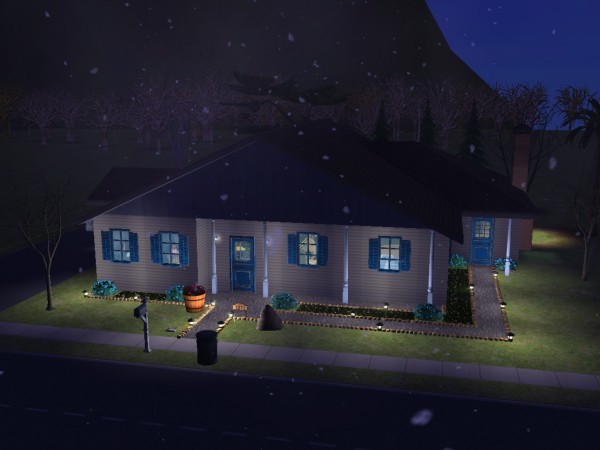 And snows…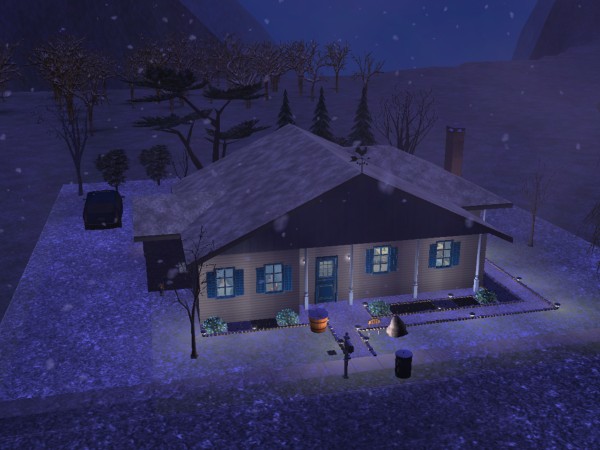 And yes, that's probably the ugliest house I've ever built. Hey, I was in a hurry. ;-)
(continued on Page 2)