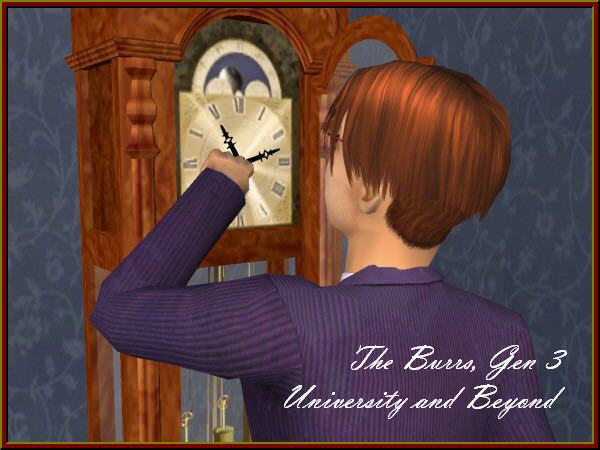 If you don't know who the Burrs are, they're my New Legacy Challenge family (and nothing to do with the Apocalypse Challenge, which I also tried…and failed. Miserably). I'm playing with several handicaps (some of which I've already broken) and putting a little twist on the usual legacy thing by taking my family through history (or a pseudo-version of it, anyway). It all started with my founder, Azalea Burr, who built Burr Cottage in the 1860s. Her daughter and 2nd generation heiress Belinda took the family into the 1880s, and now her daughter Camellia, our 3rd generation and current heiress, is living in a wacko Sim version of the early 1900s.
Camellia and her brother Coriander attended Fernley College, just like their parents did. To spice things up, I had four of their cousins move into the same dorm with them. Here's everyone at the breakfast table: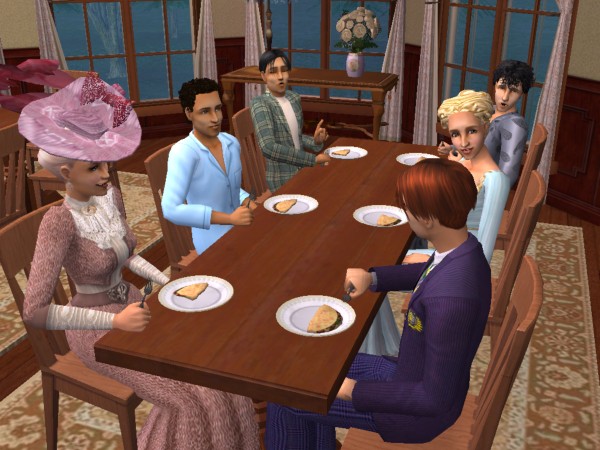 The most important ones in the picture are Camellia in her big frilly hat, red-headed Coriander in his purple suit, and their cousin Calhoun in the grey paisley pajamas. That's because I moved the rest of them out. That's right, they became college drop-outs.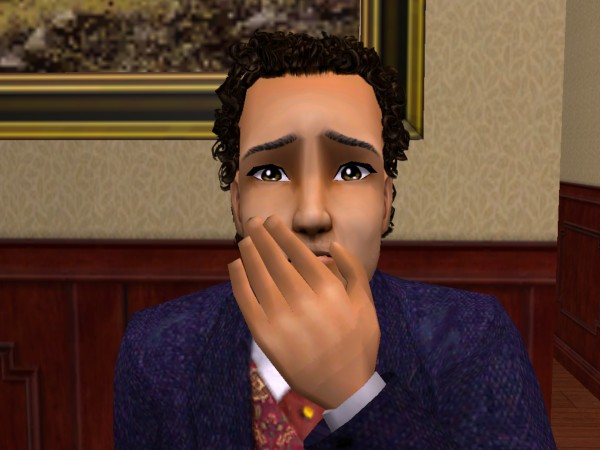 *GASP*
Sorry, Cole – I wanted to hoof through university with a bit more haste, so I jettisoned you and Cornelius and Chrysanthemum. Don't take it personally! You guys did have your fun moments. Like when Cornelius tried to hit on the cafeteria lady and flummoxed it but good. In front of his cousin Coriander, no less.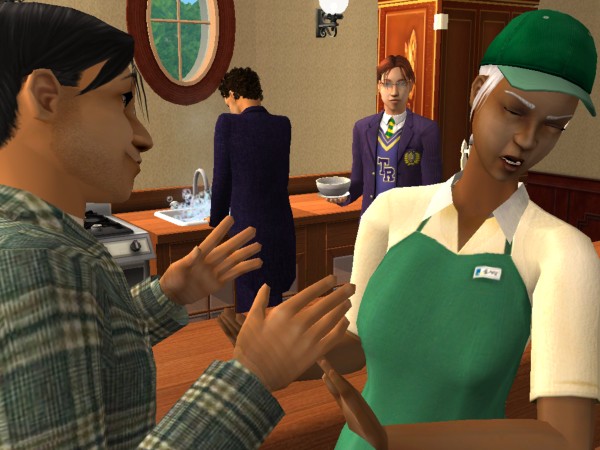 "Say, how would you like to come up to my room and tell me a little more about that simply breathtaking macaroni and cheese you always make?"
He started a bit of a trend, that Cornelius. It wasn't long before Calhoun was wooing a silver fox of his very own, Professor Diamond McElliot.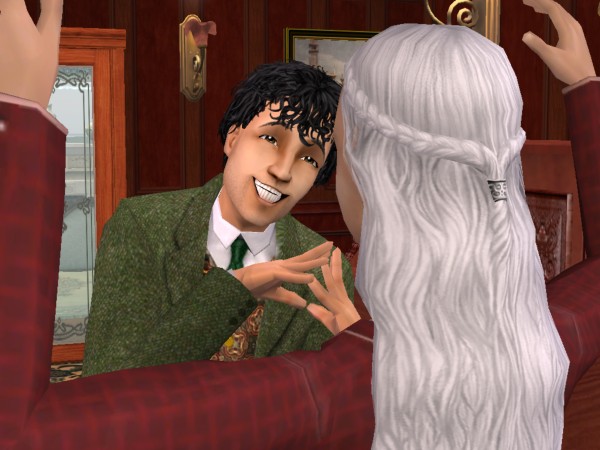 "Better lower your arms, or you won't be able to catch me!"
*JUMP*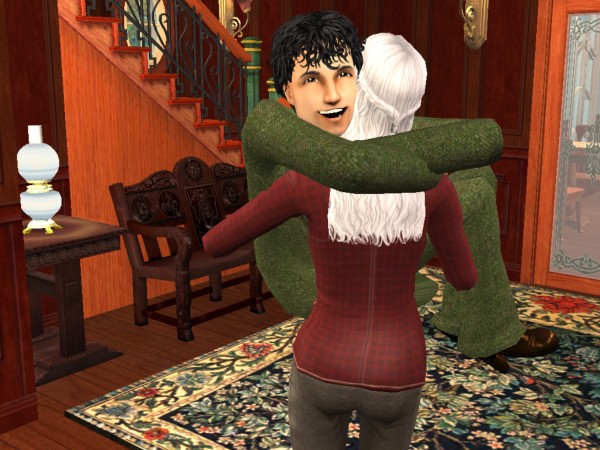 "Wheee! That's more like it."
Calhoun and Professor Diamond have two lightning bolts of chemistry, so they're a superb match, but – Calhoun's Lifetime Want is to have 6 Grandchildren, and Diamond's past her child-bearing years. They could always adopt, but – I really wanted Calhoun to pass on his genes. So…I guess it's just a fling.
A very involved fling. Oh well. Time for a little distraction! Hey, Calhoun, look over here – I got you a bird! His name is Montague. If you take good care of him, I'll get you a puppy when you graduate.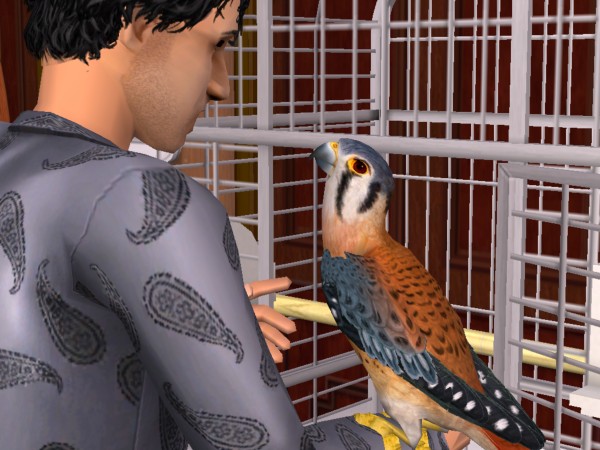 Aw, look – Coriander and his girlfriend Clytemnestra are having a tender moment by the birdcage. But wait – something doesn't look right…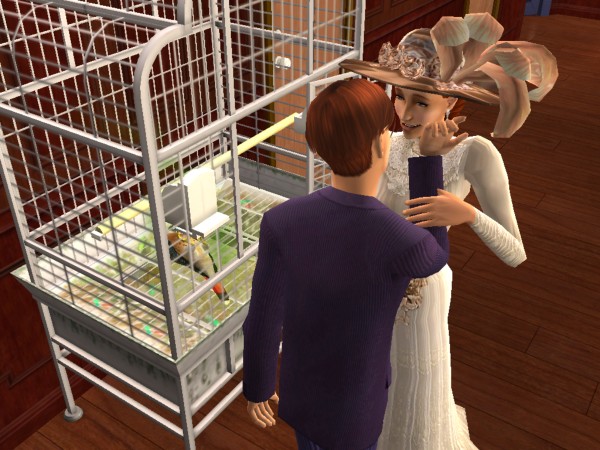 ACK!!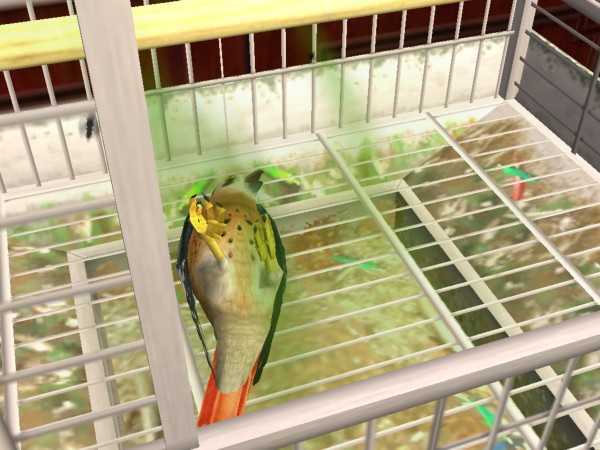 Yes, that's Montague, lying ten claws up at the bottom of the cage. Lovely, isn't it? So…how did that happen? At the time, I had no clue. The kids filled his food tray several times. And they cleaned his cage, too. And still, he keeled over within a couple of days. Geez, these birds are fragile creatures.
So I got them another bird: Capulet.
(continued on Page 2)