Good morning, ladies and gentlemen! I'm Tennyson Ravelo, and I'm here to catch you up on what's been going on with my family.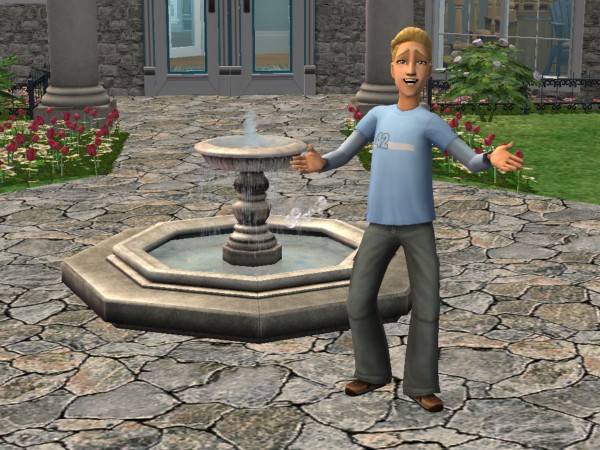 First off, you're probably wondering who I am. Well, I'm a fourth generation Ravelo, the son of Anastacia and Ravi. You might remember my mom –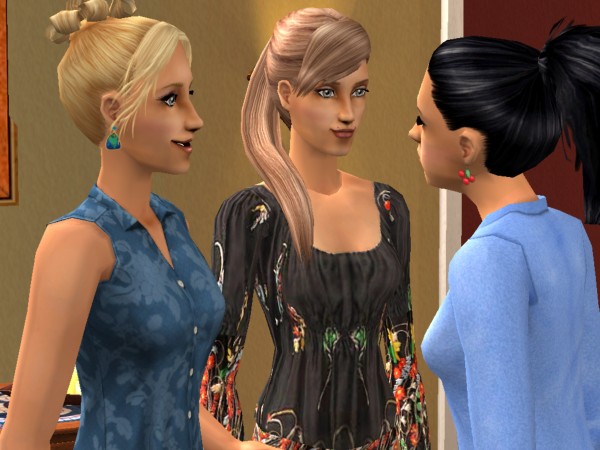 – she's the blonde one on the left. And those are her sisters (my aunties) – Misty in the middle, and Kaela on the right. They all grew up in Rosebrook and went to college together, so they're pretty close. "Peas in a pod," my grandpa calls them.
Speaking of my grandpa, he's the coolest! He's a crazy nut. But in a good way. His name is Trent Ravelo, and he was the second generation heir to the Ravelo Legacy. He used to be a famous actor and movie director. But he retired long before I was born. Here's a picture from the day he quit acting and directing forever: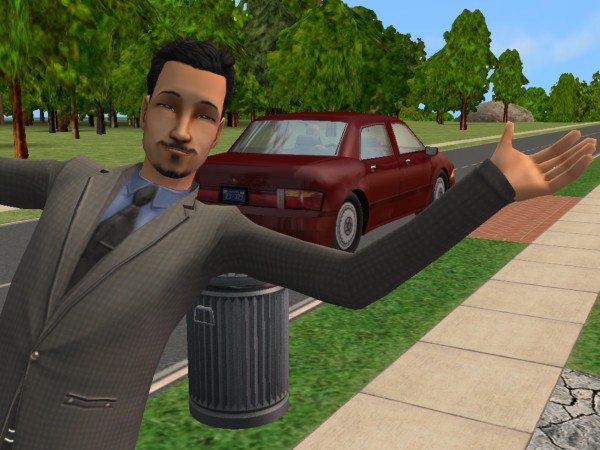 Looks pretty happy, doesn't he? "Best day of my life," he always says, "Except for the day I met your grandma. And the day we had your mom. And the day we had Kaela. And…you get the idea. Let's just say it was a darned good day!"
Anyway, Grandpa's old now. Don't tell him I said this, but I think he's kind of losing it.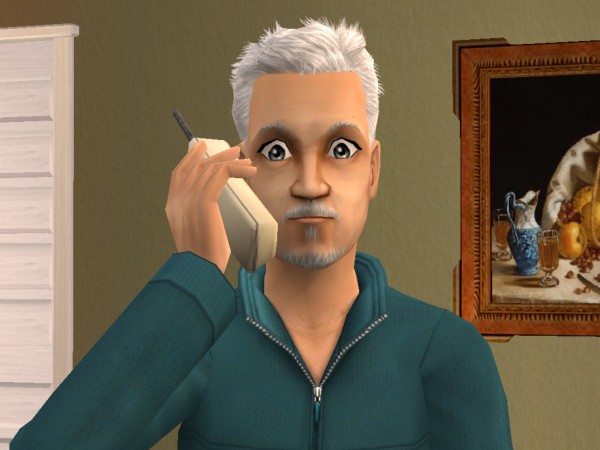 No, really! Sometimes he does weird things like talk to bricks.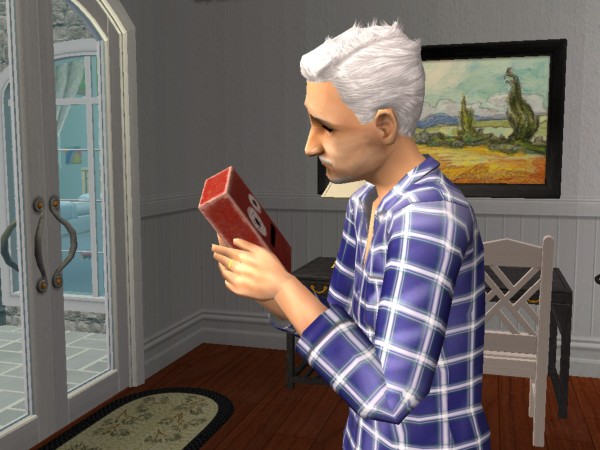 Whenever I ask him what he's doing, he gets real embarrassed and says, "oh, I was just reciting some Shakespeare…" Then he puts the brick away and goes to play "Pirates" in the bathtub.
My grandma's old now, too. She used to be a professor at Academie La Tour, but now she's a scientist. She basically knows everything.
I guess she looked different when she was young: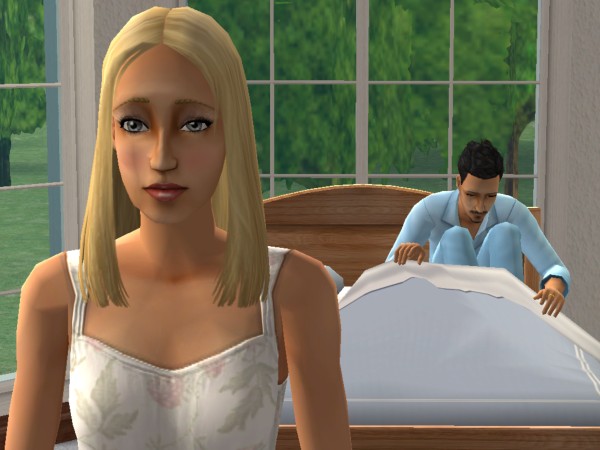 "It was the strangest thing," she told me one time. "I felt this odd tingly sensation in my scalp, and then skin started tightening all over, and I spun around – and I became a completely different person!"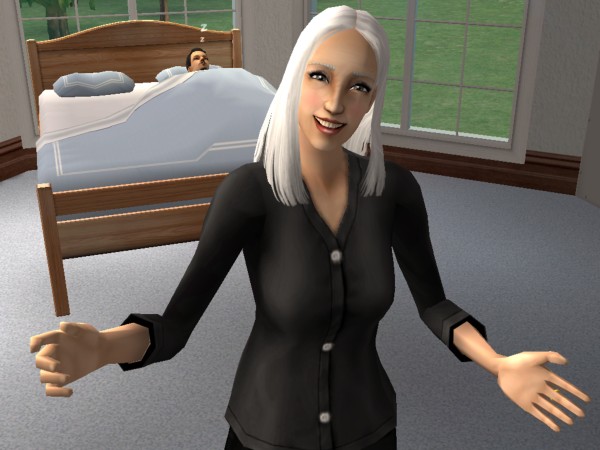 She looks pretty, though, so I don't think she minds too much.
(NOTE: That was a weird glitch – when Tristen turned into an elder, her face template changed. And I don't mean she just changed to an elderly version of her old face – she got a new face entirely! Not sure what happened there.)
Grandpa doesn't seem to mind either. They do a lot of hugging and smoochy smoochy stuff. In front of guests.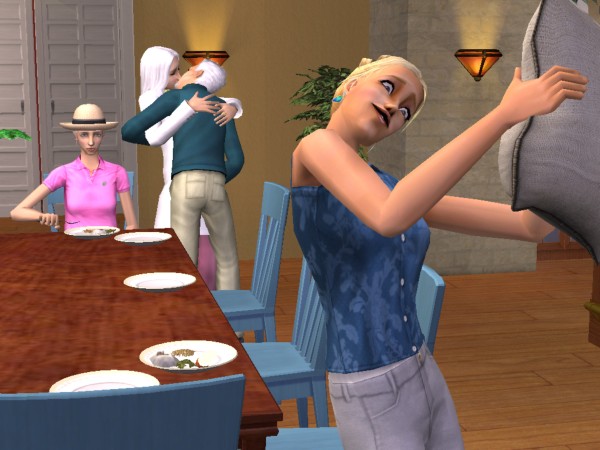 And yes, that's my mom, loving up a sack of flour. Grandma said that my mom wanted a baby so badly that she carried a flour sack around for days. She named it Reginald. I guess you could say he's my big brother.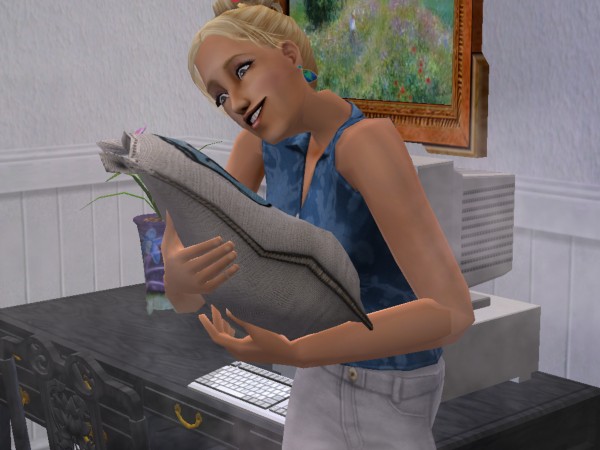 Wait a second — does that make him the heir to the legacy? I sure hope not, because…uh…I kinda wanted to be that.
Anyway, my mom was waiting for my dad to finish school so he could move in and marry her. He sent her lots of postcards from Outer Kankakingo where he was studying the life cycle of the pale-throated llama.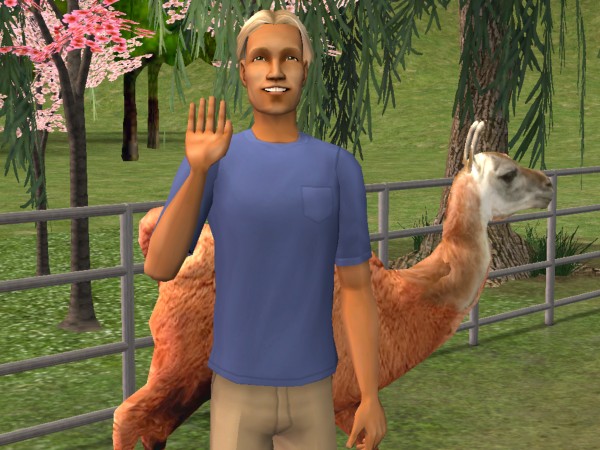 When he finally graduated, Mom invited him to our house to meet Grandma and Grandpa.
(continued on Page 2)