Hey people, what's up? I'm Misty Ravelo, and I'm here to tell you all about our sophomore year at Academie La Tour. I gotta say, it was really quite the year, full of heartache, drama, excitement, and of course, carpal tunnel syndrome from typing those ridiculously long term papers. I can't believe I have to write eight more of those before I graduate! My wrists hurt just thinking about it.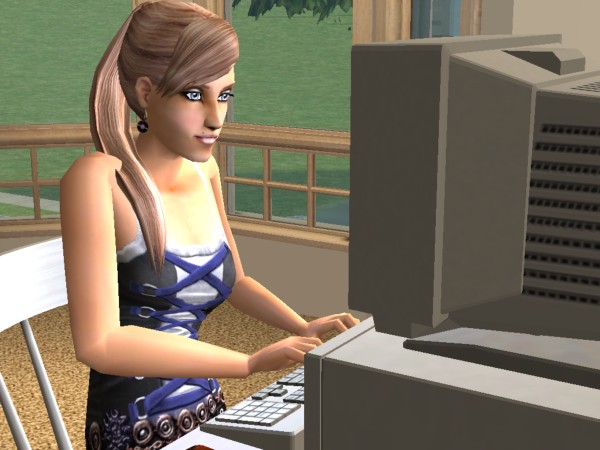 There's me, typing away. Check it out — I'm not in the dorm! Yep, we decided we were sick of living with dorky guys and moved into a little house off campus. This was also the year I decided I wanted to be a rock star, so I bought a guitar and glammed myself up and wore punk-ish clothes. Did it work? Hm.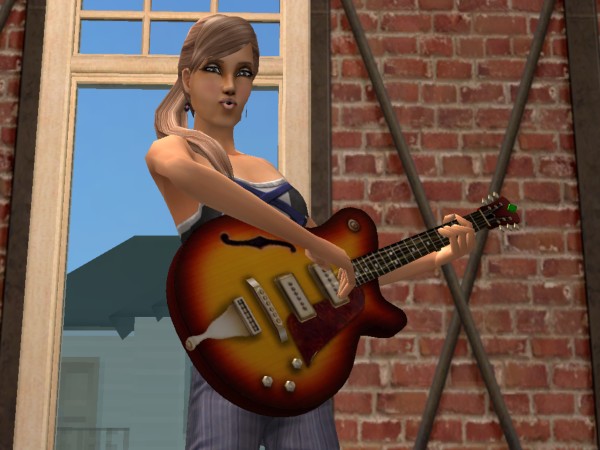 I'd have to say "not quite". One girl with a guitar, now matter how cool her combat boots may be, can't get very far without some help. And without knowing how to actually play. So when I wasn't writing term papers, I practiced my guitar until I could play at least two songs all the way through. Then I called up Alvin Futa, he of the blazing mohawk, and my friend Felice, a lovely goth girl who can play a mean upright bass.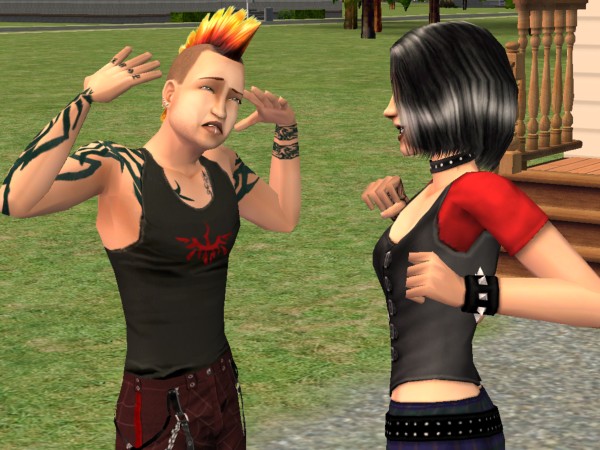 They hit it off right away, and the Band With No Name was born. (Our main influences: Blondie, Foo Fighters, and Llama Mama). For weeks we muddled through a few songs over and over until we didn't sound terrible. I was overjoyed when the tips of my fingers calloused over in little grooves that fit perfectly over the strings, because then they didn't hurt anymore. Yeah!
While all of this was going on, Professor Stratton and I started dating, which was a bad idea in retrospect, but at the time, I was thrilled to death. He was one hot prof! Swept me off my feet. Or tried to, anyway.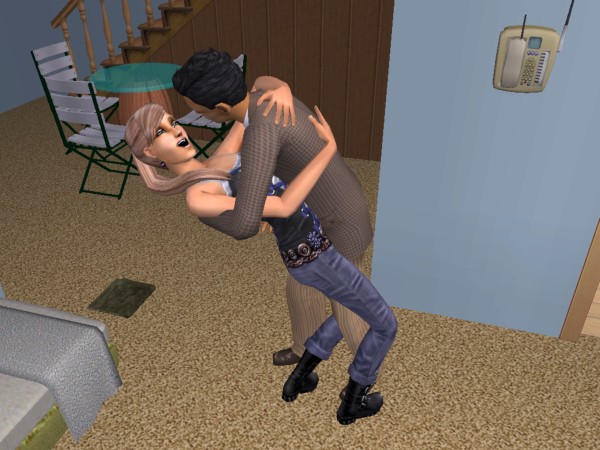 As for my sisters…you remember Anastacia, right? Here's a picture of her standing in front of her Johnny Depp poster (we put it in the den so it could be enjoyed by all).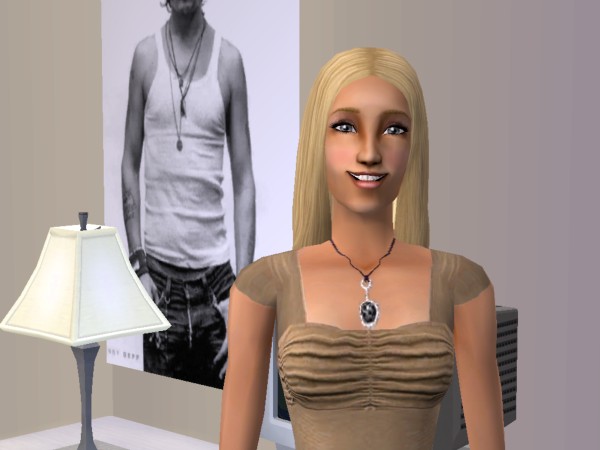 Ana was having a really great year until her boyfriend Damion (brother of my bandmate, Alvin) broke up with her. Damion had gone to the city to become an accountant and fell in love with his boss, some nightmarish sharp-clawed careerwoman in a business suit. Ana was upset, of course, but not as upset as I thought she would be.
Only a week after the break-up, she and Ravi London started dating (and being lovey-dovey in the living room, just like me and Stratton). Ana seems much happier with Ravi, and I have to say, they make an awesomely cute (and very blonde) couple.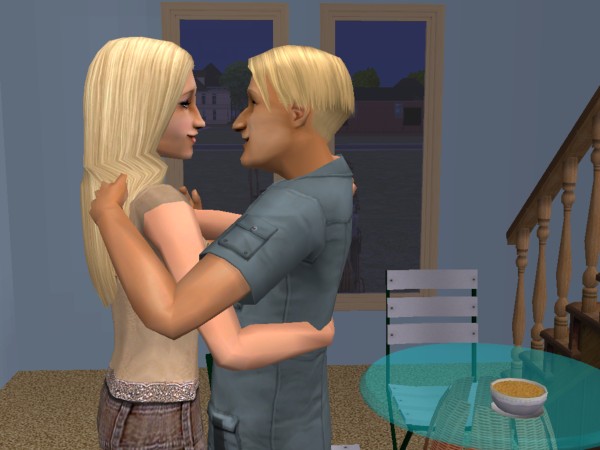 As for my other sister, Kaela, she and I started a workout regimen. I wanted to get into better shape so I could look screamin' hot while I played my guitar, and Kaela was required to study fitness for her Drama major. We bonded while doing knee bends and stretches in our tiny living room.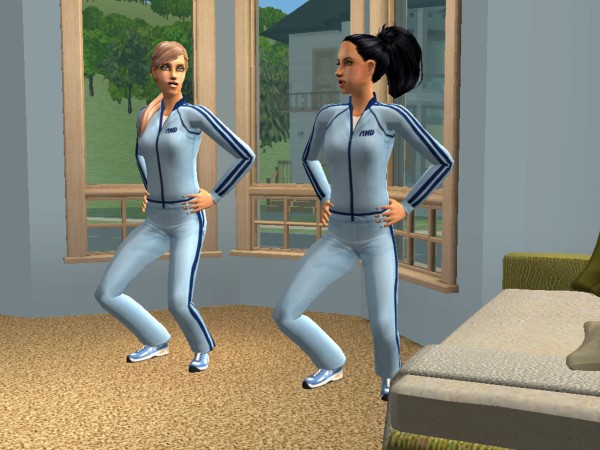 Kaela started out having a sweet year — she joined the Drama Club and quickly became the President, which means she gets to boss around a bunch of theater geeks. I'm kidding, of course — I don't think Kaela could boss anyone around, although she IS becoming less shy. It's all those acting classes. Here's a pic of her with the Drama Club: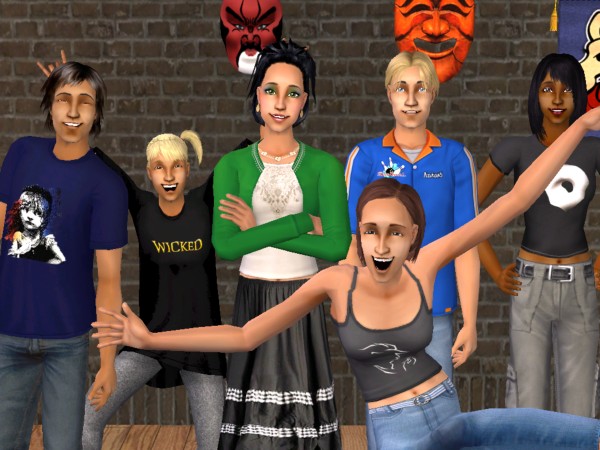 For their first event, the Drama Club went to see the touring company of The Phantom of the Opera perform here in town. Kaela had heard about the play from her theater buddies, but had never seen it. Well, she got totally hooked. We've heard nothing but the Phantom music in our house ever since. I'm not even crazy about it, and I know it all by heart.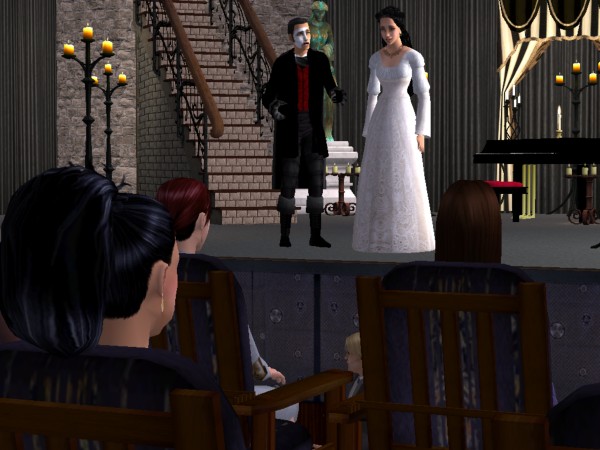 "Let your mind start a journey to a strange new world!
Leave all thoughts of the life you knew before!
Let your soul take you where you long to BEEEEE!"
Sorry, I had a little moment there. Ahem.
Unfortunately Kaela was having so much fun with the Drama Club that she put off doing her term paper until the very last minute. She spent the whole night before her semester final typing away on that keyboard…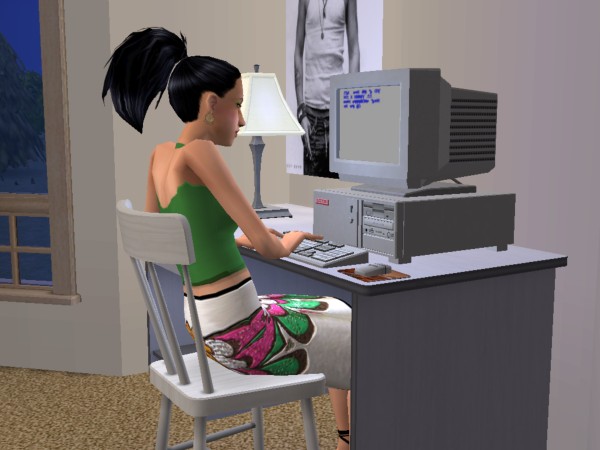 …but…she didn't finish in time. She ended up with a D grade that semester, and they put her on academic probation. And that's not the worst of it — she was told she couldn't audition for any plays until she raised her grade level above a C. Kaela was devastated (but still continued to play Phantom music at all hours — just more loudly).
Then we had another tragedy. (At least, it was pretty tragic to me.)
(continued on Page 2)